Patent images of what appears to be the fifth-generation Honda CR-V midsize SUV have emerged, showing a striking resemblance to spy shots of a prototype spotted last year.
The single greyscale image shows the apparent CR-V wearing conservative styling reminiscent of that seen on the recently unveiled HR-V small SUV.
A new-generation CR-V is expected to be unveiled towards the end of this year and will likely arrive in Australia in early 2023. It will do battle with the likes of the Toyota RAV4 and Mitsubishi Outlander.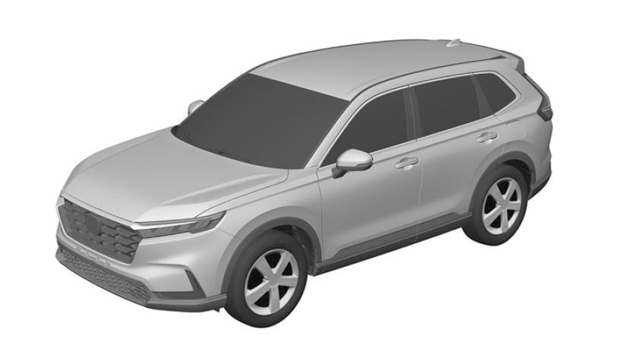 What does the patent tell us?
The single image shows what appears to be thin LED daytime running lights and right-angled side vents reminiscent of those found on the 11th-generation Civic.
The grille is less cluttered than before, with only an AEB sensor or a space for a badge sitting in the centre.
Light amounts of plastic cladding have been added around the lower bumper, side skirts and wheel arches for a more rugged look. The wheels look a size smaller than those typically seen on today's SUVs, but higher grades will likely offer larger options.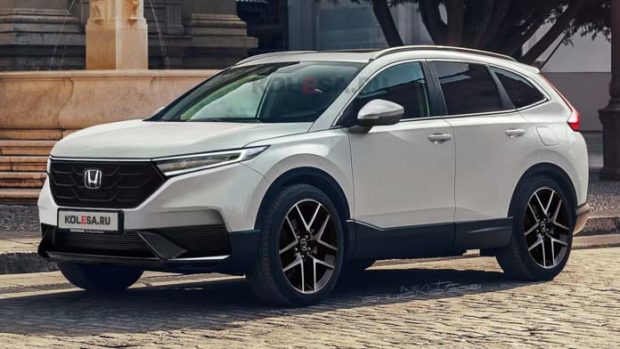 Honda has revised its long tail-light design, which stretches from the roof to the bottom of the window line, and will likely feature LED bulbs.
A significant overhang can be seen at the vehicle's rear, likely implemented to free up room for a seven-seat layout alongside the standard five-seat option.
Similar appearance to past prototypes
It comes after renders were released last year based on alleged fifth-generation CR-V prototypes that were seen undergoing testing in Europe.
In the series of images published by Kolesa, the CR-V shares a similar appearance to the patent images we see today, suggesting the end product may be very similar to this latest image.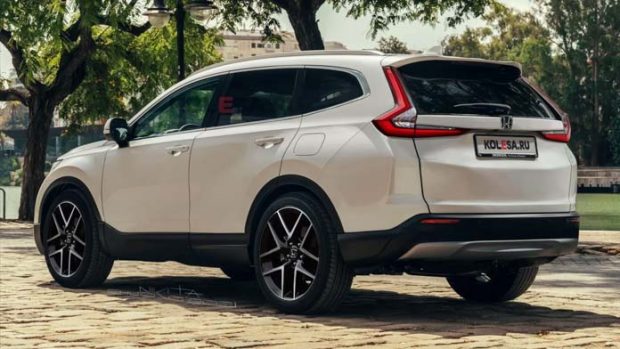 Hybrid powertrains likely for new CR-V
Honda has confirmed its new-generation models such as the Civic and HR-V will be available with a hybrid system in Australia, so the CR-V will likely follow.
The 'e-HEV' system works slightly differently to most hybrids. A petrol engine is used to charge an onboard battery which is then used to power one or more electric motors that move the car.
Recent reports have pointed to the Civic hybrid adopting a powerful electric motor with 158kW of power and 315Nm of torque which could be adopted by the CR-V, rather than the 96kW/253Nm setup found in the smaller HR-V.
More details will be revealed closer to the CR-V's predicted unveiling date later this year.