The sixth-generation Honda CR-V was unveiled in the United States overnight, with details confirmed for the midsize SUV's American release – but Australian specifics remain sparse.
The new CR-V will launch in the United States during the northern hemisphere summer – likely in August – with a four-strong range and two available powertrains: one hybrid, and one turbo-petrol.
While the CR-V is made in the United States and Canada for North American consumption, Chasing Cars believes the midsize SUV will look substantially identical when it comes to Australia – likely later in 2022 or in early 2023, with sourcing likely to shift from Thailand to Japan.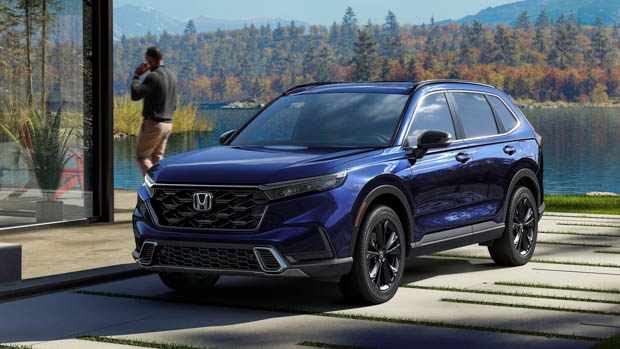 What's new for the Honda CR-V?
A new exterior design has been introduced for the sixth-generation Honda CR-V, along with either a 7.0-inch or 9.0-inch multifunction touchscreen with Apple CarPlay and Android Auto, an updated 1.5-litre turbo petrol engine, and a re-tuned all-wheel drive system. 
Also new for this generation is hill descent control, a snow driving mode and 'Honda Sensing' safety systems including a wide-view camera, traffic jam assist and low-speed braking control.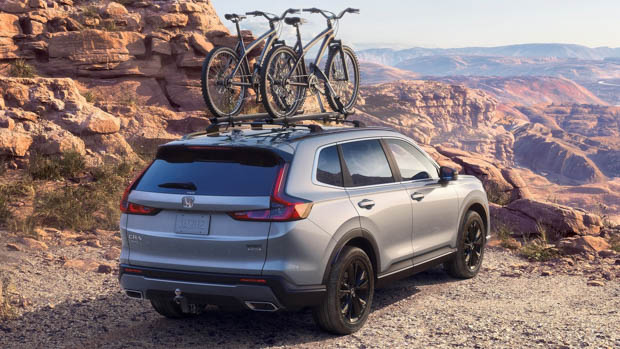 Honda has put 'next-gen' airbags into the new CR-V, including updated units for the front, knee and rear passenger side-impact zones.
The Honda CR-V, in terms of overall size, is 68mm longer, 40mm longer wheelbase and 10mm wider than before, while torsional stiffness has increased by 15 percent compared to the fifth-generation car.
Turbo petrol and hybrid engines, available AWD
Two different powertrains are available for the US-spec Honda CR-V – with both likely to be on the cards for Australia. Like the new Civic hatchback, the CR-V will be available with a choice of non-hybrid turbo petrol power, or a petrol-electric hybrid engine to compete directly with the segment-leading Toyota RAV4.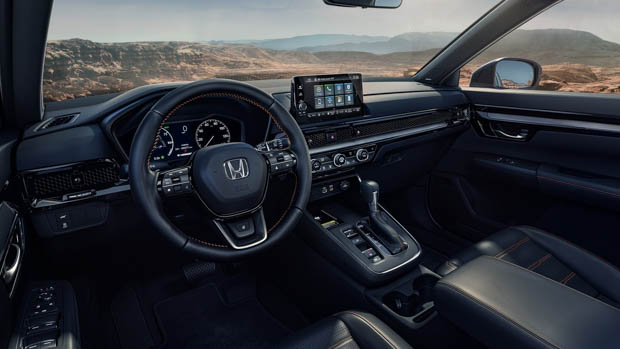 For America, the 1.5-litre turbo petrol engine makes 140kW of power and 242Nm of torque – similar outputs to the outgoing fifth-generation CR-V in Australia. Honda says the engine has been re-tuned for "additional refinement and improved emissions performance".
This engine is said to have been improved through the use of a high efficiency and high response turbocharger, along with a four into two exhaust port cylinder head to maintain peak power over a broader range of revs.
The 1.5-litre is paired to a CVT automatic transmission that has also been improved by Honda to "reduce noise and vibration".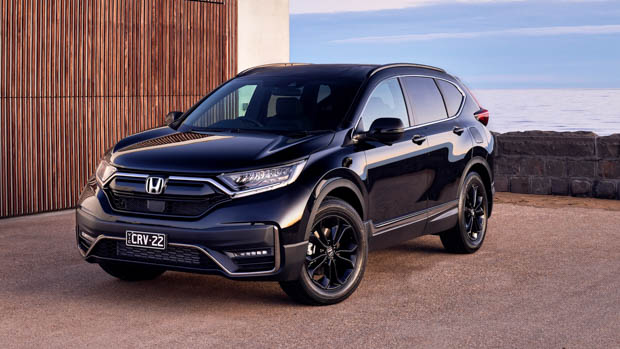 In the United States, the lower two CR-V variants have the turbo petrol engine while the two higher-specification cars are fitted with a non-turbo, 2.0-litre petrol-electric hybrid system with twin motors on the front axle. Combined outputs for the hybrid are 152kW of power and 334Nm of torque.
Safety upgrades for the new CR-V
New to the CR-V and first introduced in the new Honda Civic are updated driver and passenger airbags that reduce the chances of brain trauma from angled front collisions.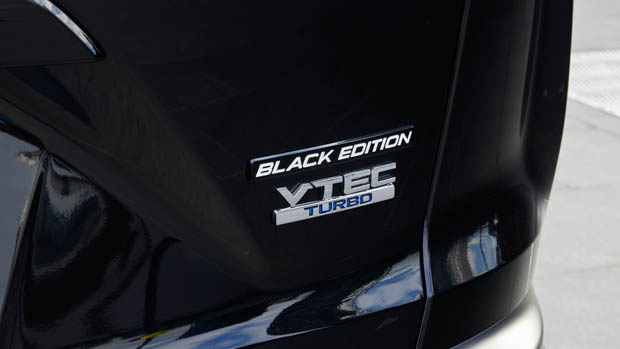 Interestingly, the driver's airbag has a donut-like shape to cradle the head in the event of an accident.
Also standard across the CR-V range will be the Honda Sensing suite of safety equipment including a wide-angle camera and radar system, blind spot information, traffic jam assist, traffic sign recognition and low-speed braking control. Adaptive cruise control and lane-keeping assist is also standard.