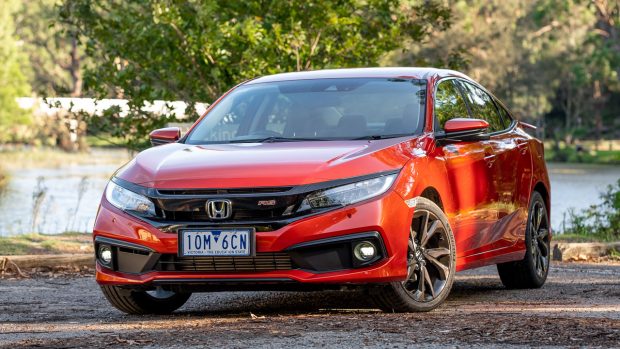 For 2020, Honda have refreshed their Civic small car range with the inclusion of the brand's 'Sensing' active safety suite across all variants. Finally, all Civics now include high-speed AEB, lane-keep assist, and adaptive cruise control. The practical small car also picks up a volume knob and a host of other small refinements – while the choice of a hatchback or sedan body style carries over in a range spanning $25,390 to $37,552 driveaway.
On test here is the $36,472 driveaway Civic RS sedan, which, boasting sticky Michelin Pilot Sport 4 tyres, 18-inch wheels, more aggressive styling and a black grille, is the quasi-sporty variant of the range – aside from the hardcore Civic Type R. The RS is the only grade available in the Phoenix Orange colourway sported on our test car – though under the bonnet, it's the same 1.5-litre turbo and CVT auto as most other Civics. Sadly, Aussies don't have access to the warmer US-market Civic Si, which uses a detuned Type R two-litre turbo and a six-speed manual.
With the minimal rear spoiler, black grille and larger wheels the RS variant is a good looking thing, the pearlescent orange highlighting the Civic's bold angles nicely. It's not a design that will appeal to everyone, though, from some angles, especially the rear three-quarter, the sedan appears overly long and fussy.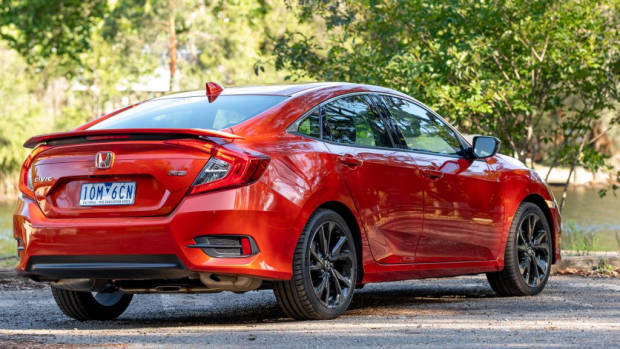 Adorning most of the interior are scratchy plastics, even in this near range-topping RS the centre console is unashamedly cheap. Under cornering loads, my knee would rest against that rock-hard plastic, not ideal. However, within the sea of black plastic, there is some redemption with plentiful and tiered storage space. There's a mezzanine for a phone to sit in with a cubby hole for the USB cable to extend from underneath, a capacious central storage bin fitted with a brace of cup holders (that don't get on well with coffee cups), and a 7-inch touchscreen to control the multimedia system.
In an era of increasingly slick user interfaces, Honda's feels clunky, low-res and laggy. Satnav doesn't feature in the RS either, Honda relying on smartphone mirroring and Google Maps/Waze in all but the range-topping VTi-LX. Not a big deal for city buyers but don't get lost without phone reception. The overall design is nothing special, though I am a fan of the crisp digital tacho and 80s sci-fi fuel-gauge set deep into the binnacle.
Seat comfort is a big positive with leather-appointed and heated front pews with driver's side electric adjustment. These are not German seats – Honda prefers plenty of squishy cushion over cornering support, but that may suit your tastes. Likewise, the rear bench is extremely yielding to the buttock, and the rear quarters are positively palatial. Even at six foot two, I have a bounty of knee room behind my driving position and adequate headroom. Despite a narrow aperture and high load-lip boot capacity is class-leading at 540 litres, in fact, the sedan actually competes with cars from size (and price) segments above for luggage space.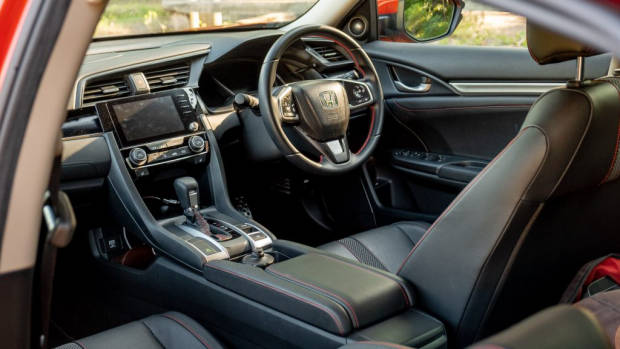 Traditionally the Honda Civic has offered buyers space, comfort and engaging dynamics. Prior generations were even famed for their on-track performance competing with bigger, faster cars thanks to a sophisticated multi-link suspension. Moving to this 10th generation the tech remains intact – this platform sprouting one of the all-time great hot hatches with the Type R – But how does this more comfort-orientated model stack up?
Well, things are off to a rocky start with steering that is devoid of feel. The ratio and weight are natural both around town, but at higher speeds but I found grip near impossible to judge. And that's a shame because there is actually plenty of grip thanks to the high-grade Michelins on the RS. Arriving at the limits of grip, breakaway happens smoothly and naturally, the car adopting a neutral and secure stance under cornering duress. Though it can leave the keener driver uninspired, particularly when compared to the latest Toyota Corolla.
What's more inspiring is the sweet 1.5-litre turbocharged four-cylinder engine, which is a substantial upgrade over the 1.8-litre atmo unit you get in the base VTi. The turbo's outputs of 127kW and 220Nm make it a peppy little thing with a rorty note. Honda has toiled away on CVT tuning and during regular driving, the gearbox is unobtrusive. Paddles allow you to take control of faux 'ratios' but I found these were best left alone. Instead, leave the selector in 'S' for back roads, or 'D' for cruising, and you'll be satiated. It's too bad Australia does without a manual gearbox option, as we reckon a positive six-speed would harness this motor's power band much better.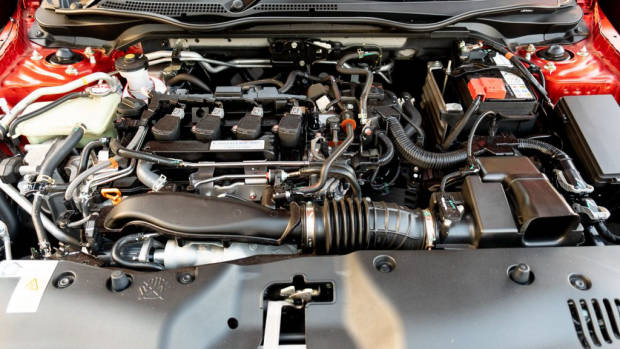 Ride comfort is excellent around town, with the sedan dispatching low-speed compressions without fuss. A longer wheelbase is sure to account for some of this car's ride quality, which is more akin to an Accord than a Civic of old. Upsized 18-inch wheels and sportier tyres do inevitably cause some discomfort on square-edge hits like potholes and expansion joints, however. Pile some speed on and the dampers start to struggle to keep up, with a tendency for the body to corkscrew through mid-corner bumps when pushing on.
In previous model years, the Civic was marked down with lower grades missing key safety features. A decent active safety suite is included as standard across every Civic grade now. That means a really good adaptive cruise control system with a low-speed assist, high-speed AEB, a lane-keep assist that feels like a game of pong, Honda's road-departure mitigation system, rear cross-traffic alert, reversing camera and lane-change camera.
But are these 2020 updates enough to see the Civic sell strongly? Certainly, the sedan offers the uniquely capacious interior dimensions, in fact, greater boot capacity than a Tooyta Camry. The engine is a little peach, and there's a lot to like about the exterior styling – it's just a shame the interior isn't a richer environment. From the driver's seat, it's the hatch I would opt for with its shorter wheelbase and pointier front end. An update to the infotainment system would be welcomed and make the Civic a more attractive, emotional proposition. As things stand though, it's impossible to get more space for less cash.