The next-generation Honda Civic Type R, which is scheduled to launch in late-2022, has set a new track record for a front-wheel-drive car at the Suzuka circuit in Japan. 
The Civic Type R lapped the 5.79-kilometre track (which is the home of the Japanese Grand Prix) in just two minutes 23.120 seconds, making the new car almost one second faster than the previous FK8 Civic Type R.
Honda says that the all-new Civic Type R will be revealed in summer in Japan, which should be around June to August this year for Australians.
What do we know so far about the next Civic Type R and how different will it be from the FK8?
What we do know about the new Honda Civic Type R is the fact that it will look very different to the outgoing FK8 model – and that might be a good thing.
The FK8's styling was very divisive when it came into production with some journalists saying it had a 'boy racer' look and was overstyled, but this new Type R could change those opinions for the better.
Honda has already previewed the new Type R to the public, and although it is covered in camouflage, the look is undoubtedly more subdued.
Some will love the fact that the large rear wing will be making a return for the new Type R, which looks as big and impressive as the last.
The three-pipe exhaust system will return, too, however the middle pipe will be bigger in diameter. While this could just be for looks, some have questioned whether the larger pipe will affect the sound and potentially make the car louder than the last iteration.
The previous FK8 Civic Type R was powered by a 2.0-litre turbocharged four-cylinder petrol engine that produced 228kW of power and 400Nm of torque. Power and torque outputs for the new car are likely to be very similar to those of the FK8.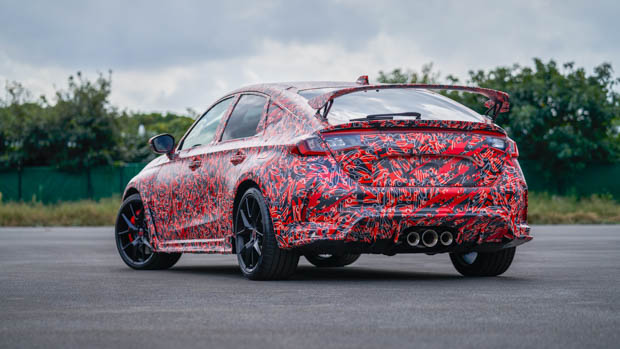 A six-speed manual transmission and a limited-slip differential are likely to be standard kit, just like the FK8.
Honda recently shut down its UK manufacturing plant for the Civic Type R but it is likely that the new Civic Type R will be built in Japan.
The new Civic Type R will compete against cars such as the Hyundai i30 N, Volkswagen Golf R and Toyota GR Corolla.