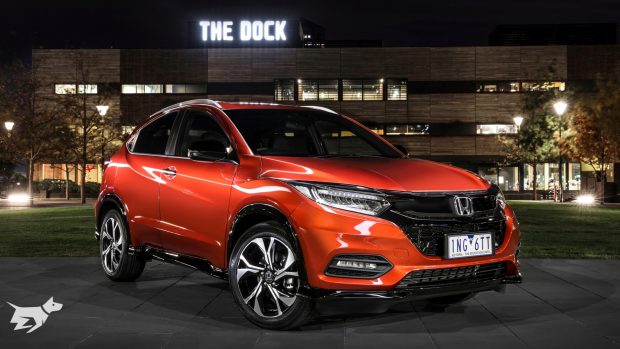 Is the Honda HR-V still one of the best small SUVs you can buy? Now that the HR-V has been on the Australian market for a few years, we thought it was time to check in. While we grabbed the keys to the sporty, second-from-the-top HR-V RS grade ($32,990, $36,553 driveaway), you can get into a base HR-V VTi, which we reviewed last year, from $27,990 driveaway. Slightly larger than some rivals, including the Mazda CX-3, the HR-V packs a number of practical punches – and the design, which was recently given a subtle facelift, is ageing well.
That said, while the HR-V's credentials are all there, Honda's smallest crossover has faced an onslaught of new, tech-laden rivals arriving on Australia's shores. For a similar amount of money, you can get into a new Volkswagen T-Cross, which packs very sophisticated cabin technology and chunkier looks, the fun-to-drive new Nissan Juke, or an almost equally-well packaged Skoda Karoq. So, is the Honda still the one to go for?
Compared to the three turbocharged competitors we've just mentioned, the Honda HR-V plays it much safer in the engine department. Under the short bonnet, you'll find a tried-and-tested 1.8-litre four-cylinder – naturally aspirated and with a single overhead cam, there's little by way of cutting-edge modernity here. That means the HR-V's real-world fuel consumption of about 8.5L/100km in town isn't stellar, but it also means that this is a simpler engine likely with good longevity. It's also a decent pair to the Honda's continuously variable automatic gearbox, which is standard. The auto revs quickly to help the engine make the most of its 105kW/172Nm outputs – but turbo-equipped rivals all feel more muscular at lower revs. Sadly, the turbocharged HR-V available overseas is not offered in Australia.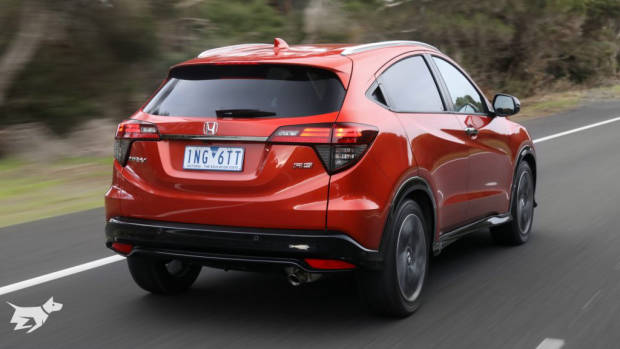 When the HR-V was facelifted, the RS model we're testing here was handed a sportier suspension than the rest of the range – and it works well if you're looking for slightly keener handling. Good body control combines with fairly flat cornering dynamics to produce an SUV that's more fun to drive than you might have expected, and the Honda's steering is also sweet, with a hint of the nineties analogue directness and flair that made Honda a truly household name in Australia. However, the RS grade's taut suspension comes at the expense of urban ride quality, which will be a little stiff for some. The other grades – the VTi, VTi-L, and VTi-LX, all ride more softly.
On the whole, then, we like the HR-V's dynamics: this compact crossover is still a good vehicle to drive, both in town – where it's easy to see out of, thanks to big mirrors – and in the country, where it won't be flummoxed by a pockmarked Australian road. That said, it's noisy in the cabin, with plenty of tyre roar fed through to the occupants. It's a similar story in the related Honda Civic small car, which sits much closer to the road and offers pretty sporty dynamics.
Speaking of the Honda HR-V's cabin: it's a real mixed bag, with the core build quality holding up well, while the interior technology now lags well behind the class average. Honda have selected a range of quality materials for the HR-V's interior, and this small SUV feels more expensive inside than rivals which feature acres of hard plastics. In the RS grade, leather covers the squishy (but not hugely supportive) seats, the dash, and the doors. The dashboard is also very presentable, with a chic full-width vent adding a touch of avantgarde.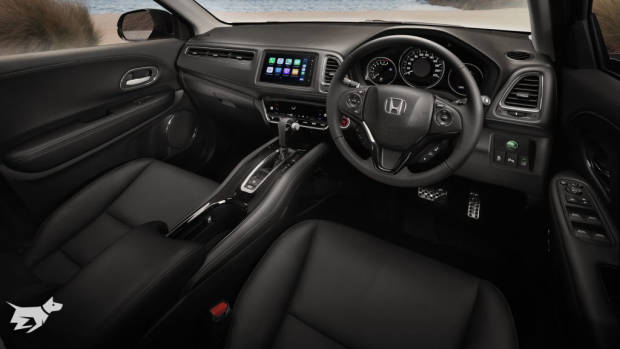 That said, the small SUV segment is a cutting-edge one in terms of democratising cabin tech – and Honda have dropped the ball here. An attempt to stem the HR-V's ageing process by throwing a clearly aftermarket touchscreen at this SUV hasn't worked. Slapped into the dashboard, looking nothing like a native Honda product, is a dim, laggy screen that, even at this price point, does not include integrated navigation. USB-wired Apple CarPlay and Android Auto are fitted, which helps, but the unit is just not tidily integrated. A Volkswagen T-Cross Style, with its bright, tightly-integrated screens – including a huge digital driver's display, shows up the HR-V RS rather embarrassingly. Even a digital speedo is missing from the Honda's quiver.
Given that, along with older downsizers, the HR-V's target market is young drivers, the decision not to develop 2020-style cabin tech seems like a misstep. Thankfully, the HR-V reclaims some of that lost ground by retaining smart interior packaging that shows some competitors to be truly inflexible in their layout. Diminutive the Honda may be – the HR-V measures just 4.36 metres long – it is exceedingly practical.
The back seats, in standard configuration, are hugely roomy, with six-footers fitting just fine in terms of both headroom and legroom – and those doors are still soft-touch in the back. However, the HR-V's real trick back there is its 'Magic Seats': the rear bench lifts up to a vertical position, allowing you to transport tall items, upright, behind the front seats. If you're a plant lover, you'll love this feature.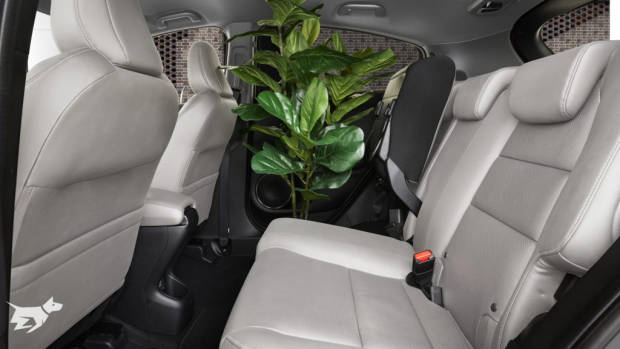 Equally, the boot belies this car's city-sized measurements, providing a huge-for-the-class 437 litres of space thanks to an astoundingly low floorplan. Behind the reasonably light manual tailgate, the boot floor is super deep – and it's long, too – meaning you'll fit much more in here compared to the Mazda CX-3, which musters just 264 litres of space – forty per cent less space! Under the HR-V's boot floor there are a few little storage compartments, and a space-saver spare wheel, too. Shame the cargo cover is flimsy and feels cheap.
So, which Honda HR-V model should you consider, if you're buying? All cars, from the base HRV VTi ($27,990 driveaway) offer the same 1.8-litre engine, four-wheel disc brakes, single-zone climate control, a seven-inch touchscreen, a six-speaker stereo, and alloy wheels – these measure 16 inches in the base car, which also makes do with old-school halogen headlights and a plastic steering wheel and shifter. All HR-Vs have city-speed autonomous emergency braking.
From there, it's a step into the second-tier HR-V VTi-S ($29,640, $33,084 driveaway). The S grade steps up to LED headlights and fog lights, some chrome garnishing inside, a leather steering wheel and shifter and 17-inch alloy wheels. Our RS ($32,990, $36,553 driveaway) further adds auto wipers, a black pack for the exterior, stylish 18-inch wheels, rear parking sensors, Honda's LaneWatch left-side blind spot monitor camera, leather seating with heating in the front, a reverse-gear tilting left side mirror, and drilled alloy pedals.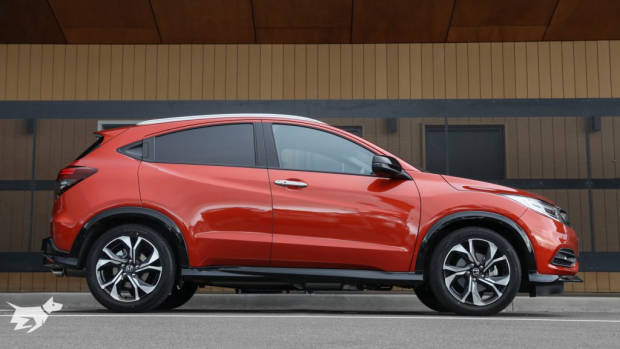 Finally, the top-shelf HR-V VTi-LX costs $36,240 ($39,882 driveaway). The LX adds chrome door handles, a panoramic sunroof, an eight-way power driver's seat, dual-zone climate control, more plush 17-inch wheels, and Honda's HR-V ADAS safety suite, which adds forward collision warning, lane departure warning, and automatic high beam. If we were buying an HR-V, we'd keep it as simple as possible.
New Honda HR-Vs come with a five year unlimited kilometre warranty, which is the new class benchmark. Servicing for the 1.8-litre engine is capped in price, and servicing is required every 10,000 kilometres, or annually, if you do fewer kilometres than that. The first five services cost $299 and then $315 for the next four, for a 50,000 kilometre total price of $1,559.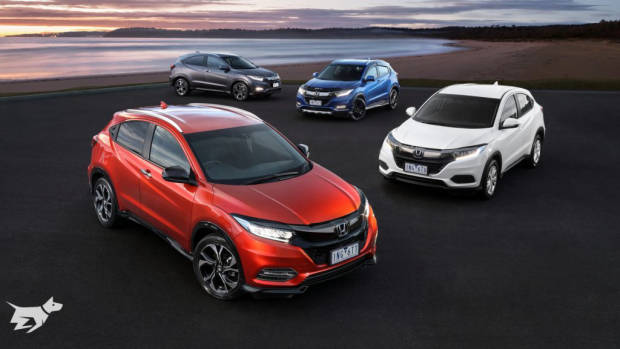 In terms of real fuel costs, the Honda HR-V accepts E10 fuel, and consumed 8.5L/100km in our testing. If you drive the same 14,000 kilometres per year as the average Australian driver, and petrol is $1.30 per litre, you'll spend about $1,547 per year to refuel this SUV.
If your priority is cutting-edge cabin technology – the Honda HR-V isn't your car. If, however, you want a compact crossover that is equipped with a fairly simple engine, handles well, and offers more practicality than most rivals – along with some surprise and delight features – then the HR-V is an SUV that should be on your shopping list.