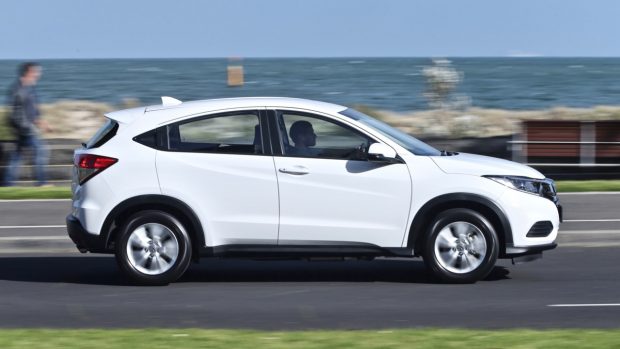 It's pretty remarkable when one of the older vehicles in a segment is still one of the best. It's a rare situation, and yet, that's the case for the Honda HR-V. Smartly sized, enjoyable to drive and good value for money, the HR-V – which has recently received a slight facelift for 2019 – remains one of our top picks in the small SUV class. Rivals have closed in, to be sure, and newer cars like the Toyota C-HR are even better than the Honda, but the little HR-V that could remains the most practical of the bunch and arguably, the easiest to live with. To see how the formula is holding up, I sampled the entry point to the HR-V range for a detailed test – so here are my thoughts on the 2019 Honda HR-V VTi, priced at $24,990 (currently $27,490 driveaway).
Jake covered the details of the 2019 HR-V facelift in his range review from the car's national launch, concentrating on the sporty new RS grade ($31,990, currently $35,582 driveaway). But for many people – whether you're looking for a first car, a simple runabout or perhaps a car for your parents – a VTi, which you can drive away from the dealership with plenty of change from thirty grand, will be particularly attractive.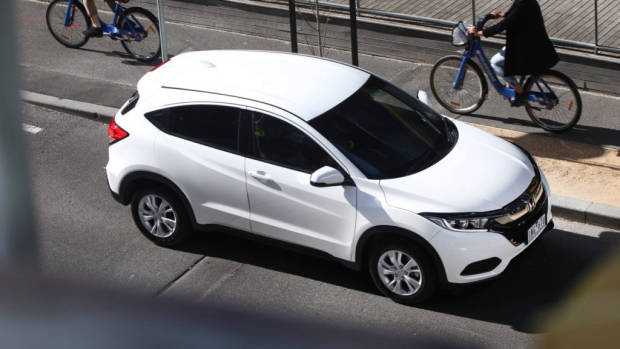 And the VTi is attractive as a deal because the entry-level HR-V is pretty well equipped. There are a few oddities, like a lack of auto headlights (and a plastic steering wheel at this price is cheeky). Otherwise, the inclusions are impressive: city-speed AEB, a touchscreen-driven stereo with satellite navigation, climate control, 16-inch alloy wheels and the 'Magic Seats' system, which I'll touch on later. As a basic city car that can also handle the occasional longer drive, the VTi would be just fine.
A great thing about a small SUV is that they're easy to get into – helpful for older people – but if you don't need the ride height, Honda's own Civic hatch is even better to drive, while offering more equipment for the same price. The Civic VTi-S is $27,857 driveaway – $400 more than the HRV VTi – but adds full keyless entry and start, Apple CarPlay and Android Auto smartphone mirroring, a blind spot camera, front and rear parking sensors, fog lights, premium cloth for the seats and independent rear suspension. The Civic, however, loses navigation, city-speed AEB and climate control compared to the HR-V.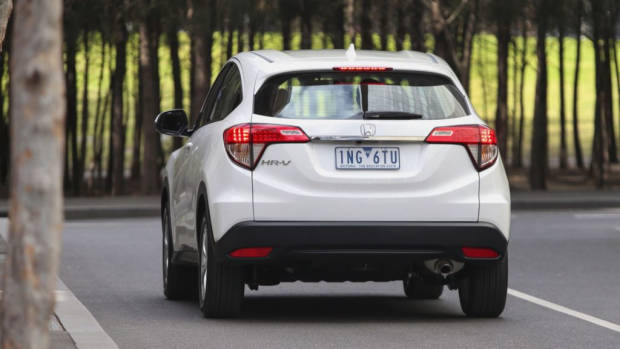 Either way, you'd end up with a comfortable car that is built well and is easy to drive on the road. In fact, both Civic and HR-V have real dynamic polish.
The HR-V is better to drive than most of its small SUV rivals, with a plush ride quality, engaging handling and heaps of grip from the standard Bridgestone Turanza tyres. Though the steering wheel is unfortunately plastic in the VTi – it should be leather – the steering itself is fantastic, direct and linear with perfect mid-weighting. The front wheels go right where you tell them and in concert with the tyres, the HR-V can actually be a stack of fun on a backroad.
Despite excellent body control, the HR-V doesn't have a stiff or uncomfortable suspension. Instead, this Honda has a plush, well-resolved damping consistent with other cars wearing the H badge. Bumps are dealt with quickly and quietly, without any boaty bobbing or thumping through the cabin. Certainly, there is a layer of refinement and resolution here above and beyond a Mazda CX-3. There is a fair bit of road noise though – a Toyota C-HR is quieter.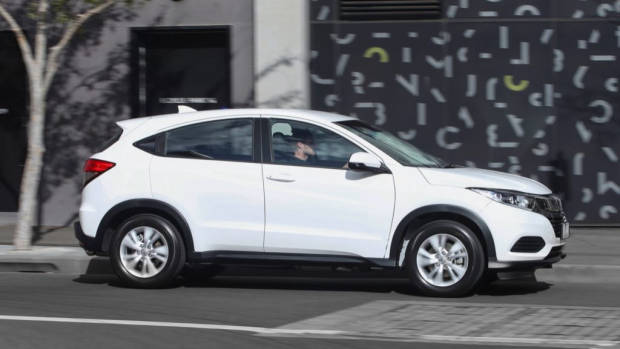 Even the 1.8-litre SOHC aspirated four-cylinder petrol engine feels up to the task, despite being a very dated unit. The 1.8-that-could produces 105kW/172Nm and while it certainly isn't fast up hills, in most city driving it is adequate. Fuel economy is pretty decent, too. We managed 8L/100km in urban driving. On longer runs at a constant speed, you'll do a bit better again. The CVT automatic is standard and not too bad, providing gentle engine braking when driving downhill.
So the HR-V is good to drive – and it's also pretty good to live with every day.
Despite this Honda being one of the older cars in the segment – it was revealed in 2014 – no rival has managed to match its excellent sizing and packaging. The HR-V is just 4.29m long – only 2cm longer than a Mazda CX-3 – and yet the Honda's boot is enormous and its back seat is spacious enough for adults. It's clear that Honda's engineers spent ages figuring out how to make this all work.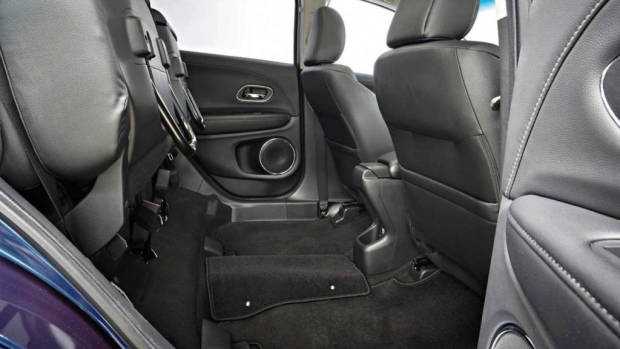 The HR-V's Magic Seats system.
The 437 litre boot space is almost 70% more than you get in the Mazda and 16% more than the Toyota C-HR – which is actually 6cm longer than the Honda. Incredible! The Honda also has Magic Seats – a seat folding system that lets you either conventionally fold the back seats down flat, 60/40, or actually fold the rear seat bases upward, to allow you to transport tall, narrow items in the car (for example, a bookcase or pot plant). It's just a shame that big back seat doesn't have air vents. Rear passengers like air too!
What's the HR-V like up front? A mix of good and bad. The cloth seats could be more comfortable, but for short and medium distances, they're fine. The problem is mainly an odd driving position; you feel tilted a little forward. The materials around the cabin are generally nice – cloth-covered doors and a soft strip on the dashboard lift the ambience, only for it to fall again with the aforementioned plastic steering wheel, and plastic gear shifter. Leather, please, Honda! This car is over $27,000 driveaway – a sub-$20,000 Volkswagen Polo has leather-covered key touchpoints.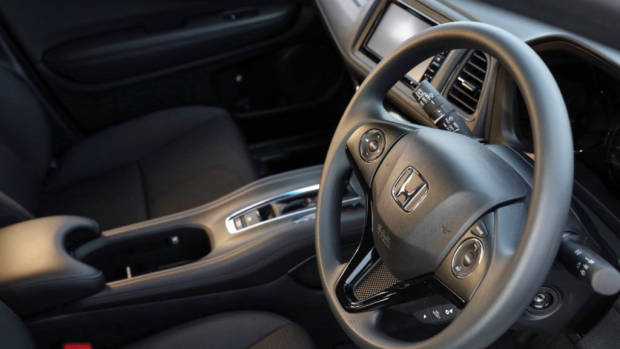 It's a good thing that the Honda HR-V has a standard touchscreen with satellite navigation – we praise that. It's just a shame that the software on the screen is woeful. The nav looks cartoonish and there is so much glare on the display at all times that you can't read anything anyway. The lack of Apple CarPlay or Android Auto is crazy on a small SUV in 2018. Plus, having to deal with a USB cable protruding from the screen, and not tucked discreetly in the centre console, is not nice. But we concede this will matter little to some buyers – plus, we actually forgive this touchscreen because the HR-V has so many great points.
Honda has a five-year warranty with unlimited mileage, which rates as good among its rivals – Mazda matches this; Toyota has a three year, 100,000km setup. And while we wish the HR-V's service intervals of the first of 10,000km or 12 months were a bit longer (especially with such an old engine), though at least the scheduled maintenance is cheap. Four years, or 40,000km, will cost $1,463 total, averaging $365 per year.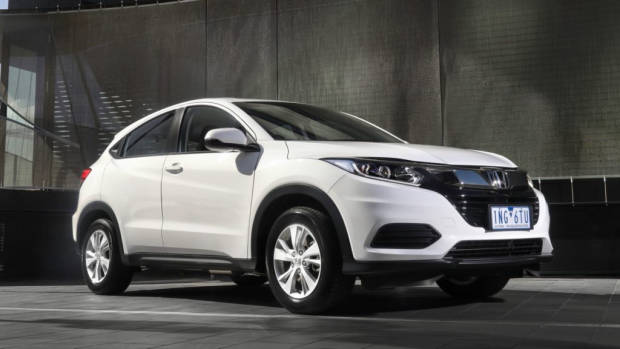 As Jake said in his launch review of the 2019 HR-V range, we'd love to see Honda's littlest SUV adopt some features available on the HR-V in foreign markets – namely, a better touchscreen and a turbocharged engine. But ultimately, those things are nice to haves, rather than absolute needs.
As a car, the HR-V stacks up really well. It's fit for purpose, good to drive and super easy to use and live with. If anything, it's a little expensive given its basic featureset – but that is the premium you pay for the SUV form factor. As mentioned, better value is always available in a conventional hatch (and not just at Honda).
That being said, we commend the HR-V VTi. This is a high-quality city runabout that also has chops driven down a backroad, a supremely practical interior, a big boot and an economical engine. You can't complain about that!