2017 Toyota C-HR Review: First Drive
C-HR
| $26,990 to $35,290
Pros
Impressive driving dynamics
Stylish, distinctive looks
Great value for money
cons
CVT auto can get buzzy
Room is tight in the back
Tyres limit handling fun
The 2017 Toyota C-HR is one of the most interesting Toyotas of the last decade. Not because of this small SUV's origami-esque coupe lines – though they're pretty cool. The C-HR is interesting because it represents a quiet, but very dramatic shift at Toyota towards building European-style small cars.

A small-displacement turbo petrol engine? Check. A balanced and super-rigid chassis? It's here. Premium materials right through the cabin? Sure. Toyota will even sell you a C-HR with a sweet manual gearbox at a trim level that comes with all the equipment you'd want.

That's no surprise: the C-HR was originally destined solely for European markets and was developed almost exclusively on Euro roads, from Italian autostrada to Germany's gruelling Nurburgring circuit. Built in Turkey and Japan, Toyota Australia was a late sign-up to take the C-HR – and as a result, just 6,000 will come here this year. That allocation will sell out quickly.

It was engineered and designed for Europe but the C-HR doesn't lose the benefits of being a Toyota: the interior is foolproof, running costs will be low and there's every likelihood the reliability will be bulletproof. And there are Japanese elements to this Euro-hatch: the aesthetics, for one, and the CVT automatic, for another. This is a good CVT – it's inoffensive until pushed. However, it remains dynamically inferior to a torque converter or double-clutch automatic.

The CVT is easy to drive and great to live with, though, and with the auto 'box the C-HR will be a great runabout: simple but funky.

However, buyers that really like driving will recognise the serious work that has gone into the C-HR. Toyota purposely delayed bringing this car to market – despite competitors like the Mazda CX-3 reaping immense sales – in order to ensure the C-HR rode on the company's new TNGA platform. The C-HR's chief engineer, Hiroyuki Koba, told Chasing Cars at the car's media launch that TNGA was key to transforming the SUV into a great, rather than good, car.

And after a couple of hundred kilometres at the helm, the C-HR's excellent ride quality, good handling and tight packaging all demonstrate that waiting for TNGA was a prudent decision. Only the Honda HR-V offers a similarly enjoyable driving experience, but packing a torquey, fun 1.2-litre turbo, the Toyota shades that highly-rated Honda.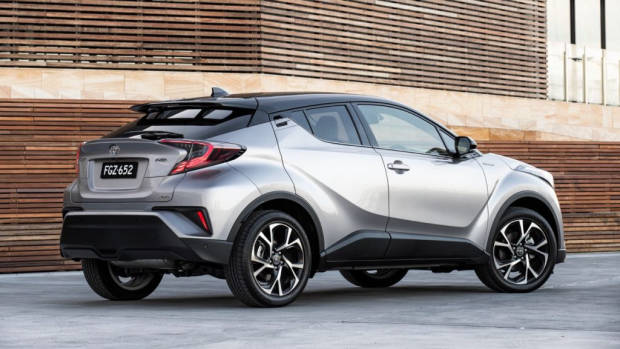 DRIVE
The biggest surprise about the Toyota C-HR is how European it feels behind the wheel. The bulk of that Euro feel comes from the turbo engine – but the C-HR's steering is firmer and more direct than we expect from Toyota; and the comfortable ride is genuinely refined.
Toyota told Chasing Cars that for most C-HR buyers, this car will be their first from the brand, and we think they'll find it enjoyable to drive. But for those who upgrade to a C-HR from a Yaris or Corolla, the step up in dynamic refinement will be quite breathtaking. We're genuinely pleased to say that, when it comes to driving dynamics, the Toyota leads the small SUV class.
The C-HR's two main competitors are both strong, but each suffer from a particular foible. The Honda HR-V is a terrific all-rounder but its lack of torque forces you to work it too hard. And the Mazda CX-3 – previously the segment leader – is too rough-riding around town. Toyota clearly studied both these vehicles, and avoided both issues in their car.
But back to that turbo engine. A turbo petrol is unusual in itself in a Toyota, especially given we're not even used to turbo diesels in Toyota's passenger cars here in Australia. We're more used to hybrids in Toyotas – and though the brand's Australian management have an "immediate" desire for the C-HR hybrid available elsewhere in the world, it won't be here anytime soon. Instead, the sole engine packs forced induction: a 1.2-litre turbo four-cylinder making 85kW of power and 185Nm of torque.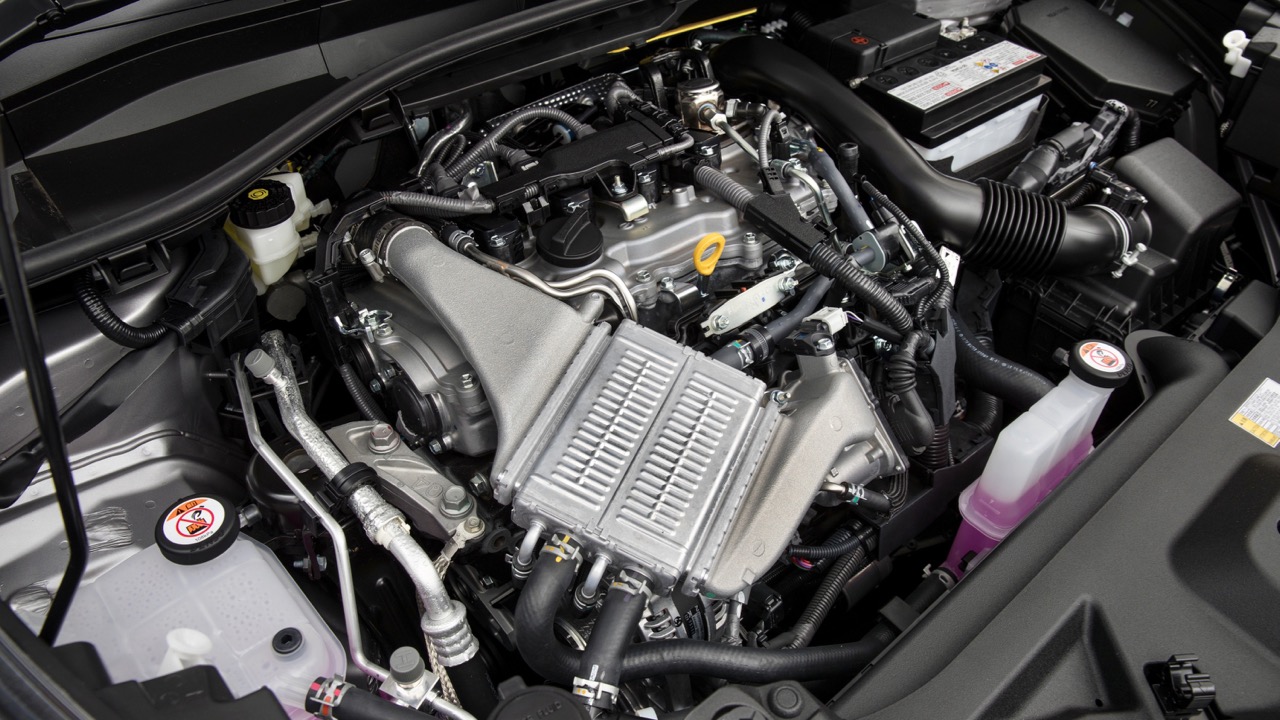 The C-HR's 1.2-litre turbo petrol engine
As those figures suggest, this is a small but punchy engine that is ideally suited to buzzing around town. On fast country roads, the C-HR's mere 85kW can feel a little stretched, but at town speeds or at consistent triple-figures on the highway, the C-HR's turbo is an ideal powerplant for a vehicle of this size.
A six-speed manual is the standard transmission on the lower of the two C-HR trims, and it's a lovely thing – but most people will opt for the CVT automatic that becomes standard-fit on the high-spec Koba model. Happily, in almost all situations, this is a fine transmission – certainly one of the most refined CVTs we have driven. It's only those fast country roads – the same ones that betray a lack of power – that stretch the CVT and make the engine groan unpleasantly. A dual-clutch automatic or torque converter would be superior.
Quick and direct steering is another surprise here: the C-HR is quite a fun car to punt about, aided by a chassis that is a real peach. Toyota delayed the C-HR until the brand's new TNGA platform was ready to go – that decision has paid off. The C-HR rides and handles better than any Toyota bar the 86 – and that's because of the much higher rigidity that TNGA offers over something like a Corolla, and the low centre of gravity. There's no body roll to be found. All of the C-HR's dynamic testing was conducted in Europe, and that shows.
Much like Hyundai achieved on the Tucson, Toyota have struck a near-perfect blend in the C-HR's ride, which strikes a balance on the comfort end but with a crisp, short rebound stroke ensuring that it can be confidently driven harder down a B-road. In fact, the biggest dynamic issue here is a relatively easy fix: the tyres. The standard Bridgestone Potenza tyres squeal altogether too quickly, and make you back off far too soon when driving a car clearly capable of a lot of fun.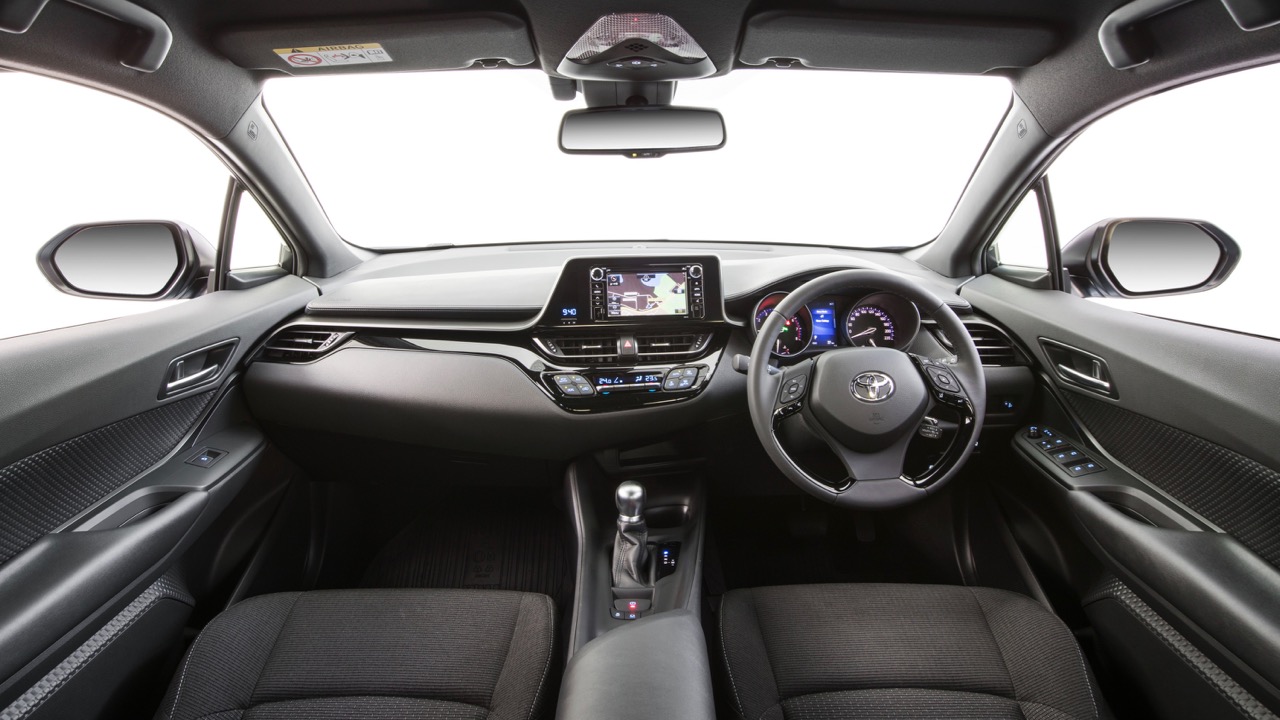 COMFORT
Compared to the futuristic, diamond-infused concept outside, the C-HR's interior initially comes off as a little tame – full of soft surfaces and organic lines. However, given that we spend all our vehicle interaction time inside the car, that's no bad thing – and too-edgy interiors like that on the latest Corolla have not worked out for Toyota.
Instead, the C-HR's well-appointed and comfortable interior presents few obvious issues – a welcome antidote when for the past few years, Toyota cabins have always trailed the Japanese and European competition in some noteworthy way.
Significant work has been done on seat quality and comfort, and both the cloth pews in the standard C-HR model, or the upgraded leather versions in the top-spec Koba model are a joy to spend time in. Well-bolstered and supportive, these are the kind of seats you'd happily do a road trip in.
The same can't quite be said for the bench in the back, which is on the smaller side – and you do feel hemmed-in sitting in the second row thanks to the all-too-small rear windows: a product of that futuristic design outside.
Back up front and Toyota have partially adopted the floating-screen model that many competitors, including Mazda, use. A European-specification infotainment system brings some welcome respite from often-crappy Toyota navigation systems like that found in the 86, but the mapping still looks cheesy, locks you out from making changes on the move and the screen is too small.
A major standout in the front, though, is material quality. The C-HR's developmental roots in Europe are in plain relief here: this Toyota is built for European audiences, no question about it. Both the upper and lower sections of the dashboard are trimmed in soft, supple leather-look trim and feel decidedly more upmarket than any other passenger car Toyota makes: bravo. Equally, the door trims are soft and make resting an arm much more comfortable.
What won't be comfortable are the sore necks that result from the C-HR's inevitably poor rear blind spots. Design a car with such a swooping rear roofline, and – in the absence of a miracle of engineering – visibility will really suffer. That's happened here, so it's a good thing that both blind spot warning and a reversing camera are standard on both models.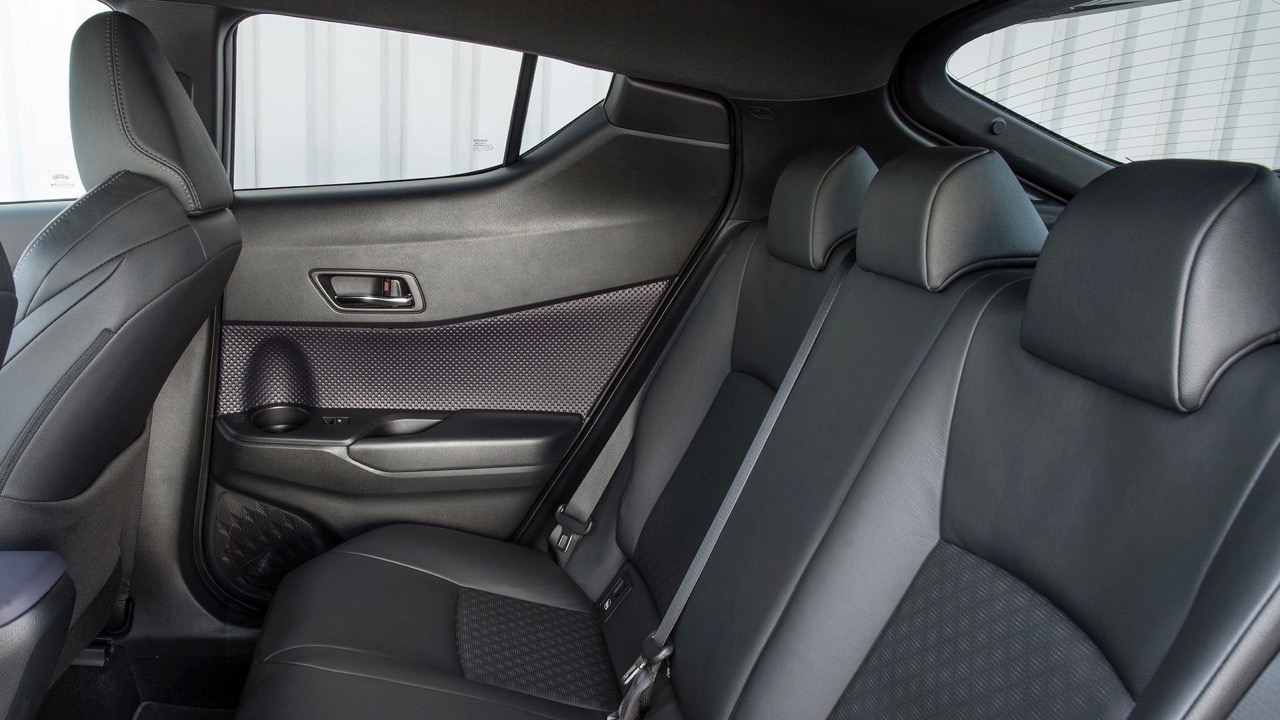 PRACTICALITY
The surprises continue in the C-HR's boot. Before being able to touch the car on its local launch last week, most onlookers assumed that below the intricate, sloping rear metalwork must lie heavily-compromised cargo room. Well, we were wrong. The C-HR's new TNGA platform has opened up new packaging efficiencies and the C-HR packs 377 litres behind the rear seats. Compare that to the similarly-sized Corolla hatch which manages just 280 litres.
So, the C-HR's boot is as big as a Golf's and that means it won't struggle with several medium-sized suitcases, or all the schoolbags, or a big grocery shop on a regular basis.
Usefully, those back seats fold down completely flat and that opens up the possibility of fitting some furniture or other bulky items in the back. However, this remains quite a small car – don't let the SUV lines or active lifestyle marketing fool you – it'll be a struggle to get a bike in there.
You will find the usual Toyota cleverness in the cabin – the sort of thing that will make the C-HR easy to live with day to day. There are good-size cupholders and a useful tray ahead of the gear shifter. The door bins can fit a smaller water bottle but unlike a Volkswagen, they are not felt-lined, which means anything hard in there will scratch and vibrate around and annoy you.
What's not so impressive is the USB port situation. Just one port is not enough for a car that's brand-new in 2017, and that port is poorly-located next to the touchscreen, ensuring you have a charging cable dangling in the centre of the dash – not very visually clean.
In the back there's no flip-down armrest for passengers back there but they do have a bottle-holder in the doors. Somewhat disappointingly, those in the back do without their own air vents, even in the up-spec Koba model.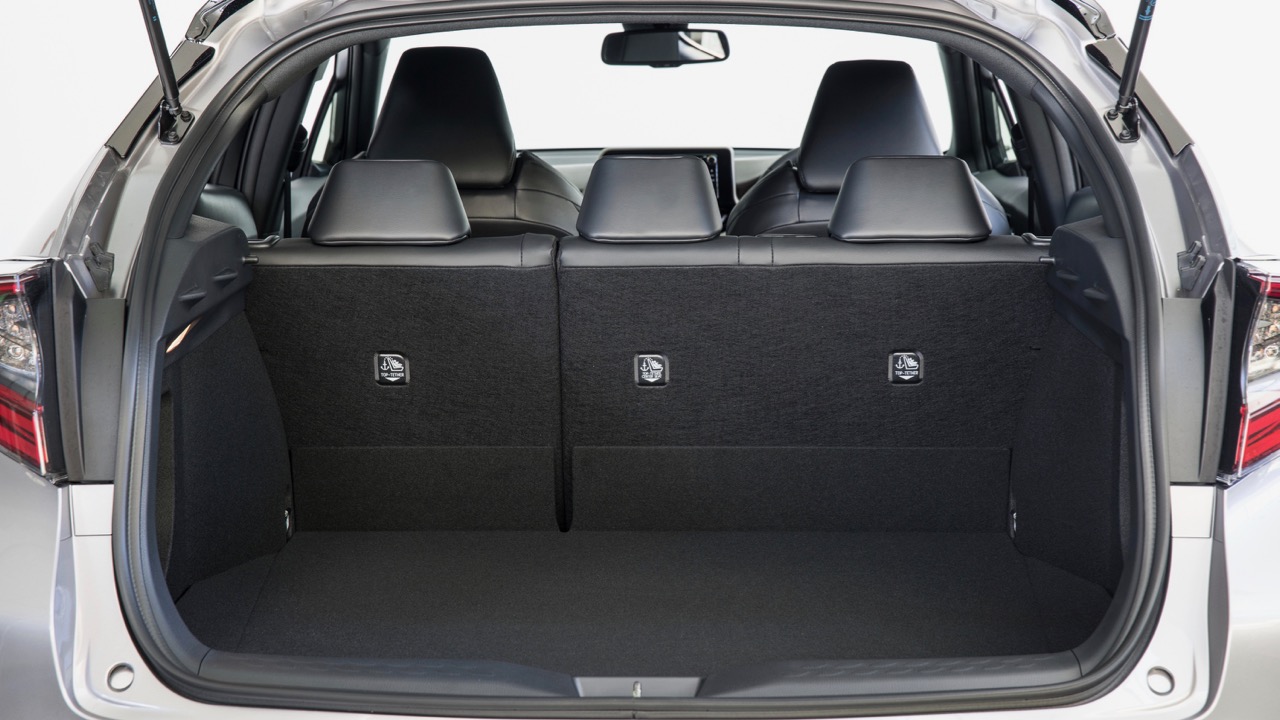 VALUE FOR MONEY
Unlike Mazda but like Honda, Toyota are not going to offer the C-HR with a stripped-out base model for about $20,000. Instead, the range will include two models and kick off at $26,990 for the standard spec – just called "C-HR".
That price will buy you a two-wheel-drive manual; another $2,000 buys you a CVT automatic and a further $2,000 will get you all-wheel-drive.
Many initial buyers will flock to the higher-grade $33,290 Koba model ($35,290 with all-wheel-drive), but after the early adopters are out of the way, we think most people will find the standard grade extremely compelling from a value perspective.
The C-HR offers a much more convincing package at the $27,000–$29,000 level than both of its main competitors.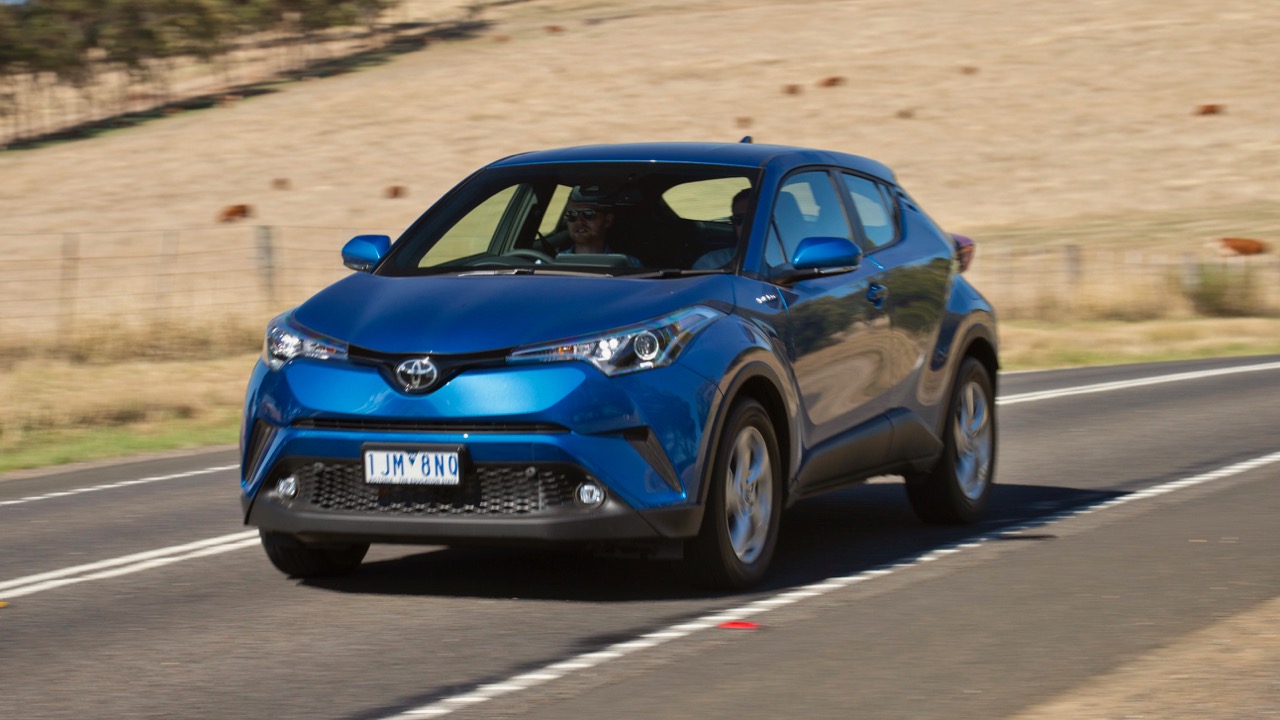 Editor Tom Baker drives the 2017 Toyota C-HR on launch
Admirably, Toyota have bitten the bullet and made advanced safety features standard fit across the range. Every C-HR sold in Australia will be fitted with radar cruise control, autonomous emergency braking, lane departure alert with active steering intervention, a reversing camera, blind spot warning, rear cross-traffic alert, automatic wipers, front and rear parking sensors and hill-hold.
The most critical of those features – autonomous emergency braking – is only available as part of a $1,030 Safety Pack on the similarly-priced Mazda CX-3 sTouring, and isn't available on the Honda HR-V except as a $1,000 option on the top-shelf, $33,340 VTi-L model.
Toyota backs up a clear win in the safety stakes with the standard inclusion across the range of a number of other desirable features – satellite navigation, 17-inch wheels – 18-inch on the Koba – dual-zone climate control, folding mirrors and fully-electric windows all around.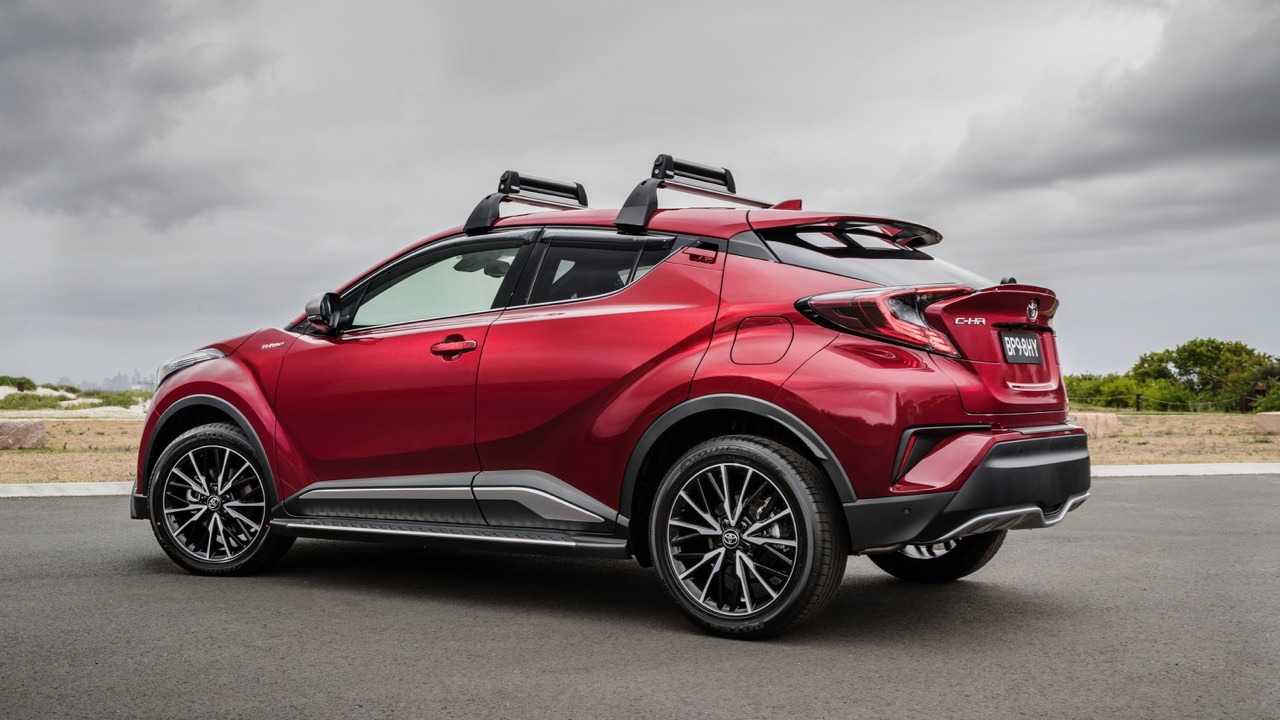 A wide range of accessories is available for the C-HR, as shown on this example.
It costs $4,300 to step up to the funkier-looking Koba with its super-stylish wheels, leather seats, keyless entry and start, LED headlights and a trick "nanoe" moisturising air conditioning system. Most Koba buyers will be attracted by the sporty looks outside – in comparison, the standard car looks a little pedestrian in the wheel department.
Ongoing costs are low – five years of servicing will cost just $975, and the C-HR only needs one annual service, unlike many other Toyotas.
You can probably give all-wheel-drive a miss: ground clearance is very limited and the likelihood of a C-HR going to the snow or a trail in Australia is, shall we say, low.
A vast range of accessories will be offered – including various colour inserts for the mirrors and other outside trim pieces. The C-HR is the most customisable Toyota apart from the HiLux, and Toyota will be marketing the vehicle through shopping centres with one of the most immersive customisation touchscreens we have ever seen. This will be joined in malls by an incredibly realistic 3D virtual reality experience to coax buyers into a later test drive.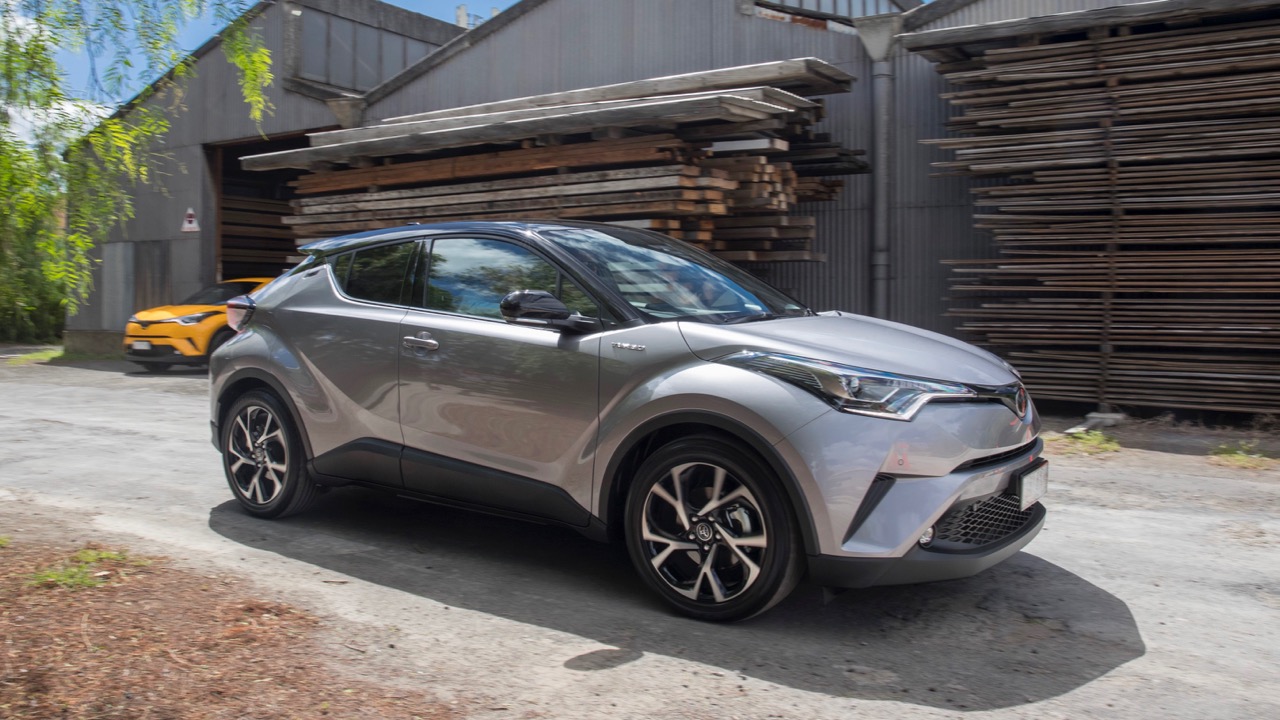 COMPETITORS
The Toyota C-HR enters the busy small SUV segment pretty late to the party, and though we think that wait was worthwhile, there are a number of rival cars that you ought to take for a test drive.
The most noteworthy of those are the Honda HR-V, which is the all-rounder of the group – more practical again and really easy to drive, and the Mazda CX-3, which is usually the class leader sales-wise and offers a broader range of models, including a diesel.
The Peugeot 2008 deserves consideration, packing a new turbo-triple engine along with higher prices, and if funky looks are the name of the game the Nissan Juke was the OG in that department.
Other vehicles this size include the Fiat 500X, Ford EcoSport, Holden Trax, Jeep Renegade, Mitsubishi ASX, Renault Captur, Subaru XV and Suzuki Ignis.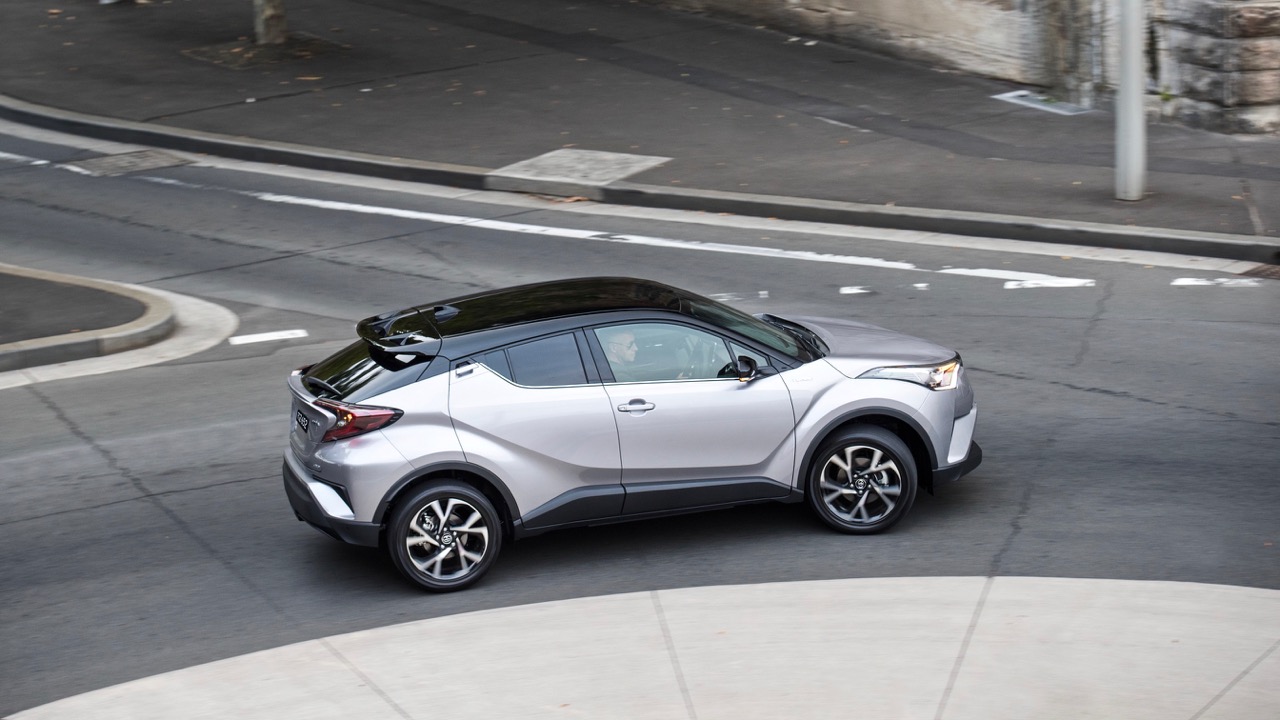 Engine
| | |
| --- | --- |
| Capacity | 1.2L |
| Fueltype | Petrol |
| Cylinders | 4 |
| Configuration | In-line |
| Induction | Single turbocharger |
| Power | 85kW from 5,200rpm to 5,600rpm |
| Torque | 185Nm from 1,500rpm to 4,000rpm |
| Power to weight ratio | 62kW / tonne |
| Fuel consumption (combined) | 6.3L/100km |
| Fuel capacity | 50L |
| Average range | 794km |
Transmission and Drivetrain
| | |
| --- | --- |
| Transmission | Automatic |
| Configuration | Conventionally variable transmission |
| Gears | 1 |
| Drivetrain | Front wheel drive or AWD |
Dimensions and Weights
| | |
| --- | --- |
| Length | 4.36 metres |
| Width | 1.8 metres |
| Height | 1.57 metres |
| Unoccupied weight | 1,375 to 1,510 kilograms |
| Cargo space (seats up) | 377L |
| Cargo space (seats down) | Not measured |