Small SUVs. They're firing up the worldwide sales charts – their compact dimensions, exotic styling and slightly raised driving positions appear more desirable than their hatchback equivalents. As a result, almost 38,000 small SUVs have been sold in Australia this year so far, an 8.1% improvement over 2016. Here's where my skepticism kicks in though: the same hatchback equivalent is often more talented, better value for money and more practical – a Mazda 3 SP25 GT is equipped significantly better, has a larger and more powerful engine and is more practical than a Mazda CX-3 Akari – so aside from the availability of all-wheel drive on some and a raised driving position, why buy an SUV? Enter the 2017 Toyota C-HR .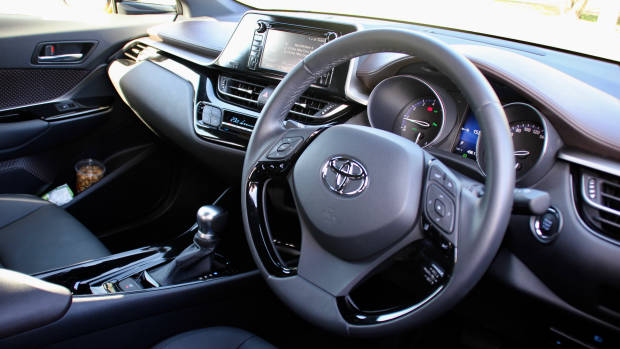 As such, my expectations for this brand new Toyota weren't that high. I loved the way it looked but couldn't help but think that perhaps, like most other small SUVs, this was a car that didn't have the substance to match the styling. Tom was lucky enough to drive the 2017 Toyota C-HR at the Australian launch of the car, and was quite positive about it, boasting about how this was a Toyota to set dynamic benchmarks within the small SUV class. An opportunity arose to have a top-spec C-HR Koba for a week, and with my grandmother's 90th birthday in Coffs Harbour on the mid-north coast of NSW in the calendar, a road trip was planned in Toyota's new baby SUV.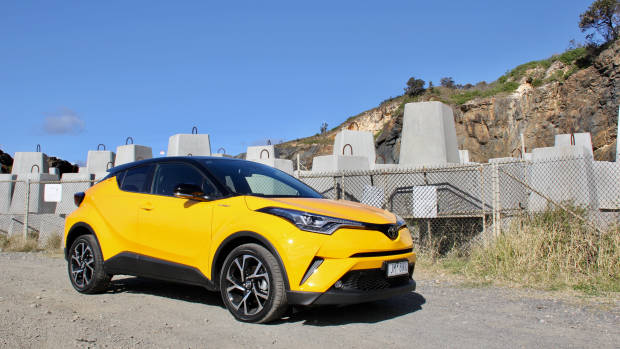 Toyota Australia has only been able to secure 6,000 units to sell for the first year of production, which means that for now – unlike the Mazda CX-3 and Honda HR-V – they aren't yet able to offer a price-leading base model. That doesn't seem to have worried consumers however, with the C-HR's Australian allowance sold out so far and a waiting list growing every day.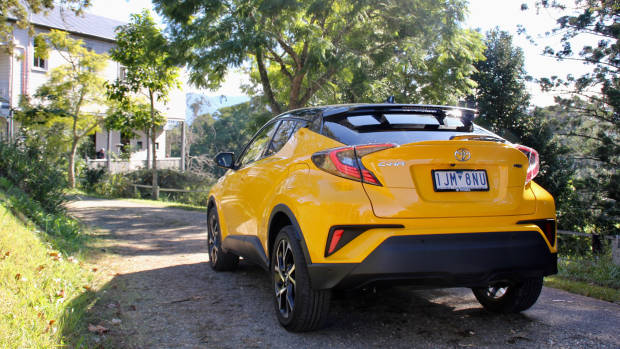 The local 2017 Toyota C-HR range opens at $27,990 for the entry level C-HR (called, uh, C-HR) and it is very well equipped for the money, with 17-inch alloy wheels, cloth trim, automatic everything (lights, windows, wipers and folding mirrors with puddle lamps that feature the C-HR logo), dual-zone climate control, LED daytime running lights, autonomous emergency braking, radar cruise control, rear traffic alert, lane keep assist, blind-spot monitoring and even automatic high-beam headlights.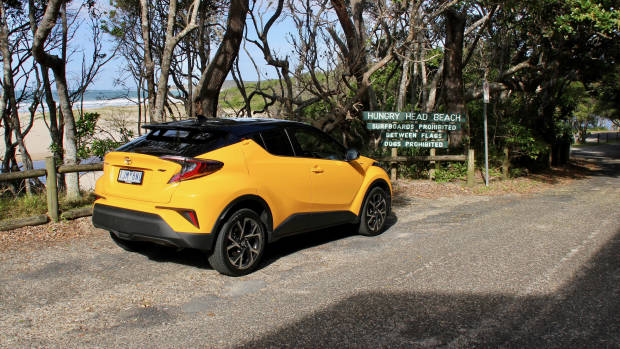 The upper-spec $33,290 Koba (named after the car's chief engineer) we tested is CVT automatic-only, and adds leather trim, LED headlights with Audi-esque scrolling front indicators, LED tailights, heated front seats with electric driver's lumbar adjustment, 18-inch alloy wheels, Toyota's 'nano-e' air purification system, some added piano black interior trim, extra LED mood lighting in the cabin and the option of a $450 black roof. All-wheel drive adds another $2,000, and is available on automatic versions of both model grades.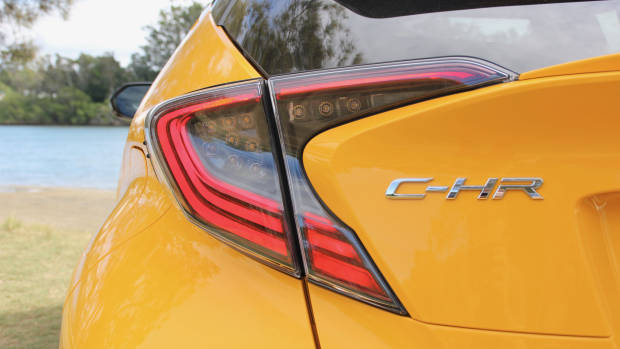 The combination of Hornet Yellow and the C-HR's bold styling is instantly noticeable. You quickly learn that people aren't subtle with their staring, and even a couple of people stopped me in my tracks to ask what such an exotic car could possibly be. I must admit that I love the C-HR's styling – it's in your face, it's funky and finally we have a Toyota that resembles its precursor concept car.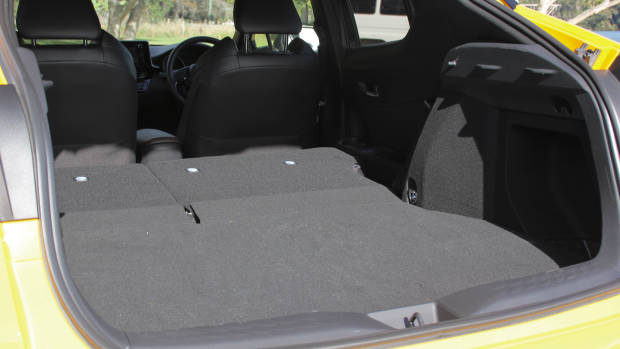 "A Toyota!?" one bloke questioned. "Yep, it's a brand new 2017 Toyota C-HR" I replied. He was smitten with it. Not everybody were so positive however, one person told me that "I should've bought a Jeep" but really, that's missing the point entirely. The C-HR isn't pretending to be a 4×4, it's a city-sized and high-riding car. Sure, you can get all-wheel drive, but that really is more for dirt roads and rainy days than climbing every mountain, and fording every stream.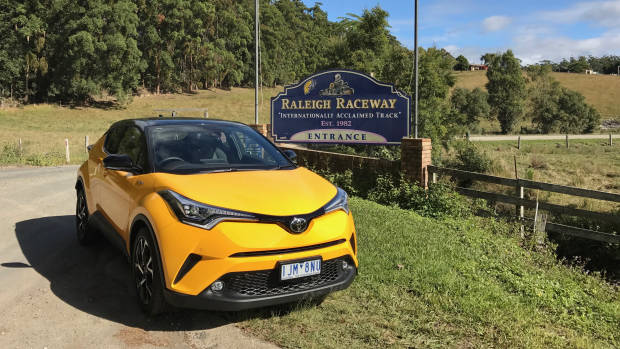 The interior of the 2017 Toyota C-HR is also a standout. Instead of using switchgear from the Toyota parts bin like most of their products of the last decade, the switchgear of the C-HR has been redesigned and feels significantly more modern as a result. A recurring theme in the car's overall design is diamonds and they literally are everywhere – the climate control surrounds, the interior light switches, even the patterns on the doors, and it adds another layer to the design that you don't immediately notice.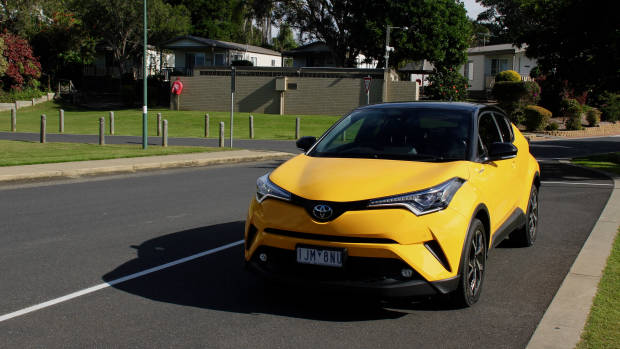 Only the car's dated infotainment system dulls the interior experience – it's small in size and slow to use, with tiny icons making it especially hard to use at speed. European C-HRs have a larger and significantly more modern touchscreen – why don't we receive this in Australia? While we're at it, how about Apple CarPlay and Android Auto smartphone integration and a DAB+ digital radio? It's a bit of a shame to feature such a dated system, especially with the younger folk that Toyota are targeting with the car and that the rest of the car is significantly more modern.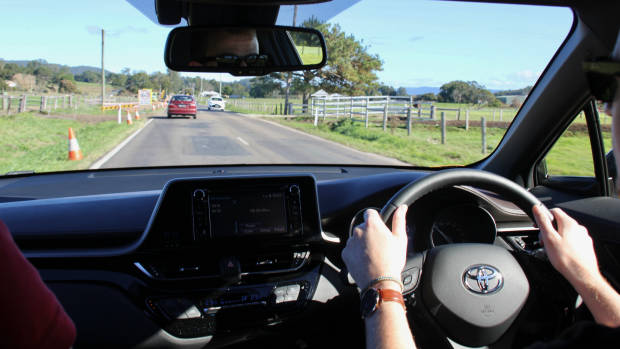 What surprises you about the 2017 Toyota C-HR though, is that it does actually have some practicality to mix with its style, a rare combination in the small SUV class. While it doesn't appear that large from the outside, it hides a 377-litre boot (some 43 percent larger than the Mazda CX-3) that opens up to over 1,100-litres when the rear seats are folded flat. Unlike the CX-3 as well, there's genuine room in the rear seat for tall people – I'm over six foot and had more than enough room sitting behind myself. Just don't ask them about their view out – the windows are tiny and can impede on your ability to shoulder check. Even a sunroof would be appreciated to add much needed light.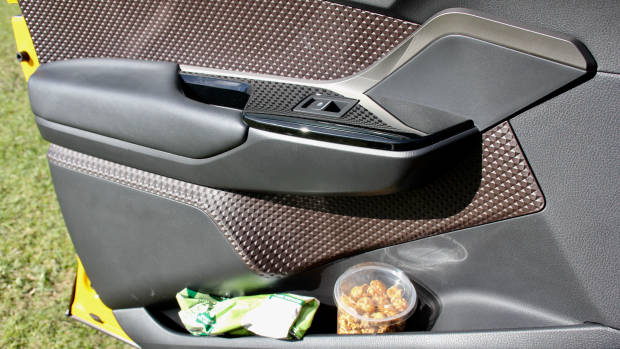 There's reasonable interior storage though, perfect for storing road trip snacks and drinks. Large front door bins, deep centre console cup holders, a reasonable glovebox and drink holders in the rear doors all feature. Having said that, rear passengers are less well catered for with no rear centre armrest, air-vents or even rear door pockets to remind you that the C-HR is more for smaller kids or people who don't have them. Despite this, and unlike the CX-3, you get the feeling that the C-HR was developed to be more than just a Yaris SUV – there's been genuine thought to the packaging and practicality of the car.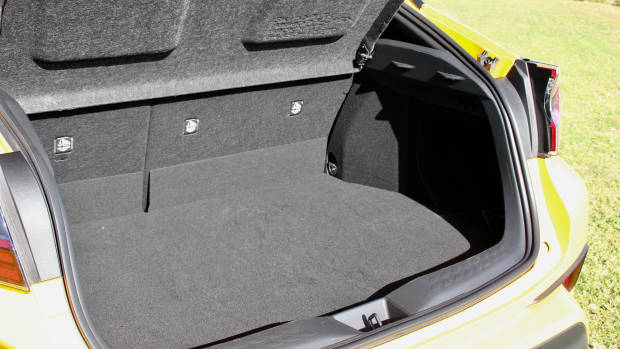 Further evidence of substance behind the styling is in the 2017 Toyota C-HR's driving dynamics. It is based on Toyota's new TNGA platform that underpins the latest Prius – in fact, Toyota waited another three years for the platform to be developed to launch the C-HR, hence its lateness to the small SUV party. Despite a relatively short wheelbase and large 18-inch alloy wheels, the C-HR rides very well, even on the worst country roads that I could throw at it. Large potholes do not faze it. The steering is light and largely devoid of feel in its normal drive mode, but put it into sport mode and things improve dramatically, with more feel and weighting allowing you to tackle corners harder and faster.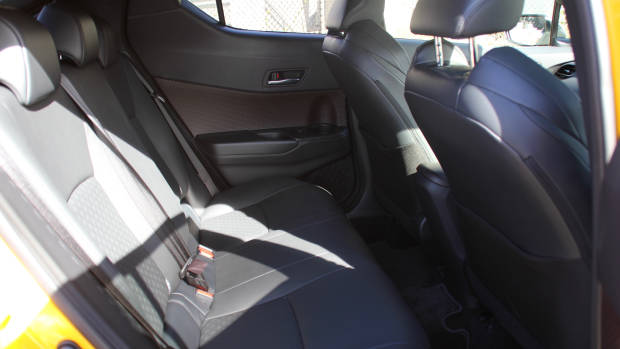 It handles well, and you can tell that Toyota engineers drove the CX-3 when developing the C-HR. The rear-end likes to work with the driver, the grip levels are reasonably good and turn in is excellent. If there's anything to criticise about the driving experience, it's that motorway noise levels aren't brilliant. The road noise in particular is on the higher side, but still nothing like a CX-3.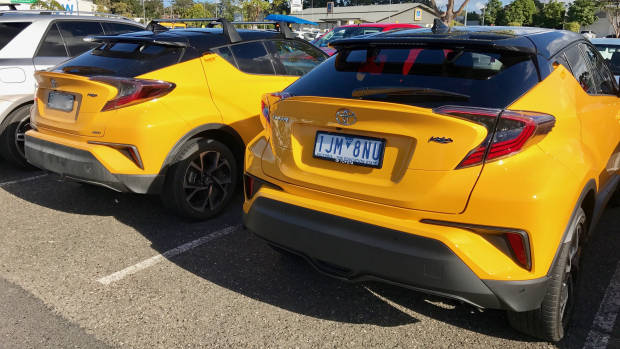 Under the bonnet of the 2017 Toyota C-HR is a new 1.2-litre turbo four-cylinder engine, making 85kW of power and 175Nm of torque. They may not sound like big numbers and the C-HR really is no firecracker, but the car does feel quicker than they suggest. The car's mid-range torque is particularly oomphy, and allows it to cruise at 110km/h+ with no problems at all, but also have superior drivability to a 2.0-litre naturally aspirated petrol CX-3.
Toyota claims 6.5L/100km as a fuel consumption average, and with our mostly-highway trip it averaged 5.6L/100km – helped mostly by the CVT automatic, which keeps revs low on a motorway. The C-HR's CVT is a good example of the breed – it stays quiet when you need it to, but when you need a bit of power it keeps the revs in the car's torque band.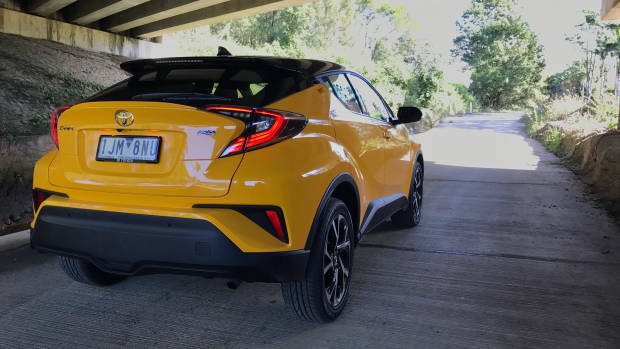 But all its positives aside, do you know what my favourite thing about the 2017 Toyota C-HR is? It's got a rare trait in cars these days – character! Not since my own 2016 Mazda MX-5 have I experienced a car that encourages you to hop in and go on an adventure. The most surprising thing about the C-HR is that we have a Toyota with real depth, character and personality. Perhaps much more personality than most owners will ever discover, and that's a shame because the C-HR really does represent the best small SUV – and Toyota – that you can buy.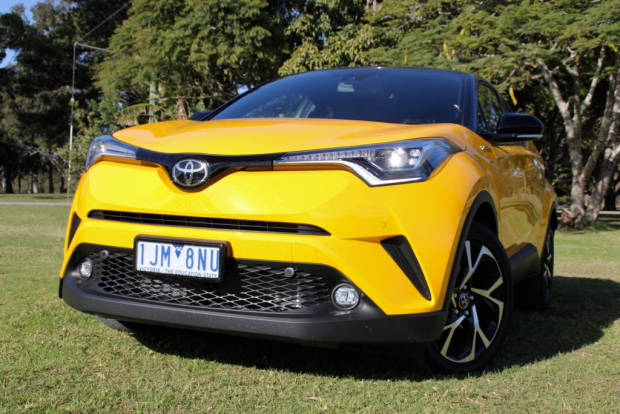 A trend for future Toyota products? Let's hope so, but right now I would love a C-HR in my life, particularly as a Koba with a manual transmission (a combination that does not yet exist). Please Toyota Australia, just for me?