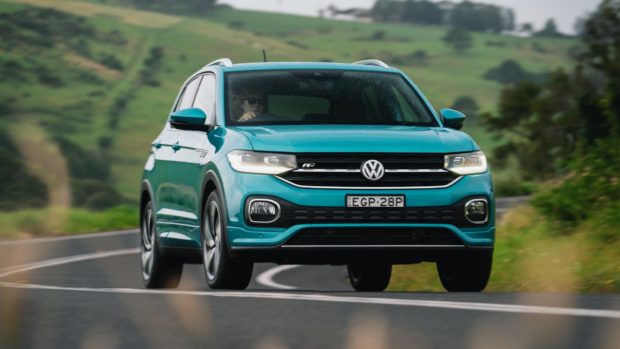 An audible sigh of relief can be heard at Volkswagen dealers this week: with the arrival of the 2020 T-Cross, they finally have a small SUV to sell to Australians. That's also very good news for buyers, as it turns out.
While Australians still love an urban hatchback, the variation-on-a-theme that is the city-sized SUV is quickly finding favour on our roads. It's not hard to see why: their elevated driving position and butch styling mean they stand out more. But while the Mazda CX-3, Hyundai Kona and Toyota C-HR have all achieved in various ways, what's been missing from this space is a more mature, sophisticated option.
Enter the 2020 Volkswagen T-Cross. Based on the new Polo it may be, Volkswagen's new little crossover thinks bigger than its diminutive footprint in a number of ways. First, it brings that much-desired drop of driving sophistication – more on that later. It also looks richer than many rivals, sporting chunky, mini-Touareg lines in colours that pop. It's packaged brilliantly, offering about as much space in the back as SUVs two sizes larger. Finally, the cabin tech is light years ahead of what this VW's Asian competitors can offer.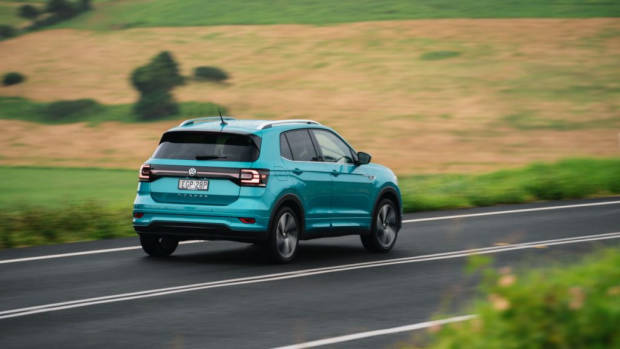 It's a basic recipe that is likely to find favour with the sort of buyers already attracted to Volkswagen's small cars: both younger, inner-city types who will appreciate the banging Beats audio, smartphone mirroring and fully-featured digital gauges, but also downsizers who want the convenience of a smaller car without sacrificing the quietness and inherent refinement that remain Volkswagen hallmarks.
The thing is, Volkswagen know the T-Cross is pretty good and it's priced that way: at $27,990 ($29,990 driveaway at launch), the decently-equipped 85TSI Life entry grade means shelling out more cash than for a base-model CX-3 or HR-V, but the Volkswagen brings a bevy of features those cars don't: niceties like wireless phone charging, an 8-inch touchscreen, car-, pedestrian- and cyclist-detecting AEB, lumbar support, all-round parking sensors, auto headlights and lane keep assist are all standard here. Almost needless to say is that you also get a leather steering wheel and shifter.
The black-cladded Life looks a little workmanlike, making us think more people are going to splash out for the higher-grade 85TSI Style ($30,990 list, $32,990 at launch), which wears sportier 17-inch wheels and adds climate control, blind spot monitoring, rear cross traffic alert, adaptive cruise control, automated parking, LED headlights, and proximity entry and start – all of which makes sense for the extra two grand.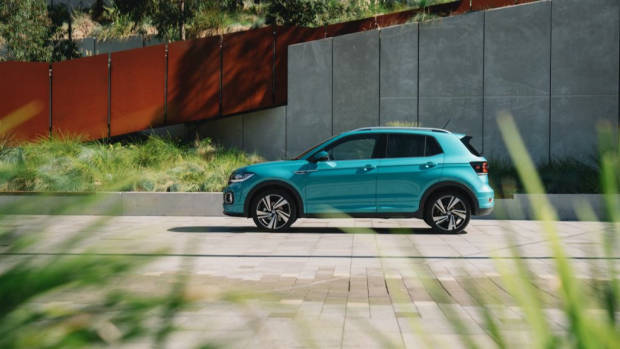 Or you can go for the test car pictured in this review and the video above – this is the R-Line, which is a $2,500 package for the Style but really feels like a standalone model. Wearing quite different body-coloured exterior dressing, über-cool 18-inch alloys in Pirelli rubber, and scoring uprated seats, a perforated sports steering wheel and black headlining, the T-Cross R-Line looks considerably more upmarket.
And it's priced that way, costing $35,565 driveaway with the R-Line pack, a further $1,900 if you want the (worthwhile) Sound and Vision pack that brings integrated satellite navigation, a crisp digital driver's display that can display a full map, and a bassy Beats hi-fi stereo. Then add $600 for the non-white colours or $800 for the Makena Turquoise hue pictured here.
That's plenty of coin for a 4.1-metre long SUV – and the Volkswagen Polo hatch that shares most of its interior with the T-Cross is considerably better value – but we think a T-Cross Style just about pulls it off in comparison to rivals. Certainly, the ride, handling and overall refinement put Volkswagen's small SUV into territory that is slightly more premium than the mainstream. The R-Line is more of a stretch but we think it will find plenty of buyers. Just keep in mind you could go a Polo GTI for this money!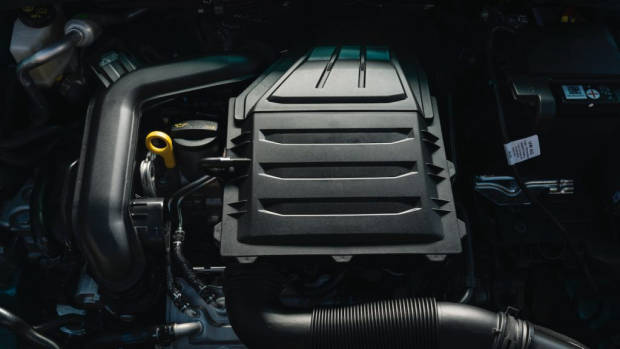 Despite being about 14cm taller than a Polo, the T-Cross is much like its hatchback sibling to drive: basically, it drives like a car a size or two bigger, with confident handling and a ride that is mostly supple and controlled. The steering is mid-weighted and not too fast, giving you a decent blend of cornering verve and relaxed manners in town. Seeing out of this SUV is easy: the tall-boy design affords room for big, square windows and the large mirrors help.
Interestingly, we found the ride quality on the R-Line, which wears 18-inch wheels and mid-spec Pirelli Cinturato P7 rubber, to be more insulated than that of the base Life on 16-inch wheels. That's the opposite of what we'd usually expect, but it may have something to do with a softer compound compared to the Life's Giti tyres or slightly revised damping on the more expensive grade. Either way, the body control and ride are quite acceptable.
Later, a 1.4-litre turbo four-cylinder engine producing 110kW/250Nm will be offered as flagship unit, but for now, every Australian-delivered T-Cross uses a smaller three-cylinder donk: this one-litre turbo called the 85TSI makes 85kW/200Nm. It thrums a little as it accelerates – it's part of the charm – but it punches above its weight and accelerates fairly smartly. The standard seven-speed dual clutch can be a bit clumsy off the line but it responds well to linear throttle inputs and offers crisp shifts once underway.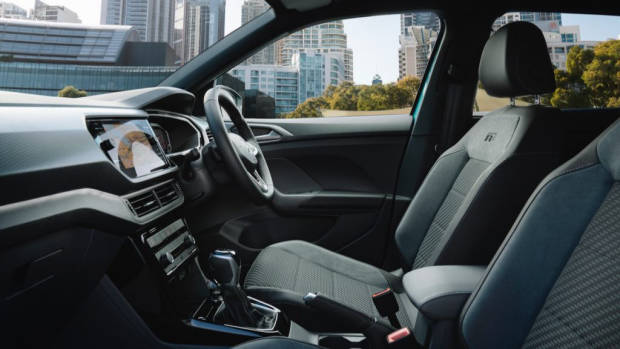 Inside, you enjoy both low levels of road noise for this class and a smartly-presented cabin. Every car scores a good 8-inch touchscreen that supports (wired) Apple CarPlay and Android Auto, but younger buyers particularly will consider adding the Sound and Vision pack that brings an even larger display that sits in front of the driver, plus the convenience of integrated navigation and a Beats stereo.
No matter the grade, the upright driving position feels aspirationally commanding. The cloth seats are comfortable and, thanks to included lumbar adjustment, supportive – if a bit grey – there are no pops of colour in this interior, which is something of a surprise given the availability of outgoing external hues: far from being an all-grey palette, the turquoise is offered alongside orange and two blues – plus silver, grey, white, and black.
We're critical of Volkswagen's cynical decision to strip the T-Cross of even the minimal soft touch dash surfaces found on even a base Polo 70TSI, though. The dash and doors – save for thin armrests – in the T-Cross are entirely hard and scratchy, which brings down the air of upmarket ambience.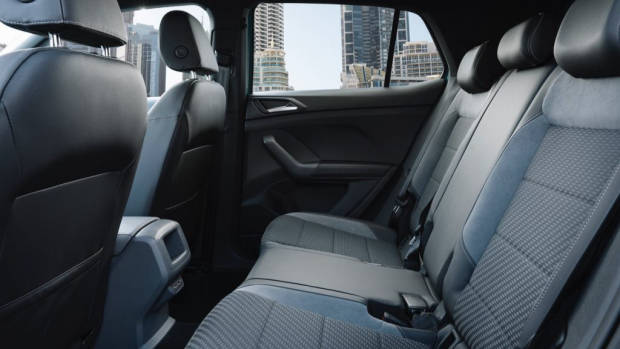 Practical, standard touches like wireless phone charging, an adjustable centre armrest, big door bins and the enormous rear seat in the context of the segment win points back for the T-Cross. The second row is commodious enough to take two six-foot adults, and while the lack of air vents is a frustration in the Australian climate, we appreciate the inclusion of a sliding function for the (whole) rear bench letting you prioritise passenger or cargo space. Even in 'full comfort' position, the 385-litre boot is larger than that in a Golf.
Volkswagen offers a five year warranty on all of its vehicles, and service intervals are set at the first of annual or 15,000km increments. You're also able to purchase up-front servicing plans to save money on future maintenance. A five year pack ($1,800) represents a $645 discount over paying as you go, and averages $360 per year, while a three year pack ($990) is a $256 discount averaging $330 per year (the fourth year service is the big one).
There's a lot to love about the new T-Cross: it's an urban SUV that is good to drive, great to look at and comfortable to ride in. While the value proposition is certainly weaker for this class of vehicle than for the small hatchbacks they are based upon – a fact that holds true for comparisons for VW's Polo and T-Cross pair – their appeal is clear. If we were buying in this segment, we'd give particularly close attention to the T-Cross in Style grade.