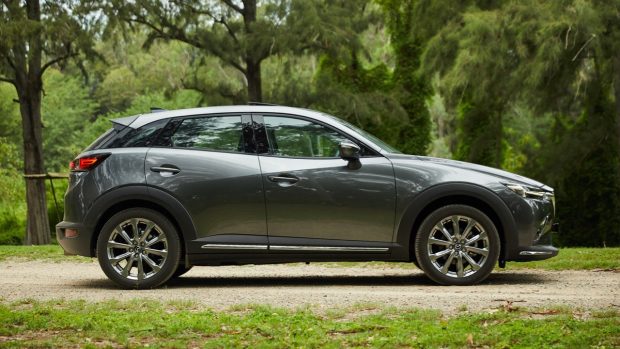 Demand for an even more premium model of the Mazda CX-3 has been satiated. The new CX-3 Akari LE adds luxe interior features from the larger CX-5 to this city-sized SUV.
Mazda's first small SUV, the CX-3 has been a runaway success. What was a relatively simple investment for the marque – this is, ultimately, a raised and rugged Mazda 2, the brand's city car, has paid off. While the Mazda CX-3 is one of the most compact of the small SUV pack, its city-sized proportions, handsome styling and enjoyable driving dynamics have made it a favourite in Australia. Last year, it was the second most-popular small SUV with buyers in this country, behind only the fleet sales-driven Mitsubishi ASX.
Mazda's little SUV has built this positive reputation in a remarkably short amount of time. This first generation of the badge only launched locally in 2015, and, since that time, demand has largely concentrated around the mid-specification Maxx Sport and sTouring models. That said, more than one in ten CX-3 buyers have bought the relatively expensive Akari flagship – people that want a bite-sized SUV experience, but didn't want to give up the little luxuries: leather seats, sunroof, more adaptive safety tech. There's even been an inkling at Mazda that there is a small crowd who want even more with their CX-3.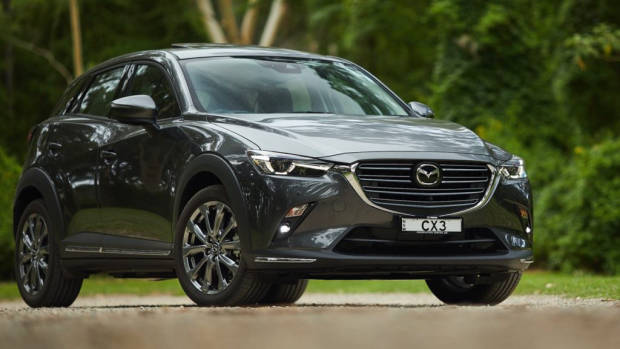 Well, that pocket of premium-minded buyers should be interested in this new grade. Fairly late in this CX-3's lifetime – a new generation should hit the road in about a year – a new trim has been added to the range. The 2019 Mazda CX-3 Akari LE, to give it its full name, lists for $35,290 ($38,962 driveaway), which is $500 more than the equivalent Akari that continues on, now the second-from-top trim.
So, what does LE get you? For that relatively small additional outlay, it ups the premium look and feel of the car. Inside, ordinary leather is set aside, replaced with high-grade nappa hide on the seats in a 'dark russet' brown hue. White leather is prominently used on dash and door inserts. Outside, the Akari LE sports new 18-inch alloys with a bright machined finish.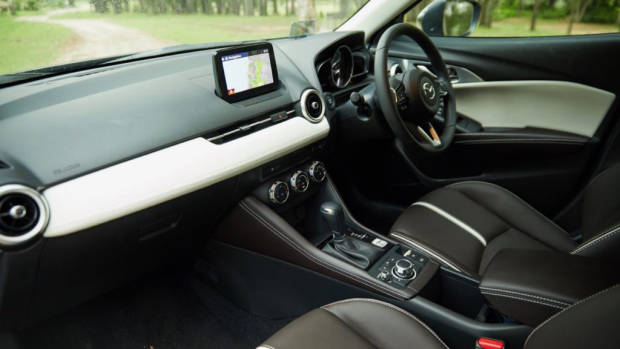 This is on top of the existing Akari's good set of equipment. That car – and this LE above it – sport heated front seats – and the driver's pew is electrically-adjustable, with two memory settings. There's a colour head-up display, an electric sunroof, climate control, and automatic LED headlights with adaptive high beam.
The safety systems in both the Akari and the new Akari LE are particularly impressive for this class. Like all CX-3s, they include autonomous emergency braking that works going forward and in reverse, but the full suite is offered here, with adaptive cruise control, blind spot monitoring, rear cross-traffic alert, driver fatigue detection, traffic sign recognition, lane departure warning and – impressively – a 360-degree parking camera.
So, deciding between the Akari or the Akari LE is a matter of how much Nappa leather and unique wheels will 'spark joy', to defer to Marie Kondo.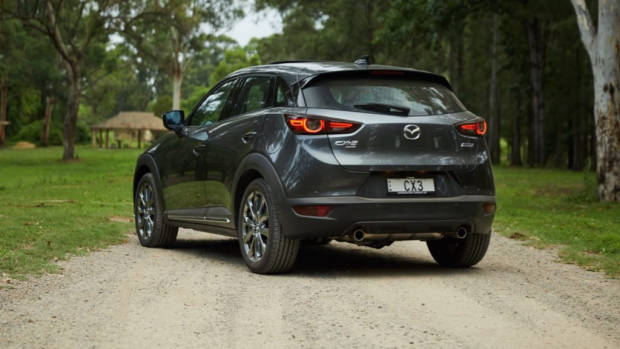 One argument in the standard Akari's favour is that it is actually available quite inexpensively. The LE can only be had as an automatic, while the Akari may also be bought with an excellent six-speed manual for $32,790 ($36,387 driveaway). Also, we should note that the LE is only available with the volume-selling 2.0-litre petrol four-cylinder engine. Like all lesser CX-3s, the Akari offers an optional 1.5-litre turbo diesel for $39,190 ($42,979 driveaway).
About the only thing you can select with the Akari LE is whether you want all-wheel-drive (a $2,000 upcharge our tester included). Apple CarPlay, disappointingly, is a $495 dealer-fit option. Four colours are included in the price, but the best ones – Soul Red Crystal, or our car's Machine Grey – will cost another $300. That brought the as-tested cost for the car we drove to $37,590 ($41,331 driveaway), which is not cheap.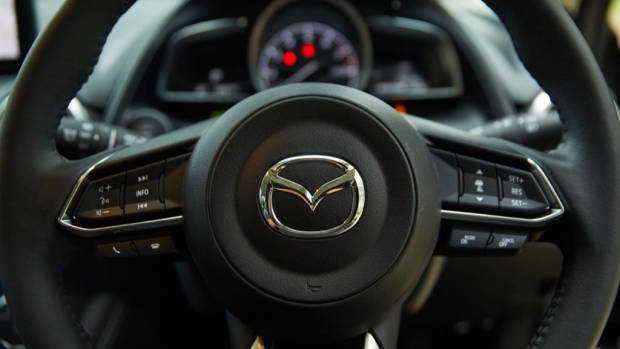 In fact, our biggest concern going into this test was whether the top-shelf CX-3 would really be able to justify a driveaway price starting with a four. This is a Mazda 2-based car, after all, which is not a premium vehicle. We got into the driver's seat skeptical. However, it didn't take long to be reasonably – if not entirely – convinced.
Our view continues to be that the CX-3 makes most sense in Maxx Sport manual trim ($23,690, $27,014 driveaway), but the Akari LE's combination of the CX-3's underlying dynamic nous, with some genuinely premium features, mean it feels like a very complete car. The ground clearance means it will clear steep driveways and kerbs without issue. It has an impressive set of safety features. It looks expensive, inside and out. If you're downsizing from a bigger sedan or SUV, but don't want to give up the niceties, the Akari LE (or the normal Akari) have us nodding along.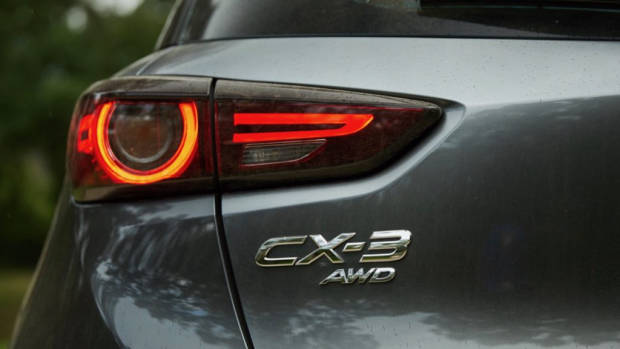 Quite simply, the CX-3 Akari LE is a very complete car. We didn't find any major features missing, except perhaps active lane guidance. Everything else is here: full keyless entry, bright headlights, navigation, memory seats, a decent stereo, a heads-up display. Apple CarPlay should be standard – come on, Mazda – but at least it can be added at any time by a Mazda dealer for that $495 fee.
Like the Akari, the LE's cabin is a nice place to be. This new model's Nappa leather is especially soft and supple, and the chocolate-brown colour is highly presentable. Soft-touch padding where knees rest and fingers touch the dash is welcome. Mazda's trademark thin-rimmed leather steering wheel is here, too. We were almost able to overlook the hard plastic edges on the door tops, which ideally would be a bit softer.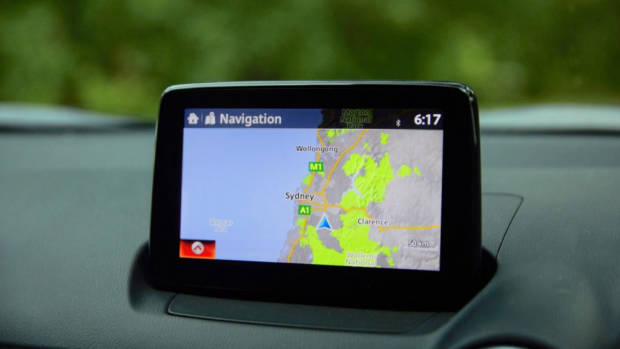 While the CX-3's seven-inch touchscreen is starting to look a bit dated in both resolution and software, it is easy to use, with simple navigation and audio inputs, driven by a rotary dial between the seats. Sound quality is decent from the unbranded speakers, and the Bluetooth connection for music and phone calls was totally reliable in our experience.
This is a very small SUV – just 4.28m long and 1.77m wide – and that does mean space is tight in the back seat. Headroom is fine, it's just that shoulder- and leg-room are compromised. Equally, the tiny 264L boot is eclipsed by just about everything in this segment. A load-lugger, the CX-3 is not.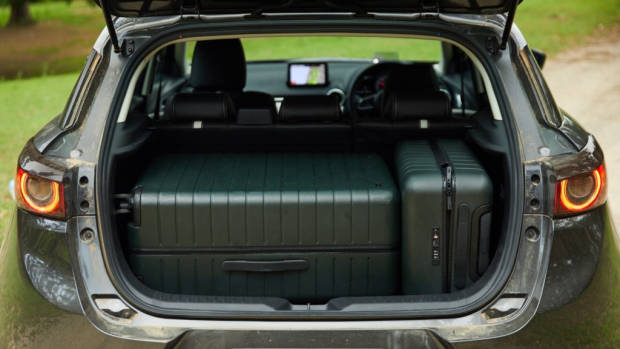 Virtually all is forgiven, however, once you start to drive the thing. We don't remember CX-3s being so good – and they haven't been. This car's late-2018 update has brought some welcome dynamic touches, including a more supple suspension tune and additional sound deadening. Compared to a 2016 CX-3 we recently drove, the 2019 CX-3 is easily identified as being quieter and more comfortable. Mazda deserve credit for continually updating and improving their cars throughout their lifecycle. Most brands wait four or more years for a facelift to do the same.
Despite relatively big 18-inch wheels, the CX-3 Akari LE is comfortable and composed in town, dealing with urban imperfections and potholes with fluency. The direct steering is nice and light at low speed, meaning manoeuvrability is good. Visibility out of the small glasshouse can be a bit of a challenge, though the large mirrors help – as do the standard blind spot monitoring and rear cross-traffic alert.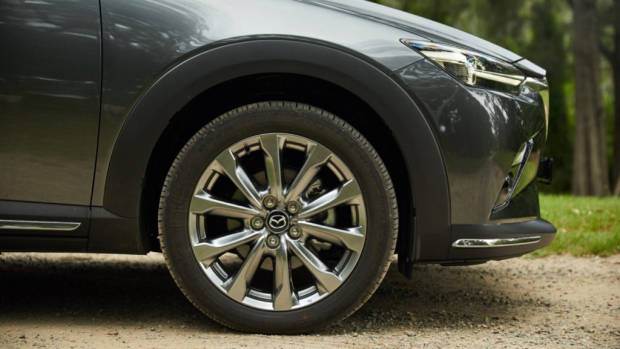 Find a twisting country road and the CX-3 shows just how much DNA it shares – both practically and in spirit – with Mazda's halo MX-5. This is a totally fun small SUV to drive, with superb steering and a near-perfect balance between sporty handling and a comfortable ride. We did 300 kilometres of sporty driving in this car because it just kept putting smiles on our face.
The CX-3's steering is nearly flawless, with just the right ratio and plenty of feel being fed through from the front wheels. There is certainly body roll, but it can be contained and the CX-3 loads up its out-side Bridgestone Turanzas and then simply holds on. Even with all-wheel-drive – which is a pretty good AWD system, sending drive rearwards rapidly after the fronts slipped on our gravel road test – the Akari LE weighs just 1,280kg. With front-wheel-drive, it measures in at a featherweight 1,210kg.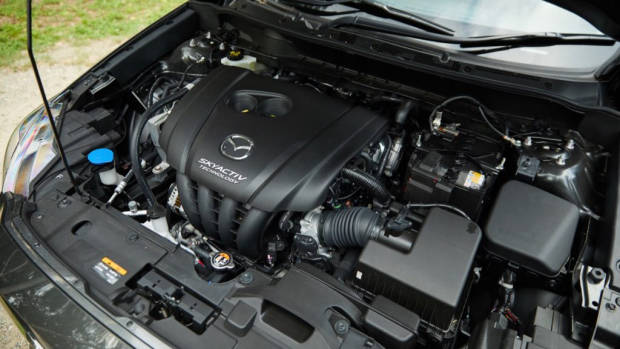 Despite the minimal weight, the CX-3's 2.0-litre petrol engine isn't taking this car anywhere especially fast. Around town, it's absolutely nippy enough, but do a lot of highway touring and you'll long for more torque. The outputs of 110kW (at a high 6,000rpm) and 195Nm (at 2,800rpm) don't look too bad, but you have to work the CX-3 hard to get quick results.
Thankfully, the six-speed automatic gearbox is a masterstroke of transmission engineering, working brilliantly in all contexts. It shifts rapidly when you want to go fast, doing its level best to disguise the power and torque holes, and when you're braking, it downshifts proactively, too. In town, the auto is totally unobtrusive. That said, we wish the Akari LE was available with a manual as well. Luckily, the Akari is – and with the same engine, a manual front-drive Akari is a considerable $2,500 cheaper than a front-drive LE.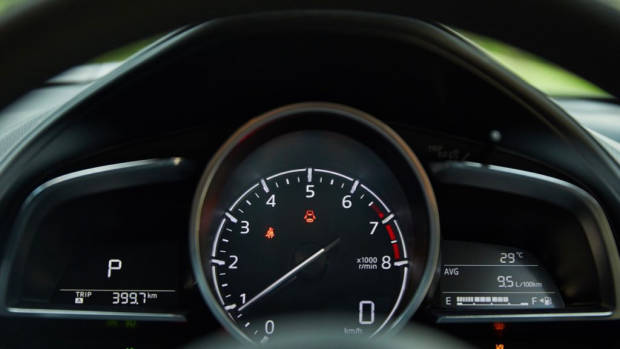 Drive the CX-3 hard, and the ordinarily-acceptable fuel economy suffers, badly. Backroad running netted a result of 9.5L/100km, which is too high for such a small, light vehicle. Go easy and highway economy can be as good as 6L/100km, while in town we recorded about 8.5L/100km, which is okay.
While the CX-3's cabin is quieter in all contexts, the engine is still noisier than it should be, and little things like the engine start-stop is a bit too coarse, vibrating the car when the engine cuts out and kicks back to life. If it isn't close to imperceptible, most owners will simply shut it off, negating the environmental benefits.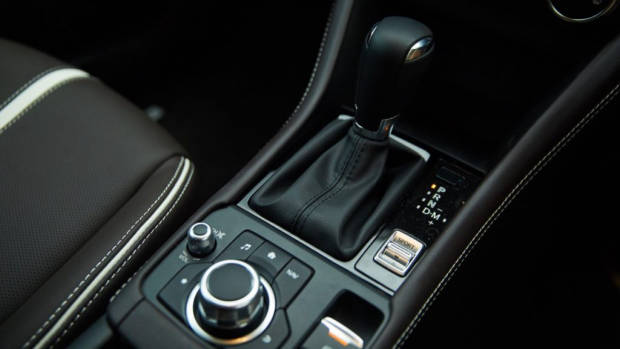 The CX-3's ownership credentials are good. These SUVs hold their value well, particularly toward the lower end of the range, but the Akari and Akari LE should still hold up okay. And servicing is affordable: you have to put it in a bit often, every 10,000km, but the first three years should cost just $1,123, which is competitive in this segment – though we note that the Toyota C-HR is stunningly cheap to service, at $585 over three years.
Speaking of the C-HR, if you're considering a CX-3 Akari LE, you'd also do well to compare it to the Toyota C-HR Koba, the Skoda Karoq, and the Honda HR-V VTi-LX.
Overall, we think the Akari LE makes a good addition to the 2019 Mazda CX-3 lineup. Yes, it's expensive – but it basically allows you to downsize into a small but capable SUV while retaining all the luxury features you may already be used to. We like the cabin, we like the unique looks, and we like this car's excellent driving dynamics. A very solid 8/10.