A line-up that ranges from $19,990 to $37,690, comprising four trim grades, two engines–both a petrol and a turbodiesel–and two drivelines are the basics of the 2015 Mazda CX-3.
Listing under $20,000, the base Neo manual variant undercuts every other mini-SUV, with Mazda aggressively positioning the CX-3 as the industry price-leader to further bolster the car's chances of dominating the segment.
It's a smart move to secure initial interest if Mazda is to achieve its target of 1,000 monthly sales of their smallest SUV.
There are compromises for saving coin, of course, and the base Neo is sparsely equipped: it's front-wheel-drive only, and features 16-inch steel wheels and just four speakers inside; however, buyers at this price point will appreciate the inclusion of cruise control and rear parking sensors.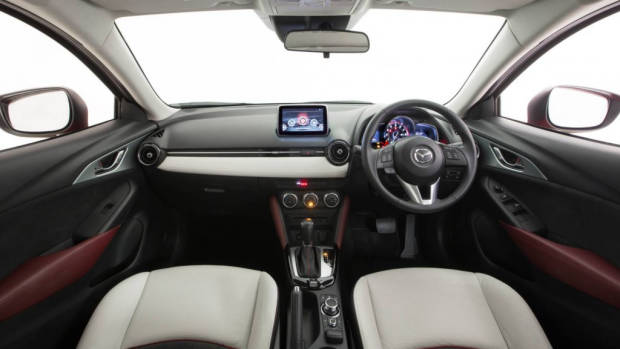 Step up to the Maxx – as Mazda predicts 55% of buyers will – and you'll find decent equipment levels across three models that span $22,390 to $26,790. There's a front-drive manual and automatic; the all-wheel-drive model is automatic-only, and can be had in the two-litre petrol (109kW / 192Nm) or 1.5-litre diesel (77kW / 270Nm) configurations.
The Maxx mainly benefits from the inclusion of the seven-inch MZR-CD tablet-style touchscreen, bringing navigation and more sophisticated audio options. The base car gets a rather sad-looking basic audio control unit. The Maxx additionally wraps the steering wheel, shifter, and handbrake in leather.
The sTouring picks up more cutting-edge features – there's LED lights at all four corners, smart entry, climate control and a head-up display. However, it's the flagship Akari that includes all the goods: the CX-3's $1,030 Safety Pack is standard on the top car, bringing a blind spot monitor, city brake, and rear cross-traffic alert. Plus, the range-topper gets classy leather-and-suede seating underneath a standard sunroof.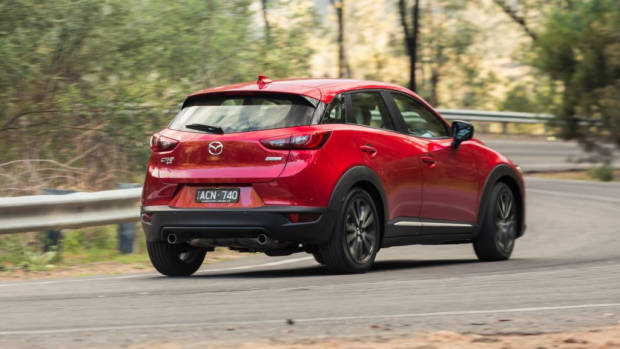 Opt for the nicest CX-3 – the Akari turbodiesel – and you're actually into $40,000+ territory once it hits the road. For a diminutive little thing that measures between a Mazda 2 and Mazda 3 in length, that's getting expensive.
Just 5% of buyers will go for an Akari, though, and that's not surprising: the best buying here lies in the mid-spec Maxx model.
2015 Mazda CX-3 range: pricing
All prices are RRP list prices, before on-road costs or options.
Major options are the Safety Pack ($1,030 – blind spot monitor, city braking, cross-traffic alert, for Neo, Maxx and sTouring), and the Kuroi Styling Pack ($2,342).
Neo FWD manual: $19,990
Neo FWD automatic: $21,990
Maxx FWD manual: $22,390
Maxx FWD automatic: $24,390
Maxx AWD automatic: $26,390
Maxx diesel AWD automatic: $26,790
sTouring FWD manual: $26,990
sTouring FWD automatic: $28,990
sTouring AWD automatic: $30,990
sTouring diesel AWD automatic: $33,390
Akari FWD manual: $31,290
Akari FWD automatic: $33,290
Akari AWD automatic: $35,290
Akari diesel AWD automatic: $37,690
Also consider: Peugeot 2008 | Ford EcoSport | Holden Trax | Nissan Juke | Renault Captur | Honda HR-V