If midsize SUVs are Australia's favourite family car, then the humble ute is our favourite type of vehicle. Month-in, month-out, the Toyota Hilux and Ford Ranger trade blows at the pointy end of Australia's sales charts. In total, utes accounted for a staggering 222,345 sales in 2021, making up 21 percent of Australia's new car market.
While they may be designed as rough-and-ready commercial vehicles, the sheer number of new utes hitting the road – especially in glitzy dual-cab trim levels – means buyers are demanding greater breadth of ability than ever before. Increasingly, utes need to be worksite-ready on Friday and comfortable for the family on Saturday.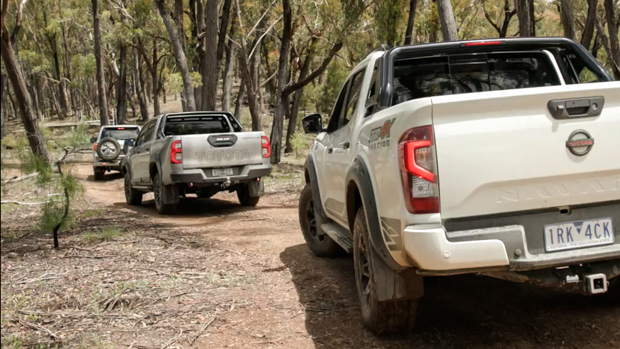 Regular tasks include carrying up to five people – children included – in comfort and safety, though these vehicles must not sacrifice any utility in the process. That's a lot to ask – especially for a field with an average age of five years – but this is what owners want.
Instead of focusing strictly on these vehicles as commercial, we've pulled eight of the best-selling utes in Australia to Goulburn NSW, where we conducted real-world country, town and off-road driving all while evaluating the interiors for space and comfort, build quality and testing how safe these utes are.
We also tested how each dual-cab handled a 900kg payload and two-tonne tow test. You won't find a more comprehensive or independent Dual-cab Megatest than this!
There is a detailed 4K video of this megatest crafted by our talented AV staff viewable at the top of this page, or over on the Chasing Cars YouTube channel.
Skip to the part that interests you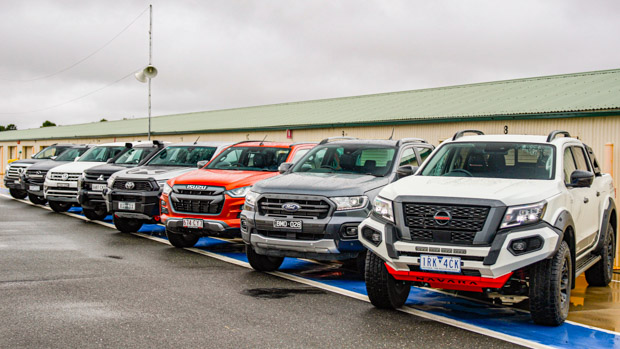 The entrant list
The dual-cab ute market in Australia is broad but for this comparison, we choose the seven best-selling on the market along with newcomer to the market and Chasing Cars long-termer, the GWM Ute Cannon-X, leaving us with the following list of contenders:
(alphabetical)
(by price)
GWM Ute Cannon-X ($45,490 driveaway)
Mitsubishi Triton GSR ($55,690 before on-road costs)
Volkswagen Amarok V6 TDI580 Highline ($63,490 before on-road costs)
Ford Ranger Wildtrak ($66,090 before on-road costs)
Isuzu D-Max X-Terrain ($67,500 before on-road costs)
Nissan Navara PRO-4X Warrior ($70,590 before on-road costs)
Toyota Hilux Rugged X ($70,750 before on-road costs)
Mazda BT-50 Thunder ($71,290 before on-road costs)
Ute fans will quickly spot that two of main contenders – the Ford Ranger and Volkswagen Amarok – are only months away from being replaced in Australia, but their presence in this comparison is a testament to their ability to sit at the top of the segment.
For this test, we chose upper-spec variants, costing between $45,490 driveaway, to $71,290 before on-road costs, which we believe represent the best these models have to offer. Equipped with plush interiors, tough looks and go-anywhere four-wheel-drive systems, these tub-backed workhorse.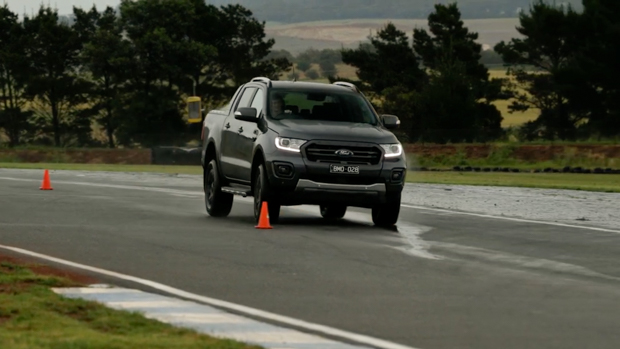 On-road performance testing
In addition to active safety technology becoming more prevalent, it's important for a family vehicle to be safe in a passive sense. This means good brake performance – especially considering all but two of these utes use rear drum brakes – as well as reasonable acceleration times and the ability to avoid danger if needed.
Our testing included a standard 0-100km/h sprint and 80-120km/h overtaking tests. We also put the utes through a 100-0km/h brake test, swerve-and-avoid manoeuvre and timed slalom in wet conditions to really challenge their road-holding and safety credentials.
Read the results and evaluation below.
Acceleration testing 0-100km/h
| | |
| --- | --- |
| Ute model | 0-100km/h time, best of 3 runs |
| Volkswagen Amarok | 7.75 |
| Ford Ranger | 9.46 |
| Isuzu D-Max | 10.63 |
| Mazda BT-50 | 11.05 |
| Toyota Hilux | 11.09 |
| Mitsubishi Triton | 11.32 |
| GWM Ute | 11.71 |
| Nissan Navara | 12.03 |
Acceleration testing 80-120km/h
| | |
| --- | --- |
| Ute model | 80-120km/h time, best of 3 runs |
| Volkswagen Amarok | 5.69 |
| Ford Ranger | 7.49 |
| Toyota Hilux | 8.32 |
| Isuzu D-Max | 8.64 |
| Mitsubishi Triton | 8.94 |
| Mazda BT-50 | 9.32 |
| Nissan Navara | 10.27 |
| GWM Ute | 10.42 |
Combining the results of the two acceleration tests shows that there really is little replacement for displacement. The 3.0-litre V6-powered Amarok was 20 and 30 percent faster in 0-100km/h and 80-120km/h tests than the next quickest Ford Ranger.
Out the back were the Chinese-built GWM ute and Nissan Navara, both recording significantly slower times than the rest of the field.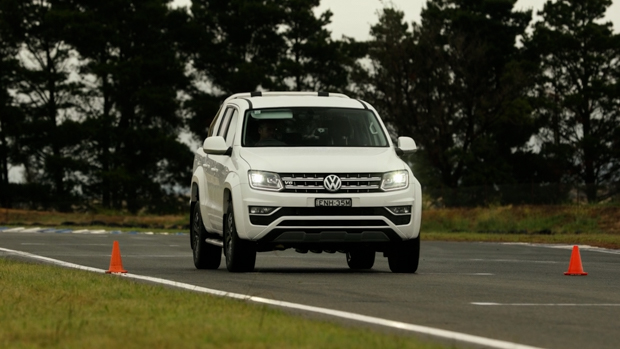 Brake testing 100-0km/h
| | |
| --- | --- |
| Ute model | 100-0m stopping distance, best of 3 runs |
| Mazda BT-50 | 45.03 |
| Isuzu D-Max | 45.72 |
| Toyota Hilux | 46.56 |
| Ford Ranger | 47.33 |
| Mitsubishi Triton | 51.49 |
| Nissan Navara | 51.78 |
| Volkswagen Amarok | 52.75 |
| GWM Ute | 53.82 |
Braking is a serious safety concern and, blessed with consistent wet weather, we were able to test how well these utes stand up, the truth is? None of them were particularly impressive.
The spread from best to worst was eight metres, or roughly two whole Kia Picantos. The Mazda BT-50 and D-Max twins made the strongest showing, but were still around 10 metres off what we would expect from a midsize SUV.
The Hilux and Ranger also managed to haul up their circa two-tonne masses in under 50 metres. From Triton onwards the utes required the length of half a football pitch to pull up, and although we think of disc brakes as more modern, the rear disc-equipped Volkswagen Amarok and GWM Ute took the longest to stop – in the GWM's case, a lot of this came down to an oversensitive ABS tune.
Skippy test/swerve and avoid
| | |
| --- | --- |
| Ute model | Skippy test, v-max |
| Ford Ranger | 75 km/h |
| Isuzu D-Max | 75 km/h |
| Mazda BT-50 | 73 km/h |
| Nissan Navara | 73 km/h |
| Toyota Hilux | 73 km/h |
| Mitsubishi Triton | 72 km/h |
| Volkswagen Amarok | 68 km/h |
| GWM Ute | 66 km/h |
This test is complicated to set up, but easy to interpret the results: the fastest through the cones is the winner.
Both the Ford Ranger and Isuzu D-Max topped the charts recording 75km/h and breezing through the test – though the D-Max was definitely more tail-happy. The BT-50 got to 73km/h in the end, but was difficult to extract consistent results from. At the bottom was the GWM ute that experienced steering bind midway through the test.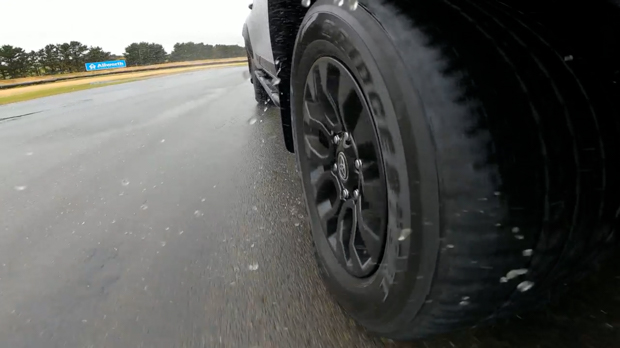 Slalom test
| | |
| --- | --- |
| Ute model | Slalom time (ESP on) |
| Volkswagen Amarok | 19.19 |
| Ford Ranger | 19.50 |
| Mazda BT-50 | 19.54 |
| Isuzu D-Max | 19.59 |
| Toyota Hilux | 19.59 |
| GWM Ute | 19.71 |
| Mitsubishi Triton | 19.74 |
| Nissan Navara | 20.98 |
The Slalom gave greater opportunity to evaluate the chassis and ESP tunes of each ute – also the full-time 4WD and prodigious of the Amarok saw it finish easily at the top of the tree. The remainder of the field was separated by just over two-tenths of a second… Except for the Nissan Navara that was let down by its off-road focused rubber.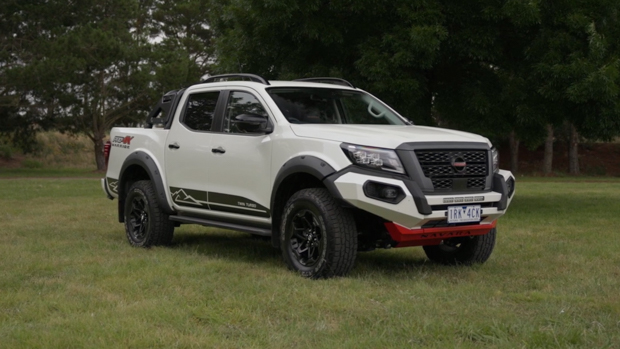 Running costs
Utes are becoming more complicated and therefore more expensive to buy and maintain overtime, but not all are equal. In an age of capped-price servicing programs and lengthening warranties, here is the data that matters.
New car warranty
| | |
| --- | --- |
| Ute model | New ute warranty |
| Ford Ranger | 5 year/unlimited km |
| GWM Ute | 7 year/unlimited km |
| Isuzu D-Max | 6 year/150,000 km |
| Mazda BT-50 | 5 year/unlimited km |
| Mitsubishi Triton | 10 year/200,000 km* |
| Nissan Navara | 5 year/unlimited km |
| Toyota Hilux | 5 year/unlimited km |
| Volkswagen Amarok | 5 year/unlimited km |
It's important to note that the Triton, nominally on top of this table, requires annual servicing, on time, at a Mitsubishi dealer in order to qualify for the 10-year/200,000km warranty. If this process isn't followed, the standard five-year/100,000km warranty applies – something that would send Triton to the bottom of the warranty league.
The majority of the utes here come with the industry standard five-year, unlimited-kilometre warranties. The notable exceptions are the six-year Isuzu D-Max and the GWM Ute that extends coverage out to seven years.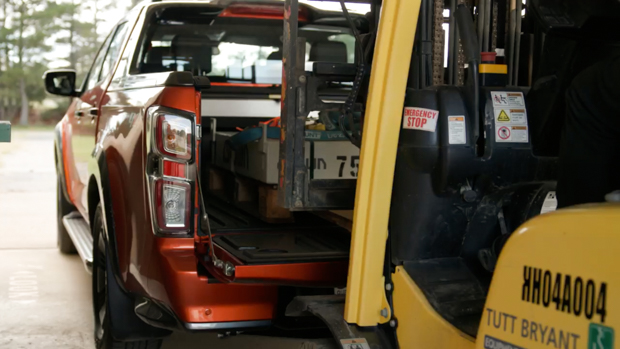 Servicing
| | | |
| --- | --- | --- |
| Ute model | Service interval | 5 year servicing cost |
| Ford Ranger | 12 months/15,000km | $2626 to 105,000km |
| GWM Ute | 12 months/10,000km** | $4500 to 100,000km |
| Isuzu D-Max | 12 month/15,000km | $3513 to 105,000km |
| Mazda BT-50 | 12 month/15,000km | $3644 to 105,000km |
| Mitsubishi Triton | 12 month/15,000km | $3793 to 105,000km |
| Nissan Navara | 12 months/20,000km | $2589 to 100,000km |
| Toyota Hilux | 6 months/10,000km | $3364 to 100,000km |
| Volkswagen Amarok | 12 months/20,000km | $3600 to 100,000km |
*105,000km
**6 months/5000km first interval
The bulk of the utes here will see buyers paying around $3500 for maintenance over five years/100,000km but the Ranger and Navara are significantly cheaper; with the latter being particularly impressive given its generous service intervals of 20,000km per annum.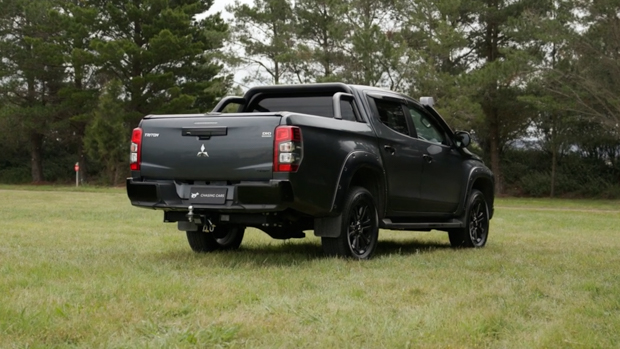 Eight dual-cabs ranked:
Mitsubishi Triton GSR – 5.5/10
Price as tested: ($55,690 before on-road costs)
The Triton wasn't the oldest dual cab on test, but it felt like it. The underpinnings are very similar to the 2006 Triton meaning a narrow track that limited cabin space. The interior design is also one of the more dated on test, even if it was fairly straightforward to interact with. The lack of digital speedo was also frustrating.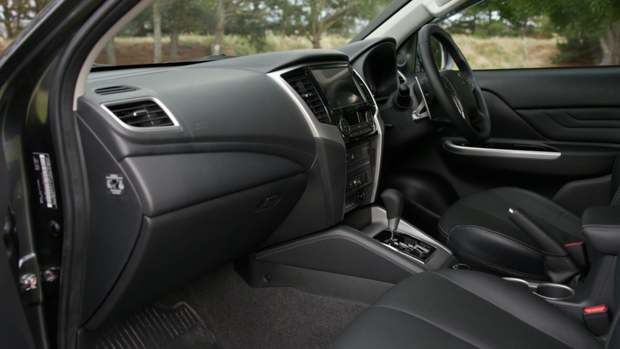 Another thing working against the Triton was its bucking on-road ride and poor noise insulation. That said, the cheapest of the 'traditional' set Triton did have some redeeming features including impressive towing and payload performance considering its 133kW/430Nm 2.4-litre turbo-diesel four-cylinder.
The Triton got better off-road, with its sophisticated Super Select 4WD system helping it easily scramble up technical climbs by putting down the power where it was needed. It also boasted one of the lowest-ratio low-range transfer cases. The Triton may be rough around the edges, but it's still good in the rough stuff.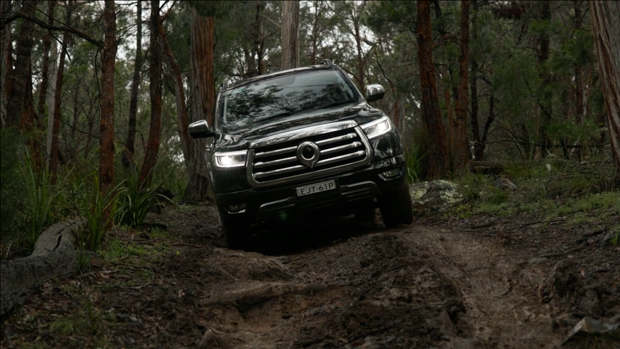 GWM Ute Cannon-X – 6/10
Price as tested: ($45,490 driveaway)
Joining a fierce selection of proven utes might sound like quite an ask for this Chinese-built newcomer, but the GWM Ute Cannon-X's $45,490 driveaway price makes a strong first impression among its increasingly expensive competition.
Considering you're dropping around $20,000 less than all the other utes on test, GWM includes a surprising amount of equipment included as standard, however it comes with a general lack of polish across the board.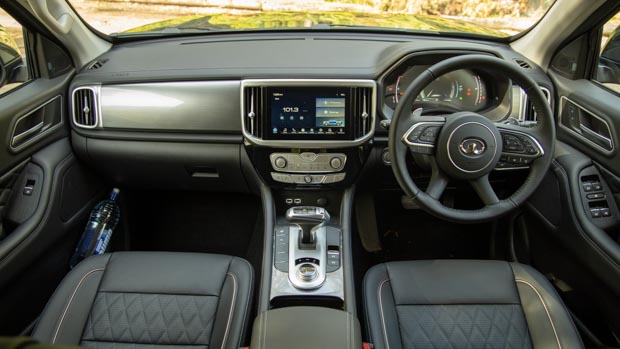 The comfortable cabin is reminiscent of a lounge with its big comfy seats and huge TV-sized touchscreens, though odd gremlins in functionality, such as hiding the air conditioning controls in a confusing touchscreen and the intrusive (and hard to turn off) lane keep assistance .
Both on this test and during its time as a Chasing Cars long-termer, we've seen how the meagre 120kW/400Nm outputs of its 2.0-litre turbo-diesel four-cylinder engine let the GWM down day to day, and when it comes to towing.
While underpowered when compared to its competition, the engine combines nicely with its suspension travel and full-time 4WD to make it a convincing dual-cab off-road. On the road, however, the GWM's US-inspired styling hinders its average on-road performance with its high bonnet and sheer size, resulting in a ponderous demeanour.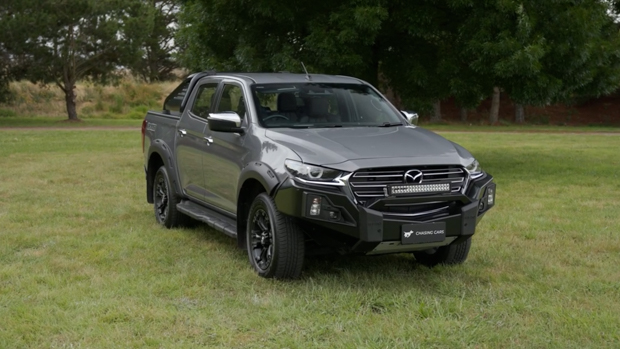 Mazda BT-50 Thunder 6/10
Price as tested: ($71,290 before on-road costs)
Mazda's BT-50 arrived with plenty of promise in everything-but-the-kitchen-sink Thunder grade with its light bar and metal bumpers. The truth is, Mazda's luxury makeover inside the BT-50 works well with the plushest leather of the group, though it might have been better if the brand sourced its own touchscreen, rather than making do with Isuzu's dim unit.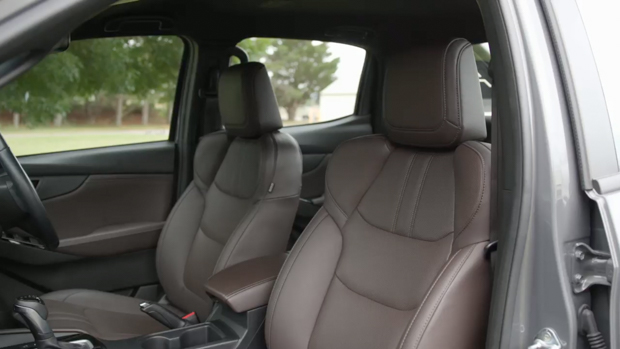 Out on the road, though, the BT-50 Thunder's extra 100kg over the related D-Max X-Terrain upset its ride and handling prowess. The 2021 Thunder also didn't have a shortcut button on the wheel to disable the overzealous lane-keep assist – though this is solved for the 22MY.
The BT-50's level of safety equipment is hard to ignore, but emphasises the fact that none of this cohort do safety system tuning particularly well. The BT-50's exterior may write cheques it can't cash, but as a luxury family ute, the more sophisticated SP grade is worth consideration.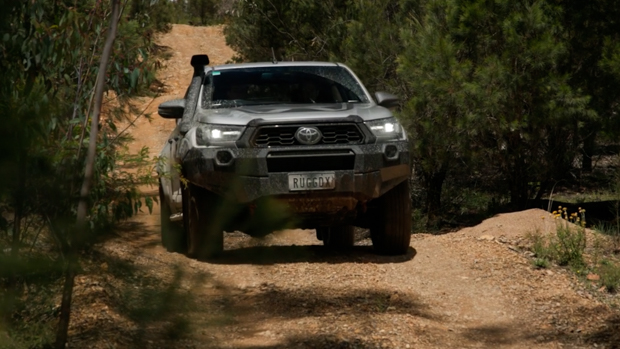 Toyota Hilux Rugged-X 6.5/10
Price as tested: ($70,750 before on-road costs)
The Rugged-X may be a Hilux with all the gear, but underneath the Australian-developed accessories, this Toyota ute is exactly as expected. The interior has been modernised with an Apple CarPlay/Android Auto compatible touchscreen, supportive seats and JBL sound system but the D-Max, BT-50 and Ranger have better tech and cabin packaging.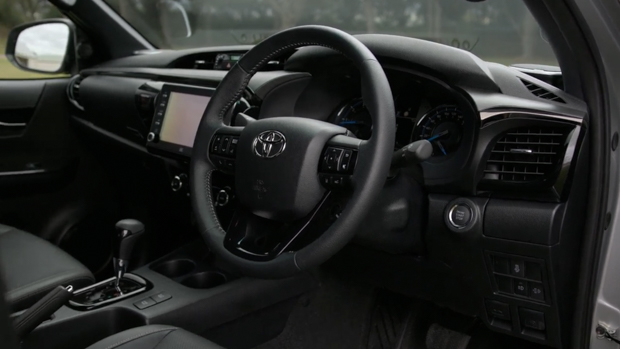 Driving the Hilux is much the same: the chassis is confidence inspiring and the ride feels like it's been finessed over time, though it's still juddery. That said, with some weight in the tub the Hilux's ride settles and the updated 150kW/500Nm 2.8-litre turbo-diesel tune with recalibrated 'box logic hauls a load expertly.
Like the Navara Warrior, the Hilux Rugged-X is designed with off-roading in mind and it does a great job. The broad torque spread makes for effortless ascents, though the Hilux's low-range wasn't as low as the Triton's and its electronic off-road aids were a little unsatisfying to use.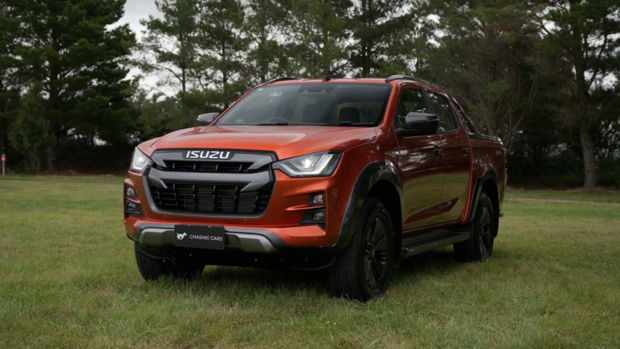 Isuzu D-Max X-Terrain – 7/10
Price as tested: ($67,500 before on-road costs)
Earning an honourable mention in fourth place is the Isuzu D-Max X-Terrain, which presents here in MY22 guise as a rugged yet sophisticated package.
The interior of the D-Max is cohesive in its design and contains a number of surprising features from its excellent stereo to its subtly sport details, while also nailing the fundamentals by offering comfortable front seats and a usable second row.
By offering fewer bells and whistles than the accessory-heavy BT-50 Thunder, the D-Max X-Terrain manages to be a better all-rounder which still reaches similar heights inside the cabin without any drawbacks when it comes to its performance both on and off the tarmac.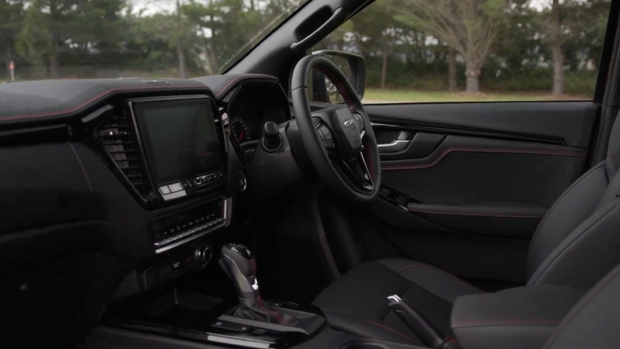 Once deep in the rough stuff, the Isuzu is more finessed than the Mazda, even though it still scrapes its belly where other utes don't. The effortless torque from the D-Max's '4JJC3' 140kW/450Nm 3.0-litre turbo-diesel four-cylinder makes for an easy driving experience, on and off the road.
But there is a caveat with the X-Terrain model. Its roller-door tonneau cover and minimal tie-down points prevent heavy payloads from being strapped to the bulkhead – exposing the rear suspension's limitations, though it does a much better job when towing.
It's worth acknowledging that the D-Max is by far the safest ute on this test, with critical innovations like a front-centre airbag and an array of active safety features making it a good pick for those looking for a ute to haul the family around in.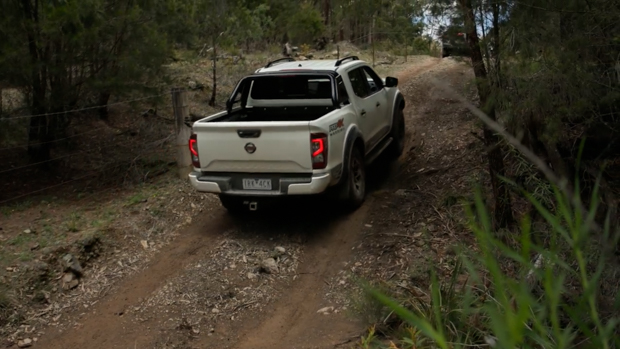 Nissan Navara PRO-4X Warrior 7.5/10
Price as tested: ($70,590 before on-road costs)
Now we're getting to the pointy end of the field. If it wasn't for Premcar's ride tuning, high quality components and well-chosen accessories then the Navara would have been let down by its slowest-on-test acceleration results, torque-thin (but excellently-refined) 2.3-litre twin-turbo diesel four-cylinder, compromised cabin packaging and dated technology package.
Where the Navara (quite literally) clawed back to the pointy end was off road. The combination of 260mm ground clearance, chunky 275/75R17 Cooper Discoverer tyres and seven-speed automatic tuned to harness the best the engine has to offer, put it head-and-shoulders above the other utes.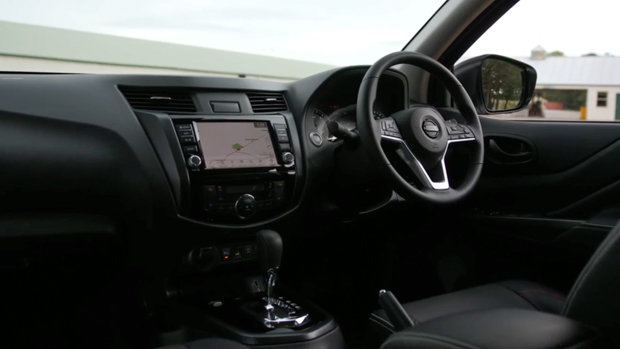 The Navara proved its worth on the road, too, where the expensive dampers shone. The juddering ride of the other utes was nowhere to be found in the coil-sprung Navara.
Yet, despite its unladen comfort, the Navara's suspension also dealt with towing and a nearly maxed-out 925kg payload expertly. It would have been best-on-test were that engine able to punch out another 50-or-so newton metres.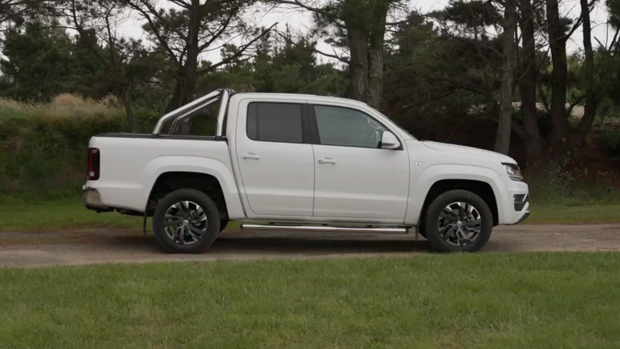 Volkswagen Amarok V6 TDI580 Highline 7.5/10
Price as tested: ($63,490 before on-road costs)
It says a lot about this segment that the soon-to-be-replaced Amarok did so well in our testing. Not only was the 3.0-litre V6-powered Amarok by far the fastest on test, it also impressed the judges by having true space for three adults across its upright rear bench (even if the front pews weren't as comfortable as remembered).
Unfortunately, those three adults in the back wouldn't be so safe were the worst to happen (though the Amarok's stellar road-holding would help you avoid most nasty situations) as there are no rear curtain airbags. The lack of front or reverse AEB, blind-spot monitoring and lane-keep assist also seriously impacted the Volkswagen's chances at the top spot.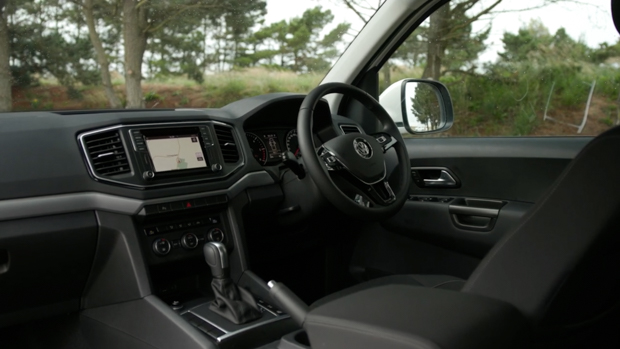 That's one of the reasons the Amarok wasn't able to walk away with top honours. The others extend to the technology, although the touchscreen is easy to interact with its small 6.5-inch size tells of the Volkswagen's 11-year vintage.
No other ute on test came close to the Amarok's ability to shrug off a load. The 900kg payload failed to unsettle the rear suspension in the slightest – the Amarok honestly felt quicker than the slowest utes on test with two-tonnes hitched to the tow bar.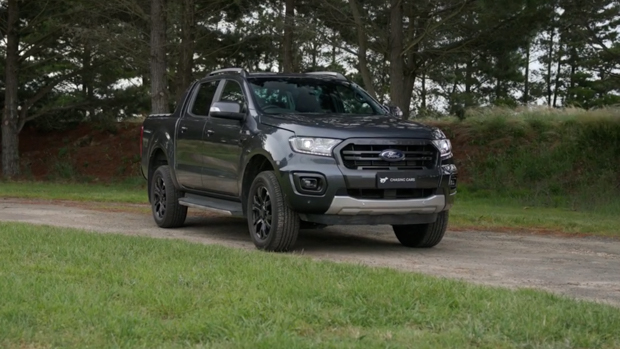 Ford Ranger Wildtrak 2.0TTD – 7.5/10
Price as tested: ($66,090 before on-road costs)
The 'T6' Ford Ranger first launched in Australia way back in 2011 and some 11 years further down the track, it stands here as our winner in heavily revised PX MKIII guise.
A significant update in 2015 elevated the Ranger further by fine tuning this workhorse into a more refined and handsome ute that has won the hearts of Australian private buyers.
Nowhere is the Ranger's age more evident than inside the cabin. With its low-quality touchscreen and outdated design making its imminent replacement welcome news. However, it still succeeds in offering a comfortable driving position with ample space for all occupants, though it can't quite seat three people in comfort across the second row like the Amarok.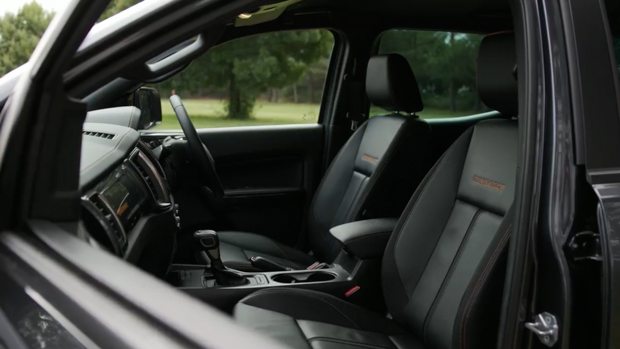 Like many utes on this test, the Ranger is let down by its jittering leaf-sprung rear end that limit its on-road performance; however its engaging front end combined with its powerful yet smooth 157kW/500Nm twin-turbo-diesel engine make for an overall pleasant experience.
In Wildtrak trim, our  Ranger doesn't have the Navara's immense ground clearance or chunky tyres to excel off-road, but it succeeds in offering a consistent and confidence-inspiring experience off-road – and the Raptor is always there if you need more off-road chops.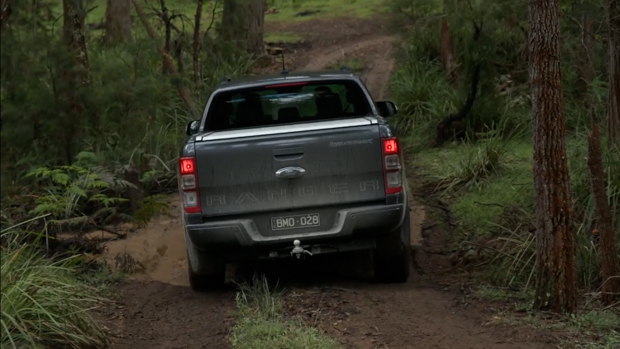 Readers will note that we have given all our top three contenders a not-overly high 7.5/10. But, we stand behind the Ranger as our winner because it succeeds in offering a consistent breadth of abilities where all its rivals stumble in one area or another.
While some vehicles fall behind the competition as the years go by, Ford and its Australian-based Ranger development team have succeeded in creating Australia's best performing ute and for that we crown it our winner of the inaugural Chasing Cars dual-cab megatest.
Conclusion
Our winner, the PX3 Ranger, is of course just weeks away from being replaced, but the incoming ute – just like the second-generation Amarok – is not an all-new vehicle, rather it's based on the current Ford T6 chassis.
With 2.5 stars still left on the table, it remains to be seen who will elevate the dual-cab ute game, but with two new utes set to enter the Australian market before the end of the year, and potentially more rivals on the way from China, this hotly-contested segment could be in for a shake up.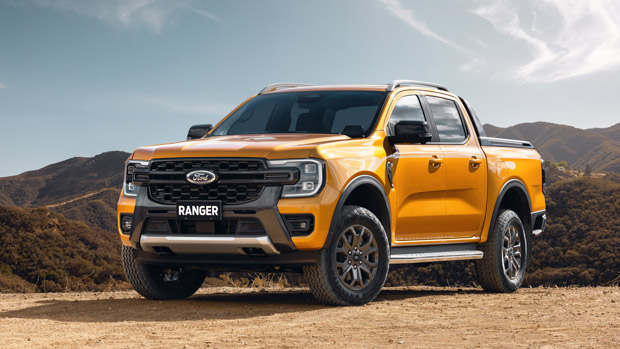 It's for this reason that Chasing Cars believes thorough comparison testing like this is incredibly important to find out which models are worth your hard-earned money. We also welcome any feedback you may have from this test, so please feel free to send us a message.
You can be sure that both the new-generation Ranger and Amarok will be back again next year for another comprehensive shake down to find out who – or in fact if – anyone is able to move the ute segment beyond its current standing.
But if you're already convinced that one of these eight utes will be your next, you can find out more information on everything each ute includes – and how long you can expect to wait – on our website.
Additional reporting by John Law.