Predictably, it was a match made in heaven: pair the ute with the best overall driving dynamics with renowned Australian tuning house Walkinshaw. Driving pleasure was perhaps the only possible result.
Still, despite classically well-paired ingredients, the sum of the 2021 Volkswagen Amarok W580S still seems greater than its constituent parts – particularly when you remember the basic chassis under this dual-cab ute, poked and prodded at Walkinshaw's Melbourne subassembly, is a decade old.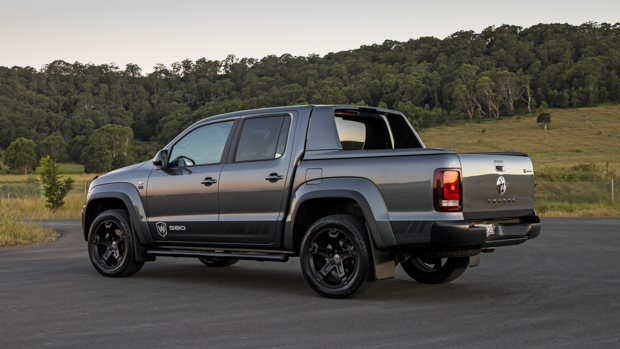 Two flavours of Walkinshaw Amarok were devised: the $71,990 W580, which picks up the core suspension, exhaust, wheel, tyre and body modifications of this series, and the $79,990 W580S tested here, which ups the luxury factor inside while adding even more external differentiation.
New challengers have arisen in that time and, to be sure, the Ford Ranger's a match for the composed ride of the Amarok, and the Isuzu D-Max and Mazda BT-50 twins have the Volkswagen well and truly cornered when it comes to semi-autonomous safety aids.
But faced with an Australian B-road, an Amarok V6 is still the ute we'd want to find ourselves in. The Amarok V6 trails the competition on modern gizmos, but a smooth and refined engine, decisive gearbox, well-weighted steering, a level ride, great seats and a durable but high-quality interior don't go out of style. Or age, really.
How does the Amarok W580 drive?
Like no other dual-cab ute you can buy on the Australian market.
The first 30 Walkinshaw-fettled Amaroks sold out online in five minutes. In fact, 42 customers got through the door before Volkswagen Australia were able to shut down the preorder system. The earlybirds will score a Walkinshaw track day and trip to the subassembly plant.
That initial batch sold quickly but you haven't missed out: about 1,000 Amaroks will go through the Walkinshaw conversion process to become the go-faster W580 and W580S specifications this year. Ordering is now done through dealers.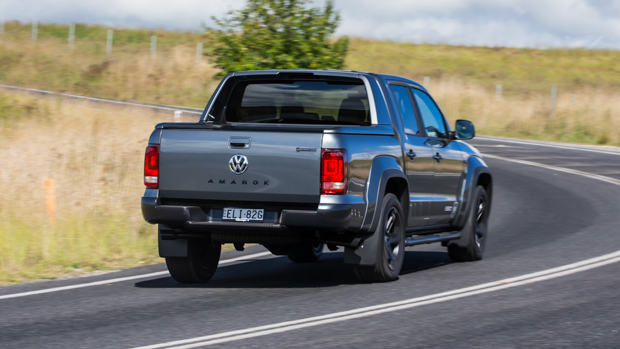 So, what does Walkinshaw do to the already-solid Amarok platform?
First, there's a front suspension lift, giving this ute a tougher stance, and creating room for taller Monroe shock absorbers with a 35mm internal bore. The suspension tune is Walkinshaw's own.
The wheels are upgraded to wider 20-inch by 9-inch alloy wheels wrapped in grippy Pirelli Scorpion all-terrain tyres – of all the modifications, this is probably the most noticeable.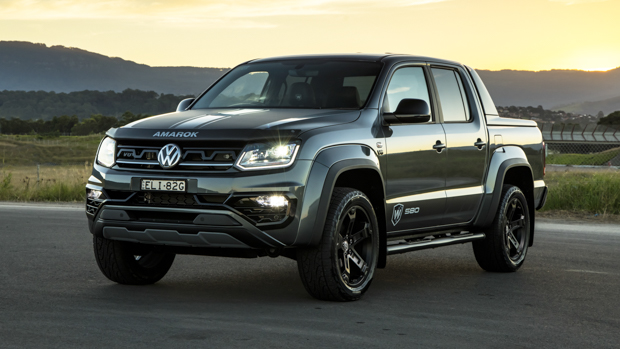 A re-tuned dual side exit exhaust on the W580S trim looks fantastic and reportedly produces more noise, but we found this wasn't really audible in the confines of the Amarok's deeply refined interior.
Visually, the W580 is differentiated by wheel arch extensions, a prominent side stripe, a new wave-pattern grille, and a subtle Walkinshaw badge on the tailgate. The W580 takes the look further with a sail plane styling bar in the tray and twin bonnet stripes. Both cars score Walkinshaw-branded headrests inside, and a numbered plaque beneath the gear selector.
Untouched is the '580TDI' 3.0-litre single turbo diesel V6 engine, which continues to produce 190kW of power and 580Nm of torque, while offering 200kW bursts on overboost. Word has it there is that the midrange in the W580S is a little freer thanks to its unique exhaust. Either way, this is still the most powerful engine in the class.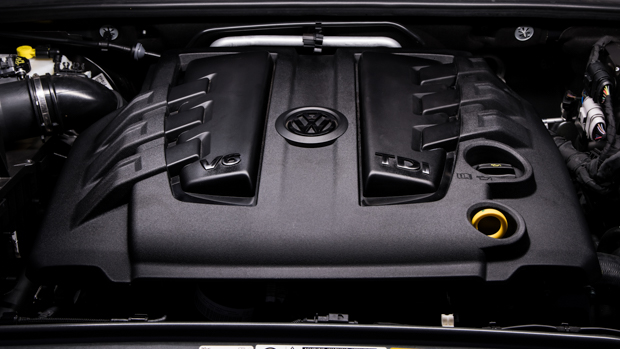 Amaroks are now sourced exclusively from Pacheco, Argentina, after German manufacturing of the ute wound down last year to support a new EV production line. And it didn't make sense for Pacheco to accommodate a new engine tune when the next-generation Amarok – a collaboration with Ford – is due in little over 18 months.
So the Walkinshaw co-development in front of us is certain to be the ultimate road-going Amarok of a stellar first generation that has lasted a decade. The brief from Volkswagen was to create a GT-ute perfect for country touring at pace. Next year, a highly capable off-roading special also by Walkinshaw will be the first-gen Amarok's swan song.
The off-roader will be interesting but the real white space in the dual-cab market is for a brilliant on-road machine. The Amarok W580 – and in particular the luxuriously-appointed W580S – delivers on this promise and gives keen drivers a vehicle they can genuinely enjoy, rather than grin and bear, as with most pick-ups of this style.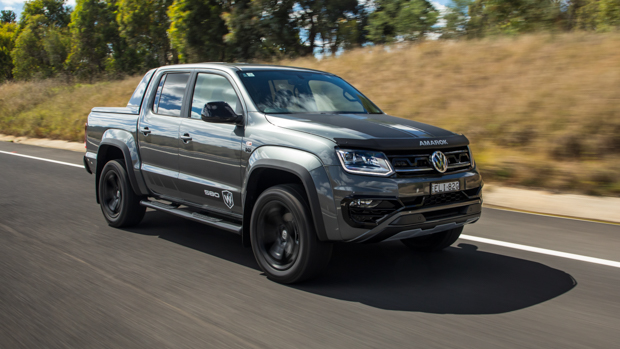 If you are upgrading from a standard Amarok V6, the W580 will initially feel very similar. The performance of the engine and eight-speed torque converter automatic gearbox continue to be creamy, punchy and seamless. The quiet air of refinement in the cabin carries over here.
Where you'll start noticing the benefits of the Walkinshaw job is on a more difficult and technical road. Volkswagen's choice to launch the W580 on greasy alpine roads winding between Cooma, Thredbo and Khancoban in southern New South Wales drew out the car's strengths.
A standard Amarok V6 is already a decent drive on a winding road but the W580's near-13 per cent wider tyres immediately create a noticeably higher degree of stability.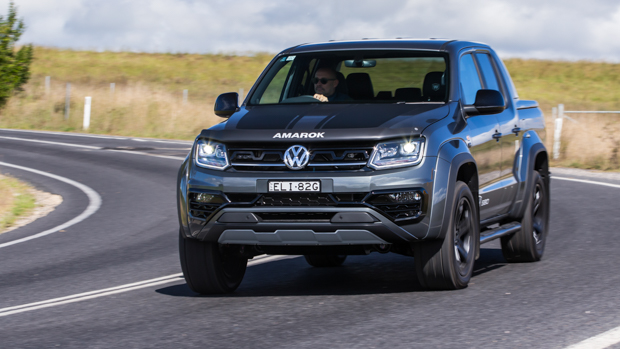 Combine the width of the contact patch with the grippy tread pattern of the Pirellis and the Amarok's handling abilities are upgraded to become downright tenacious on a fast and difficult country road. There's still some patience required at times – this is a wide, heavy vehicle – but turn-in and mid-corner control are unlike any other ute.
Getting power down out of corners is a cinch too thanks to permanent AWD – a feature remarkably few utes offer, with most forcing on-road running in rear-wheel-drive.
The four-wheel disc brakes are largely up to the job and continue to shame the fact that nearly every dual-cab on the market runs with drums in the back.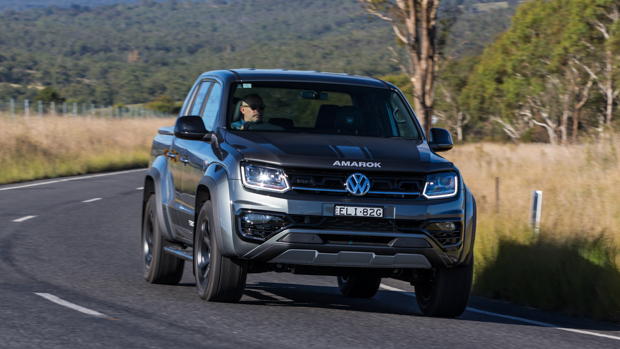 Ride quality is ultimately similar to the underlying Amarok V6 Highline with the exception of superior wheel control in big and complicated hits on country road – you get a sense there is a little more travel allowed, and that compliance is maybe ten per cent better in the W580.
In terms of roadholding, it's clear the Amarok W580 sets a new benchmark for dual-cabs in Australia.
That attribute does take on increased importance in the Amarok, though, because unlike many rivals, this ute runs without most modern safety technologies. No Amarok has rear airbags. No Amarok has AEB, reversing AEB, lane keeping assistance, blind spot monitoring or adaptive cruise control. They get a reversing camera. Our safety score reflects these facts.
How is the Amarok W580's interior?
The Volkswagen Amarok no longer has the most modern cabin on the dual-cab market, but the quietly understated interior design and high-quality materials used mean it has aged gracefully.
Walkinshaw-branded headrests and numbered production plate to one side, Volkswagen have been clever not to make the interior overly 'custom' and chintzy for this special edition. The quality speaks for itself.
To be sure, this is still a ute and most of the surfaces in here are durable and tough. Unlike VW SUVs, soft touch materials aren't found on the dash or door tops. However, the hard surfaces are matte and have a pleasant, uniform grain through them that looks good.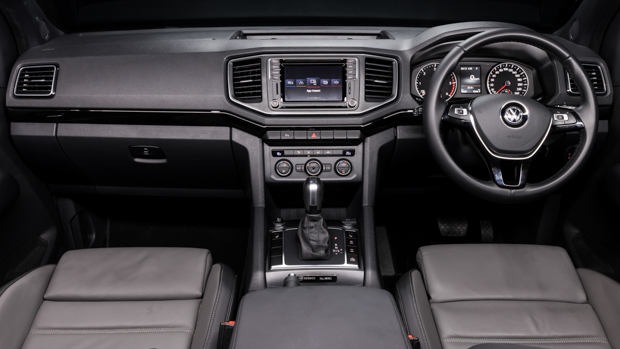 But Volkswagen seem to always remember to get the common touchpoints right, and the Amarok is no exception here. A small-diameter leather steering wheel, leather gear shifter, and tactile buttons and knobs make this interior feel expensive, even if it's getting on in years.
Both Walkinshaw versions get comfortable seats borrowed from the Amarok Highline. The tall-bolstered front buckets are trimmed in velour in the W580 and 'Vienna' leather in the W580S, which also gains 14-way electric adjustment and heating for the front pews.
A 6.5-inch touchscreen is standard and isn't quite as small as it sounds. The underlying software is intuitive and mature-looking; wired Apple CarPlay and Android Auto are standard. So too is DAB radio in a rare sight for a Volkswagen in Australia.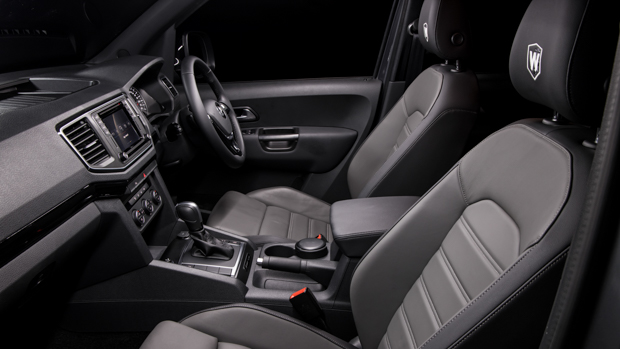 Analogue dials sit ahead of the driver but they're pleasant to look at, and sit astride a colour trip computer offering a digital speedometer, plus detailed navigation and media information. Expect to see digital gauges in the all-new Amarok launching late next year.
The Amarok's great achievement in the cabin is to slowly lull you into forgetting you're driving a ute at all. With great seats, a pleasant steering wheel, familiar VW infotainment and excellent noise insulation, eventually, you just feel like you're sitting in a durable but premium SUV.
That's at least true of the front seats. The very tight back seats continue to make the Amarok less of a family car option. Legroom is poor for taller passengers, though shoulder room and headroom is sufficient.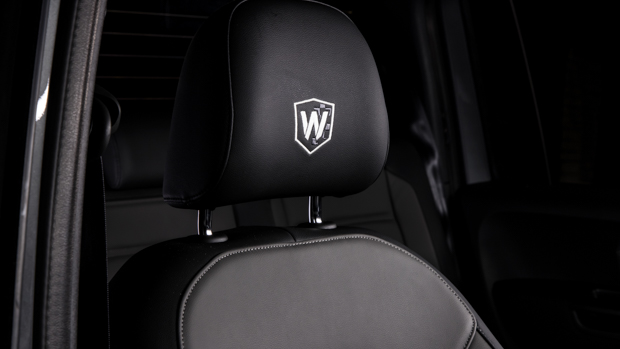 Still, the lack of airbags in Row Two means that we only recommend this car if most of the time, you'll only fill the front seats. There are also no rear air vents back here. Basically, this GT-ute is designed to be driven one or two up.
Further back, the Amarok's tray – beneath a sailplane styling bar on the W580S trim – is wide enough to take a pallet and has four clear tie down points. The S also includes a five-piece protective tub liner that's ready to go out of the box.
What are the Amarok W580's running costs?
In terms of running costs, the Amarok gives and takes away. It uses less fuel than most rivals, but it can cost more to service – however, you can save if you buy your servicing up front.
Importantly, a five year warranty with unlimited kilometres applies to the Amarok, as it does to all Volkswagens.
Despite having the most powerful engine in the dual cab space, the TDI580 motor is remarkably fuel efficient in the real world. Against Volkswagen's claim of 9.5L/100km, we have routinely averaged closer to 8.5L/100km in six-cylinder Amarok utes.
Naturally, if you're operating only in town or exploiting the engine's power very often, you will get into the teens.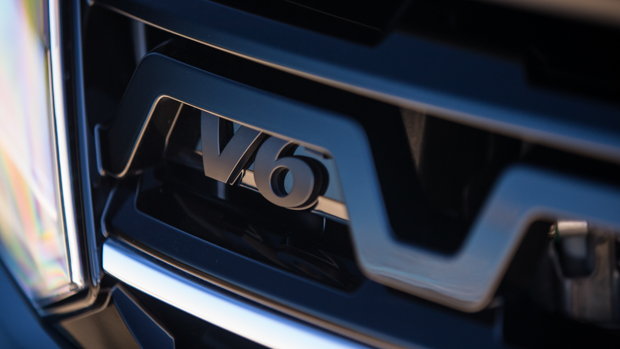 When it comes to servicing the Amarok, Volkswagen does have more generous scheduled maintenance intervals than many others: they're annual or every 20,000km. Most other utes only let you drive up to 15,000km in that twelve-month period.
But when you do pull in to service the Amarok it's going to cost more than a Ranger, HiLux or Navara. The costs amount to about $2,100 over three years, and about $3,600 over five years.
That said, you can buy Amarok service packs at steep discounts when you purchase the car. A three-year Care Plan costs $1,700 (meaning savings of about $400), while a five year plan costs $2,600 – meaning you save about $1,000.
Given the superior sophistication of the Amarok's engine compared to its rivals, which mostly use more agricultural four-cylinder units, we think that's fair enough.
The final verdict
Volkswagen and Walkinshaw rightly identified a desire for a new GT-ute in Australia, and the Amarok W580 and W580S models hit the target with remarkable accuracy.
There's no avoiding that the Amarok is far from the most modern ute in the class, and for some, the distinct lack of safety tech will be a turn-off.
But for keen drivers seeking a ute with a beautiful blend of power, refinement, relative handling ability and interior comfort, the Amarok W580 offers something particularly special.