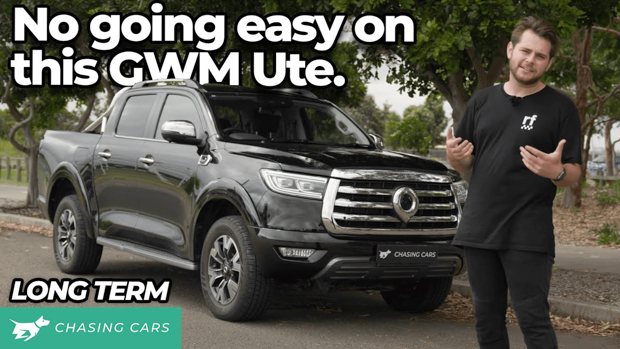 It's been nearly 60 years since Japanese car brands set the blueprint for how to make an impact in Australia – offer a stylish product chock-full of equipment, and then don't charge very much for it. And it's exactly that thinking that underpins a vehicle like the Chinese-made GWM Ute.
Cleverly rebranded (from Great Wall Motors to GWM) in order to distance itself from its inadequate predecessors, the GWM Ute offers more metal for the money than any other dual-cab in Australia, and backs up that value proposition by offering a few enticements all of its own.
A top-spec turbo-diesel dual cab with a seven-year warranty, a standard eight-speed automatic and everything but the kitchen sink for just under $41K? You better believe it. How about full-time 4WD and enough screen action to rival a teenage sleepover? The GWM Ute Cannon-X has got you covered.
Indeed, there's been so much interest in the GWM Ute that it's been a smash hit on YouTube and managed to rack up 6906 sales in Australia in 2021 – hence why we've decided to run a bells-and-whistles Cannon-X as a long-termer, commandeered by staff videographer Alek Hoskins.
Navigate this long-term GWM Ute review
We'll update this review with new entries over time as we detail our experiences in the GWM Ute Cannon-X, which we're running for six months and 10,000km.
Month 1: Is the GWM Ute Cannon-X merely a software update away from greatness?
After our GWM Ute Cannon-X long termer met its 1200km baptism of fire, our 2021 Dual Cab Mega Test, I get stuck into living with this ute day to day! Spoiler alert, I believe it's a revision away from being a great car.
| | |
| --- | --- |
| Kilometres this month | 2487 |
| Fuel economy this month | 10.2L/100km |
| Running costs this month | ~$390 |
Given that I'm someone who lives track days and performance cars, why would I put my hand up to run a dual-cab ute as my long-termer? Simple – it suits my lifestyle outside the Chasing Cars office.
I previously owned a PX1 Ford Ranger 4×2 dual-cab for about three years, which  towed race cars and ferried jerry cans full of E85 fuel, whole engines, gearboxes and more wheels than I can poke a stick at. These tasks aren't something you want to be doing in a $40K medium SUV but are definitely something right up the alley of a robust dual-cab.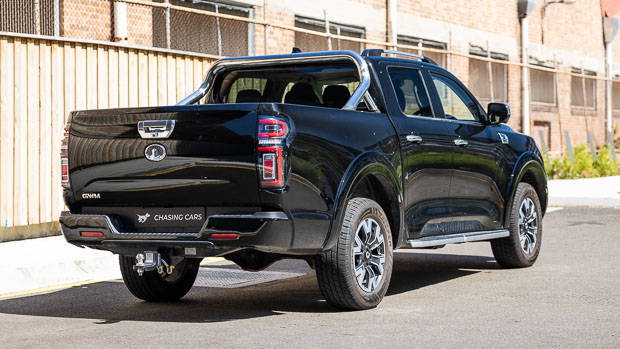 As for the GWM Ute Cannon-X, well quite simply I'm curious. It punches far above its weight in terms of value for money – its $40,990 list price being $13,000 less than a Mitsubishi Triton GSR and $26,000 less than a bi-turbo Ford Ranger Wildtrak – and yet wants for little when it comes to equipment. Not only does the Cannon-X match (and in many cases exceed) the spec of equivalent range-topping dual-cabs,  but it's the only vehicle in the segment to be awarded a five-star rating under ANCAP's 2021 testing protocol, which is a huge point for family and lifestyle buyers.
With a view count of 206,000 and more than 1100 comments at the time of writing on our video review of the GWM Ute Cannon-X on YouTube, many of you Chasing Cars fans seem really interested in what it's like to live with every day, and whether there's any catch to its low price of entry and long equipment list.
There is no catch in the quality of its components, with GWM spending money on a German eight-speed ZF transmission, Borg Warner transfer case and Bosch safety electronics, yet as I reach for the GWM keys and fire up the 120kW/420Nm 2.0-litre turbo-diesel four-cylinder every morning, I've started to notice some corner-cutting.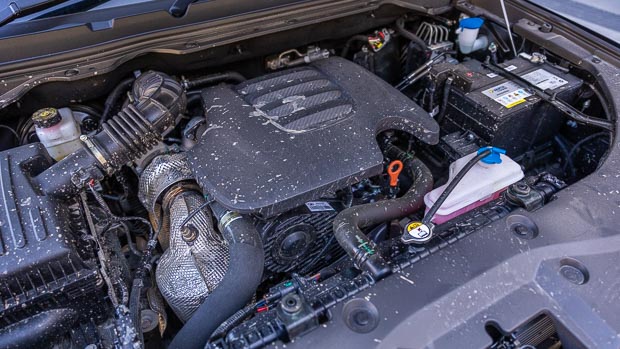 Sometimes it's simple things like the lack of a dome light over the rear seat, or the trip computer that frustratingly cannot be accessed while lane-keep assist is enabled through the infotainment.
Other annoyances are more significant, like the three-mode electric power steering that is vague and heavy – especially when it's in Sport. Yet the real issue is on the highway where the Ute Cannon-X seems to lack front castor –  you apply 15-degrees of steering angle and the front wheels offer zero response, which means you're constantly working the helm if the road isn't dead straight.
The adaptive cruise control seems to mostly work well, though it can waver around the set speed and will blow out by 5km/h or so when cresting over a hill – not ideal in a state currently laced with unmarked mobile speed cameras! Is this a total deal-breaker? I don't think so because it's great the hardware is included at this price – it's just that some of the GWM's tech lacks the last 10-15 percent of fine tuning to make it truly useful.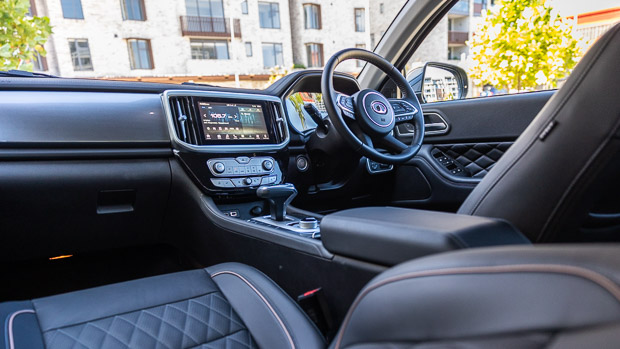 Away from the freeway and back in town, it's the GWM's cabin that really wows – it's hard to believe that the Cannon-X is over $10,000 less costly to buy than a range-topping Mitsubishi Triton. Not only does the design look and feel swish, it's also packed full of features like a leather-appointed steering wheel (where plastic is the norm at $40K) with reach and height adjustment, complementing the comfort of the plush, quilted leather upholstery and six-way electric adjustment for both front seats that enables you to get nice and low.
Add to that a generous 7.0-inch digital instrument cluster which is pleasant to look at (though why it needs three fuel gauges that all read differently I don't know). Some of the curious English translation in the 9.0-inch central touchscreen is a minor irritation, but the three layers of menus to jump through to turn off lane-keep assist is more frustrating. But I reckon most of these small annoyances are little more than a software update away from being fixed – making the Cannon-X, on the whole, a really impressive machine.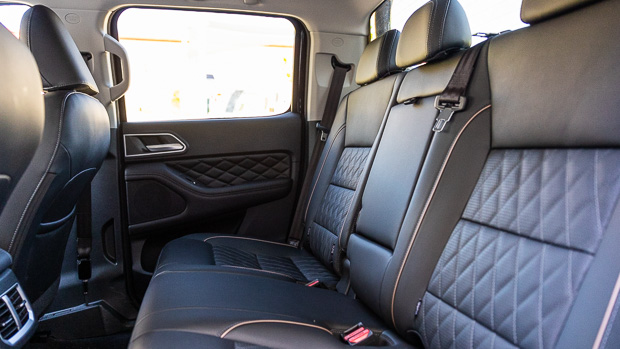 Even the build quality is good. It's already clocked up 5500 rather tough kilometres and there are no signs of any rattles or creaks, though it's yet to tackle outback conditions.
This could all change over the next six months as I plan on getting plenty of sand and dirt under the GWM's Cooper Discoverer AT tyres, as well as throwing a full payload in the tray to test its laden ride and towing my Toyota 86 race car on a 1200km round trip down to Winton Raceway in Victoria.
On its more mundane weeks, the Cannon-X will be doing the hard yards as the Chasing Cars battle truck, hopefully getting us to all of our video locations faultlessly. But so far, so good.