It was there, at the Mundi Mundi lookout – 30km north-west of Broken Hill – that we stood in awe. On the cusp of the New South Wales outback, the world seemed to go on forever – a vast, flat, uninterrupted expanse that stretched to the horizon before receding with the curvature of the earth.
We stared long and hard at this magnificent spectacle, noting that in this very spot 40-something years ago, Mel Gibson drove as hard as he could down from the Mundi Mundi lookout towing an oil tanker behind him. It would be the dramatic end to Mad Max 2 (1981), now a cult classic film known around the world.
Flash forward 40 years and here the three of us stand – Chasing Cars deputy editor Nathan Ponchard, photographer Alek Hoskin and me – next to our modern interpretations of 'interceptors': a Toyota Hilux Rogue, an Isuzu D-Max LS-U and the true underdog of the group: China's GWM Ute Cannon-X.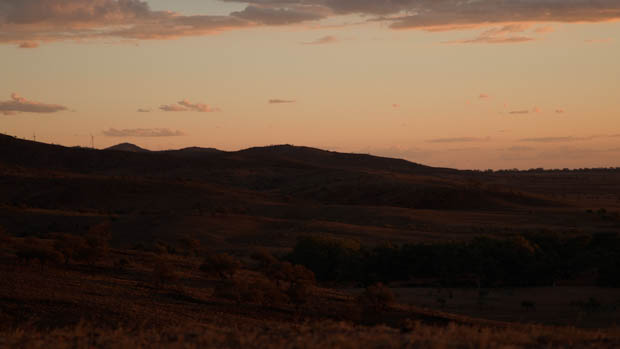 We've ventured far from the outskirts of Sydney to one of the driest and most remote places in New South Wales. To us, we feel like we are at the end of the world. A whole lot of space for just three blokes. But this is not where the journey began. Let's go back 1,170 kilometres to where this trip really started.
A challenge worthy of an adventure
As part of his six-month long-term loan of the GWM Ute Cannon-X, videographer Alek Hoskins wanted to take China's signature dual-cab to the edge of civilisation via the most challenging route possible. The overall goal? To see whether it's buff enough to handle the notoriously tough country we call Australia. And to judge how capable the GWM Ute is compared to its fiercest Japanese competitors – the Toyota Hilux and Isuzu D-Max.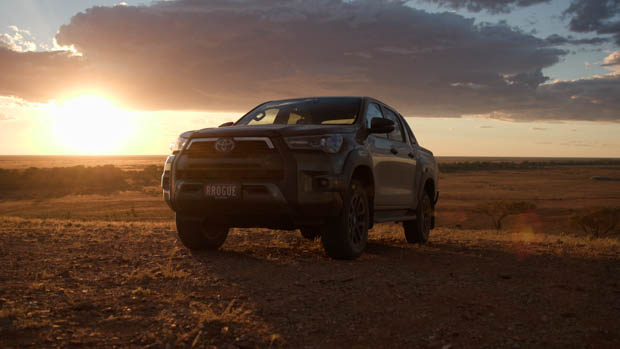 So the team decided that an old-school road trip was in order, as the ultimate torture test of man and machine. Joined by deputy editor Ponch and my staff-journo self, we wanted to see what would break first – Alek's cravings for a bakery or his GWM Ute long-termer's front suspension?
We would set out from Sydney bright and early on Monday and aim our utes toward Goulburn and out to Hillston on the first day, then head further west to Broken Hill and out to Silverton (the home of Mad Max), then blast our way south-west to the big smoke – Adelaide – via the Barrier Highway.
As good as it would be to turn around and drive the whole way back, strict time deadlines meant we had to drop the utes in Adelaide and fly home to Sydney on the Friday. So with that plan in place, we prepped what we could and the rest was history… 
After picking up all three cars on Monday morning and setting off towards Goulburn and then west to the town of Hillston, we found the first few hours pretty easy going. It was an opportunity to test the car's highway ride handling and general comfort.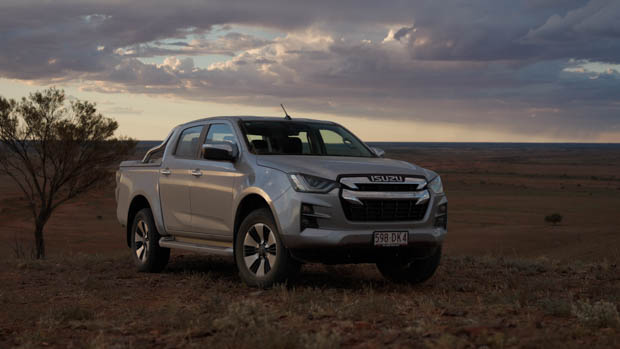 The trio on test represent the purchase decisions of over 90,000 Aussies so far in 2022. First up, we have the car we have come to test, the GWM Ute Cannon-X, priced nationally at $44,490 driveaway and fitted with a 120kW/400Nm 2.0-litre turbo-diesel four cylinder mated to a eight-speed automatic transmission. It's the top spec car in GWM's Ute range and is fitted with a 7.0-inch digital driver display, wireless phone charging, 360-degree camera, black leather interior and 18-inch alloy wheels.
Next up in the pack is the Isuzu D-Max LS-U which comes in at $59,400 (before on-road costs) and is powered by a 3.0-litre turbo-diesel four-cylinder that produces 140kW of power and 450Nm of torque and is fed to a six-speed automatic gearbox. Standard features are pretty decent on this mid-spec car and include a 9.0-inch infotainment display with wireless Apple CarPlay and Android Auto, 18-inch alloy wheels, a leather-wrapped steering wheel, eight-speaker sound system and an extensive safety suite.
The last (dual) cab standing is the Toyota Hilux Rogue, the most expensive ute here by quite some margin but also the most powerful. It costs a whopping $70,200 before on-road costs and is fitted as standard with a 150kW/500Nm 2.8-litre turbo-diesel four cylinder engine. It comes with 18-inch alloy wheels along with LED headlights, proximity entry, wheel arch cladding and a motorised tonneau cover. Inside, leather trim covers the seats front and rear while there is a nine-speaker JBL sound system, 8.0-inch infotainment display and adaptive cruise control to top it all off.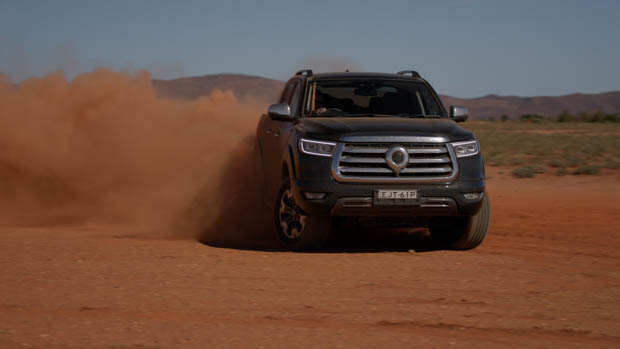 The journey to Hillston, which took us most of a full day to get to, was a good way to get comfortable with our newfound dual-cab utes. We rotated turns in each car every rest break to get a feel for each. As much as pricing sets them apart, these three dual cabs couldn't be more similar in so many ways, from heavy duty leaf spring rear ends to modern safety technology.
By the time we rolled into Hillston on Monday evening, we were exhausted. Little did we know that from Hillston onwards would be where the actual adventure would begin. We visited the Hillston pub for dinner and ate steak as the sun set behind our backs by the banks of the Lachlan River. The cars lay dormant at the motel unaware of what was in store for them in the morning.
A rough ride to Broken Hill
As the sun rose over Hillston early Tuesday morning, and with coffee and food in our bellies, we set off toward Broken Hill which would take another six hours or so to drive. Leaving Hillston, we decided to take the fastest route possible in order to get to our destination – Eldee Station near the small town of Silverton – to begin shooting content as early as possible. We had to film four videos in the span of three days. But what we didn't know is that the route we had chosen involved 180km of rough dirt roads – the perfect challenge for the GWM ute and the other two following close behind.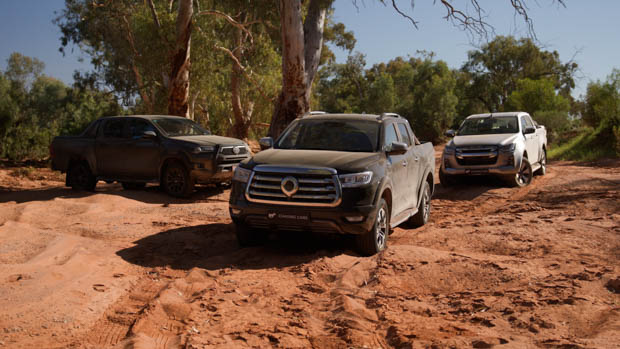 At first, the road was bearable, but it very quickly turned into a rutted mess with sharp rocks lying there waiting to devour our tyres. Ponch led the pack up front and relayed any information back to Alek and I via walkie talkies, especially if there was a large dip in the road or a dangerous pothole. "Keep your distance and slow down", Ponch said.
We spaced out among the three of us so the rocks and dust would clear and cautiously moved onwards toward Broken Hill. It was a remote part of the trip, with our three dust trails the only real movement for kilometres around. Part of me felt bad for such rough treatment on brand new dual-cabs (some had just 400km on the clock when we picked them up).
I guess if you are going to test a ute properly, this is the only way to do so. Having a brand new ute to take on punishing roads meant the test was fair – these utes had likely been given city duties and delivery kilometres before we took them on.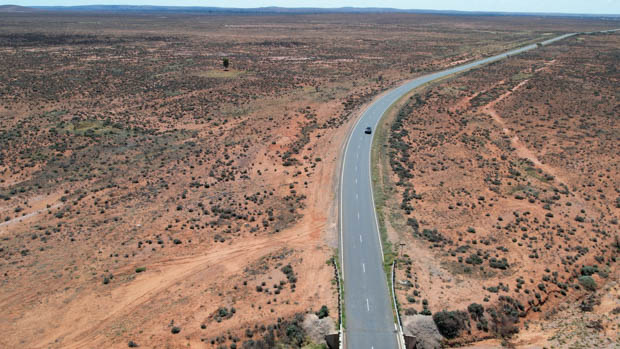 The land between Hillston and Broken Hill is a desolate piece of country. The Earth is as flat as you will ever see it in your life and I could not see an animal or human in sight. You could see the heat shimmering and rising across the barren plains and in places you could even pick out the curvature of the Earth. I remember there being a hot breeze, but not much else. As we pressed on, the temperature climbed. Our windscreens were caked in bugs of all varieties, so bad the windscreen wipers couldn't attempt to get them off.
All we could do was sit out the rough ride, listen to the shocks becoming acquainted with their bump stops and hope that everything would be okay. I listened to Gang of Youths on Spotify to restore some sense of calm in the cabin, but eventually even the reception ran out.
When we did hit the bitumen again, we were relieved that we made it out in one piece. We stopped to check over the cars just in case there was any hint of damage to the utes. Post four-wheel drive nightmare, we soldiered on at a good pace until the land suddenly began to rise. Straight away I knew we were in Broken Hill.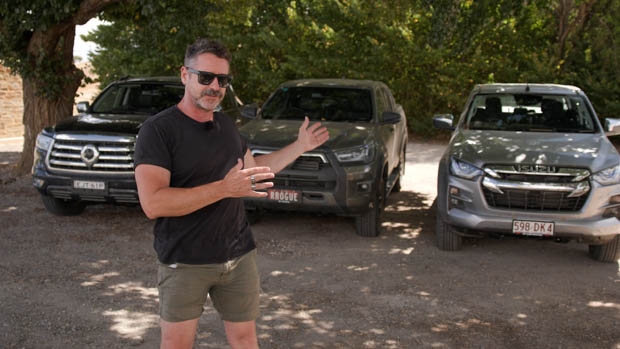 The tales of Silverton and Eldee station
The three of us stopped in Broken Hill to fill our bellies and look back at the road we had just travelled. We immediately came to the conclusion that the GWM's front suspension was far too soft, bouncing and wallowing over big dips, which at times felt unsettling. Meanwhile, the Hilux and D-Max were far more composed, soaking up the bumps as if they weren't much at all.
You could tell that the Hilux was at home in these conditions – largely due to being partially developed here on these exact kinds of roads – and it seemed the most refined on dirt, however the D-Max isn't far behind. In these early stages of the trip, it seemed the GWM might be more of a city slicker type than an off-road bush basher.
It was 45 minutes to Eldee Station from Broken Hill. We crossed our fingers that the rest of the road would be okay and pushed on towards our stay for the night.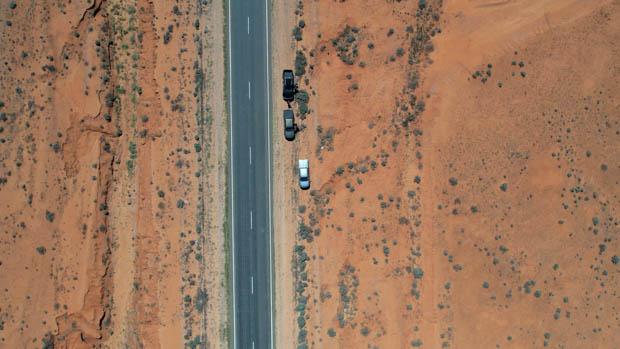 Eldee Station is a picturesque spot, located close to a dry creek bed. On one side, it is surrounded by shallow mountains which look frankly majestic in the early morning sun. Each morning, they project an immense layer of shade across the plains like a giant umbrella, while at sunset, they glow orange like the dirt below them.
Tuesday afternoon was spent filming in various locations across Eldee, positioning the cars this way and that and driving through dust bowls to get the perfect effect for Alek's cameras.
In typical Ponch style, he managed to get all three utes as sideways as possible for the outback action shots. I may have also given the utes a bootful with an armful of opposite lock on the property, too, just for good measure.
As the sun began to set, we travelled to the top of the nearby mountain to get a better view of the place. What we came across was stunning. We felt like we could see on forever through this perfect canvas of browns, oranges and reds. If you've seen No Country For Old Men, picture that New Mexican and Texas desert landscape. It is, without doubt, the perfect setting for a western. A terracotta landscape ready to explore.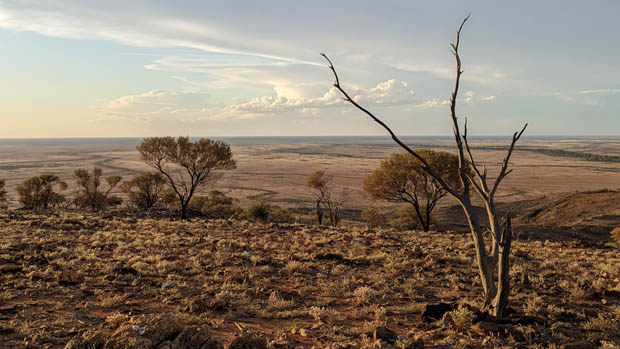 And explore, we did. The next morning, it was now time to shoot the introduction of the video with all three cars. To avoid the 'hot as hell' sun, Alek spotted a shady area by the creek in the town of Silverton and so we manoeuvred the cars through super-soft sand to get the perfect shot.
Again, it was a stunning spot to film with the shadows of the big trees falling on us. We could see the bent-over scrubs as we explored further and realised that not that long ago, this part of the creek would have been full to the brim with water, possibly even flooding. Now we stood with dry-as-a-bone sand under our shoes and not a hint of water in sight.
Ponch nailed his introduction, and before we knew it we were off again, rocking and bumping out of the dry creek bed to our next location. While the D-Max and Hilux both succeeded in the soft stuff, the GWM struggled to work its way out of it. Despite this, none of us got bogged.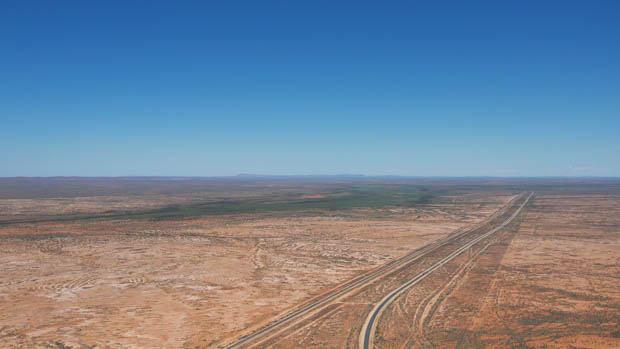 We had to get some shots of the outback with the utes flying on by so we set up Alek and his camera by the side of the road and let Ponch do his thing behind the wheel. The bugs were relentless and the heat smouldering our backs, but we stood there by the side of the road in what felt like forever as we filmed each of the three cars in succession. Alek got the drone out for a few shots and I watched the footage live as he took to the sky. I was amazed at the beauty of the landscape around us and just how stunning this part of the world really is.
After hours of shooting, we stopped in at the Silverton Hotel for a cleansing ale and to get out of the sun for a while. The golden nectar hitting my lips was as sweet as ever! Alek and Ponch went to film in-car camera action and I sat there and enjoyed the beer. It's a hard life! I selflessly promoted Chasing Cars to the guy behind the bar who was wondering what we were doing in town. "Filming a video about that GWM ute," I said. He wanted to know what YouTube channel we were from so I gave him the name and carried on. I hope you are reading this, mate.
As the sun began to set, we decided to go back to the same hill as the night before to shoot some sunset stills and some drone footage of the utes with the mountains. When we arrived, Alek got out of the car and asked me, "Hey Zak, ever flown a drone before?". I said I had, once or twice, and before I knew it, I was flying the DJI Mavic above the three utes in one of the most picturesque locations in Australia.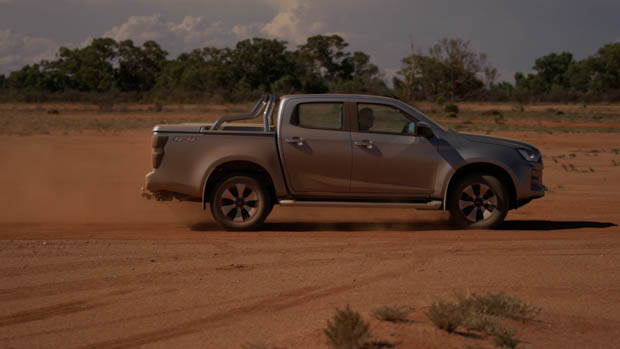 Alek got me to do some fly-around tracking shots of the three cars and to also capture the stunning scenery. It was fun but bloody daunting as I didn't want to crash the thing! The sun got lower and lower and we just couldn't believe our eyes. The sky was a rich scene of pinks, purples and reds and contrasted marvellously with the ground below. As the sun sank below the horizon, the moment was etched in my mind.
Around dinner, we discussed the cars in detail. In fact, I don't think there was ever a time when the three cars weren't critiqued. After all, we had a job to do. Some things really bugged us, some things we really enjoyed. The GWM's steering assist was a little too intense, the D-Max's hard tonneau cover rattled on dirt roads and the Hilux wouldn't lock properly with the key.
On the positive side, the D-Max and Hilux both fit the outback setting just fine, with both having a compliant ride over bumpy and challenging dirt roads. Their torquey engines were great for overtaking on long highway stretches and both had decent infotainment. The GWM did most of the work without any problems and mainly proved to us that it was decently built and wouldn't fall apart when it hit a challenging stretch of road such as the ones we spent a great deal of time on.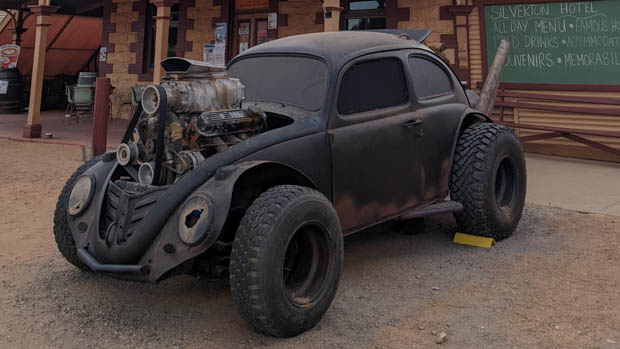 The trip to Adelaide
Thursday morning came by quickly and we soon realised we had a lot more to shoot and had to drive six hours to Adelaide in just one day. It would be a significant undertaking but I believed we could do it. Just.
We retraced our steps to some of the locations we had come across on our journey and filmed some content here and there, making the most of the great weather and awesome scenery. We went back through Broken Hill to gain much needed supplies and came to the conclusion that we would have to film the rest on the way home. By home, I mean Adelaide airport, as we would be flying back to Sydney rather than driving. The three utes would be dropped off at the transport company and the three of us would board our flight to Sydney.
That gave us until roughly 8am Friday morning to get all the filming done, drop the cars off on the other side of Adelaide and get to the airport for an 11:30am flight home. Could we do it?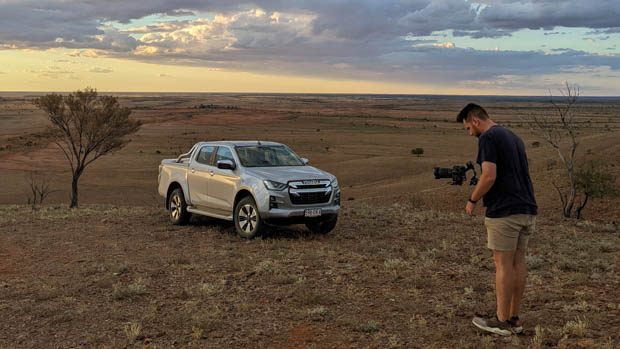 We were exhausted already and we hadn't even left Broken Hill. There was searing heat all around us and not much we could do about it. We had to push on, get the filming done as quickly as possible without sacrificing quality on our way towards Adelaide.
We were fortunate to have a pretty good run from Broken Hill south-west to Adelaide. The roads were initially dead quiet, the black snake of bitumen projecting as straight as an arrow right through the deserted wilderness.
A few trucks passed us from time to time but as before, from left to right was as barren land as I had ever seen in my life. It was hard to put into words how people could live out here, but from the people we met along the way, they seemed so unfazed by it. Perhaps it was just our city-folk attitude – caught up living in our concrete jungle lifestyle and easily forgetting how the rest of the world lives.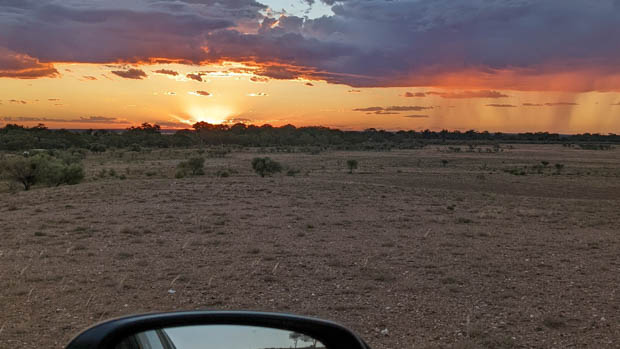 It was so fascinating to see how the landscape would transform from a barren wasteland (as they would put it in Mad Max) to the lush, green trees filling the town and surrounding area of Burra. We stopped here for a break and a drink and carried on filming the conclusion to what would be the finale to the three-car comparison video (which you can watch in its entirety on YouTube here).
As we continued on towards Adelaide, the roads began to fill with cars and we were often forced behind super slow drivers for a long period of time. On these roads, there were no straight opportunities to overtake and no built-in overtake lanes, so progress was slowed somewhat. Once the pack had found each other again, we made our way through the outer suburbs of Adelaide and right into the heart of the CBD.
We parked the cars in the multi-story carpark next door to our apartment and I couldn't help but feel a sense of sadness that our adventure had come to an end. We had a break before dinner so I showered, dressed in the finest clothes I had and waited for Ponch and Alek to get ready. I sat in my room reminiscing on the fun we had experienced, from performing heroic high speed jumps and exploring old forgotten towns to chatting with the locals and experiencing their own kind of life.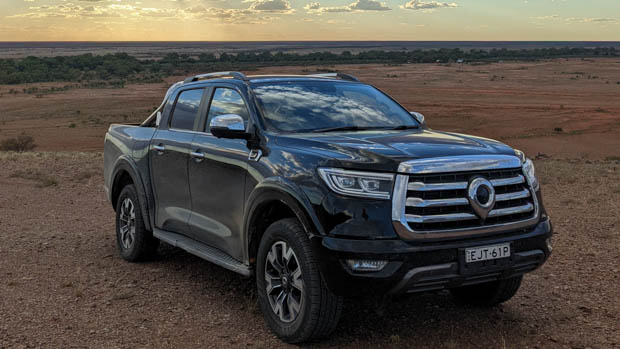 We ate dinner, had a few drinks and then quickly retreated to our rooms. I had rarely been this tired in my life. In the morning, as Adelaide began to get busy with its regular morning traffic, we did a quick tour of the city, dropping the three cars off here and there for their own trip home on the back of a transporter.
We Ubered to the airport, managed to be the last ones on the plane and quickly found our seats. I looked around at the cramped confines of the plane and couldn't help but think about the outback.
The three utes had been worthy companions on the journey and proved that even with a serious amount of bush and dirt bashing, they got us to where we needed to go, no matter the odds.
When we arrived at the Mundi Mundi lookout, we felt like we were truly on the edge of the Earth. That view, that scenery, will sit with me forever. So much space. Oh to be there again, with all that peaceful emptiness. What a trip, and of course, let's not forget about the great interceptors we had, too.