Isuzu has a new kid on the block, the D-Max LS-U+, which sits in between the mid-spec LS-U and flagship X-Terrain model. The news comes as Ford announces its new Ranger dual cab for 2022 which will be a big competitor for the D-Max.  
With an on-sale date of December 1, pricing for the new LS-U+ starts at $61,900 before on-road costs, making it a cheaper option than the flagship X-Terrain which starts at $65,900, while sitting above the $57,400 LS-U.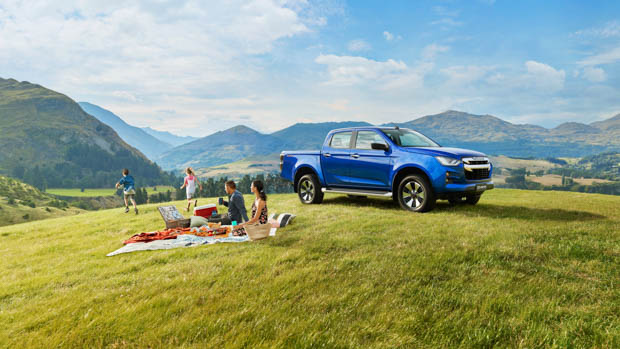 What features does the D-Max LS-U+ add?
The LS-U+ features similar equipment to what is found on the existing LS-U, but adds premium black leather-accented upholstery.
You'll find leather on the steering wheel as well as on the seats, while the driver and front passenger gain seat heating. The driver's seat also features eight-way electric adjustment.
Front and centre on the dash is a 9.0-inch touchscreen which features voice recognition, in-built satellite navigation, DAB digital radio, wired Android Auto and wireless Apple CarPlay.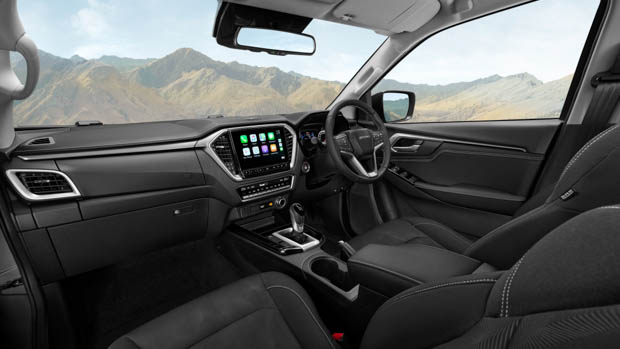 Smart key entry, push button start, welcome light, walk-away door lock and heated door mirrors are all standard features on the LS-U+.
Power remains unchanged from the LS-U model, which comes from a 3.0-litre turbo-diesel four-cylinder engine which produces 140kW of power and 450Nm of torque.
How safe is the LS-U+?
In recent crash testing by ANCAP, the new Isuzu D-Max received a five-star rating, scoring 83 percent for adult occupant protection, 89 percent for child occupant protection and 84 percent for safety assist.
In line with all Isuzu D-Max models, the LS-U+ comes standard with a wide array of safety features which Isuzu calls its Intelligent Driver Assistance System (IDAS).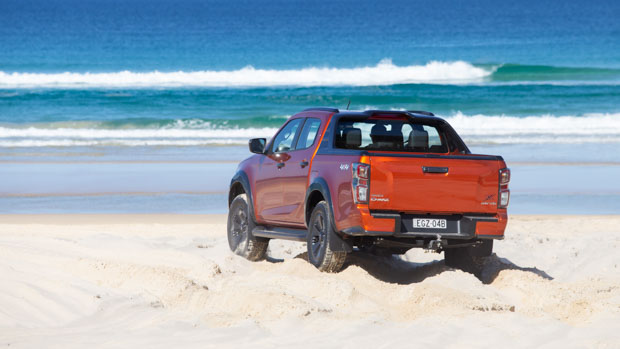 Along with eight airbags, the LS-U+ comes fitted with AEB (with turn assist), post-collision braking, forward collision warning, adaptive cruise control, traffic sign recognition and intelligent speed limiter.
Also fitted is lane departure warning, lane departure prevention, lane keep assist, emergency lane keeping, driver attention assist, blind spot monitoring, rear cross traffic alert, trailer sway control, roll over mitigation, reversing camera and rear parking sensors.
Isuzu D-Max 2022: prices in Australia
All prices listed are before on-road costs.
D-Max 4×2 grades:
SX single cab chassis 4×2 1.9L (manual):$31,200
SX single cab chassis 4×2 1.9L (auto): $33,200
SX single cab chassis 4×2 3.0L (manual): $33,200
SX single cab chassis 4×2 3.0L (auto): $35,200
SX space cab chassis 4×2 3.0L (auto): $38,700
SX crew cab chassis 4×2 3.0L (auto): $41,700
SX crew cab ute 4×2 3.0L (auto): $42,900
LS-U crew cab ute 4×2 3.0L (auto): $51,400
D-Max 4×4 grades:
SX single cab chassis 4×4 3.0L (manual): $41,200
SX single cab chassis 4×4 3.0L (auto): $43,200
SX space cab chassis 4×4 3.0L (manual): $44,700
SX space cab chassis 4×4 3.0L (auto): $46,700
SX crew cab chassis 4×4 3.0L (manual): $47,700
SX crew cab chassis 4×4 3.0L (auto): $49,700
LS-M crew cab chassis 4×4 3.0L (auto): $52,800
LS-U crew cab chassis 4×4 3.0L (auto): $58,200
SX crew cab ute 4×4 3.0L (auto): $50,900
LS-M crew cab ute 4×4 3.0L (manual): $52,000
LS-M crew cab ute 4×4 3.0L (auto): $54,000
LS-U space cab ute 4×4 3.0L (auto): $56,400
LS-U crew cab ute 4×4 3.0L (manual): $57,400
LS-U crew cab ute 4×4 3.0L (auto): $59,400
LS-U+ crew cab ute 4×4 3.0L (auto): $61,900
X-Terrain crew cab ute 4×4 3.0L (auto): $65,900