When the invitation came in to take part in Isuzu's media drive experience in my home state of Queensland, I couldn't say no.
A combination of on-road and off-road sand driving would give us plenty of opportunities to test the 2023 range of D-Max ute and MU-X SUV. 
The trip began in sunny Brisbane, before we all headed north in convoy to Montville – a sleepy mountain town in the Sunshine Coast hinterland popular with weddings and retirees.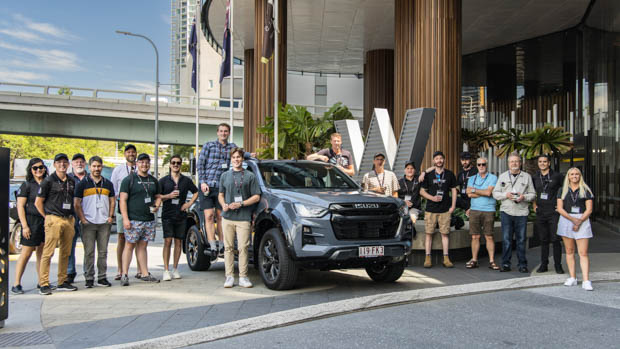 We were able to put the D-Max and MU-X through their paces in a mixture of city, highway and country kilometres.
These once commercial vehicles have become very liveable daily drivers and are remarkably good at longer distances. The trip to Montville was all-round comfortable, with the 3.0-litre turbo-diesel happily humming away in the background.
Although there are aesthetic and tech updates for the 2023 D-Max and MU-X, the 3.0-litre turbo-diesel powertrain used across much of the range has identical outputs as before – 140kW/450Nm.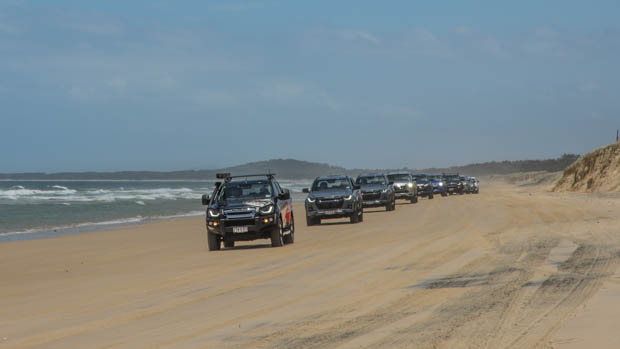 It's a strong, torquey engine and had no problem tackling our steep ascent into Montville in the heart of the Sunshine Coast hinterland.
An afternoon at the gorgeous Spicers retreat gave us ample time to fill our bellies, before pointing our bonnets toward Noosa beach.
Hitting the soft stuff at double island point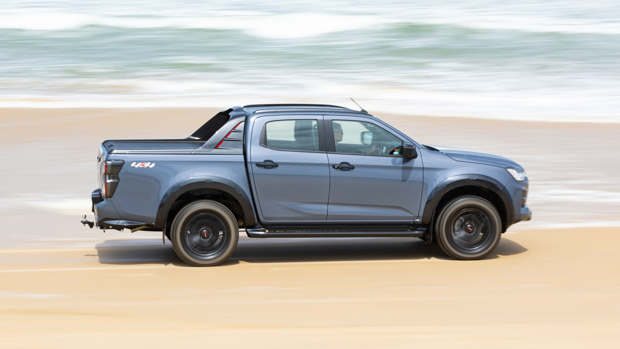 The next morning, the team gathered for our off-road briefing, where we heard from lead instructor Dave Darmody about how to prepare for beach driving.
Dave emphasised the importance of checking tide times before hitting the beach to ensure that the beach drive runs smoothly and that you're not caught out by incoming tides.
But he also talked in depth about tire pressures – it's best to run lower pressures on the beach to avoid getting stuck or bogged down in soft sand. If you do happen to get stuck, a trick you can try is to engage low range and reverse straight out.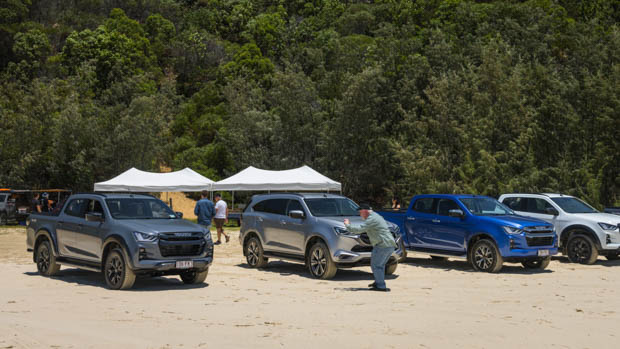 Once the briefing was complete, we boarded the Tewantin ferry to the Noosa north shore, where we all regrouped as a large convoy of Isuzus. The instructors lowered the pressures on each car to roughly 25 psi for our adventure up the beach.
Hitting the sand and having the open beach ahead of you is quite a surreal experience. I jumped in a 2023 Isuzu D-Max X-Terrain for the beach drive up to double island point and I was immediately surprised at how safe and secure the X-Terrain felt on sand.
Unlike the utes of old, these modern D-Maxs are clearly well suited for this type of terrain. There was very slight jitter from the leaf-sprung rear end, but it's clear the D-Max has come a long way since its introduction to the Australian market.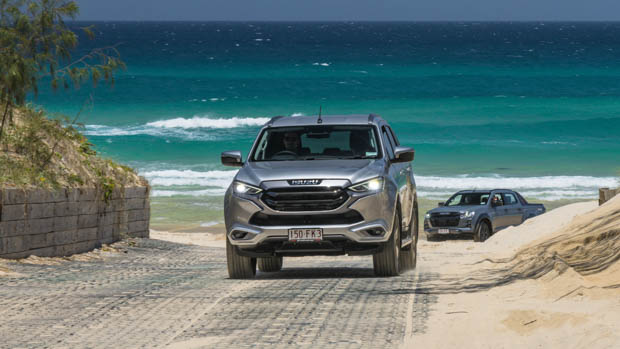 For the following hour or so, we tested the D-Max and MU-X on both hard and soft sand, learning the differences between surfaces. When we did come off the beach to take the inland track, we were told to pick a line and attack the entry point straight on, to avoid getting bogged. All Isuzus got through without a problem. Phew.
Coming over the hill into the double island point inlet was something straight out of a movie. Picturesque clear blue water as far as the eye could see. Golden sands stretching on for kilometres. Lunch had been set up for us when we arrived and we sat there as boats rolled on by. It's certainly a tough life for some.
With our bellies full, we continued back on our sand-blasting journey. This time, there was more space to move on the beach as the tide continued its way out. By the time we got back to the Noosa ferry, more than one hour further to the south, we were all exhausted.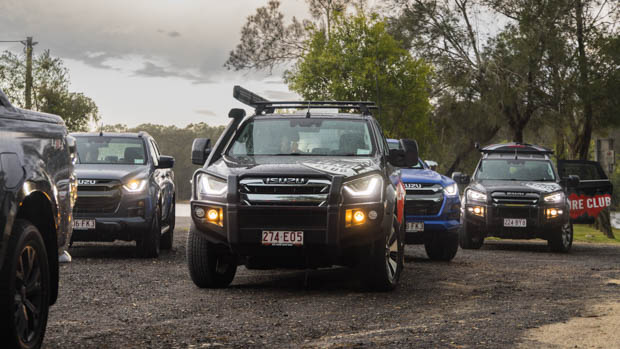 We loaded the Isuzus back onto the ferry and on arrival to the other side, we were met by an enormous summer storm. Thankfully, for Isuzu's sake, the hail stayed away. We bunkered down inside the cars and waited for it to pass.
With no helicopters to ferry us straight to the airport, the lovely folk at Isuzu drove us south. Despite the setback, we still arrived early to Maroochydore airport. It gave me time to think back on the last couple of days. As much as I now enjoy living in Sydney, there is something so special about Queensland. Perfect white sandy beaches, (mainly) fine weather and plenty to see and do.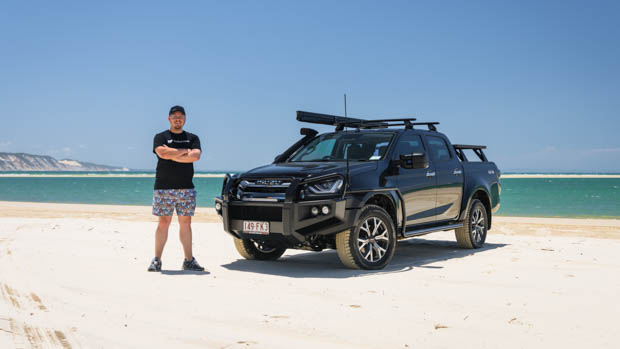 But it was the cars that made it. The Isuzu D-Max and MU-X have come a long way. They are practical, safe and perform well off the beaten track. The 2023 updates, although small in scale, have made both cars more liveable than before. Isuzu have clearly listened to feedback from their customers and the media.
All I can say is: lookout Ford and Toyota, you're not alone.