Australian buyers seeking immediate delivery of a new ute can add the Mitsubishi Triton to their list, with the Japanese brand confirming that its commercial vehicle has generally good stock across the country.
At the time of writing in February 2022, the Triton is available without any extensive delays, Mitsubishi says. The brand advised customers to contact their local dealer to discuss whether an exact specification is on offer locally.
The Triton ute sold well in 2021, shifting 16,333 units out of showrooms, which was up four percent from the 15,649 units sold in 2020. The Triton managed to beat both the Mazda BT-50 as well as the Nissan Navara in the sales charts, but it couldn't quite match the efforts from the big rigs of the segment: the Toyota Hilux and Ford Ranger, while the Isuzu D-Max beat the Triton by 2306 units.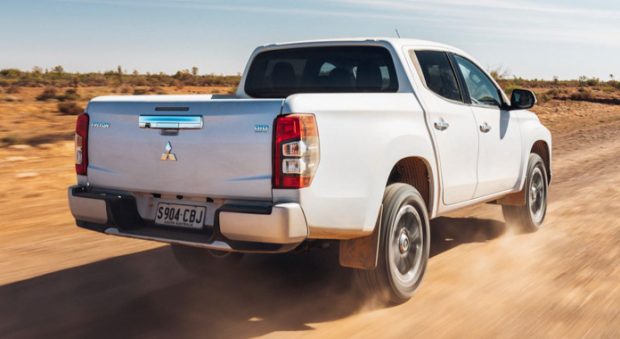 Key points: Mitsubishi Triton
The Mitsubishi Triton is available in various trim levels across both 4×2 and 4×4 drivetrains, as well as single or dual cab layouts.
Pricing starts at $23,740 before on-road costs for the most basic Triton of the range – the 4×2 GLX single cab model with the five-speed manual transmission.
There are 19 model variants to choose from in the range and prices can go as high as $53,240 before on-roads for the top spec GSR dual cab ute.
Standard equipment on the Triton and found even on the entry level models includes a 6.1-inch touchscreen, bluetooth connectivity, keyless entry as well as cruise control and an adjustable speed limiter.
Standard safety features include emergency brake assist, emergency stop signal function, hill start assist, active stability control and trailer stability assist.
Optional safety technology such as lane departure warning, blind spot warning, rear cross-traffic alert, forward collision mitigation system and lane change assist are available on higher tier variants in the Mitsubishi Triton range.
Mitsubishi Triton 2022: prices in Australia
All prices listed are before on-road costs.
GLX 4×2 5sp manual single cab: $23,740
GLX 4×2 auto single cab: $30,490
GLX 4×2 6sp manual single cab: $28,240
GLX 4×2 auto dual cab: $37,940
GLX-R 4×2 auto dual cab: $41,740
GLX 4×4 auto single cab: $37,240
GLX 4×4 manual single cab: $34,990
GLX 4×4 auto club cab: $40,440
GLX 4×4 manual club cab: $37,440
GLX+ 4×4 auto club cab pickup: $43,190
GLX 4×4 auto dual cab: $41,190
GLX 4×4 manual dual cab: $38,940
GLX 4×4 auto dual cab pickup: $42,140
GLX+ 4×4 auto dual cab pickup: $44,940
GLX+ 4×4 manual dual cab pickup: $42,690
GLX-R 4×4 auto dual cab pickup: $45,940
GLS 4×4 auto dual cab pickup: $49,540
GLS 4×4 manual dual cab pickup: $47,290
GSR auto dual cab pickup: $53,240