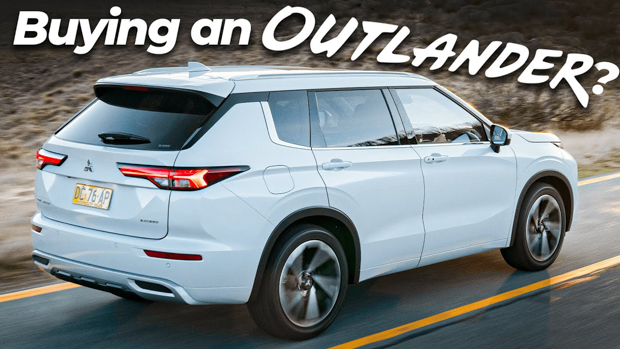 With Mitsubishi Motors' global salvation reliant upon being incorporated into the Renault–Nissan Alliance – a process that began in 2016 – the fourth-generation Mitsubishi Outlander's switch to a latest-development platform shared with the forthcoming T33 Nissan X-Trail should be promising. 
Given that the previous Outlander launched way back in 2012 using underpinnings that comfortably predated the Apple iPhone, the 2022 Outlander's switch to the Renault-Nissan CMF-CD platform is actually a good thing – in relative terms at least.
What really matters to buyers, however, is the huge uplift in styling and quality perception of the new Outlander. Inspired by the chunky Engelberg Tourer Concept that appeared at the 2019 Geneva Motor Show, the Outlander manages to channel that show-car chic best in top-spec Exceed Tourer form, which is the variant we're testing here. Given that so many of its rivals are hugely popular in their most lavish forms, how does the reborn Mitsubishi rate when loaded to its roofline with trinkets and glamour?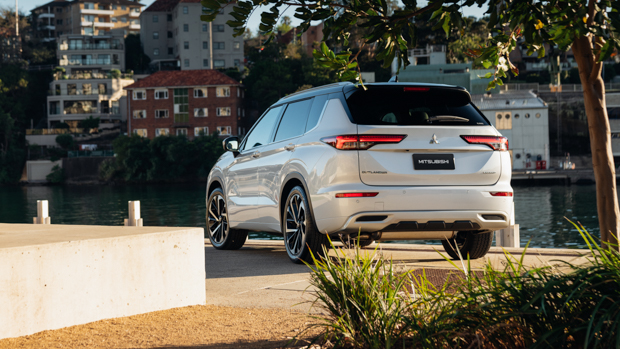 Since going on sale in November 2021, Australian customers have clearly favoured the more affordable Outlander variants, with 39 percent choosing the LS ($38-40K) and 38 percent the entry-level ES ($34-37K), yet the Exceed ($48K) and Exceed Tourer ($51K) have snared a respectable 16 percent between.
So while the fourth-gen Outlander is still clearly favoured by value shoppers, sexier up-spec variants like this White Diamond Exceed Tourer with contrasting black roof are finally achieving some level of cut-through. But should you be spending more than 50 grand on a Mitsubishi Outlander or is your attention more wisely invested lower down the range?
How does the Exceed Tourer drive?
Initial impressions of the Exceed Tourer's dynamics are illuminating – especially if you're driving on a smooth road. The moment you add some lock to its steering there's instant, super-keen response, implying a level of dynamism that its 1760kg on-paper kerb weight does not suggest.
The 20-inch-wheeled Exceed Tourer with 255/40R20 tyres (as well as the Exceed and Aspire grades wearing the same footwear) also has the grip to uphold that impression, and when combined with Mitsubishi's latest Active Yaw Control (AYC) system that can now brake an inside rear wheel, there's a smooth-road agility to the Outlander's handling that feels almost chuckable, as well as reasonably involving.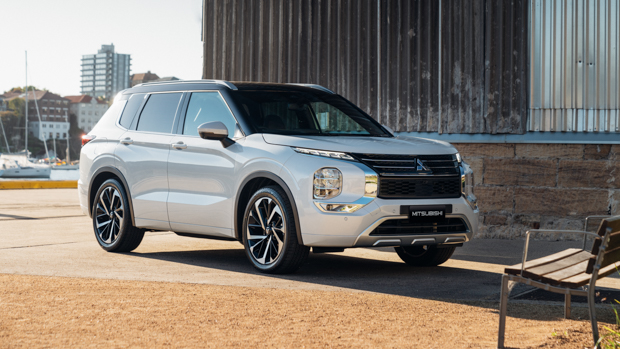 But as the dynamic challenges increase, the Outlander's dynamic prowess decreases in equal proportion. In tight corners, that tall front end with the engine mounted ahead of the front axle line tends to fall over on itself, and once an Aussie country road comes into play, the Exceed Tourer enters a fight it cannot win.
Not only is steering precision affected by lumpy surfaces, but the front suspension will crash through over larger hits and the sense of calm the Outlander conveys on perfect bitupave gets constantly interrupted.
The Outlander's sporty 'Tarmac' drive mode seems to have plenty of potential, yet those heavy 20s completely spoil the show – leaving buyers with the very real decision of whether to choose appearance over practicality. Or buy a set of lightweight forged alloys from a reputable Japanese wheel manufacturer and revel in the joys of reducing the Outlander's unsprung weight, to the huge benefit of ride comfort! But I'm getting ahead of myself…
Unfortunately, the Outlander doesn't really have the grunt to pull off such a dedicated wheel/tyre upgrade. While its new 2.5-litre direct-injection four-cylinder offering 135kW at 6000rpm and 245Nm at 3600rpm is stronger, perkier and more refined than the previous model's 124kW/220Nm 2.4-litre '4B12' unit, the Outlander's new engine is essentially the latest development of Nissan's long-lived 2488cc four.
While the engine sounds reasonably pleasant and teams efficiently with a CVT transmission that introduces eight 'stepped' ratios during foot-flat acceleration, the urgency of the Outlander's punch is wooden-spoon material in the midsize SUV class. Its tested 10.3sec 0-100km/h time puts it down among the 2.0-litre base models, not the up-spec variants the Exceed Tourer is priced against.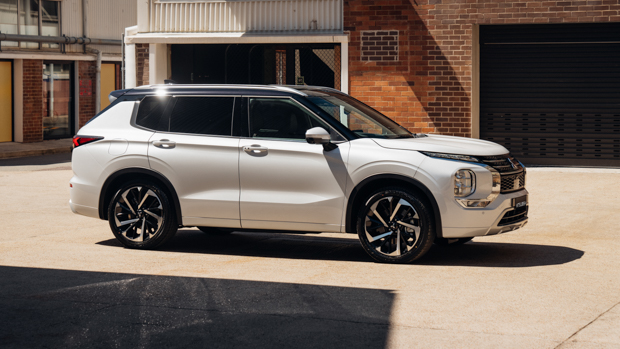 Given the active-safety resources at Mitsubishi's disposal now that it's a part of the Renault-Nissan Alliance, the Outlander's uplift in safety kit looks promising. You need to hit LS level before you get rear AEB and rear cross-traffic alert, joining (over-sensitive) adaptive cruise control, lane-departure warning, lane-keep assist, blind-spot warning and emergency lane assist.
While the Outlander's lane-keep assist is rather clumsy – coming on a tad too late via a steering tweak, a rim pulse and a brake dab – at least you can turn it off with one simple press of a button on the lower-right dash, and it'll remain off next time you start the car.
How is the Exceed Tourer's interior?
If you thought the Outlander's chunky, eye-catching exterior was its calling card, then perhaps its radically made-over interior is the gilding.
While the overall design is somewhat derivative, with flashes of Mazda and Volkswagen here and there, at least Mitsubishi's designers were influenced by its classier competitors. The piano-black band that bisects the dashboard and incorporates the air vents is a neat touch, and the Exceed Tourer's combination of black and saddle tan trim (with matching tan/orange stitching) is both striking and cool, and makes more sense than the light-grey/black Exceed cabin, which will be hard to keep clean.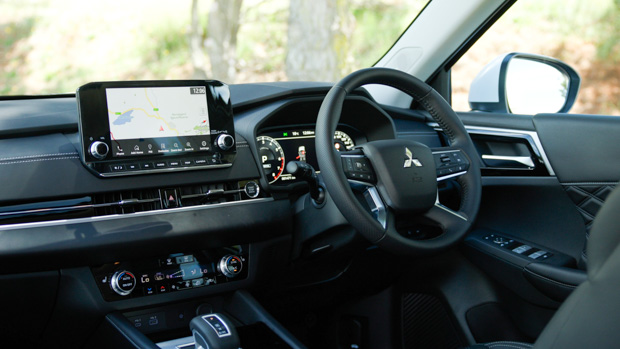 Highlights include decent vision, a classy 12.3-inch configurable driver's display (think VW meets Citroen), a head-up display and an excellent 10-speaker Bose stereo controlled via a quick, crisp 9.0-inch touchscreen dominating the dash centre. There's also a bevy of USB ports (two front, two back), wireless phone charging, wireless Apple CarPlay and wired Android Auto to round out the Exceed Tourer's impressive multimedia offering.
The leather-faced heated front seats with diamond quilting, backrest massaging and eight-way electric adjustment are really comfortable, and while the Outlander's steering-wheel rim is arguably too chubby, there's a cohesion to its front-row ergonomics that feels expensive.
Pity the second row doesn't quite live up to the same standard, despite towering vision, outboard heating and adjustable backrest rake. With the second-row bench elevated to such an extent, both under-thigh support and backrest support seem distinctly lacking for adults, if not children in baby seats. The Exceed Tourer also brings extendable rear door blinds and seats everyone beneath a vast panoramic sunroof that eats into second-row headroom.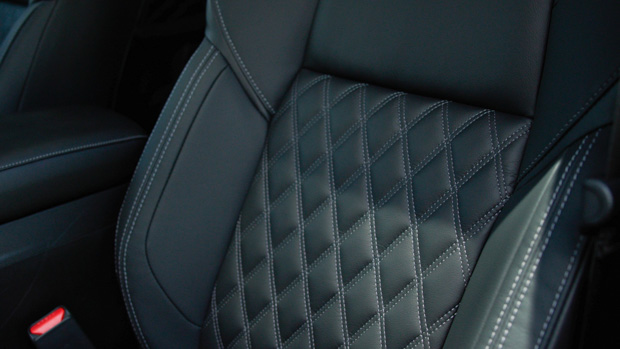 The Outlander's two-seat third row is doable for adults but not for long periods – the 'plus-two' seating in this mid-size SUV is mostly aimed at younger humans and features downgraded vinyl trim. Yet while the Outlander's rear cargo area has to house both those foldable pews (as well as their removable headrests below the floor), the Exceed Tourer still offers 478 litres of cargo space with five seats in place and can take 52 soccer balls behind its electric tailgate. Use all seven seats, however, and boot volume drops to 163 litres.
As for cabin storage, all doors are capable of squeezing in up to 1.5-litre plastic bottles, and the front seat backs feature a pair of map pockets as well as two phone/device pockets per seat.
What are the Exceed Tourer's running costs?
The official combined fuel-consumption figure for the Outlander 2.5-litre CVT AWD is a mediocre 8.1L/100km, though we averaged a pretty decent 8.6L/100km despite driving the car reasonably hard. Further exploration of its dynamics on twisty or hilly roads will see that number increase towards 10.0L/100km, though considering its size, weight and modest engine outputs, economy isn't an Outlander sore point.
Recommended service intervals are every 12 months or 15,000km, with the Outlander's five-year/75,000km capped-price servicing cost totalling a best-in-class $995 – outpricing even Toyota's razor-sharp RAV4.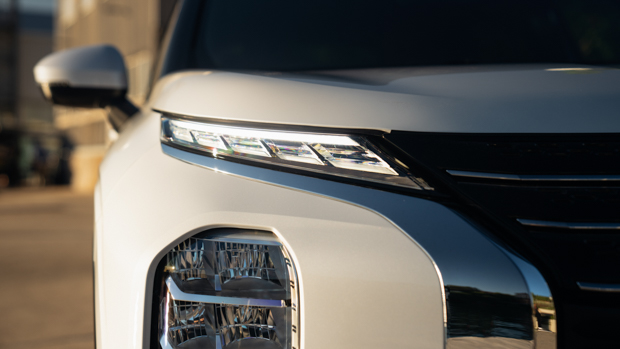 If you stretch Mitsubishi's quoted service pricing out to 10 years/150,000km, the overall cost is still only $3190, which is what many premium brands charge for three years!
Mitsubishi's standard warranty coverage is five-years/100,000km, though if you stick to the scheduled servicing intervals via a Mitsubishi dealer, that can be extended to 10 years/200,000km. Mitsubishi also offers a five-year perforation corrosion warranty.
The final verdict
The indisputable truth of the new-generation Outlander is that it's a massive improvement over its predecessor. From the appeal of its styling to the presentation of its interior and the integration of some of its technology, there's a persuasiveness here that transcends the Outlander's value-or-nothing reputation. 
The thing is, once you come down from the giddying heights of its two-tone interior, terrific stereo and various other accoutrements, you strike the reality of the Exceed Tourer's clumping 20-inch wheels and perpetually disturbed ride and refinement on anything other than a perfectly smooth surface. If you regularly travel to the country and appreciate a decent ride, stick to an Outlander ES or LS AWD on 18s.
With adaptive dampers, maybe the Exceed Tourer's story would be different. And with an engine specification befitting its $54,490 driveaway price point, the Exceed Tourer would definitely have a greater reason for being and a genuine USP – much like a CX-5 turbo-petrol, Tiguan 162TSI or 3008 GT Sport. The verve of the Outlander's AWD system certainly deserves as much.
For that level of drivetrain sizzle, you'll need to wait for the plug-in hybrid version (due mid-2022 in Australia) or hope that the Vision Ralliart Concept unveiled at January's Tokyo Auto Salon comes to fruition.