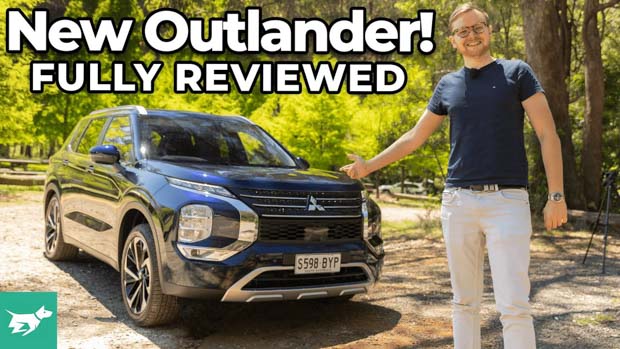 Even a brief glance at the 2022 Mitsubishi Outlander tells you that this SUV is a very different animal from the practical but uninspiring vehicle it replaces.
Now based on a midsize crossover platform shared with new owner Renault-Nissan, the latest Mitsubishi Outlander debuts with vastly more sophisticated sheetmetal and an interior that has been so comprehensively upgraded, it's now one of the best in the segment.
Next year, a renewed Outlander plug-in hybrid will arrive in Australia with an impressive electric-only range of nearly 90 kilometres, but for now there's just one engine: a 2.5-litre direct-injected four-cylinder pinched from the next-gen Nissan X-Trail.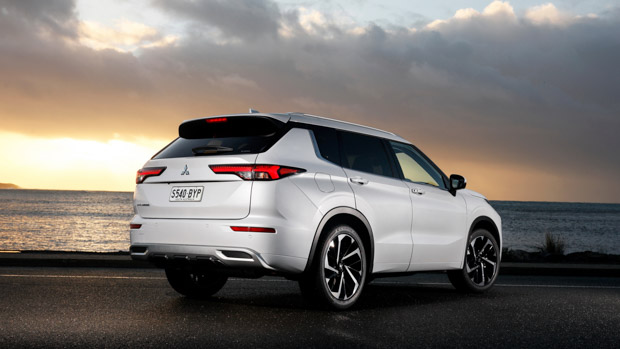 With a staggering 19 vehicles competing in Australia's most popular segment, however – midsize SUVs – beauty that runs only skin-deep won't be enough for the Outlander to score a win.
To find out whether the fourth-generation Mitsubishi Outlander is up to the challenge of family motoring on Australian roads, we borrowed the $41,490 mid-tier Aspire front-driver for several hundred kilometres of testing.
How does the Outlander drive?
For the new Outlander's Australian market launch, Chasing Cars was only able to sample the upper-mid-tier Aspire, which represents good value on paper – particularly in $41K front-wheel drive form for those who don't really need AWD.
Until the plug-in hybrid arrives next year, the Aspire – like all new Outlander variants – uses a Nissan-sourced 2.5-litre direct-injected petrol four-cylinder engine that is naturally aspirated. Unlike many rivals, you won't find a turbo (or series-parallel hybrid system) here.
Like the upmarket Outlander Exceed, the Aspire runs on 20-inch alloy wheels that visually complete this SUV's substantially more sophisticated exterior design.
Unfortunately, the visual aggression of these 20-inch wheels on high-specification Outlanders results in a brittle ride – affecting the Aspire, Exceed and Exceed Tourer.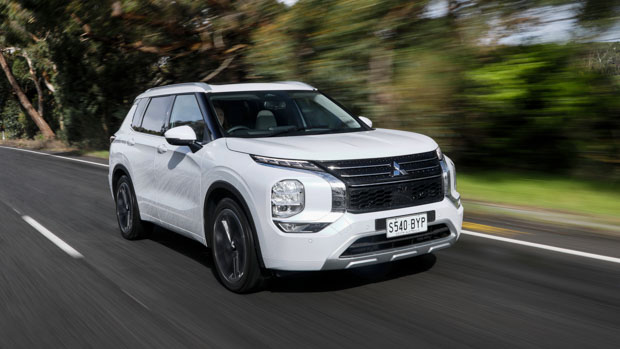 A combination of low-profile sidewalls, below-average suspension compliance and fairly relaxed body control means that the Outlander crashes into potholes on poorly finished suburban streets, and becomes a bit of a wild ride on a curving country road.
The springs feel like they're fairly long-travel, particularly at the rear, meaning there is a bobbing effect from the rear suspension, but the damping is firm and the huge wheels leave little room for the tyres to insulate you from lumps and bumps.
All these attributes mean the new Outlander just isn't comfortable on 20s. We're yet to drive the ES or LS, which have smaller 18-inch wheels, and we hope they're an improvement.
It's a shame because the residual dynamic experience is fairly decent. The 135kW/245Nm 2.5-litre four-cylinder engine isn't electrifying in its performance, but it's adequate – getting the Outlander up to highway speeds with acceptable strength.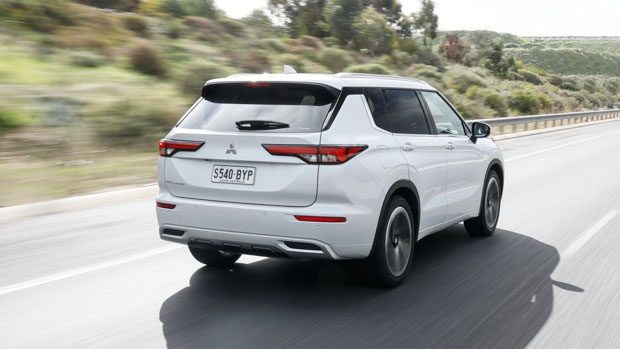 Connected to a new-generation CVT automatic transmission, the 2.5-litre actually lets the Outlander sustain a really good pace on a country road with little effort. We think few people will need the AWD upgrade as the 2.5-litre isn't really torquey enough to trouble the front wheels.
Next year, a new Outlander plug-in hybrid will arrive in Australia, and like in previous-gen form, the PHEV should be the showstopper that really sets the Outlander apart from most other midsize SUVs.
Outright electric range will be boosted to 87km (up from 45km) on the fairly accurate WLTP testing scale and the electric motors will give the petrol engine a necessary torque boost, too. We think the new Outlander PHEV will be worth waiting for.
The steering tune of the new Outlander is a considerable improvement over the old car. The attractively small steering wheel is light and quick in town before becoming decently heavy and relaxing at higher speeds, though there is some dead zone at the centre point, which is fairly normal for this class.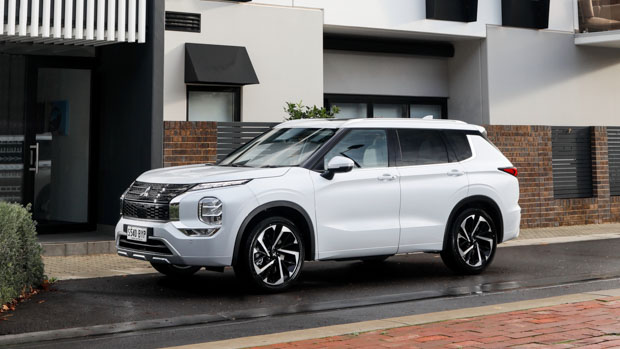 Refinement is another improvement over the previous Outlander. The cabin is quieter and less vibey, and build quality seems good with no squeaks or rattles in our test car, despite repeated punishment on our rough testing roads.
A range of safety aids are now standard on the car, including autonomous emergency braking and lane-keeping assist – though in our testing, the lane-keep buzzed the steering wheel more than it provided active steering assistance.
How is the Outlander's interior?
It's clear that Mitsubishi spent far more on the design of the new Outlander than the previous car – both inside and out.
We find it hard to avoid the conclusion that the Outlander looks far more expensive than its price. The exterior design is cohesive and attractive, while the interior is considered and classy.
Where the previous-generation version was totally pragmatic – perfectly suited to rental-car duties – the new Outlander indulges in moments of high-design, with top-specification versions offering attractive white/black and black/tan two-tone colour schemes.
But even the upper-mid-tier Aspire has a great interior, with very comfortable seats with attractive double-stitched suede centres and faux-leather outers. The driver's pew is electrically adjustable and both front seats have heating at this $41K price point.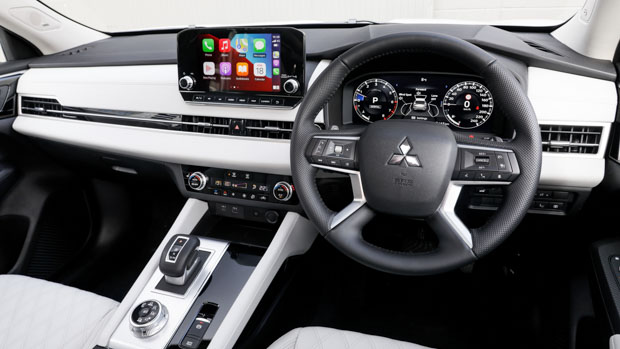 Pictured: the Outlander Exceed Tourer with white interior
Tech-wise, the new Outlander is eons ahead of the old car, with the massively dated basic trip computer of the previous version tossed out in favour of an immersive and crisp 12.3-inch digital instrument cluster with cool graphics and plenty of useful info.
Like new Nissans with the same driver's screen, you can clearly see all the necessary speedo/tacho info, but the centre panel can show a compass, your media (including album art) or detailed trip information.
In the centre is a new 9.0-inch touchscreen that shares its operating system with the latest Nissan product, albeit with a light reskin for Mitsubishi's use. It's intuitive and has good processing power, meaning the navigation and media screens load fast.
We applaud the inclusion of wireless Apple CarPlay across the range – better than many rivals that still require a cable – though Android Auto remains wired. A choice of new USB-C and older USB-A ports are available throughout the cabin.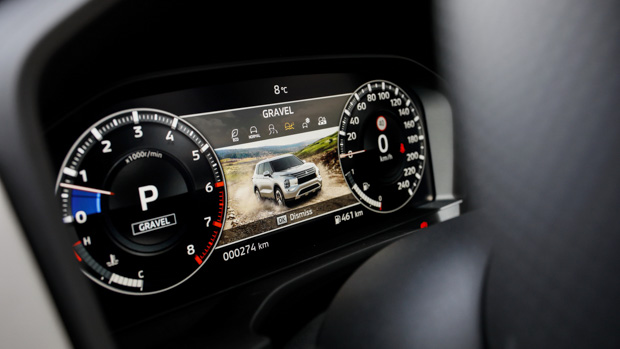 The materials are genuinely good inside the new Outlander, rocketing it up the perceived quality rankings towards the well-appointed Mazda CX-8 and Skoda Kodiaq.
The dashboard is soft and matte-finished, absorbing light and sound, while the door skins are soft too. There is visual interest and real depth to the choices made by Mitsubishi.
Those choices haven't been at the expense of space, which remains a strong point of the Outlander. This is one of the largest midsize SUVs, and it plays that trait to good effect.
All bar two Outlander trims have seven seats, and the second row (on rails) can be palatial, offering good legroom and headroom, though the seats do feel quite high. Air vents and more USB ports feature in Row 2.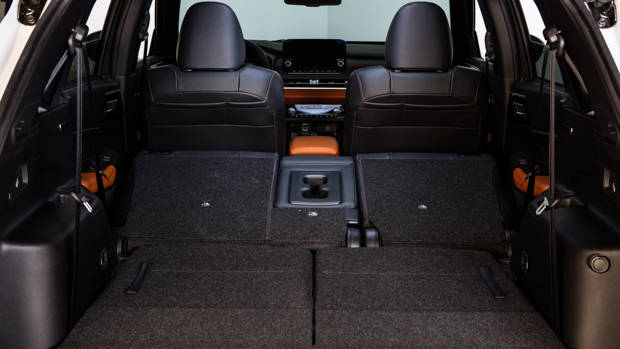 The third row is very tight for adults, but access is easy enough – though we note that kerbside access for right-hand drive markets requires moving the bigger side of the 60/40 split second row forward, which may not be easy for children. Keep in mind that curtain airbag coverage does not extend to Row 3, similarly to the Hyundai Santa Fe.
With the third row in place, boot space is a schoolbag-swallowing 163 litres. Fold down Row 3 and use the Outlander as a five-seater, as many will, and luggage capacity expands to an acceptable (though not massive) 478 litres. Impressively, though, even on the Aspire a power tailgate is standard.
What are the Outlander's running costs?
For the last decade, Mitsubishi has made an aggressive running-costs play in Australia, using both an industry-leading 10-year warranty offer plus cheap servicing to make its cars inexpensive to own.
That trend continues with the new Outlander, despite its many improvements over the more basic previous generation.
The 2.5-litre engine used in this SUV may be new to Mitsubishi, but it's still a simple unit with no turbocharging or hybrid system. Hence, it's cheap to service – with the company charging just $199 for each of the first five annual/15,000km services.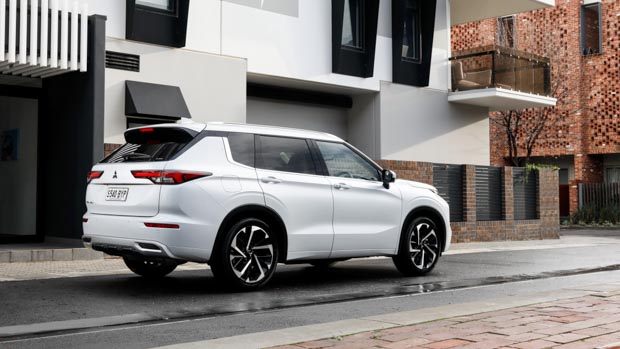 That's a five year/75,000km servicing total of just $995 – really inexpensive – but keep in mind that servicing costs increase after that point, with the 10-year total in excess of $3000.
Sticking to that annual maintenance schedule – not missing services – means that the standard five-year warranty is extended to 10 years/200,000km, which is the best in the segment by time if not distance. Kia offers a seven-year/unlimited km warranty.
Fuel consumption was 8.0L/100km on our test of the new Outlander, which is good for the class.
The final verdict
There is no doubt that the new Mitsubishi Outlander represents a considerable improvement over the vehicle it replaces.
It looks great outside and offers a high-quality, well-designed, intuitive interior that belies this car's affordable pricing.
But on the dynamic front, it's clear that compromises were required to achieve said pricing while still bundling nice-to-haves like those attractively large 20-inch wheels.
It just doesn't ride well enough to compete with five-seaters like the RAV4 and Tiguan, nor seven-seaters like the Santa Fe, Sorento and Kodiaq.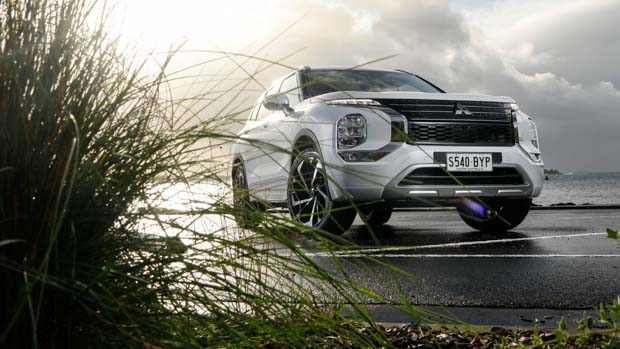 A settled ride is important for a family vehicle. It makes the car easier to enjoy in town and keeps you planted on the road when upping the pace on a country route.
We're yet to test a smaller-wheeled variant of the Outlander and will report back about whether the ES and LS solve this problem.
Until then, the Outlander is more than competitive with its major rivals considering its long warranty, low servicing costs and that great interior – but the driving dynamics are not quite up to scratch.