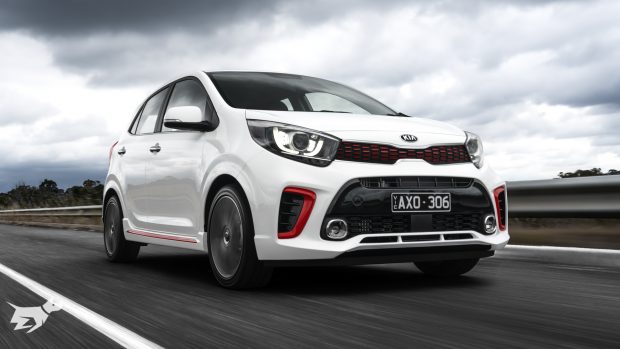 Ask somebody what makes a 'hot hatch' in 2020 and you'll probably be told it needs to produce at least 180kW of power from a boosty turbo four-cylinder, while seating four and providing a reasonably luxurious experience inside. That is exactly what you get with the most common hot hatches on the market – cars like the Volkswagen Golf GTI, Hyundai i30 N, and Ford Focus ST.
This wasn't always the case, though! Rewind back to the first golden era of hot hatches – the 1980s – and what you got was a fairly lightly-redone version of a basic economy vehicle. Performance hatch heroes like the Peugeot 205 GTi are rightly revered for their pure driving dynamics, but they were hardly powerful: in 1987, the Pug produced just 88kW/153Nm. More importantly, though, it weighed only 875 kilograms.
You might think that recipe is dead today, but it isn't. Enter the 2020 Kia Picanto GT. Okay, so we're not saying this is the return of the 205 GTi. But Kia, who are developing quite a reputation for building high-quality but slightly left-field performance vehicles like the Stinger, clearly believe there is still some potential for a superlight supermini with a tickled engine that can provide hard-driven thrills.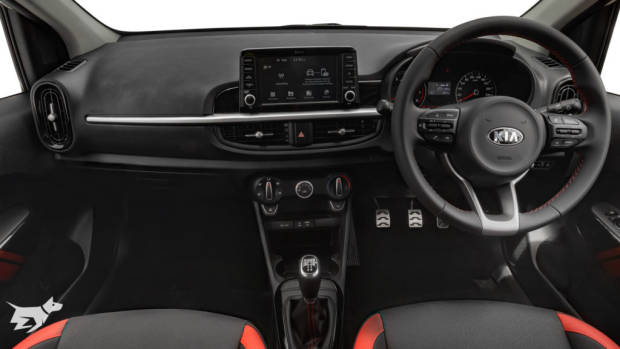 What is the Picanto GT like to drive?
While the normal Picanto that you've most likely seen cruising around in GoGet livery makes a modest 62kW/122Nm from its normally aspirated 1.2-litre four-cylinder, the $GT-badged version offers a much more unusual package. Straight out of the Kia Europe product repertoire, the GT is manual only – pairing a slick five-speed 'box to a 1.0-litre turbocharged three-cylinder mill producing 74kW of power and 172Nm of torque – with that twist arriving at just 1,500 rpm.
And, just like its spiritual forebears of 35 years ago, the Picanto GT pushes lightness to the forefront, tipping the scales at just over 1,000kg. Blame the extra hundred kegs it carries over its ancestors on all the content a car like the 2020 Picanto must carry – from a reinforced, crashworthy body, to additional airbags, semi-autonomous safety sensors, touchscreens, and the like. While the Picanto GT is basic by 2020 standards, it's positively luxurious in historical terms.
Combine the Picanto GT's willing turbo triple with its commitment to lightness, and the result is a zesty entry-level hot hatch that reminds you just how fun simple motoring can be. You don't have to remind yourself that the Picanto GT is carrying around about 400kg less than larger hatches like Ford's Focus ST: the car does that for you in how immediate its reactions are to your inputs. Much like a Mazda MX-5 in the sports car segment, the Picanto GT feels alive to what's going on, turning in with immediacy and reacting intuitively to mid-corner corrections – whether they be through the steering wheel, throttle, or brake.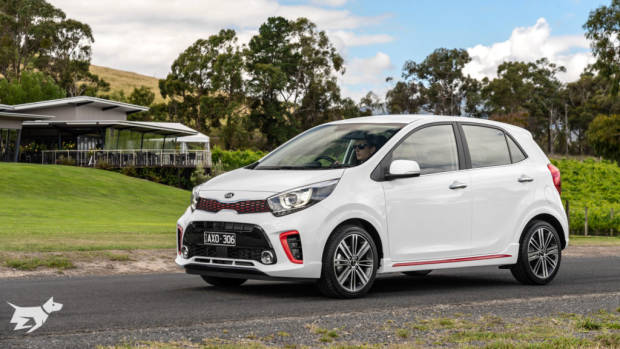 In fact, it's the Picanto's addictively responsive handling that will have you hooked. If, like many people who pick up a Picanto GT, you're running this car as an errand vehicle, second fiddle to a larger (and probably faster) crossover in the garage, don't be shocked if you find yourself going for the Kia's keys with regularity. The little Kia might not be quite as spicy as the recently-released Ford Fiesta ST – but the Picanto is much more affordable.
The Picanto's charming demeanour, communicative steering, keen cornering and even remarkably pliant damping are key to this car's cheap and cheerful credentials. And cheap it is when you factor in the fun factor – and the gear – included with the Picanto GT.
What standard equipment does the Picanto GT have?
Included in the Picanto GT's price are 16-inch alloys look sporty, as does the chrome grille and 'GT package' styling outside that includes a twin exhaust, contrast red elements, and a body kit. You also get electric folding door mirrors, chrome door handles, a leather steering wheel (that actually feels great), manual air-con, alloy pedals with a dead-pedal footrest, and one USB port.
On the downsides, the Picanto GT does not have a digital speedo – and while the auto halogen-projector headlights are decent, they aren't as good as LED units. Also, you'll need to insert the key into the barrel to start the Picanto: there's no push button here.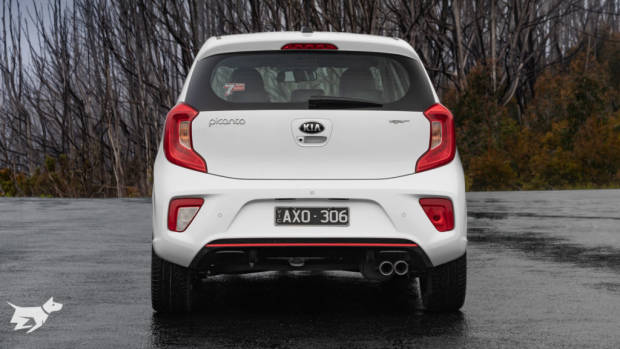 Safety-wise, the Picanto GT packs disc brakes at all four corners – 256mm ventilated discs at the front and 234mm solid discs at the rear. All Picantos are also fitted with autonomous emergency braking and forward collision warning, though this system does not detect pedestrians. There's a standard reversing camera – important, even on a small car like this – plus six airbags. The Picanto was rated four stars by ANCAP when it was tested in 2017.
The technology in the Picanto's cabin is quite a bit better than you'd expect from a budget car. You get a crisp, clear seven-inch touchscreen inside that runs Kia's easy-to-use software. This high-mounted screen is the same one found in more expensive vehicles from within the Kia-Hyundai-Genesis group. Integrated navigation is missing, but it's easy to use your phone's maps through wired Apple CarPlay or Android Auto. The Bluetooth connection is simple to connect, and stable, though sound quality through the four speakers and two tweeters is tinny.
The remainder of the cabin matches the rest of the Picanto's punch-above-its-weight vibe. The seats are decked out in (faux) black and red leather, and are reasonably firm and supportive. You get covered storage under the central armrest – neither a space to rest your arm, nor secure storage, are a given in this segment – and there are plenty of other odds and ends to stash clutter.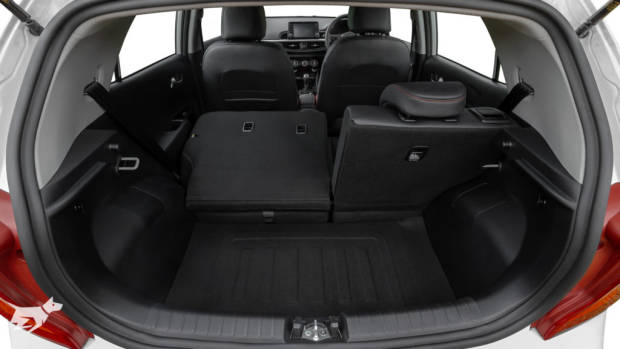 The Picanto measures in at less than 3.6 metres in length, meaning you'll often squeeze into the last available all-day park you find near work – but that does mean back seat space and boot space is obviously compromised. The second row will transport your friends on occasion, but they'll grumble about the very limited legroom. Smaller kids will be fine, though. The boot actually manages to measure a relatively respectable 255 litres because it's so deep, and those back seats do fold to create a longer space offering 1,010 litres when you need it.
Should I buy a Kia Picanto GT?
For us, living in the hustle and bustle of inner Sydney, a car like the Picanto GT – as your only car that you won't mind parking on the street, or as a second runabout vehicle that pairs to a larger station wagon or crossover – makes a lot of sense.
As long as small electric vehicles continue to be priced prohibitively highly, a sub-$20,000 turbo three-cylinder vehicle like the Picanto GT, which modestly sips petrol while providing more than its share of driving thrills, remains an excellent go-to in the light car class.