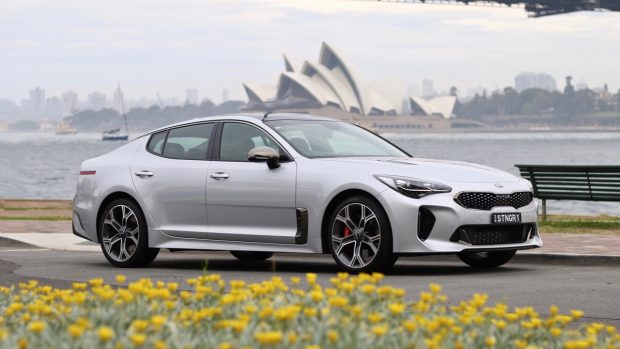 It was hailed as the spiritual successor to Australia's rear-drive muscle car sedans. A year later, how's the Stinger holding up?
A powerful petrol engine, rear-wheel-drive, and four doors (or five – who's counting): arriving just as the Australian-made family cars that hewed closely to this formula bowed out, the Kia Stinger was seen by many as an unlikely – but welcome – saviour for those that prefer their large cars to be of the low-slung variety.
But a year on from the Stinger's introduction to the Australian market, is it working? To find out, I grabbed the keys to the first Stinger I've ever driven – just of those cars that has fallen through the cracks. Might as well do it properly, though, so I grabbed the flagship 2019 Kia Stinger GT with the twin-turbo V6 and all the trimmings. I took it for a big drive down the same great roads we tested the Holden VF Commodore on. Then I sat down and crunched some numbers.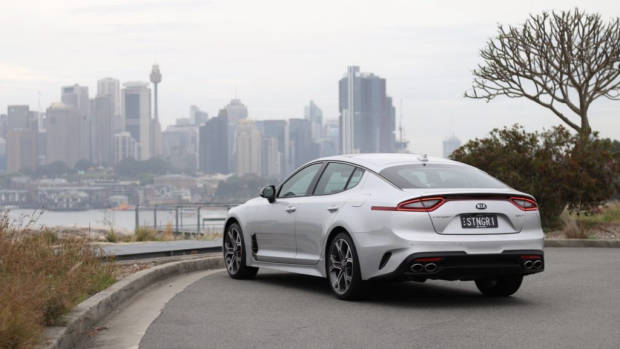 Before I get into my thoughts on the car, it's clear on the data that although the sedan market is severely depressed, the Stinger is, at least, outperforming most. To be sure, the fast sedan segment is now a very small one, but there is certainly a niche there to be exploited. SUVs now claim the mantle of the everyday mum- or dad-mobile, but as a fun, second car, there is a small but stable pie of demand on offer.
Is the Stinger selling? Well, yes – 1,513 Stingers have been sold so far in 2018, and the big Kia is on track to break 2,000 sales by Christmas. That's good enough for fifth place in a field of about twelve sedans that matter – not bad for a newcomer with a largely unknown badge. For context, 1,513 sales year to date is competitive with the Mazda 6 (2,453) and Volkswagen Passat (1,422). The shining lights of the segment are the now-imported Camry (11,562) and Commodore (7,295) – both of those badges did over 23,000 sales apiece in 2017 but with the demise of Australian manufacturing and of Buy-Australian company car deals, the sedan market has now rationalised. The Stinger has a decent slice of that rational market.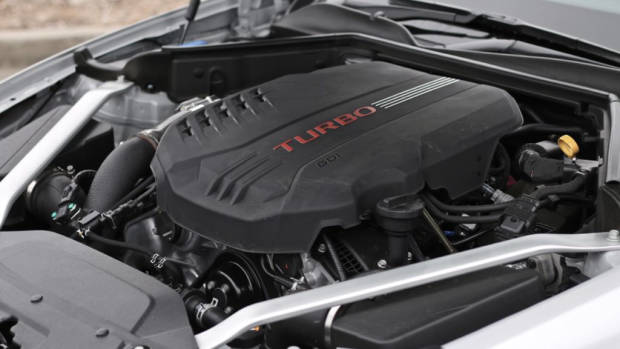 With that little lay-of-the-land out of the way, the Stinger's modest but still noteworthy success makes a lot of sense once some time has been spent with the car – in this case, the 3.3-litre TTV6 (272kW/510Nm) that accounts for the vast majority of sales – though a 182kW/353Nm turbocharged two-litre saves $3,000.
At 4.83 metres long, the Stinger is a big car but the proportions work well in the flesh – better than in photographs. Low-slung with primed haunches, the Stinger puts its front-engine, rear-drive nature front and centre, and even in conservative Silky Silver (red, yellow, and a couple of blues amp things up), the Stinger carries its lines well. Inside, attractive burgundy leather is a welcome antidote from the national obsession with uninspiring black leather, though black's available too.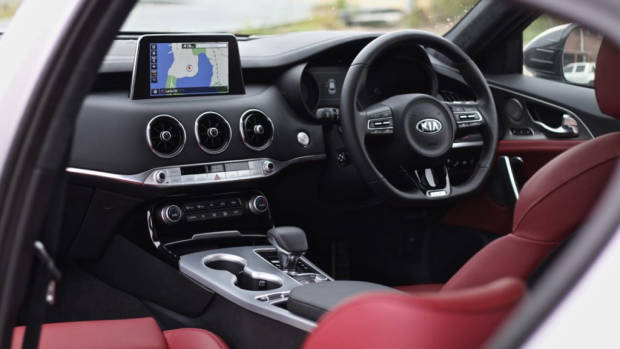 The Stinger's cabin looks and feels pretty good, with a mix of materials that feel firmly entrenched in a premium-mainstream, if not luxury, grade. That's befitting of this car's price – the lineup ranges between $47,990 ($50,497 driveaway) and $60,490 ($65,722 driveaway), for the GT we tested. A touchscreen with navigation and smartphone mirroring, aviation-style gimbal air vents, a chunky steering wheel, bolstered seats and electric adjustment for the driver are standard range-wide. Leather and another inch on the touchscreen is added on the mid-spec Si grade.
But the most expensive model – the GT – is really where you want to go as it adds a noticeable extra layer of amenity to justify its price which, in reality, is beyond entry-level BMW and Mercedes-Benz money. But those Germans won't be ponying up anything like the 272kW V6 found in the Kia, nor the cooled and heated Nappa leather seats or microsuede roof lining that help to lift the GT's cabin to a more luxurious plateau.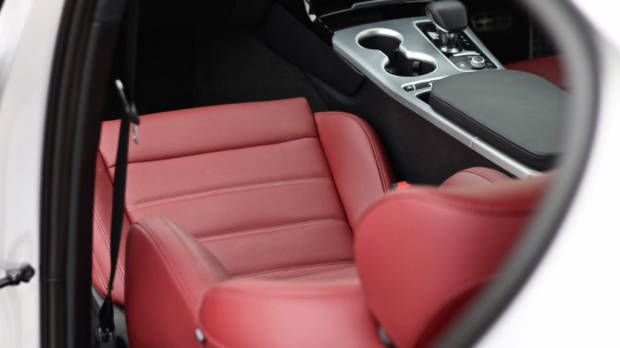 Aside from some shoddy hard plastic where the driver's leg rests – and some flex in the centre console assembly – it all works well and, in concert with the GT's attractively understated aluminium dash and door trim, you're left feeling like the Stinger GT is money well spent. Seat comfort is excellent with fourteen ways of adjustment for the driver's, twelve ways for the passenger – after a 400km evaluation loop your tester and companion felt relaxed.
The ergonomics are solid, with power adjustment for the steering wheel, a head-up display, and easy infotainment driven by a simple touchscreen that has everything we look for: navigation, DAB digital radio, Apple CarPlay, Android Auto. Up front, charging is a choice of high-power USB port or a wireless pad. The only criticism we'd have is that it was nigh-on impossible to silence the constant warnings from the Kia's navigation system. We managed to mute the verbal warnings about crossings, but speed camera binging and bonging was not riddable. Some will see that as a positive with 272kW, I guess.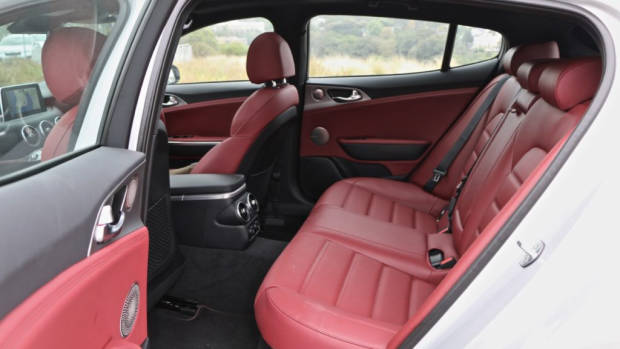 Rear seat comfort isn't bad as long as you don't plan to regularly transport tall people in the back. There are five seat belts in this car but the Stinger is better regarded as a four-seater – the sloping, coupe-like roofline limits headroom. This six-foot tester's head touches the roof when sitting up straight but anybody under 5'10" will be okay. Lateral room is generous and we like that the same soft-touch materials from the front make their way into the back. There is a second USB port and dual air vents the back seat passengers, too, to keep complaints to a minimum.
Kia might refer to the Stinger as a sports sedan but it's actually a sports…liftback. The sloping rear glass is a huge hatchback that opens to reveal a very long and broad boot space of 406 litres – that number is pretty small because the very fast roofline makes the actual cargo area shallow. The back seats drop 60/40 to expand the room decently, though load-luggers will look to the Volkswagen Passat 206TSI R-Line wagon ($67,236 driveaway).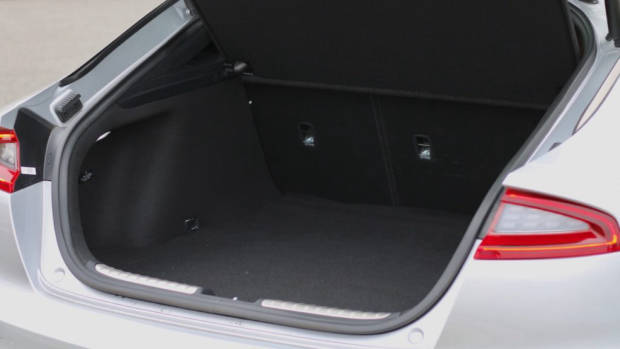 A nice cabin's important at this price – and the Stinger's got it. But what about this car's raison d'etre – honest-to-goodness, big engine, rear-drive dynamics? Well – there's good and bad to this first-generation Stinger.
To the Kia's credit, the positives considerably outweigh the negatives of the Stinger driving experience. For a first go at a proper sports sedan, this car hits many high notes. In that manner, it's similar to sister brand Hyundai's i30 N – a first-gen hot hatch that gets almost everything right on its first go.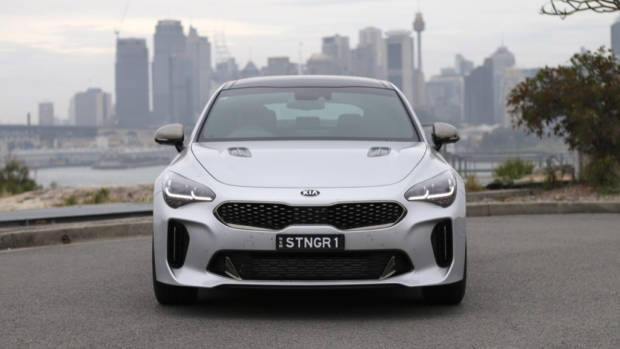 Arguably, getting a big sedan to go and handle like a sports car is considerably harder than producing a fast hatch, and yet the Kia rises to that challenge. While there is a two-litre available, the star of the show is unsurprisingly the V6 that sat beneath a prominently vented bonnet on our test car: a 3.3-litre, twin-turbocharged unit producing 272kW/510Nm – not far off the outputs of the final Holden Commodore SS 304kW/570Nm), though that car made use of a naturally aspirated 6.2-litre V8. By contrast, the force-fed Stinger six is more akin to the character of a V6 Commodore, albeit with the substantial benefits of turbocharging. For reference, the 3.6-litre non-turbo V6 in the imported ZB Commodore makes 235kW/381Nm.
And the Kia's engine is good. Anything with over 500Nm is always going to be very strong, and the Stinger is. Tractability off the line can be a struggle but once the Michelin Pilot Sport 4 tyres have found bite, the V6 brings the goods, forcing you back into the seat to wrap up the 0-100km/h sprint in a claimed 4.9 seconds. We believe it. The mid-range is decent but the Stinger is especially forceful when the engine is allowed to sing beyond 4,500rpm…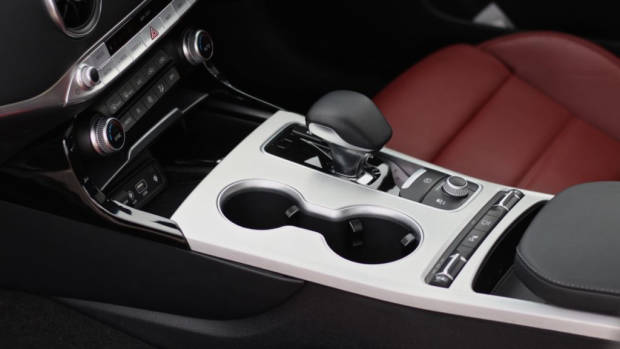 …When it's allowed to, that is. Before detailing the Stinger's engaging steering, supple ride and balanced handling, the component that stymies enjoyment of all that needs to be addressed. That's this Kia's eight-speed torque converter automatic, which suffers from inferior tuning and a poorly thought out manual mode. Left to its own devices, the Stinger's auto is passable in city traffic but when driven with intent – the whole point of a sports sedan – the dimwitted auto just can't keep up. It chases high gears even in the Sport driving mode and leaves the Stinger in a relative dead zone at low RPMs on corner exit, driving this 1,780kg car into understeer.
So just shift it yourself, I hear you saying. Well, that's barely possible. While the Stinger does have neat little paddle shifters, the manual mode seems to hold your selection for 10-15 seconds before automatically reverting to full auto. Only in one instance, when driven by the scruff of its neck above 5,000rpm through one series of corners, did the Stinger allow third gear to stick.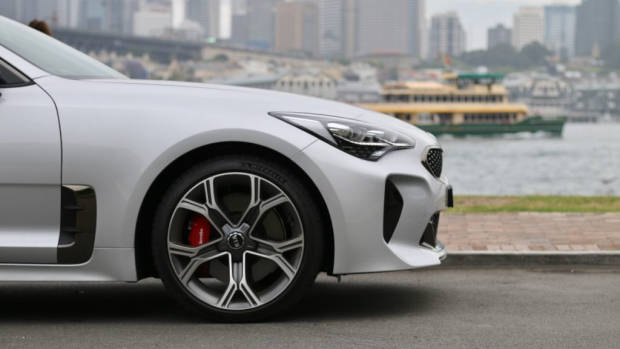 And when the Stinger finally allowed me to keep the engine on the boil, it became a true backroad delight – this surely justifies a big gearbox rethink when the Kia pulls in for a mid-life update. At present, you have to wring the car's neck to make the planets align; better gearbox tuning and a proper manual mode would allow you to access the Kia's best handling characteristics in more subtle ways.
Catch the V6 in the right gear and the Stinger lives up to all the best traditions of big, capable rear-drive sedans, happily engaging in safe and predictable throttle steer to tighten lines through corners. Press on with the loud pedal exiting tighter bends and the Stinger will throw a big grin on your face by gently chucking the back out, flattering the driver no end with little ESC intervention, provided you're quick with counter-steering to control lateral movement.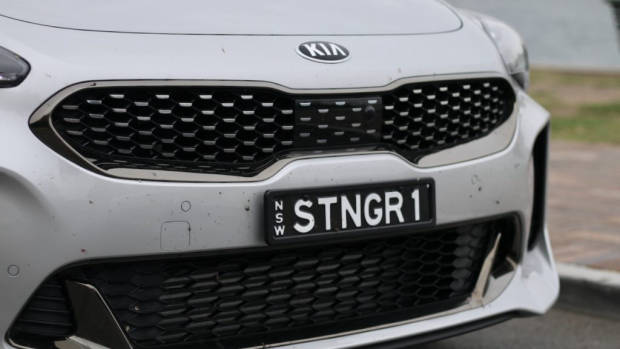 When the gearbox cooperates, the Stinger's handling is brilliant.
That's especially the case due to a nice front end. Despite the weight of the V6 adds about 85kg over the nose compared to the four-banger, the Stinger turns in crisply with fast, direct steering fed through a small steering wheel. There is decent communication from the front wheels and the Michelins on our test car were well-suited to the vehicle, though they do throw up more road noise than we'd like. Big Brembo binders with red calipers haul up nicely; brake pedal feel is good.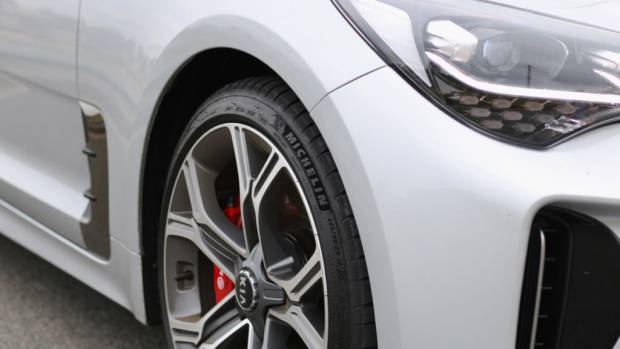 Ride quality is good, too, at least on the GT grade's adaptive dampers, which keep the low-profile tyres and 19-inch wheels in check. Two suspension modes are available and, suiting the grand tourer nature of this car, we found Comfort damping to be best for finding a loping flow; Sport was pretty jittery on badly-surfaced backroads. We like the fact that a Custom drive mode is available, allowing the engine response, steering and ride modes to be mixed and matched: Comfort steering and ride plus Sport engine worked best for us.
Early criticism of the Stinger focussed on its relatively quiet V6 engine and exhaust sound – turbocharging will do that. A bi-modal exhaust supplied by Melbourne-based company Lumens became available through Kia dealers after launch to help cure this, priced at $2,660. Our test car had it. There's a mean burble on startup and the engine is loud and satisfying at high revs, but the chief characteristic is loud upshifts under load – it sounds okay, but if it were our money, we'd pocket the $2.6k.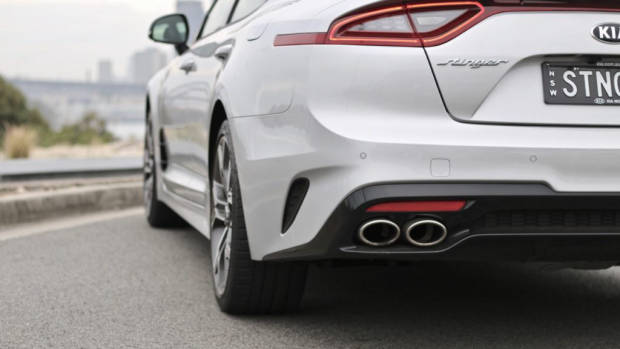 What sounds better is the Stinger ownership experience. This might be an exotic Kia but a Kia it is – so you get a seven year warranty, transferrable to new owners, seven years/70,000km of capped price servicing, and complimentary roadside assistance extendable annually, up to eight years, if you service the car within the Kia network.
Based on our normal criteria of 40,000 kilometres of ownership, the Stinger will require four services at 10,000km or annual intervals, amounting to $2,095, or an average of $524 per service. Not cheap, but at least the costs are known. It's still too soon to know about reliability but Kias have a good track record, and customer service levels for this brand in Australia are generally good.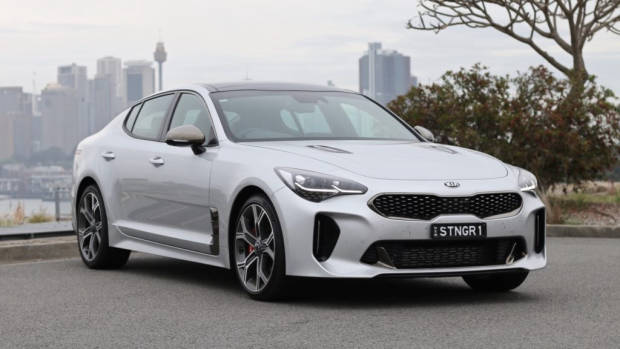 Fuel costs are naturally going to be relatively high for a large sedan with a turbocharged six-cylinder petrol – and in town, the Stinger will return close to its 14.9L/100km urban economy claim, though on an all-day road trip that blended 60% spirited backroad driving and 40% highway, we managed a respectable 9.1L/100km.
Safety inclusions are acceptable; at launch Kia had some trouble with crash ratings as base cars didn't have autonomous emergency braking. That has now been rectified: standard range-wide are AEB, adaptive cruise control, lane keep assist, and driver fatigue detection. The GT (and its four-cylinder equivalent, the GT-Line), upgrade to blind spot monitoring and rear cross-traffic alert.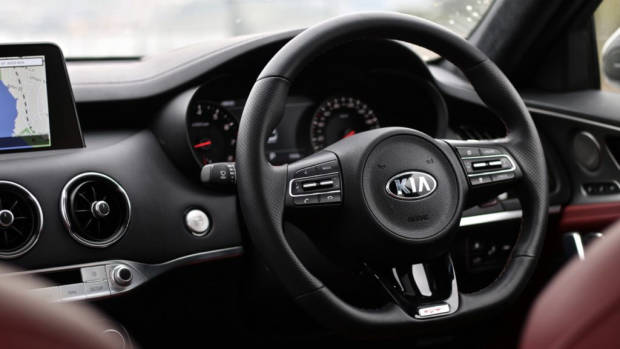 So then – a year after it launched with much fanfare to a receptive Australian audience, the Kia Stinger has arguably been more of a quiet achiever than a big-sales belter like SS Commodores of old. Tastes have shifted, for sure, but the sports sedan niche is still alive, and a small but committed number of buyers continue to shop in that space. So it's nice that the V6-powered Stinger exists, because this is a comfortable, nicely-made, good-looking and properly quick car to drive.
Kia have already proven themselves to be receptive to feedback on the Stinger, swapping out the initial Continental launch tyre for a superior Michelin that we found impressive. If they turn their attention to the auto gearbox next, they'll have an even more well-rounded package on their hands.