If you haven't noticed that Australians are buying small SUVs in droves, you must have your head in the sand. It turns out we Aussies love a blend of easy-to-park size with a high SUV driving position. No matter their downsides – and on some models, there are many – producing a small SUV appears to be a recipe in writing blank cheques for manufacturers as buyers can't get enough of them. Despite being a relatively small car maker, Mazda was early in getting on the bandwagon in 2015, when the hugely-popular CX-3 was launched – and they've sold more than 10,000 to Australians just this year alone. But with plenty of newer alternatives out there, is the little Mazda still a good buy? We recently drove a 2018 Mazda CX-3 Maxx to find out.
Mazda offers a comprehensive CX-3 lineup split into four grades, two engine choices and a choice of front- or all-wheel drive. Prices range from $20,490 for the entry level Neo 2.0-litre petrol front-wheel-drive manual, all the way to $37,890 for the Akari 1.5-litre turbo diesel AWD automatic. Today, we're testing the most popular CX-3 – the second-from-base Maxx petrol front-wheel-drive auto, priced at $24,890 (plus on-road costs). The Maxx finds the most homes in Australia, accounting for more than half of all CX-3 sales.
In Maxx guise, the 2018 Mazda CX-3 is well equipped. Standard kit includes a 7-inch touchscreen with navigation and digital radio, 16-inch alloys, a reversing camera with rear sensors, front/rear autonomous emergency braking and blind spot monitoring with rear traffic alert. At this sub-$25K price point, the CX-3 is similarly equipped but cheaper than the base-model Toyota C-HR, which is $4,000 more expensive. The Honda HR-V, meanwhile, can't even be optioned with the Mazda's safety technology – the 2018 Mazda CX-3 is the only small SUV under $25k to offer AEB as standard, which is a potentially life-saving technology.
If you're looking for better value, only the non-SUV Mazda 3 Maxx Sport makes more sense: the 3 is more car with more equipment, and it's $400 cheaper. Is the CX-3's higher driving position worth the sacrifices? Not for us.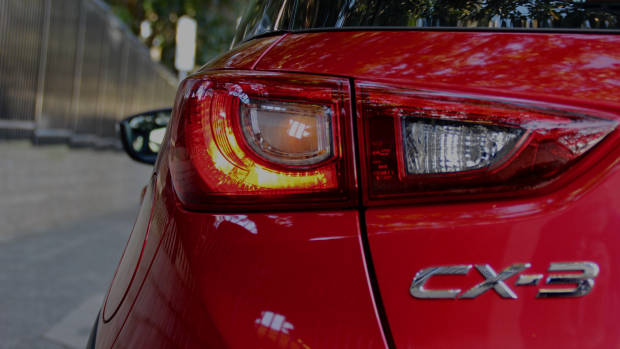 Price and equipment aside, what is the 2018 Mazda CX-3 like? Well, this Mazda was one of the first of these small SUVs, and that is obvious from the compact size. The trend has been gone in a larger direction in the last couple of years but the pint-sized CX-3 is under 4.3m long, 85mm shorter than a Toyota C-HR. In the CX-3 it's hard to squeeze adults into the back, though headroom is reasonable. The Mazda's 264-litre boot is very small, though removing the false floor does create a bit more space. The rear seats fold flat however, opening up 1,174 litres of space.
Unlike the new Skoda Karoq, the 2018 Mazda CX-3 is a bit lacking on clever little details. Despite the boot's false floor, there are no shopping bag hooks to keep delicate items from rolling around; likewise, there are no storage bins or nets to secure fragile items. The rear seat offers only tiny door bottle holders and a map pocket – no centre armrest with cupholders, no air vents to stave off car sickness, and only a small storage square at the rear of the centre console that's lost if a buyer chooses the optional armrest. Mind you, other small SUVs are similarly sparsely equipped inside, so the CX-3 is hardly alone in this regard.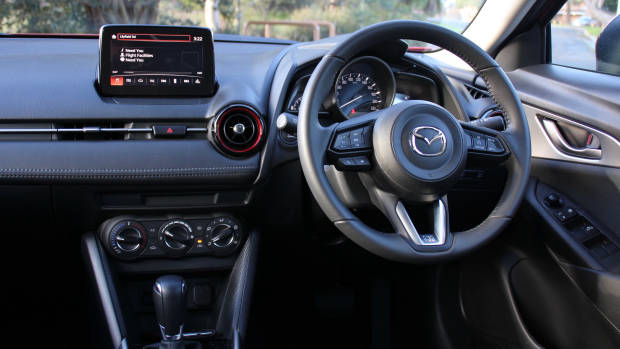 Things get a lot better once you move into the driver's seat. The minimalist dashboard layout is aesthetically pleasing, with three circular airvents, a thin centre console and a 7.0-inch touchscreen mounted proudly atop the dashboard with a rotary dial to control it. Material quality is reasonable, though a Mazda 3 offers more soft-touch materials. Most plastics in the 2018 Mazda CX-3 are hard to touch, though the piece of stitched faux leather on the dashboard, red vent highlights and leather-wrapped steering wheel, gearknob and handbrake add some sparkle in an otherwise dark cabin.
One complaint is fixed by spending more: the hard plastic knee rests on the centre console become soft faux leather on the sTouring.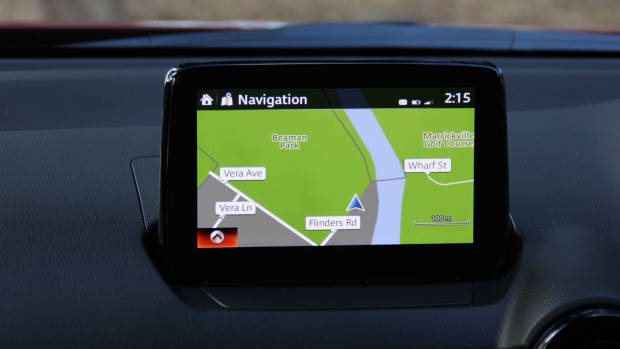 Mazda's MZD Connect infotainment system is due to be upgraded with Apple CarPlay and Android Auto smartphone mirroring tech before the end of the year, and even owners of older Mazda models with MZD will be able to have both fitted. MZD is still a good system, but has remained unchanged since its inception in 2014. What jars are its dated graphics and small screen, though this is less of an issue in a $25,000 car than, say, a $61,490 CX-8 Asaki which uses the same system. The brightness of the screen is dependant on the headlights being on or off, when it should be dependant on outside brightness like other Mazda products. Thankfully, MZD Connect is feature packed with satellite navigation and DAB+ digital radio. Plus, the rear camera offers a reasonable resolution – and overall it is far superior to the smaller system in the Toyota C-HR.
Cabin storage is fairly limited, however – the glovebox that opens sharply with no damping is small, the door bins can only handle a medium bottle, the cupholders are awkward and there's no centre armrest. The CX-3's two USB ports charge very slowly, sitting ahead of the gear shifter with an AUX input – though one must remove devices when parked as there's no covered storage. Currently, the CX-3's cabin feels like the Mazda 2 on which it's based, though for more money – hopefully the incoming facelift addresses this.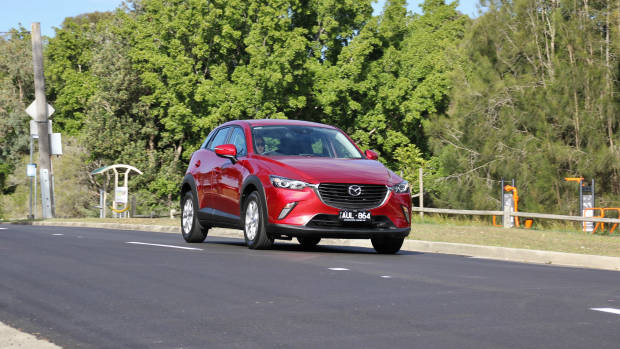 On the road, the 2018 Mazda CX-3 is a bit of a mixed bag. On one hand, its small size and darty handling make it entertaining to drive. The CX-3's steering is typically Mazda – not the last word in feel, but well weighted and confidence inspiring through the nicely-finished three-spoke tiller. The way it strings together corners is fabulous, and is much more fun than most other small SUVs. It also feels more mature than the Mazda 2 on which it's based: the slight extra overall length allows for a more planted feel on motorways, whilst its compact dimensions mean that city driving is a doddle. Only limited rearward visibility will annoy some people – thankfully the side mirrors are large and the parking lines on the reversing camera make it easier to reverse.
The 109kW/192Nm 2.0-litre petrol engine is also a reasonable performer, thanks to peak torque arriving at a low-ish 2,800rpm. In the Mazda 3 and heavy CX-5 this engine can struggle, but thanks to the CX-3's light 1,200kg weight, it feels punchier. Mazda doesn't quote a 0-100km/h time but it feels much quicker than the 1.2-litre turbo petrol engine in the Toyota C-HR whilst using a lot less fuel than the 2.0-litre Hyundai Kona. Over our week with the CX-3, we used 7.6L/100km – up on the claimed 6.1L/100km, though most of our driving was in traffic.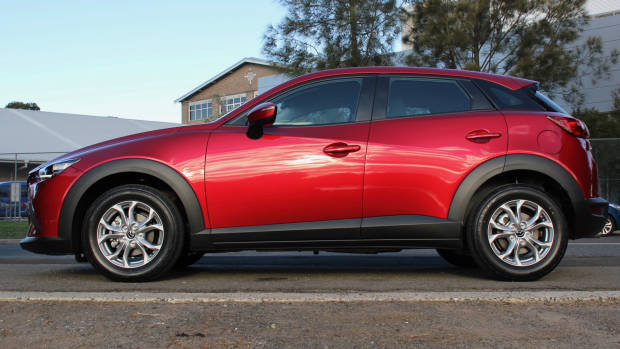 On the other hand however, there is too much noise that enters the CX-3's cabin. Road noise volume is average for the small SUV class but the engine is just too loud, no matter the speed. Start it up cold and it bizarrely revs at circa-4,000rpm to warm up with a rather raucous engine note. The engine is also too harsh and vibey – at idle you feel it through the steering wheel and pedals. The six-speed automatic is generally intelligent, though it can hold onto revs too long, which accentuates the engine noise issue; put it into sport mode for a back road punt however, and it's excellent with holding gears and engine braking, making the CX-3 an entertaining car to drive.
What also hurts the 2018 Mazda CX-3 most in everyday driving however, is its ride quality – hitting speed bumps in the can be a nerve racking experience, thanks to its unnecessarily firm damping, and even smaller bumps and undulations can be felt in the cabin. The Toyota C-HR feels more mature on the road with its better damping and independent rear suspension, yet thanks to its new TNGA platform, it's just as fun to drive.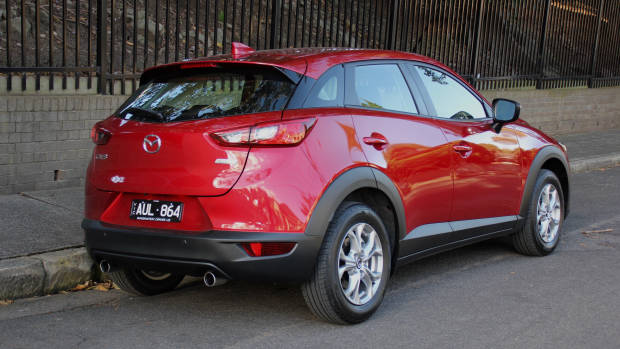 The 2018 Mazda CX-3 Maxx is a likeable car, especially at its price point. It's fun to drive, handsome, offers remarkable active safety equipment such as AEB for the money and offers good cabin quality for those interested. Where it falls down however, is that its age starts to show in certain areas – its chassis is fun but too firm, its cabin merely feels like an expensive Mazda 2 cabin and the drivetrain needs noise and vibration reduction, particularly with the loud and vibey engine. A Toyota C-HR is an overall more polished small SUV – yet it costs $4,000 more to buy. That is where the CX-3 Maxx's appeal lies – spend more on a CX-3 sTouring or Akari and you may be disappointed, but at Maxx level the positives comprehensively outweigh the negatives.