Mazda Australia has released the mid-life update for its hugely successful small SUV, with the 2019 Mazda CX-3 on sale now. Combining a light exterior refresh with a new grille, new alloy wheels, new cabin elements and more equipment with mechanical changes and a new 1.8-litre turbo diesel engine, the facelifted CX-3 is touted as "defying its dimensions and packing even more style and value."
Like the larger Mazda 3, entry CX-3 Neo and Maxx are now called Neo Sport and Maxx Sport to emphasise their added equipment, whilst the upper-spec sTouring and Akari models now include more technology. Mazda has also introduced drive away pricing for the CX-3 range.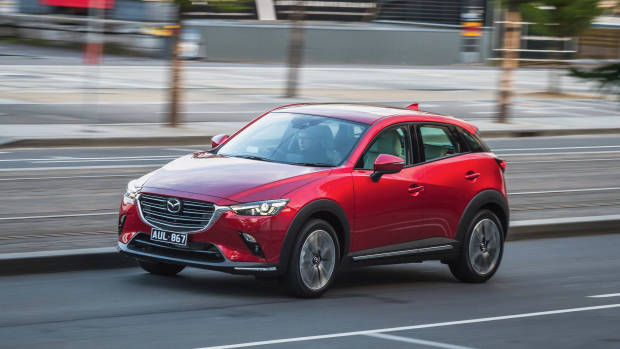 Managing Director of Mazda Australia, Vinesh Bhindi, said the changes to New Mazda CX-3 enhance its appeal as an 'aspirational SUV'.
"With its original styling, great ride and handling and impressive practicality, Mazda CX-3 was a class leader from the minute it arrived in Australia and has remained so ever since," he said.
"This latest round of upgrades enhances the winning elements of the Mazda CX-3, elevating its elegance, performance and functionality, firmly cementing its place as the small SUV of choice."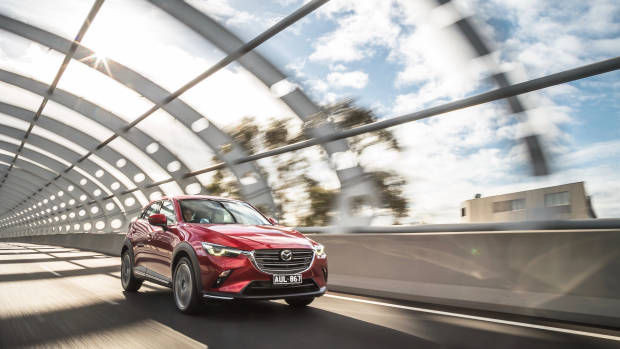 Best described as a light facelift, the CX-3 – last upgraded in 2017 with mechanical and equipment changes – now offers a new front grille with horizontal chrome inserts, as well as new LED tailights and 18-inch alloy wheels on the sTouring and Akari. A number of detail changes such as gloss black foglamp surrounds and B-pillar treatments, as well as revised headlights, also make the range.
Inside, the dashboard has been given a slight redesign, with a new centre air vent design and a new centre console with an electric handbrake and – finally! – covered storage with a centre armrest now featuring across the CX-3 range. Previously, a centre armrest was a dealer-fitted accessory, whilst covered storage was not available at all, leaving valuables in sight whilst the car was parked.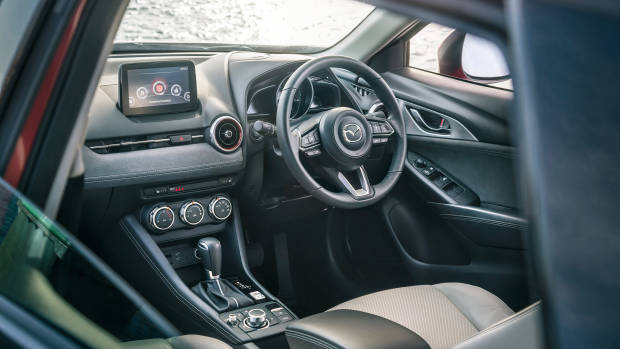 Mechanically, the 2019 Mazda CX-3 has also seen changes. The 2.0-litre petrol engine now makes 110kW of power and 195Nm of torque (+ 1 kW and 3Nm) thanks to a new piston top profile and multi-stage injection, which also improves the car's real-world efficiency, according to the brand. On offer on Maxx Sport and above is a brand new 1.8-litre four-cylinder turbo diesel engine that's predicted to earn just one percent of CX-3 sales.
The new engine produces 85kW of power (up from 77kW) and an unchanged 270Nm of torque between 1,600rpm and 2,600rpm. The new diesel is matched solely to a six-speed automatic transmission, though front-wheel drive petrol variants can also be had with a six-speed manual. Fuel consumption for the diesel is rated between 4.7L/100km and 5.1L/100km – the same as the old 1.5-litre diesel, yet with better performance.
Other mechanical changes include revised power steering for greater linearity, and revised suspension settings for superior ride comfort. Mazda have also enhanced the car's sound insulation through thicker panelling and glass, as well as newly designed tyres to better absorb vibrations. Extra urethane was added to the 2019 Mazda CX-3's welds to cancel out unwanted noise, whilst even a thicker headliner has been installed to further cut unwanted noise.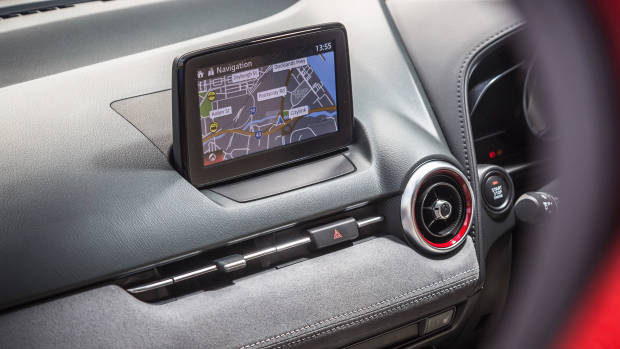 Aside from the changing of Neo and Maxx to Neo Sport and Maxx Sport respectively, the 2019 Mazda CX-3 lineup remains the same as before. Pricing has increased by $1,300 on all models, and Mazda has introduced permanent drive away pricing for the whole CX-3 range, starting at $23,990 for the Neo Sport petrol manual.
In addition to the listed mechanical changes and an electronic handbrake, the 2019 Mazda CX-3 Neo Sport is now equipped with a 7.0-inch touchscreen with a reversing camera and DAB+ digital radio in addition to front and rear autonomous emergency braking, height-adjustable front seats, air-conditioning, electric windows, electric-folding mirrors, 16-inch steel wheels, a reverse camera and reverse parking sensors.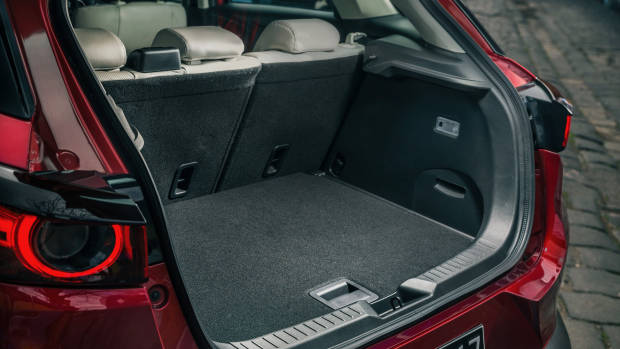 Step up to the $25,490 drive away Maxx Sport, and new equipment includes a rear centre armrest with two cupholders, climate control air conditioning and automatic headlights and wipers. 16-inch alloy wheels, blind spot monitoring with rear traffic alert, satellite navigation, a leather-wrapped steering wheel and gearknob and an overhead sunglasses holder were already standard. Understandably because of its strong value equation, the Maxx Sport is predicted to earn 55 percent of facelifted CX-3 sales.
The sTouring (from $28,740 drive away) earns an auto-dimming rear mirror and front parking sensors in addition to 18-inch alloy wheels, LED headlights with LED daytime running lights, LED tailights, LED front foglamps, half leather/cloth upholstery, a heads-up display, keyless entry and start with auto-folding mirrors, traffic sign recognition and driver attention alert.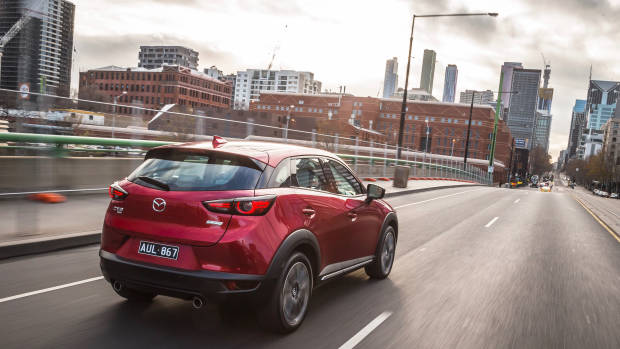 Again atop the 2019 Mazda CX-3 range is the Akari, priced from $33,990 drive away. For 2019, the Akari is equipped with a 360-degree parking camera and adaptive cruise control with stop & go functionality (the latter only on automatic variants) and full leather interior in either black or white. That's in addition to a 10-way powered driver's seat with memory functionality, heated front seats, a sunroof, adaptive LED headlights that shut their beam from oncoming traffic and lane departure warning.
Mazda is also offering an Akari Limited Edition in petrol auto only form. Mazda is yet to announce pricing and equipment levels for the Akari LE, though it was teased that the Nappa leather from the Japanese CX-3 will feature.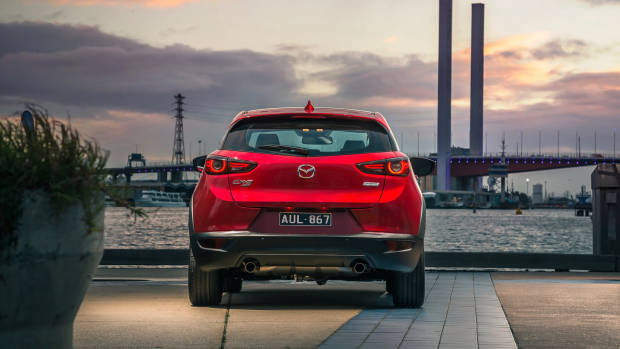 2019 Mazda CX-3 pricing (drive away):
Neo Sport 2.0-litre petrol manual: $23,990
Neo Sport 2.0-litre petrol automatic: $25,990
Maxx Sport 2.0-litre petrol manual: $25,490
Maxx Sport 2.0-litre petrol automatic: $27,490
Maxx Sport 2.0-litre petrol AWD automatic: $29,490
Maxx Sport 1.8-litre diesel automatic: $29,990
sTouring 2.0-litre petrol manual: $28,740
sTouring 2.0-litre petrol automatic: $30,740
sTouring 2.0-litre petrol AWD automatic: $32,740
sTouring 1.8-litre diesel AWD automatic: $35,240
Akari 2.0-litre petrol manual: $33,990
Akari 2.0-litre petrol automatic: $35,990
Akari 2.0-litre petrol AWD automatic: $37,490
Akari 1.8-litre diesel AWD automatic: $40,490
Options:
Soul Red Crystal or Machine Grey paint: $300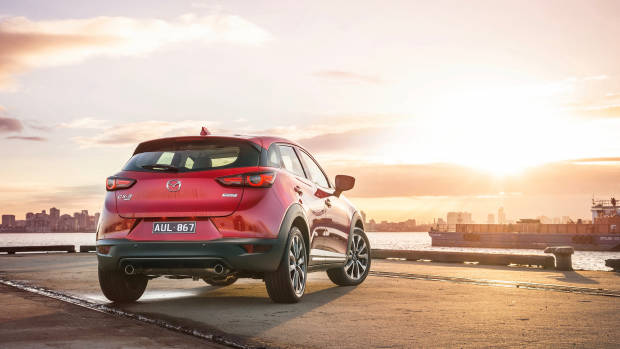 Stay tuned to Chasing Cars for more Mazda news and reviews. Read our first drive of the 2019 Mazda CX-3 here.