In the automotive industry, there's a fault line running between two camps. The first of these is the 'if it ain't broke, don't fix it' crowd – why make changes if a car is just fine? On the other side are the constant update crew – if you've developed a new feature, why not roll it out so an existing model feels fresh? What's clear is that Mazda sit in that second class. With eight minor product updates in the 2018 calendar year, the Japanese brand is comprehensively equipping their already-accomplished range with little changes to help keep sales alight. This is an approach we increasingly favour: sure, it's complex to cover constant changes to popular models, but for buyers, more safety tech, more features and a better driving experience are always good things – and that's the promise of the updates for the 2019 Mazda CX-3.
Launched in Australia in 2015, the CX-3 has been a very successful vehicle for Mazda. To date, nearly 60,000 of these small SUVs have been sold here, with top-three finishes in its class each month. And that's despite being one of the littlest – and thus least roomy – vehicles in its segment. We think the CX-3's secret is that in addition to being reliable, they're fun to drive, they've been good value for money, and are handsomely styled. The CX-3 adds to these qualities with plenty of standard safety kit – extra piece of mind in a car often purchased for young drivers.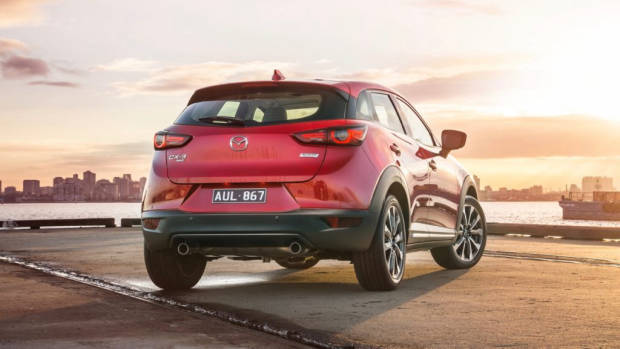 For 2019, the changes to the CX-3 update are subtle. Visually, only the high-grade sTouring and Akari models are perceptibly changed, with new 18-inch wheels, LED taillights, and more chrome trimming. It's easier to tell differences inside: the whole range gets a tasteful new centre console, finally sporting an armrest between the front seats. You'll also pick up differences in the driving dynamics: the steering, ride quality, and noise insulation have all received attention. Changes to the petrol engine are minor, but there's a new diesel – but the diesel will account for just one percent of sales, according to Mazda.
You pay for the changes, though. Prices are up $1,300 across the board, with the range now commencing at $21,790 (plus-on road costs). Permanent driveaway pricing has been announced for the CX-3, though, which is a better reference for. For the rest of this review, we'll be discussing the CX-3 in terms of its driveaway pricing, which starts at $23,990.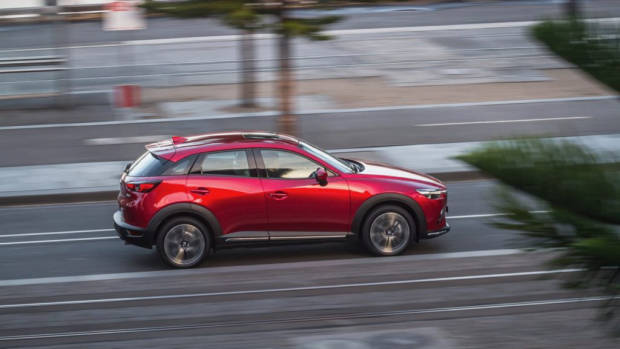 A familiar four-strong range is present for 2019, with some grades changing in name – they're Neo Sport, Maxx Sport, sTouring and Akari – and the engine choice continues to be a question of petrol (an existing 2.0-litre) or turbodiesel (a new 1.8-litre). A six-speed manual is only available on front-wheel-drive petrol CX-3s: a six-speed automatic is standard fit with all-wheel-drive and with on all diesel versions.
It's the cheapest model – the Neo Sport – that makes the most important gains for 2019. The basic CX-3 ditches its old-school radio for the same seven-inch touchscreen as the rest of the lineup, most importantly adding a long-overdue rangewide reversing camera. We'd hoped the base model would score alloy wheels to replace hubcaps – no luck. DAB digital radio and AEB that works in drive or reverse are also standard at the entry level.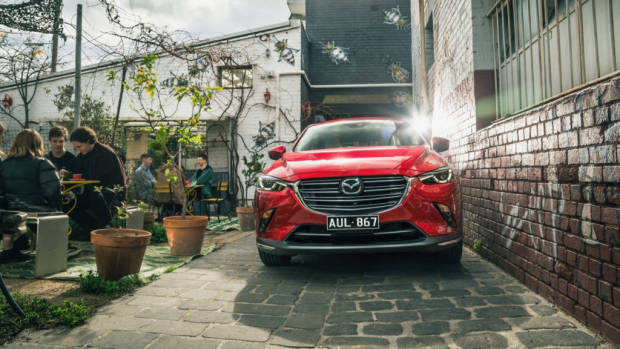 From there, the $1,500 jump to the second-tier Maxx Sport (from $25,490) is money well spent, adding more premium features like climate control, automatic headlights and rain-sensing wipers. 16-inch alloy wheels do become standard at this level, as does a leather steering wheel and gear shifter, satellite navigation, blind spot monitoring, and rear cross-traffic alert.
Heading up to the sTouring (from $28,740) costs another a $3,250. For 2019, the sTouring now upgrades to an auto-dimming rear view mirror and front parking sensors, plus new-design 18-inch alloys. This is on top of the sTouring's existing features – auto-folding mirrors, LED lighting, leatherette-cloth mix seating, a flip-up heads-up display, touch-sensitive unlocking, and driver fatigue detection.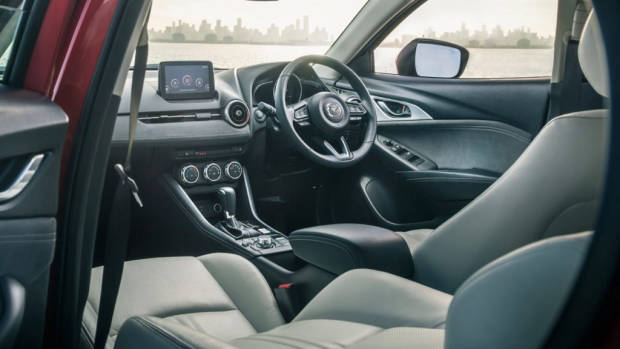 Spend another $5,250 again and you're into a top-shelf CX-3 Akari (from $33,990). For 2019, the range flagship gains adaptive cruise control with stop-and-go, a 360-degree parking camera, and full leather upholstery. This is in addition to a sunroof, heated front seats with 10-way power adjustment and memory for the driver, lane departure warning, and lane departure warning.
The Akari is now a pretty expensive small car – and you can spend over $40,000 driveway on one with a diesel engine – but If you want to spend another $500, later this year there will be an Akari Limited Edition. Mazda executives wouldn't be drawn on special features for this limited-run model, but an educated guess would involve deep-brown Nappa leather upholstery as the brand are rolling out at the head of each of their ranges.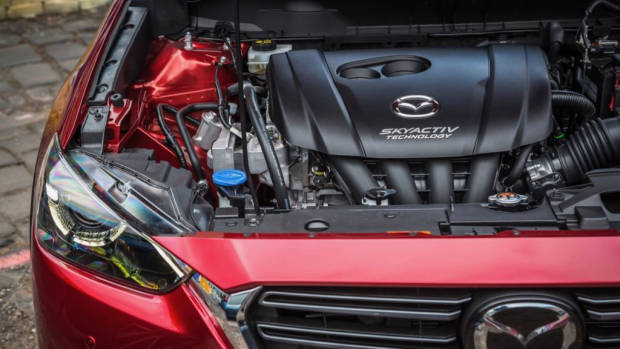 Having recently reviewed the pre-update CX-3 Maxx in detail, on the national launch of the 2019 updates in Melbourne, we chose to place our focus on the CX-3 Akari AWD, now priced at $37,490 driveaway. This is the price for the 2.0-litre petrol that a staggering 99% of CX-3 buyers will opt for, in preference to a new 1.8-litre, 85kW/270Nm turbo diesel. We think that's a shame: the outgoing 1.5-litre diesel was a cracker, while the surviving 2.0-litre naturally aspirated petrol is only average.
While the CX-3's 110kW/195Nm outputs – up 2kW and 3Nm – are healthy for the small SUV class, this is a loud and vibey engine that makes its presence known, and not in a good way. Because you have to wring out the Mazda's engine with plenty of revs, it's not a very refined experience, contrastingly sharply to the Toyota C-HR's turbocharged 1.2-litre petrol which, while slower, is quieter and feels torquey.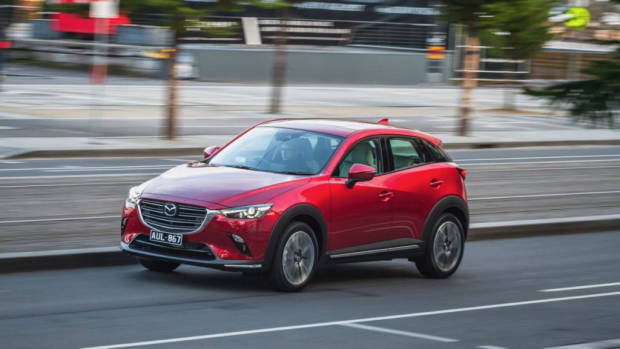 Thankfully, the Mazda's six-speed automatic transmission is an excellent partner, trying faithfully to mask the engine's poor low-end torque by intuitively shifting gears. Find even a slight incline at highway speeds and the CX-3 will find itself torqueless in sixth gear, but the auto will very subtly downshift to provide more grunt, proving to be an extension of your brain in most conditions. The auto also aids fuel consumption – our fuel economy on launch was 7.3L/100km, driven pretty hard. That places it at the more frugal end of the small SUV segment. The Hyundai Kona is noticeably thirstier.
Pitch the 2019 and 2018 CX-3s against one another, and the changes are indeed noticeable. Defences against noise, vibration and harshness (NVH) have been increased with more insulation – thicker front and rear door panels, as well as thicker window glass and extra urethane have been employed throughout the cabin, and while the CX-3 is still loud at higher speeds, it is quieter than before and you no longer have to raise your voice above normal volumes to hold a conversation.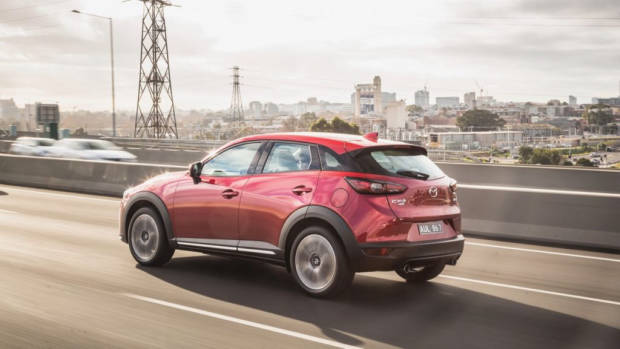 However subtle, these mechanical changes add up to a more mature CX-3. The ride is more compliant, the cabin more quiet and yet, this is still a Mazda product through and through – the CX-3 still loves corners, if you're the kind of driver who likes to drive enthusiastically. The revised steering makes it slightly easier to corner hard, while the more compliant suspension makes progress smoother across difficult surfaces. The handling is better than before – the turn in is great, there's plenty of grip and the CX-3 has a high threshold for understeer once you get into a good steering groove. It's more fun than a small SUV has any right to be. Only the addition of independent rear suspension would improve the dynamics further, to match the Toyota C-HR.
Away from the mechanicals, the CX-3 is a definite improvement. The previous model's cabin was essentially a Mazda 2 dashboard in a car that could cost nearly $40,000, but Mazda has redesigned the centre console, and improved the quality of the trim to make the CX-3 feel more special. The centre console revision has been allowed by removing the mechanical handbrake, which has been replaced by an electronic switch. The CX-3 finally has covered storage with an armrest, which used to be an expensive dealer-fit accessory which ruled out use of the cupholders. The 2019 fix has opened up more storage in the centre console, with configurable cupholders and reasonable space underneath the centre armrest. The small bottle holders in the doors remain, as does the tray underneath the climate controls and large glovebox.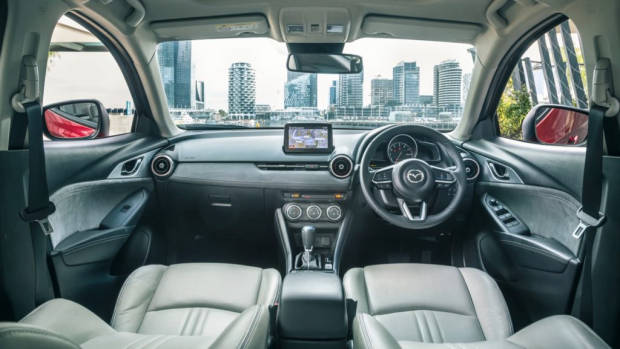 The trims on each model have been revised, with the Akari now fitted with full leather and tasteful suede dash surfacing. The Akari also has a 10-way electric driver's seat, which really does improve the driving position – the sort of thing you'll be thankful for over years of ownership. Some suede aside, though, the dash and door trims are still disappointingly hard and scratchy – they're not in the Toyota. As this is just a facelift, and not a new model, the space equation inside the Mazda CX-3 remains the same as ever. The rear seat is tight at best – my six-foot frame just fits behind my own driving position, and the boot is small for the class at 264 litres, expanding to 1,164- itres with the rear seats folded. The boot also offers no shopping bag hooks or nets. It's just a big box.
As in previous years, our recommendation is to stick to the Maxx Sport, as its value equation is stronger than the pricier grades above. Though we're tempted by impressive tech like adaptive LED headlights, adaptive cruise control and a 360-degree parking camera, these are limited to the quite-dear Akari, which is more than $8,000 more, an increase that we believe erodes the value proposition.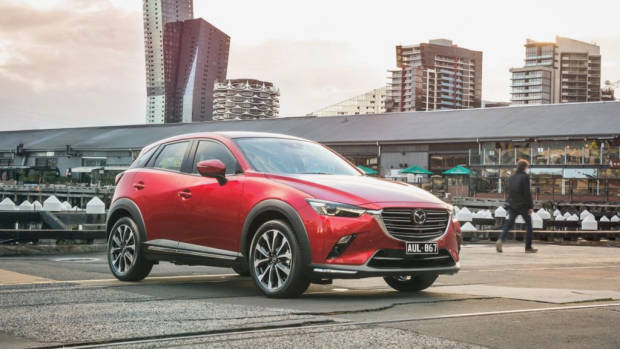 Though prices are up on the 2019 Mazda CX-3, we think the accumulation of a number of small but meaningful refinements make this a worthy upgrade. The overall feeling is one of more maturity – the CX-3 now rides more comfortably, steers better, and is quieter inside, while offering more polish than most small SUVs. Overall, the 2019 changes are a worthy update, with the CX-3 keeping the good, and improving on many niggling issues in the previous car – though we're still waiting for that Apple CarPlay/Android Auto update, which should be retrofittable later this year. Ignoring that oversight, the CX-3 will continue to find itself many fans in Australia.