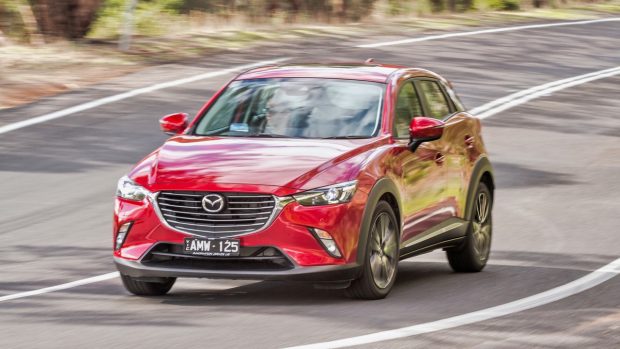 It's Australia's best-selling small SUV – and when you've got a good-looking, well-priced, best-selling model on your hands, you don't make big changes. Enter this mid-life facelift for the 2017 Mazda CX-3: a conservative mix of updates that changes little outside, but helpfully boosts the CX-3's safety credentials and alleviates many of the model's refinement issues.
Only trainspotters will notice different wheel designs and indicator graphics – but Mazda assure us that's deliberate. Market research leading up to the facelift showed that potential buyers already like the way this little truck looks – and so the handsome lines went untouched.
It's the compelling addition of autonomous emergency braking across every CX-3 model – with more advanced safety tech standard further up the range – plus a little softening of the suspension, and the addition of quite a lot of new sound insulation – that has turned a good runabout into a really easy-to-recommend small car.
The AEB update is significant for Mazda: by fitting city-speed autonomous emergency braking to every CX-3, the brand can now say each of their mainstream passenger cars has standard auto braking. Only the MX-5 convertible and BT-50 ute miss out. It's a claim few other brands can make.
Indeed, it goes a step further: like the larger CX-5 mid-sizer and CX-9 seven-seater, the CX-3's AEB works in both drive and reverse. That's admirable, given how taller SUVs can easily obscure children and animals sitting behind them on driveways.
Otherwise, better sound deadening, softer suspension bushings and torque vectoring technology – which have tidied up the CX-3's urban ride – are about the only changes under the bonnet. There's no change to either motor – the volume-selling, 109kW two-litre petrol is adequate and thoroughly inoffensive, and it returns acceptable fuel economy.
But it's the hearty 1.5-litre diesel that steals our heart. The oiler makes up a very slim slice of CX-3 sales, but it's much more enjoyable, flexible and frugal than the petrol. Mazda are keeping the diesel around as a hedge against a sudden increase in petrol prices – an event that always drives sudden interest in diesel options.
The CX-3 brings in about 1,500 sales per month in Australia, and Mazda's hope is that the update will keep them in the number one spot, with monthly sales holding steady. Impressively, more than 90% of buyers skip the entry-level Neo – the only scantly-equipped car in the range – largely in favour of the second-level Maxx, which gets most of the tech you'd want, like a touchscreen with navigation, blind spot monitoring, and a reversing camera.