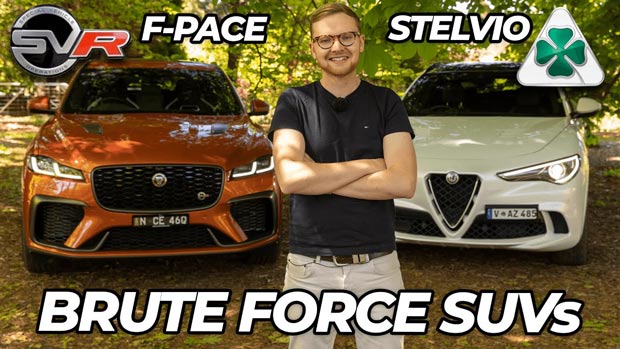 If you're after a seriously quick luxury SUV, the usual options from Mercedes-AMG, BMW M and Audi Sport are all a bit obvious.
Aspirational Australia, with record-high median incomes and easy credit, has made AMG's GLC 63 S wagon and coupe, BMW's X3 M and X4 M Competition, and Audi's RS Q3 and RS Q8s increasingly common in well-heeled suburbs.
So what do you buy if you see the allure of a leather-lined performance crossover, but you want to be a little different?
Enter the rapid SUVs we're comparing here. From Coventry is the recently facelifted Jaguar F-Pace SVR, which tightly packs a huge 5.0-litre supercharged V8 beneath its long bonnet. Meanwhile, Turin sends the subtly updated Alfa Romeo Stelvio Quadrifoglio, replete with a Ferrari-developed 2.9-litre twin-turbo V6.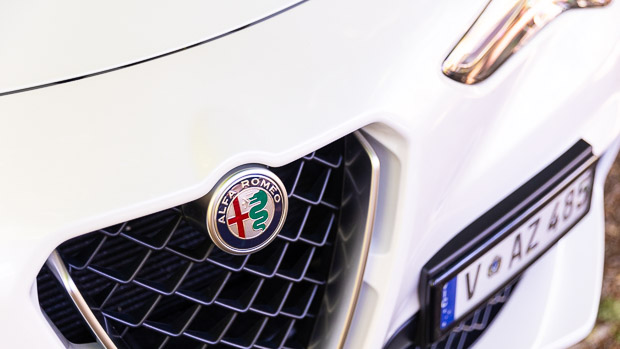 They might both sport prominent quad tailpipes and the kind of rip-snorting exhaust tunes that are de rigueur for posh machines, but the fact is there's a big difference between the fast Jaguar and Alfa in one corner, and the usual AMG and M SUVs in another.
The teams behind both the F-Pace and the Stelvio have truly understood the fast-SUV brief. Sure, these crossovers need to be quick, they need to be loud, and they need to handle. But they also need to ride.
Fast German SUVs have become consistently less bearable for urban driving as their makers have pursued body control at all costs – including the driver's back. Audi's more compliant offerings are perhaps an exception, but both the GLC 63 and the X3 M fall way beyond stiff on the comfort continuum.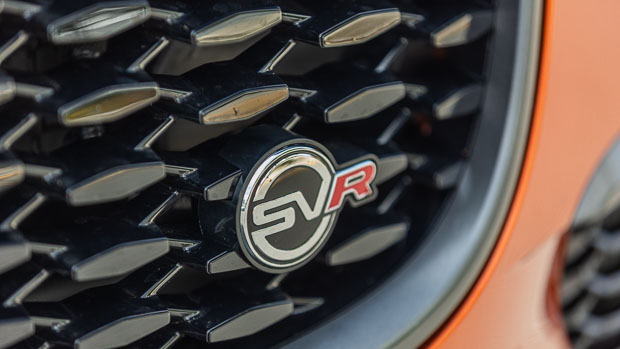 Not so the Jag or the Alfa. Despite huge wheels – five-hole 20s for the Stelvio, $1600-optional light-alloy 22s on the F-Pace – both of these crossovers display a surprising aptitude for handling Australia's broken-up roads.
That makes them adept both for the urban commute they will likely run for most of their lives, as well as the occasional backroad blasts their owners can and should indulge in.
The compliance displayed by both SUVs here put AMG and M's best efforts in this segment to shame – and it makes both vehicles here 'faster' in the real world as they flow with the road, allowing skilled drivers to quickly build confidence.
However, one stands out on that metric, and it's the big Jag. Weighing 216kg more than the (comparatively featherweight 1790kg) Alfa, the adaptively-damped F-Pace seems to steamroll poorly surfaced B-roads, somehow carving a flat, smooth path down some of our worst testing roads.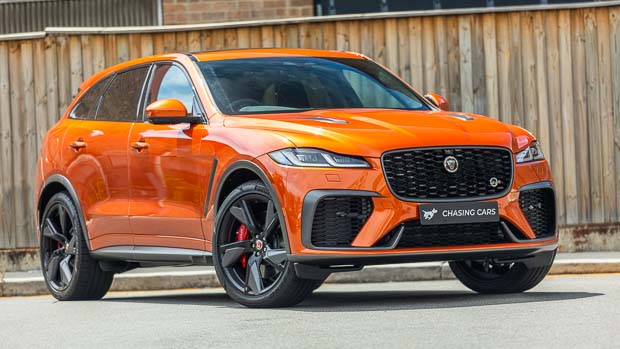 Despite that, the Big Cat demonstrates superb body control and the chassis gives the driver plenty of options – plus there is easy correction on-throttle from the rear-biased AWD system.
On the other hand, the trim Stelvio isn't as tied-down to earth and its three-stage adaptive dampers can't round off hard edges as easily, leading to a sharper, edgier experience on the most pockmarked country roads.
Yet you'll still be more comfortable nestled in the Stelvio's high-bolstered standard pews than you would in an X3 M Competition. And the payoff in the Alfa is the Stelvio's gorgeous steering which is at once quick, relatively light and fizzing with feel.
By contrast, the Jag's steering rack obscures the road's messages to a greater degree, though the ratio is still intuitive – and the view from the super-supportive driver's seat over the prow is deeply satisfying.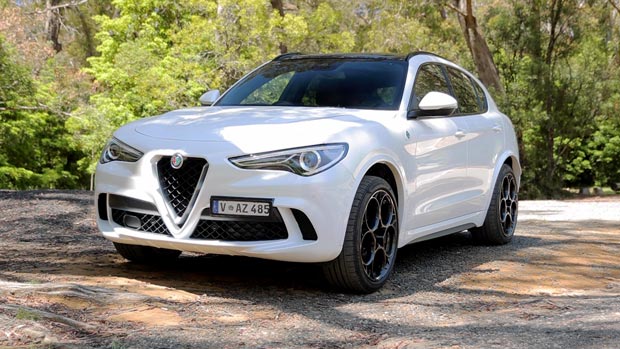 Both engines are great in their own way. It's hard to pick a favourite because they're just so different: the 375kW/600Nm 2.9-litre twin-turbo V6 in the Alfa is seriously responsive above 3500rpm, singing a metallic soundtrack as it slickly works through its eight-speed ZF automatic gearbox, cracking at each upshift.
There is a slight lethargy straight off the line as the engine management system limits torque in first and second to help the AWD system get initial purchase, but once you're in third gear the Stelvio is truly moving, returning a claimed 3.8sec 0-100km/h time.
Despite its two-hundred-keg weight penalty the Jaguar uses sheer brute force to hurl itself from rest to 100km/h just 0.2sec slower. The 5.0-litre supercharged V8 works to devastating effect, belting out 405kW/700Nm, angrily roaring as it does so.
The blown V8 feels quicker off the line, though Jaguar's tune of the fundamentally similar eight-speed ZF transmission isn't as aggressive – it seems that the time is lost in slightly slower shifts.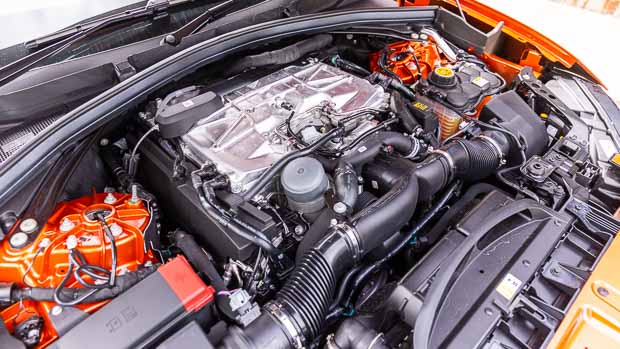 Get on the anchors hard, though, and you can feel the Jaguar's mass over repeated quick stops from 100km/h as the pedal gets longer, faster – though neither test vehicle was equipped with optional carbon-ceramic brakes.
It's easy enough to simplify the dynamics down to 'superior steering in the Alfa, superior compliance in the Jag', but it's a bit more complicated than that.
For starters, the Stelvio doesn't approach the heights of its low-slung Giulia Quadrifoglio sedan counterpart, which has vastly superior damping while retaining the Giorgio platform's characteristically beautiful steering.
Unless you really need the Stelvio's marginal extra boot space (525 litres vs 480L), we'd have our cloverleaf-badged Alfa Romeo in Giulia form.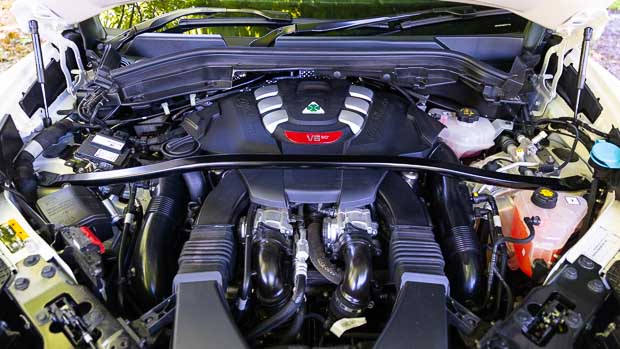 Coventry doesn't give you that choice. If you want an SVR badge with your Jaguar, it's a choice between the five-door F-Pace or the tiny two-door F-Type! (as well as a few Range Rover options.) The Giulia-sized XE sports sedan did appear with a V8 in some markets in Project 8 guise but Australia never received this left-hook spec.
As such, it's easier to process the F-Pace SVR's raison d'être: it's the only practical V8-powered Jaguar left. Couple this pragmatic argument with the fact that it's a good steer and an excellent ride, and it starts to make sense…
The same is true, for us, on the subjective topic of design: with its resolved, cab-rearward styling, long-bonnet, stretched glasshouse and hot haunches, the F-Pace looks just aggressive enough without devolving into the matte-grey, yellow-stickered hellishness that is seemingly favoured by AMG clientele.
Our F-Pace was specified with $11K 'Atacama Orange' factory-order paint, set off pleasantly by thin matte-grey cladding – while its interior was upholstered in no-cost cream hide with black Alcantara centres.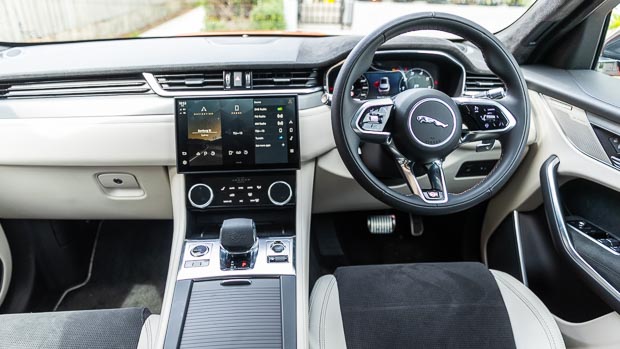 Jaguar has poured additional effort into sprucing-up the F-Pace's interior for 2022 and you can tell: virtually every surface cops real leather, while the new 11.4-inch touchscreen is crisp, quick and looks bang up-to-date.
Noticeably wider than the Alfa (2071mm vs 1955mm), the F-Pace feels roomier in both rows but it's really the material quality that sets it apart as the luxury choice in this comparison, despite being the less expensive car ($142,300 vs $146,950, both before on-road costs).
Contrastingly, the Alfa feels deeply driver-focused. Not everybody will comfortably fit in the Stelvio's snug cabin: both the seats and the pedal box are tighter. Everything feels smaller.
And everything feels darker. Only a mix of black leather and black Alcantara is available, joined by a black headliner that makes it almost oppressively dark. Double-stitched upholstery in white and clover-green gives some respite, as do the handsome analogue gauges.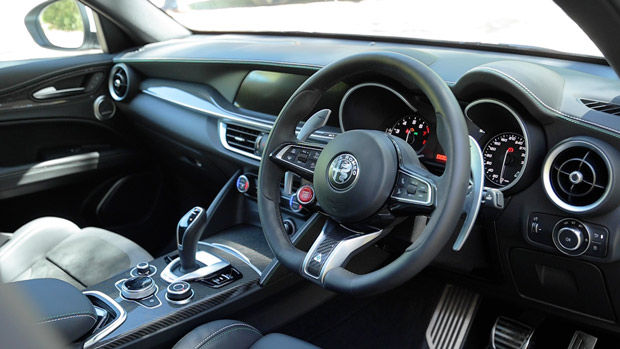 Alfa Romeo boss Jean-Phillipe Imparato recently reaffirmed that his brand wants to keep building cars that are as analogue as possible, and in that vein, the Stelvio certainly doesn't go overboard on tech. The 8.8-inch screen is well-integrated but it's small and dark.
The Stelvio's back seat is liveable for adults or tall kids but it's a four-seater, really, where the F-Pace could hypothetically seat a fifth on occasion. Neither of these vehicles offers an available third-row – for that, you have to go much bigger with something like an AMG GLS 63 or Alpina XB7.
Boot space seems vastly different on paper (the Jaguar's 793L plays Alfa's 525L) but in reality, it doesn't appear that extreme, though only the Jag packs a space-saver spare beneath the cargo floor.
Practical differences open right up when it comes to running costs, though.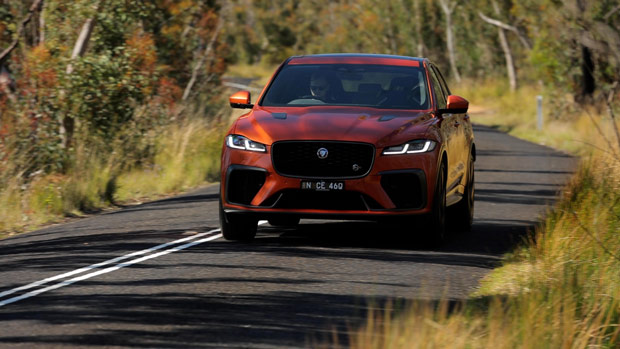 Fuel consumption, tested over several hundred kilometres of mixed driving on required 98-octane petrol, reversed places from the respective claims. The Jaguar returned 12.1L/100km (11.7L/100km claimed), whereas the Alfa drank 12.7L/100km (versus a claim of 10.2L/100km).
Those close figures were line-ball enough, but Jaguar now offers a five-year/105,000km service pack for the F-Pace priced at $3,750. You can't prepay for the Alfa, though: five years/75,000km of maintenance is currently priced at $6644.
Jaguar has also made recent strides on warranty, covering its cars with a standard five-year/unlimited kilometre plan while Alfa persists with a three-year/150,000km warranty.
Neither vehicle here is going to be a cheap ownership proposition but by the numbers, the Jaguar would leave about $1000 in your wallet each year.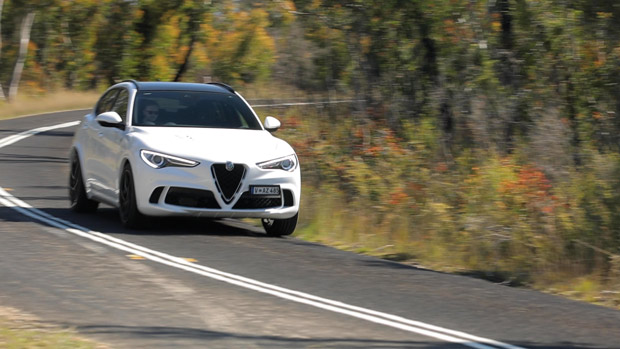 No doubt, there's a real sense of feel-good to both the Jaguar F-Pace SVR and the Alfa Romeo Stelvio Quadrifoglio.
It's simply that the Jaguar feels better-rounded and more resolved. Its ability to steamroll the worst of Australian roads makes it a superb fit for grand touring in this country, while its spacious and luxe interior cosset at both low and high speeds.
If racetrack driving was the priority, we'd have the Alfa, which rewards with even better body control (on smooth surfaces) and simply gorgeous steering. But for country touring, the Stelvio isn't as settled as we'd like in a luxury-sports SUV.
We lust after the Alfa's 2.9-litre twin-turbo V6 and that steering rack – we'd just take it in the Giulia sedan, which has markedly better suspension control.
That leaves the F-Pace SVR standing atop the podium. It wins this test, demonstrating a superb blend of supercharged V8 fun, backroad-blasting ability and everyday comfort.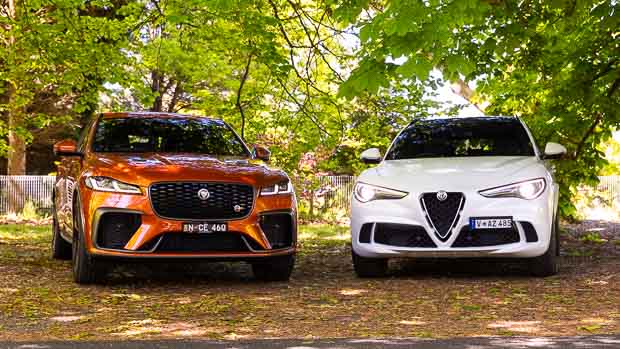 Jaguar F-Pace SVR: in brief
| Good points | Needs work |
| --- | --- |
| Responsive, thunderous V8 | Options list adds up |
| Lush, high-tech interior | Steering only good, not great |
| Compliant, comfortable ride | Pretty big, but only five seats |
Alfa Romeo Stelvio Quadrifoglio: in brief
| Good points | Needs work |
| --- | --- |
| Best-in-class steering feel | Less resolved on rough roads |
| Superb Ferrari-derived V6 | Short warranty, expensive servicing |
| Tightly controlled suspension | Cabin is very dark |
Final Scores
Jaguar F-Pace SVR: 9/10
Alfa Romeo Stelvio Quadrifoglio: 8/10