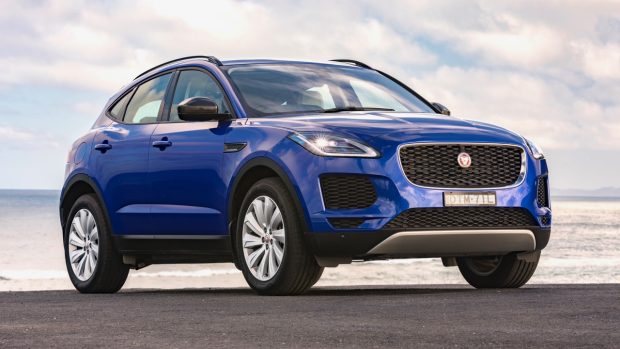 If you're still complaining about traditional sports car manufacturers continually adding SUVs to their ranges, here's a newsflash: these SUVs are what allow sports car experts like Jaguar survive, and thrive. The F-Type coupe and convertible might be the halo models in this British brand's line-up, but it is the F-Pace SUV that has brought the necessary influx of sales that will fund the next iteration of Jaguar's sporty two-doors – cars that ultimately sell few copies to real people, despite their high desirability quotient. But why stop at the F-Pace, which sits somewhere between the BMW X3 and X5 in size – it's pretty big. There's a huge market out there for small luxury SUVs with a sporting persona – the raison d'etre for the 2018 Jaguar E-Pace, which enters the Jaguar's range with its sights trained squarely on lifestyle crossovers like the Audi Q2, BMW X1, Mercedes-Benz GLA and Mini Countryman.
It goes without saying that we're fans of the F-Type, which carries the flag for Jaguar's tradition of fast two-door cars. But we also like Jaguar's volume-selling efforts, especially those built on the lightweight, rear-wheel-drive, aluminium platform that was made possible by the substantial investment by Jaguar and Land Rover's new owner, Indian firm Tata. Jaguar's XE and XF sedans – and, yes, the F-Pace SUV, are better to drive than virtually every car they compete against. So things look pretty good for the E-Pace, right? Well, not so fast. In an unusual move, the E-Pace isn't based on the iQ-Al aluminium platform. Instead, like the Range Rover Evoque and Land Rover Discovery Sport, the E-Pace sits on a development of a steel-based, front-wheel-drive Ford platform that was introduced more than a decade ago.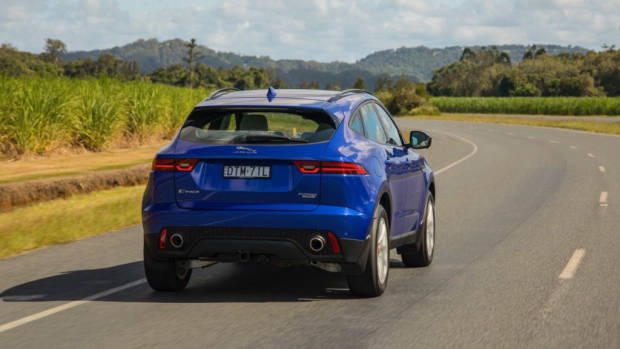 That said, Jaguar have updated this existing platform with some aluminium pieces, and the E-Pace is otherwise a new car. It is based around a lineup of five Ingenium-series four-cylinder turbo engines, all built in-house by Jaguar-Land Rover. The Ian Callum-styled E-Pace is probably the best-looking of the small luxury SUVs, with a muscular stance that particularly suits white, or the brighter colours. The cabin is luxuriously appointed and stylish, and importantly, Jaguar have managed to introduce a really distinct driving character, with characteristic Jaguar steering feel, planted handling, and a comfortable, refined drive.
Inside, the E-Pace's cabin is generous for the small SUV class. The materials used are generally a bit better than rival cars. The seats are comfortable and substantially adjustable, in either of the two grades of leather than we sampled. Key touch points, like the small and sporty steering wheel and the trigger-style gear shifter, are particularly lovely. The central grab handle, trimmed in stitched material, is a fun nod to the F-Type and looks great. We like the inclusion of a big, wide 10-inch touchscreen as standard. And we also appreciate the level of possible customisation inside. There are five leather colours offered – black, grey, tan, red, and navy blue. You can have contrast stitching, and up to 18 ways of electric adjustment for the front seats. You do have to pay for it, but you can end up with a genuinely personalised, very plush E-Pace that makes you feel like you are driving something quite special.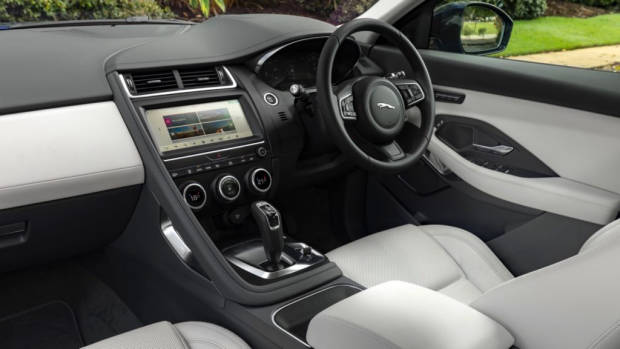 But the E-Pace would want to feel special, because like other Jaguar-Land Rover products, the pricing sits a little higher than some rivals once you've specified a car with appropriate options. To its credit, the E-Pace has a better level of standard kit than other recent releases like the bigger F-Pace, or the new Land Rover Discovery. But the cheap ones are still pretty basic. The range starts at $47,750 for a diesel, and $50,150 for a petrol. After this point, the range is complex, with five engines and four trim levels, each of which can be mixed and matched – so you can have a top engine with a fairly basic specification, or vice versa. Jaguar are pretty unique in this regard. We'll try to keep our range overview simple, taking you through the trim levels first, then the engines.
So for fifty grand, an E-Pace base model has a big 577-litre boot, all-wheel-drive, a 10-inch touchscreen, automatic LED headlights, city-speed autonomous emergency braking, lane keep assist, a reversing camera and all-round parking sensors. But the base model has cloth seats, tiny-looking 17-inch wheels, and they don't have satellite navigation (or Apple CarPlay or Android Auto – technologies that are not available on the E-Pace at all).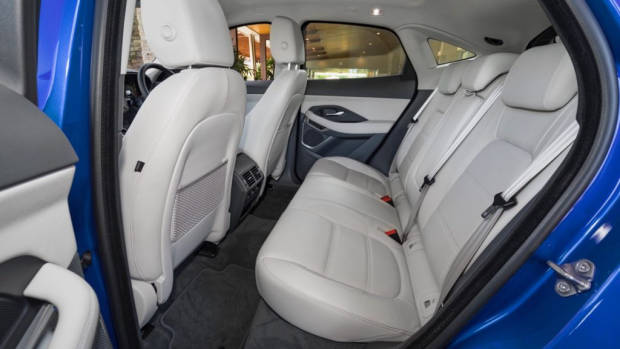 You have to step up to the second-from-base 'S' trim to get an E-Pace that is acceptably equipped, in our view. The S is a $7,450 step up from base, but it adds most of the stuff you'd want: leather seats with 10-way electric adjustment for both front seats, satellite navigation, a 360-degree parking camera, rear cross-traffic alert, and pretty daytime running lights that look like those on other Jaguars. That said, the S still gets by on small 18-inch wheels, but you can add more stylish 19-inch wheels to the S for about $1,400. We'd do that.
Upgrading from the S to the SE model costs another $4,830. The extra cash adds in 19-inch wheels, plus an electric tailgate, 14-way electric front seats with memory on both, a quality 380-watt Meridian stereo, adaptive cruise control, higher-speed autonomous emergency braking, and blind spot monitoring. Finally, the top-shelf HSE trim is another $5,560 again, adding big 20-inch wheels, keyless entry, better-quality leather, 18-way electric seats in the front, and a 12.3-inch digital driver display. It's a shame that keyless entry – where the key can be left in the driver's pocket – is only available at the $65,000+ level on the HSE.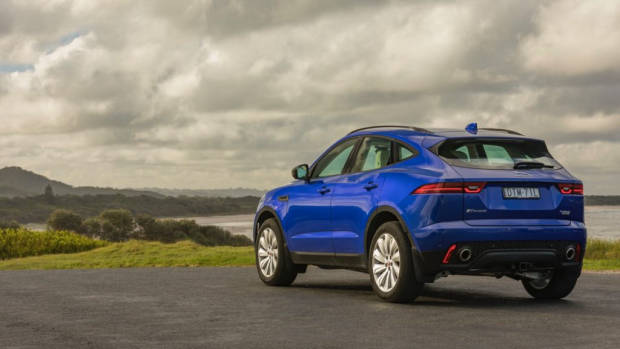 The Jaguar E-Pace SE.
It's worth noting that at the $50,000 price point, for example, a BMW X1 sDrive18d has more kit – like an electric tailgate, 18-inch wheels, roof rails, artificial leather trim, dual-zone climate control, DAB radio, and navigation. At this price, the Audi Q2 Sport further adds blind spot monitoring, Apple CarPlay and Android Auto, and paddle shifters. Like-for-like, the E-Pace is a bit lean.
The spread of five E-Pace engines covers three diesels and two petrols, all 2.0-litre turbo units. On the diesel side of the ledger, these range from the single-turbo D150 (110kW/380Nm) and D180 (132kW/430Nm), and the twin-turbo D240 (177kW/500Nm). The two petrols are the P250 (183kW/365Nm) and the halo engine, the P300 (221kW/440Nm).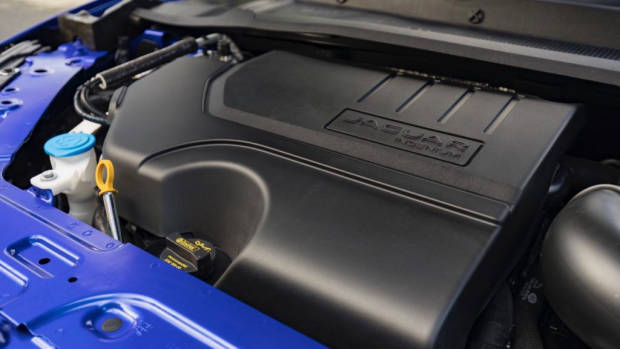 That's a strong engine lineup and each of the five mills has plenty of power and torque. That said, they need to, because the E-Pace weighs on on the heavy side. We would have loved this car to sit on the brand's aluminium platform; it would have made the E-Pace lighter on its feet. Petrol E-Pace models are about 1,750kg – the diesels are heavier – while the aluminium-based F-Pace, despite being a bigger vehicle, is 100kg lighter. Then there's the E-Pace's rivals. Both the Audi Q2 and BMW X1 weigh about 300kg less than the E-Pace. So, at 4.4 metres, the E-Pace is short, squat and hefty – the rugby prop of small SUVs.
Hence why the Jaguar's most basic petrol produces 183kW/365Nm – serious hot hatch outputs, and heaps of power when compared to the Audi Q2's entry-level 110kW/250Nm petrol. That said, while the Jaguar does need more engine to move its heavier weight it does have a better power-to-weight ratio than the cheapest X1 and Q2, and the E-Pace feels stronger with enough motivation off the line and good torque once you're up and moving. The D240 diesel, with its vast 500Nm wave of torque, is an excellent cruiser with good hustle. That said, our preferred engine is the 183kW P250 petrol, which is super-quiet and refined. The P250 is quick enough, with a seven-second 0-100km/h sprint, and it is decently economical, returning about 9L/100km in town. The more expensive P300 (221kW/400Nm) cuts the 0-100km/h time to 6.4 seconds but despite the near Honda Civic Type R outputs, it doesn't feel all that quick so we'd skip it.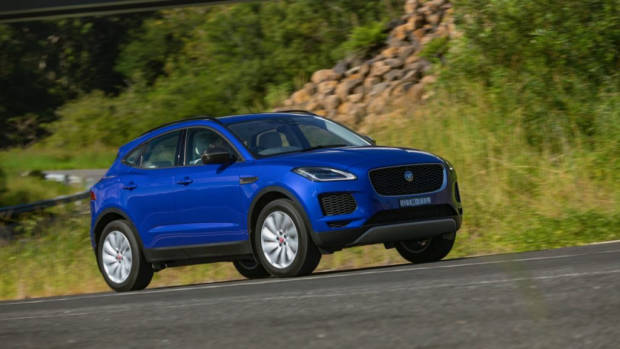 Where the E-Pace really impresses, though, is in its ride and handling. The E-Pace on passive dampers is comfortable and composed over rough surfaces – unlike the bigger F-Pace, which crashes about on its big wheels. In the E-Pace, meanwhile, the experience is plush enough even on 20-inch wheels, which for now are the biggest you can get. Later, 21-inch wheels mandatorily paired to $1,700 adaptive dampers will arrive but honestly, these will not really be necessary. The twenties are big enough! Over rutted and rough country roads, the E-Pace is a solid performer especially compared with the Q2, which is chucked around by big mid-corner bumps. Road noise only creeps in on the Pirelli P Zeros fitted with the two top engines. Lesser E-Paces are paired to Goodyear Eagle all-season tyres that are quieter, if a little less grippy. On a smooth highway, wind noise is impressively restrained. All in all, this is a relaxing car to drive, and an especially good cruiser for the class.
Jaguar have bequeathed the E-Pace with excellent steering that does a good job of echoing the awesome electric power steering rack from the XE sedan. The feel and weight isn't quite there, but the E-Pace is much more rewarding to drive fast than the BMW X1. There is an initial sense of the mass when you tip into a corner but after that, the E-Pace squats down, with limited body roll and plenty of grip available, especially on the P Zeros. Those halo engines also receive true mechanical torque vectoring that can send 100% of engine torque to the outside rear wheel in an attempt to recreate the dynamics of a rear-wheel-drive car. We found this tough to induce, however. Naturally, the E-Pace pushes into predictable understeer, as you would expect of an AWD car that starts life on a front-wheel-drive platform.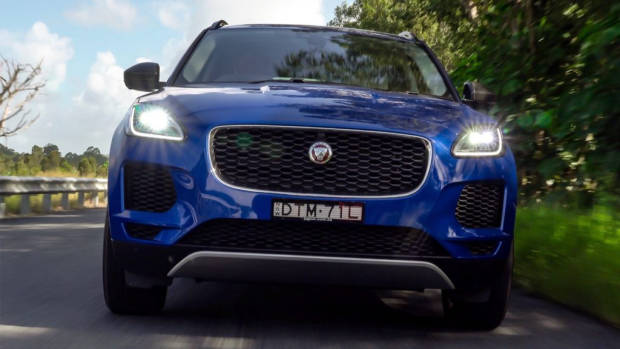 All in all, then, the E-Pace is a likeable, stylish, plush little SUV that does a good job of cosseting its occupants, and making you feel like you've bought a luxury car. Certainly, the baby Jaguar is more special than the BMW X1 or Audi Q2, and the E-Pace is also handily better to drive than either of those cars. The Jag could certainly be lighter on its feet, but for most people, that won't really matter. What will matter is keeping the costs under control: go crazy on the spec and options, and you can literally get the E-Pace to $100,000, which is obscene. Thankfully, with better equipment levels than we usually get from Jaguar-Land Rover, you don't really need to spend more than about $65,000. However, that's quite a lot more than an equivalent BMW or Audi – so you'd want to love the way this car looks and feels in order to justify that. For many, though, the E-Pace is distinct enough to do just that.