2017 Mini Countryman Review: First Drive
Pros
Spacious interior and boot
Fun to drive – especially Cooper
Generous standard kit list
cons
Customisation options add up
No electric seat adjustment
Rough ride on 19-inch wheels
Mini's original Countryman was ahead of its time in predicting that premium small SUVs would become a hotly-contested segment. Since the boosted British hatch hit Australian shores in 2011, joining the X1 as the BMW Group's second small SUV, the Countryman has faced increasing competition from a variety of rivals. Strong sales of the Mercedes-Benz GLA, the Audi Q3 and lately the Q2, and the effect of the internal rivalry with the BMW X1, contributed to the headwinds faced by the first Countryman – car that was too small and didn't always represent great value. Those are two factors addressed by this all-new model, which is larger in all the right places and punches into genuine value territory with a well-equipped, $40,000 base model. In fact, the 2017 Mini Countryman is so well thought-out that it leaps from the trailing end to the top of the class it helped create.

Though the new Countryman is, visually, a clear evolution of the first model, the car's designers have concentrated on both reinforcing the brand's key traits – including reorientating the rear lights to mirror a traditional Mini – and further pumping up the Countryman's rugged stance. In virtually any of the colours on the palette, the toughened fenders, bulkier shoulders and high roofline make the Countryman the best-looking car in this class, in our view. It's sure of what it is: this is a hunky little SUV but one that stays true to the Mini aesthetic at every angle.

The new shape lands in Australia with a well-rounded range of four engines – two petrol and two diesel – with a fifth arriving later in the form of a John Cooper Works Countryman performance variant. The JCW is worth waiting for if you're after something quick. The four standard engines, even in sportier S petrol and SD diesel versions, are speedy but not scintillating. However, each adds a different character layer to the Countryman.

At the car's local launch in Canberra, it quickly became clear that the entry Cooper model is a winning option. The Cooper finds motivation from BMW's terrific turbo three-cylinder petrol and while it's obviously not going to set land-speed records, it sounds great and is entertaining to drive – and the car its moving is well-equipped. You can spend into the $60,000 range on a Countryman, but you don't need to: a $39,900 Cooper with one or two well-chosen options would make a seriously viable family runabout.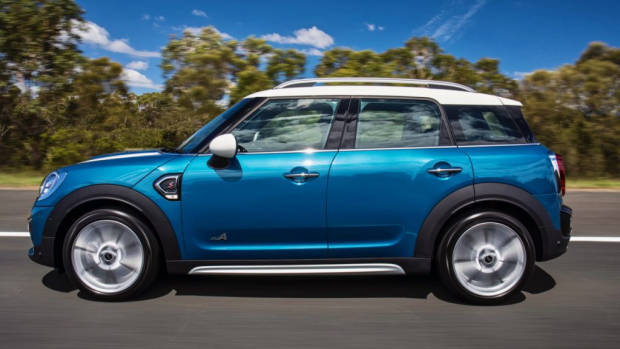 DRIVE
Each of the four engines initially offered on the Countryman offer a different feel and personality – there was a bigger difference between the motors than we expected.
Our first hundred kilometres was spent behind the wheel of the Cooper, with the 1.5-litre turbocharged three-cylinder petrol. This engine is now familiar: it's used in the three- and four-door Minis, plus a number of BMW models. Like in those cars, the plucky three-cylinder feels right at home in the Countryman.
A three-cylinder might sound like it would lack adequate performance but the Mini's triple makes 100kW of power and 220Nm of torque – critically, the pulling power is available across a broad band of engine speeds, from 1,400rpm to 4,300rpm.
The Cooper surges off the line confidently in town and never feels strained at town speeds – in fact, it never feels particularly strained at all. Instead, at higher speeds it becomes lively and fun. Naturally, you're aware of its limits and the Cooper is no land-speed-record car, but you're able to use all of its power without getting into trouble all while making respectable progress. It's a great engine.
The other engines are four-cylinders of various outputs and all are impressively refined. The other petrol – the Cooper S, making 141kW and 280Nm from its two-litre, sounds the most zingy and alive of the quartet and was the most satisfying to drive hard, though with a 7.4 second 0-100km/h time, it's actually not that quick. The John Cooper Works Countryman, arriving after this winter, will satisfy those seeking a fast petrol pumped-up Mini.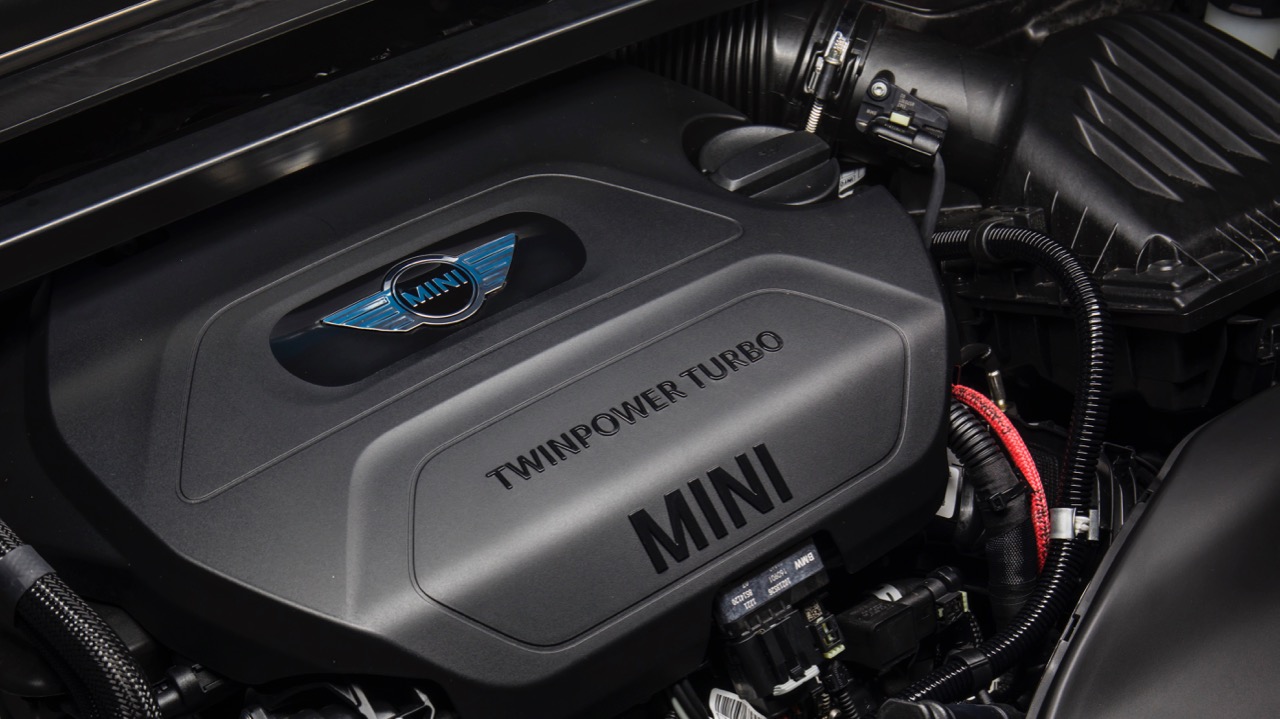 The two diesels are muscular and quiet inside – a real achievement for small and inexpensive oilers. The lesser of these two – the Cooper D – makes 110kW and 330Nm but doesn't feel any quicker than the triple-turbo petrol in the real world, though its fuel economy can be quite spectacular on the open road. For now, the 140kW, 400Nm Cooper SD is the flagship engine and is totally adequate in all environments. It's the best for long highway miles, with effortless low-end torque and it darts around town nicely – however, the SD's biggest draw-card is that, until the JCW gets to Australia, it is the sole all-wheel-drive offering here.
That ALL4 all-wheel-drive system is a new electro-hydraulic system for this generation, sending all the power to the front wheels in almost all situations for economy – however, when slip is detected the reaction time has been drastically reduced and the system can send power to the rear wheels very quickly. In the selectable Sport driving mode, the system allocates a rear bias in spirited cornering.
Cornering remains a strong suit of the Countryman. This isn't a little go-kart, like a three-door Mini, but it's still fun-to-drive. The steering initially gives a relatively electric sense but you quickly settle into the pleasant weighting and the directness – this is still a Mini, after all, and the sweet bite in the Countryman's steering is a reminder that this thing can be a bit of fun. Body control is good, with some controllable body lean in hard cornering and a mostly-compliant ride on the standard dampers. Upgrading to the adaptive dampers is a bit of a false economy – the modes never feel completely settled, and as long as you choose 18-inch wheels, there isn't a major ride quality problem. Upgrade to 19-inchers and things get too noisy and rough inside the car.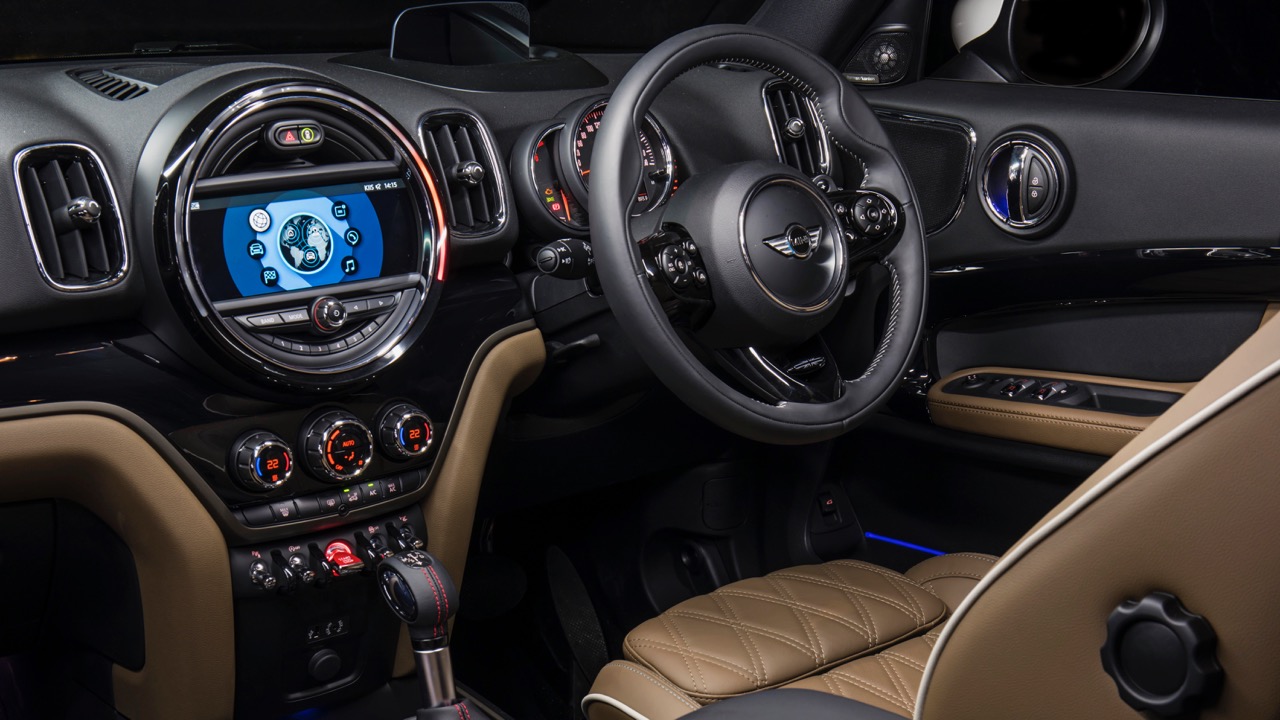 COMFORT
Mini have billed the new Countryman as large enough to act as the primary family vehicle for its target market – couples and young families. Enlarging the car in key dimensions was critical to making this a legitimate aim – but the engineers and designers have achieved that goal. Inside, the Countryman feels spacious and grown-up. If it wasn't for the Mini visual cues, you'd easily be mistaken for thinking you were in a more practical BMW.
However, those visual cues are central to the brand and they haven't been forgotten. The new Countryman's interior is still full of whimsical touches like the large, radial navigation binnacle that lights up under hard acceleration or when you change the climate control, the retro speedometer and tachometer, and new touches like the vertical climate vents. The Mini is still plenty of fun and jumping into the driver's seat does make you feel excited.
It's a comfortable front seat, too – the fabric seats that are standard across the range are more than supportive enough for daily and long-distance driving, with pleasantly high side bolsters and a good range of manual adjustment. Leather upgrades are, naturally, possible but they're quite expensive and they don't add in electric adjustment or seat heating, which seems a strange omission.
Being part of the BMW stable means the Countryman – like other Minis – has access to some of the best onboard technology currently available. The Countryman is the first Mini to receive BMW's iDrive 6 – branded here as an optional Multimedia Pro package – which adds a beautiful 8.8-inch touchscreen, detailed heads-up display and a quality 12-speaker Harmon Kardon stereo to what is already a fairly techy cabin. Out of the box, the Countryman has a decent 6.5-inch previous-gen iDrive system that is nothing to complain about.
In the back, both legroom and shoulder room are up 5 centimetres each, and that's a difference you immediately recognise. Two six-footers are fine in the back of the Countryman these days; even three will be able to squeeze together. The take-away message is that your kids will be well-accommodated in the new car. There is a fold-down armrest from the S model up – it's weirdly optional on the base model – the door bins back there do fit a big bottle and there are air vents to keep car sickness at bay. The rear bench even slides and reclines. Primary family vehicle? Yep, it'll do it.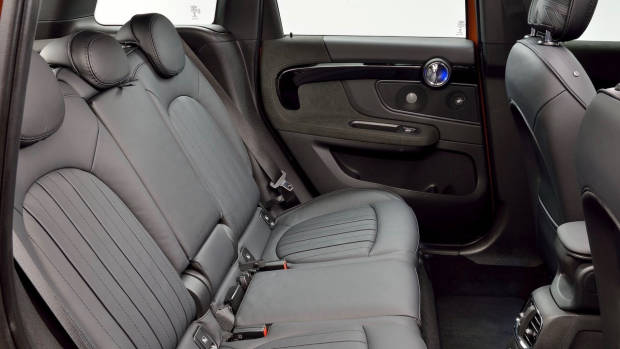 PRACTICALITY
We were surprised by how much the back seat had grown, but the biggest increase in room in the Countryman is actually found in the boot. Clever packaging joins the enlarged lines, seeing the capacity increased by an enormous thirty per cent back there: the Countryman now offers 450 litres of space with the rear seats in place. It's a good, low boot meaning you don't need to drag suitcases up and out – instead, the boot floor is level. There are shopping bag hooks and netting to keep delicate items from rolling about the place, too.
As part of a reasonably-affordable Road Trip Package you can even add a retractable bench seat into the boot – perfect for pulling up on a muddy soccer pitch and watching from the Mini's open boot to avoid wet behinds. Nice.
Impressively, an electric tailgate with a kick-to-open feature is standard across the Countryman range – and the trick opening function actually works properly, without a physics degree. The door opens promptly – not all do. Four suitcases will fit without an issue with the back seats up but if you do need more room, the Mini reveals another handy standard feature: 40/20/40 folding seats. That means that the centre seat can fold down independently of the outer two back seats, so skis or other long items can be transported without losing a four-seat capacity.
In the cabin, the Countryman feels – and is – roomy. All four doors have respectably large bottle holders and room to store extra clutter. Up front, a suspiciously small armrest hides access to a really deep and expansive tray; there are good-size cupholders ahead of the shifter and a phone tray fore of that, too. You aren't looking for room in the Mini.
The Mini is perhaps an unlikely tow car but a jet ski wouldn't be out of the question. The base Cooper will tow 715 kilograms unbraked or 1,500 kilograms braked; step up to the big SD diesel and those figures incrementally increase to 750 kilograms unbraked or 1,800 kilograms braked.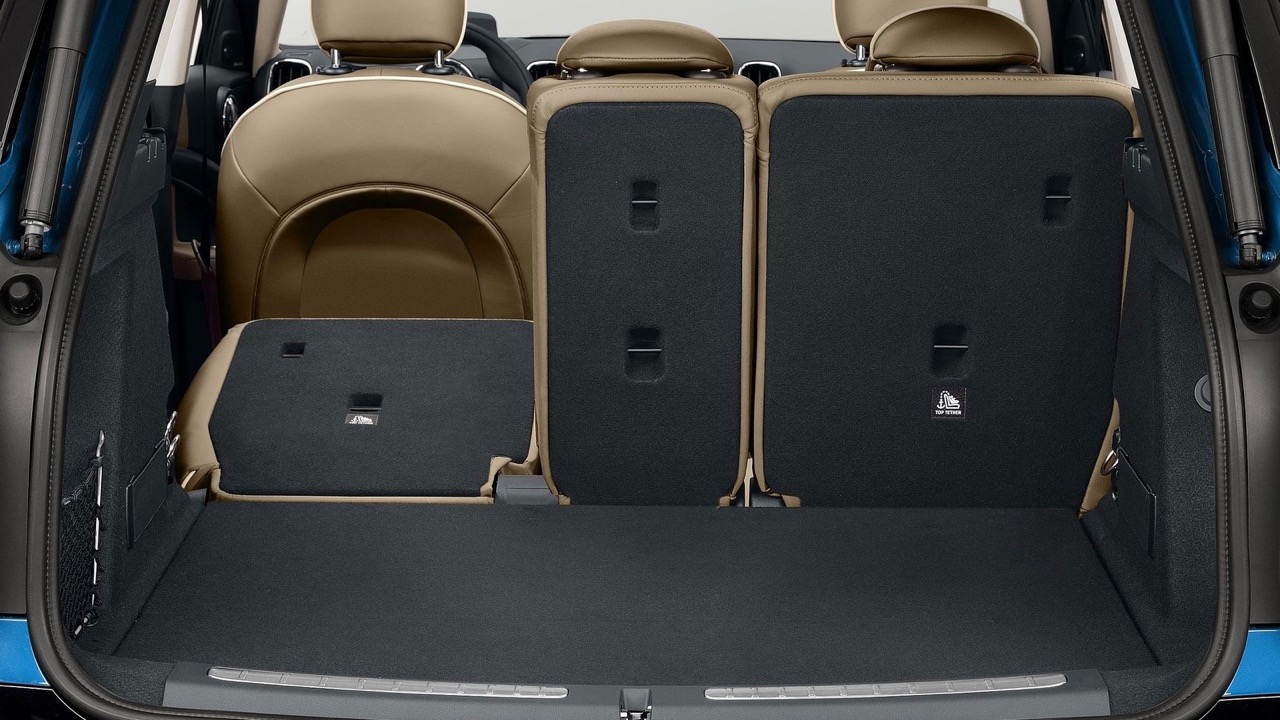 RELIABILITY & RUNNING COSTS
There are four main factors to consider with any vehicle - maintenance, fuel, insurance and depreciation. The data in this section is for the 2.0-litre turbo diesel all-wheel drive Countryman Cooper SD All4.
Servicing and maintaining the Countryman
All Minis in Australia come with a three-year, unlimited km warranty. The Countryman features BMW's condition-based servicing, where the car uses onboard sensors to inform its owner of when it needs to be serviced. In addition, Mini offers a pre-paid servicing scheme for all its models, called Mini Service Inclusive. For the Countryman, it costs $1,240 at the initial purchase or within 12 months of the car, and covers servicing for the first five years or 80,000km (whichever comes first) of ownership. The Basic plan includes items such as engine oil, spark plugs and air filters, whereas the more expensive Plus plan covers brake pads, clutches and wiper blades as well.
This compares favourably to the Audi Q2, which offers a similar pre-paid service pricing plan at $1,590 for three years/$45,000km of servicing.
Fuelling the Countryman
Mini claims that the Countryman Cooper SD All4 has a combined fuel consumption of 5.2L/100km, and CO2 emissions of 138g/km. In our time with the car, we produced a number closer to 7.5L/100km in purely urban driving, a 14% difference. Comparing with rivals, the 110kW Audi Q2 2.0TDI Quattro claims to use slightly less at 5L/100km. Front-wheel drive rivals use slightly less fuel again - the 110kW BMW X1 sDrive18d claims 4.7L/100km, and the 130kW Mercedes-Benz GLA220 CDI claims 4.5L/100km.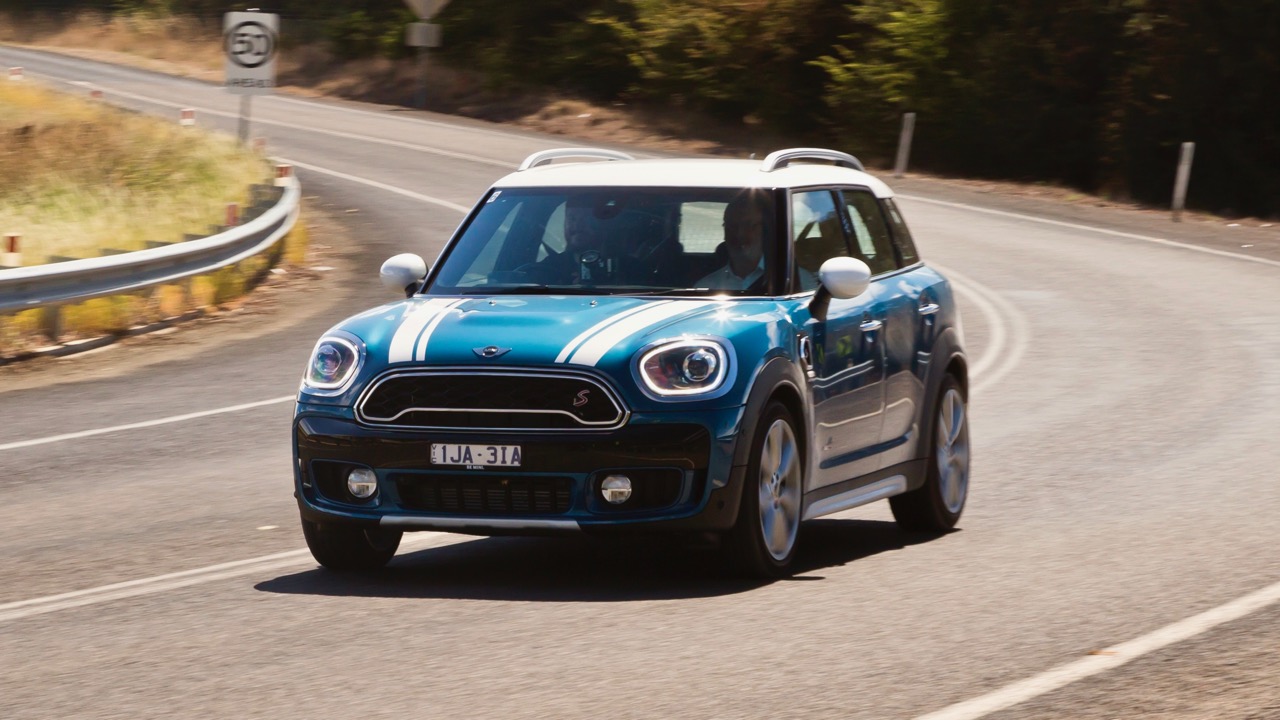 The Countryman Cooper SD All4 officially uses more fuel than these competitors, but it is both more powerful and all-wheel drive. If you're after a less grunty diesel Countryman and don't need all-wheel drive, the 110kW/330Nm front-wheel drive Cooper D (from $43,500) claims 4.8L/100km.
Insuring the Countryman
We seek insurance quotes from mainstream insurers based on a 30-year old male living in Chatswood, NSW, with a good driving record who parks the Countryman Cooper SD All4 in their driveway.
The Countryman is competitive with rivals to insure, with an average cost of $1,262 per annum to insure. This is very close to the Audi Q2, which costs $1,240 per annum to insure, $22 less.
How the Countryman depreciates
Most people keep a new car for about three years, so we calculate what we expect you will lose in depreciation over three years ownership of the Countryman Cooper SD All4 based on respected Glass' Guide data.
Based on the New South Wales average of three years of ownership and 14,000km of driving per year, Glass's indicates that the Countryman will hold its value well, retaining $30,900 or 60% of its original $51,500 purchase price. The BMW X1 holds an identical 60%, just above the Audi Q2's 59.8% but all of them are somewhat below the Mercedes-Benz GLA, which holds 65% of its value after three years.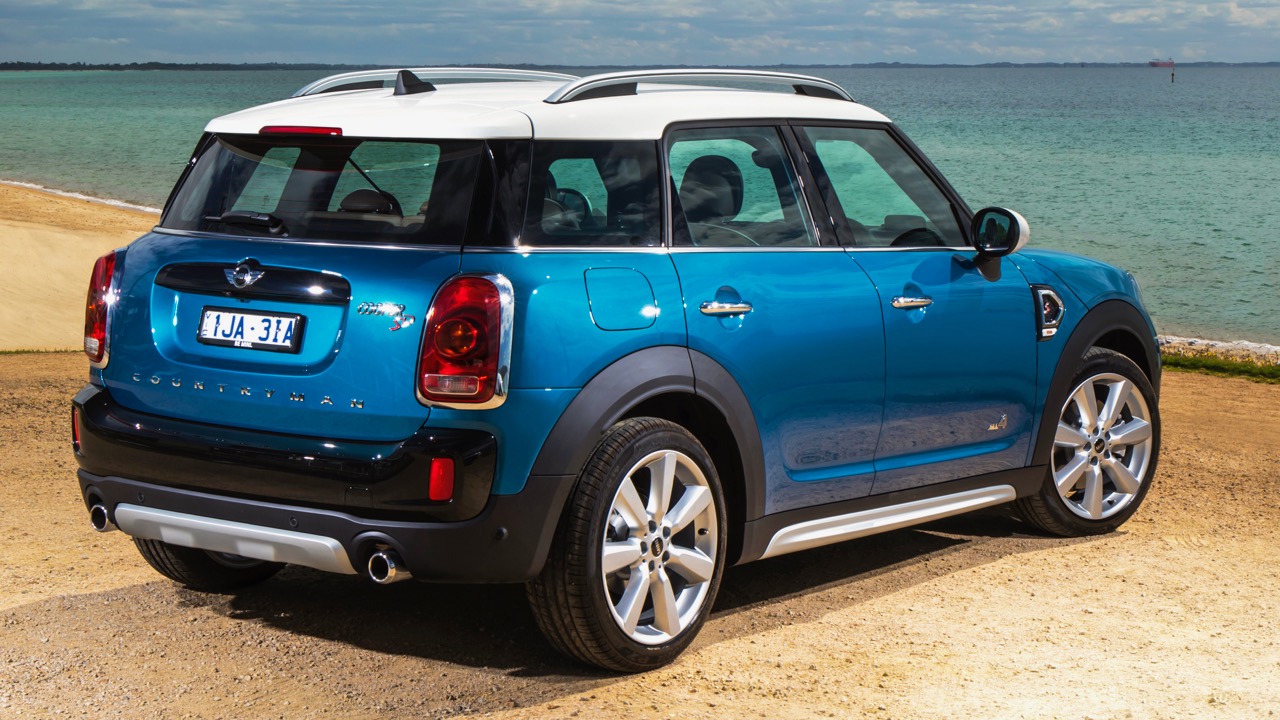 VALUE FOR MONEY
While pricing of the new generation model increased significantly compared to the old generation model, the Countryman is arguably the best value for money Mini on sale today, arriving with a whole host of equipment, including significant amounts of active safety, as standard.
Admirably, all Countrymans in Australia come with a strong safety suite. Six airbags and ESP stability control, as well as a comprehensive active safely list, including radar cruise control, autonomous emergency braking and forward collision mitigation all come as standard equipment.
The entry level $39,900 Cooper uses a 1.5-litre turbocharged three-cylinder petrol engine, making 100kW of power and 220Nm of torque, matched to a six-speed automatic transmission. Standard equipment in Australia includes keyless entry and start, dual-zone climate control, 18-inch alloy wheels, a sliding rear seat, automatic halogen headlights and wipers, half-leather seating trim, a 6.5-inch touchscreen with satellite navigation, Bluetooth and a hands-free electric tailgate.
The 110kW/330Nm 2.0-litre four-cylinder turbo diesel Cooper D shares the Cooper's equipment list, and claims 4.7L/100km of fuel use.
The higher-spec Cooper S comes with a 141kW/280Nm 2.0-litre turbocharged four-cylinder petrol engine, as well as a rear centre armrest, a JCW sports steering wheel and LED headlights. The 140kW/400Nm 2.0-litre four-cylinder turbo diesel Cooper SD All4 tested here shares the Cooper S' equipment list, and is the only model in the Australian range to feature all-wheel drive, it is unavailable otherwise.
Where the value equation can come undone in the Countryman range is the options list. While the cars come admirably equipped as standard, there are many items that customers are able to select to make their Mini truly theirs. A range of colours is available, starting at $900 for metallic hues as well as a range of exterior graphics, including our test car's white bonnet stripes, from $200. The interior is also customisable, with a range of trims available - the light brown Chester Leather fitted to our test car is $1,900. A chrome interior pack, with lashings of chrome on the air-vents and other interior controls is $300.
The Multimedia Pro Package upgrades the infotainment screen to a 8.8-inch touch screen with BMW's latest iDrive 6 system with Mini-designed graphics, a 12-speaker harman/kardon Hi-Fi system and a crisp heads up display, all of which our test car was optioned with, for $2,400. Adaptive dampers are $700, and 19-inch alloy wheels are a further $1,000. The exterior can also be fitted with the MINI All4 off-road optic styling package (as seen on our test car), which includes piano black bumper inserts and satin finished protection plates, for $700.
Our test car Island Blue Countryman Cooper SD All4 was fully-optioned and retailed for $60,650. If you can live without all the customisation options for the Countryman, the entry level Countryman Cooper provides the best value for money. It gives you all the equipment you need, and upgrading to the more powerful engines gives you just that and very little in the way of equipment. LED headlights aside, the up-spec Countryman Cooper S models feature identical styling to the entry level Cooper.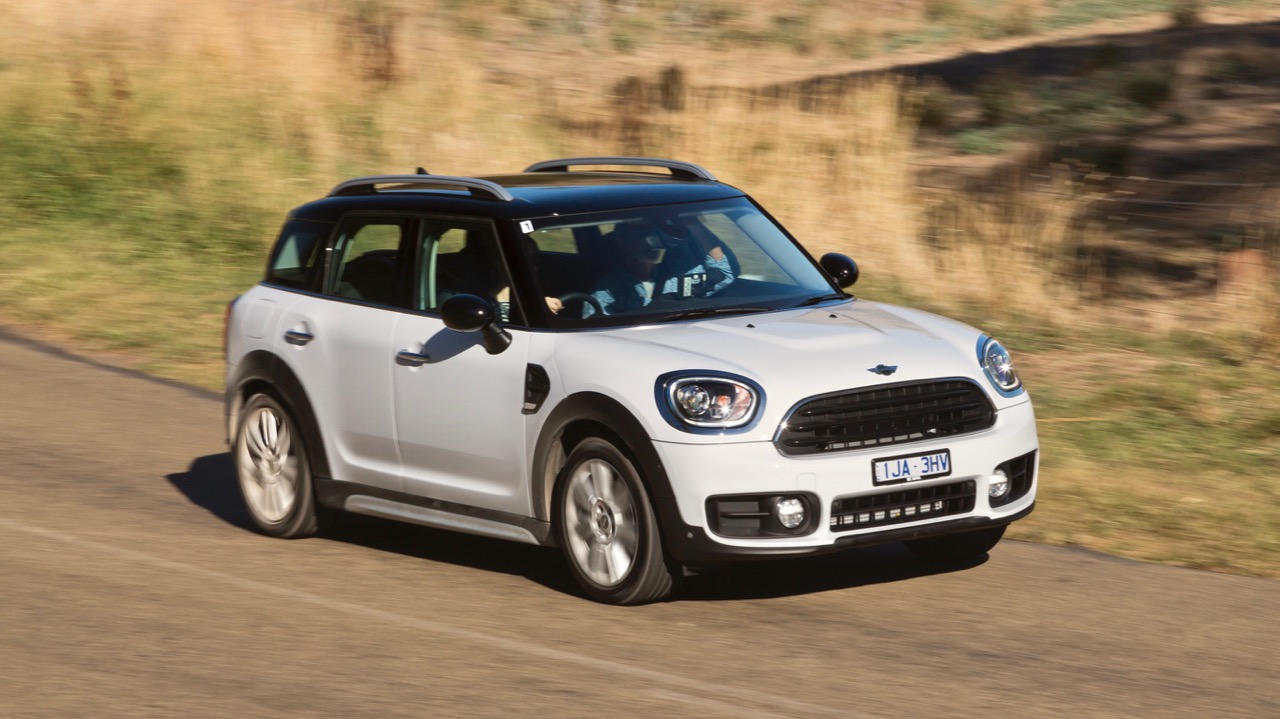 COMPETITORS
If you're looking at a Mini Countryman, chances are that you will also be looking at its closest rivals. The BMW X1 (from $49,500) is based on the same platform as the Countryman - it will even sit across the same showroom floor, uses the same engines and transmissions, but trades the Mini's fun and quirky personality for a more serious, Bavarian charm.
The just-launched Audi Q2 (from $41,100) mixes the more serious Audi design charm with some personalisation ideas taken from the Mini range, including changeable interior and exterior trims. The Q2 arrives in Australia well equipped, though not to the high standards set by the Countryman. The Q2 is less practical than the Countryman as well, with significantly less interior space, and only a 401-litre boot.
The Mercedes-Benz GLA (from $42,900) provides a strong value equation with a long standard equipment list. Like the Audi Q2, the GLA is smaller than the Countryman with a less spacious rear seat for taller folk, but a similarly-sized boot, at 421-litres. The GLA interior is as funky as its competitor set, with a large tablet-like screen stuck on the dash, and bold circular air vents around the cabin.
Finally, the Infiniti QX30 (from $48,900) takes Mercedes-Benz GLA250 mechanicals and puts them into funky Japanese manga styling. Very well-equipped for the money, though the entry-level GT model doesn't arrive with a rear-view camera, nor even rear parking sensors. Something of an unique choice in this segment for now, but well worth a look if you're after something even more different.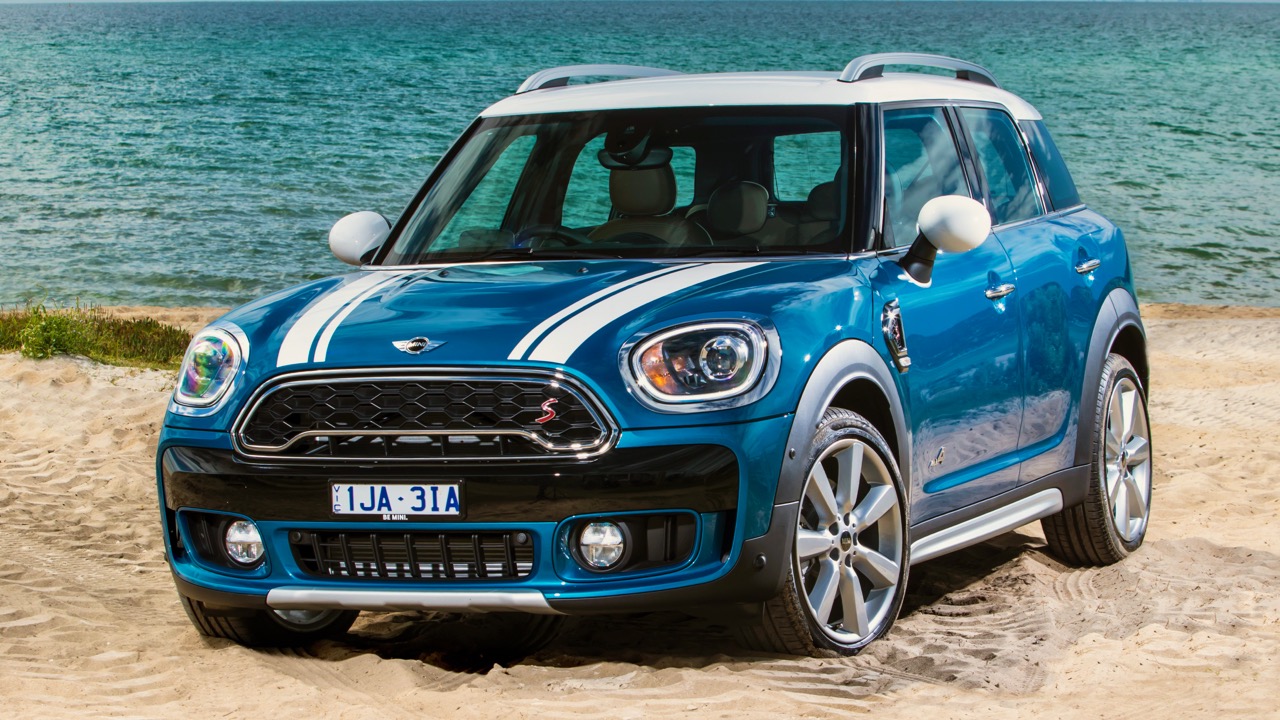 Engine
| | |
| --- | --- |
| Capacity | 2.0L |
| Fueltype | Diesel |
| Cylinders | 4 |
| Configuration | In-line |
| Induction | Single turbocharger |
| Power | 140kW at 4,000rpm |
| Torque | 400Nm between 1,750–2,500rpm |
| Power to weight ratio | 93kW / tonne |
| Fuel consumption (combined) | 5.2L/100km |
| Fuel capacity | 51 litres |
| Average range | 981 kilometres |
Transmission and Drivetrain
| | |
| --- | --- |
| Transmission | Automatic |
| Configuration | Conventional |
| Gears | 8 |
| Drivetrain | All wheel drive |
Dimensions and Weights
| | |
| --- | --- |
| Length | 4.30 metres |
| Width | 1.82 metres |
| Height | 1.56 metres |
| Unoccupied weight | 1,501 kilograms |
| Cargo space (seats up) | 450 litres |
| Cargo space (seats down) | 1,390 litres |