If the Stelvio was meant to be Alfa Romeo's salvation vessel and Audi Q5/BMW X3 crusher, it hasn't quite turned out that way. First revealed at the LA motor show in late-2016 and launched in Australia in March 2018, the Stelvio has succeeded in becoming Alfa's most popular model … but with an annual best of just over 30,000 sales in Europe and barely 12,000 in the US (as well as just 192 sales here in 2021), it's hardly set the world alight.
That's perhaps a little unfair because the Stelvio is actually a pretty good thing. Based on the 'Giorgio' platform it shares with Alfa's rear-wheel-drive Giulia sedan, the Stelvio is blessed with the dynamic DNA to ensure it's one of the most entertaining premium midsize SUVs to drive.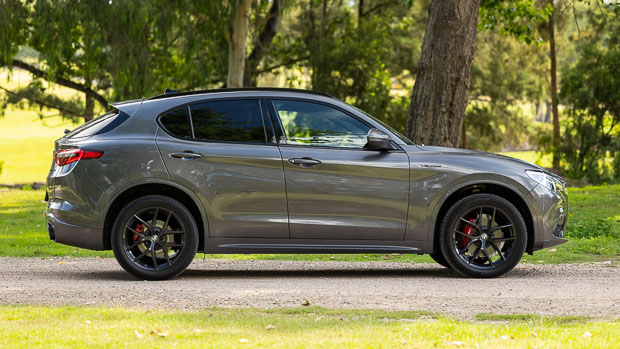 Its sophisticated suspension design (double-wishbone front-end, independent multi-link rear-end), feisty engines and standard 'Q4' all-wheel-drive system mean the Stelvio successfully channels an element of Italy's famous 'Stelvio Pass' that the Alfa SUV derives its name from.
Not a whole lot changed with the Stelvio's most recent mid-2021 update – mainly multimedia, active-safety tech and variant naming – yet it remains an individual, rewarding and surprisingly accomplished SUV, especially this sporting Veloce version.
Introduced to replace the previous Stelvio Ti, the new Veloce sits some way below the twin-turbo V6 Quadrifoglio (or 'Q') in the Stelvio hierarchy, yet still possesses plenty of sporting sass, and plenty of the Q's visual punch.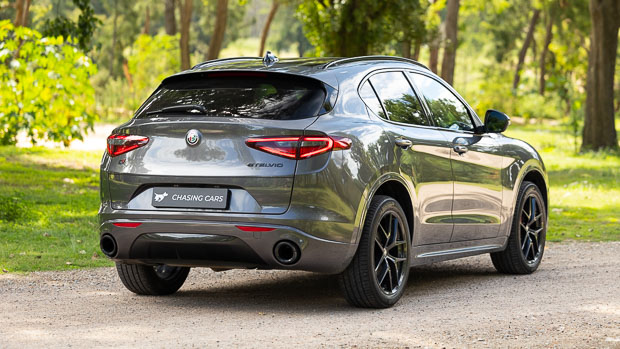 Embellishing the Stelvio's coupe-esque shape, the Veloce features adaptive headlights with auto high-beam, a colour-coded bodykit, black 20-inch alloys, black badging, a pair of fat rear exhaust pipes and the same uprated 206kW/400Nm 2.0-litre turbo-petrol four with eight-speed auto as the excellent Giulia Veloce.
All of that bodes well for the Stelvio Veloce's high-street presence, but what's it like as a jack-of-all-trades midsize SUV?
How does the Stelvio Veloce drive?
Featuring adaptively damped suspension, an upgraded braking system (360mm ventilated front discs, 350mm ventilated rear discs) and a limited-slip rear differential, the Stelvio Veloce has been gifted its best chance of delivering a Quadrifoglio-style drive for just over half the price ($79,450 before on-road costs versus $147,950).
But where the Veloce excels is in the level of comfort and refinement it provides, especially considering its sporting flavour. Even wearing focused 255/45R20 Michelin Latitude tyres, the Veloce offers a genuinely supple ride with its suspension in 'Normal' mode, and its effortlessly muscular turbocharged four is silky-smooth.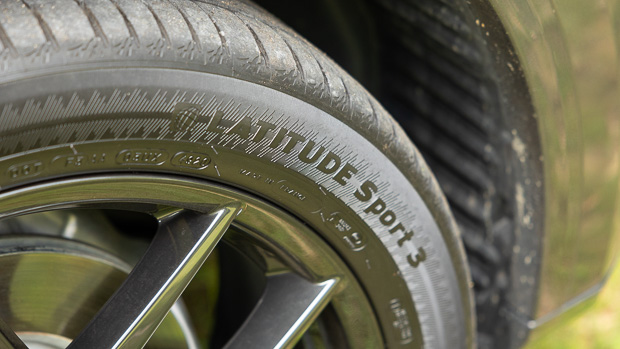 The Stelvio includes Alfa's 'DNA' drive-mode system with Dynamic, Normal and Eco settings, though it crucially doesn't allow you to create your own 'Custom' mode. What that means is that you can select Dynamic, then hit the shock-absorber button in the centre of the dial (like in a Ferrari) for the sportiest drivetrain calibration with normal suspension damping, but what's really needed is the reverse!
Still, in Dynamic the suspension retains a level of compliance and the Veloce's hard-driven handling can be very entertaining – the rear LSD doing a terrific job of involving the back end and punching out of corners.
Even in Normal mode the Stelvio is a good thing thanks to its torquey engine, fast-geared steering and absorbent ride, but the weighting of its fast-geared steering is a bit too light and there are times when its body rocks around too much on bumpy, undulating roads. If only it had an 'auto' mode that altered the parameters itself – much like what Audi offers on the Q5.
And then there's its performance. Forget the fact that the Veloce doesn't have a Ferrari-developed V6 like the Quadrifoglio because its 206kW 2.0-litre is a cracking engine, tied to a virtually flawless eight-speed automatic transmission.
It's both stirring and smooth, with a little extra aural sizzle in Dynamic mode, but enough satisfaction the rest of the time to out-perform the vast majority of its rivals both for character and for acceleration (Alfa claims 0-100km/h in 5.7 seconds).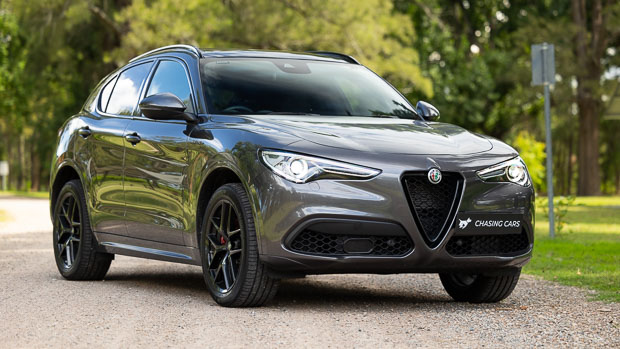 Where the Veloce falls a bit short is in the braking department. While it has the brake-disc size to handle challenging driving, the spongy feel and long travel of its brake pedal fails to inspire confidence.
As part of its MY21 update, the Stelvio gained the Giulia's enhanced safety package, including adaptive cruise control, intelligent speed control, traffic sign recognition, active blind-spot assist and driver attention assist. While it doesn't do anywhere near as far as its best rivals in covering every active-safety niche, the features it does have work smoothly and subtly – particularly its excellent adaptive cruise control.
How is the Stelvio Veloce's interior?
Inside, the Stelvio Veloce gets a much-improved and reasonably intuitive 8.8-inch multimedia touchscreen with Apple CarPlay/Android Auto and a robust 400-watt, 10-speaker audio system (a 900-watt, 14-speaker Karman/Kardon system is a $1650 option) with wireless charging and several USB and USB-C ports.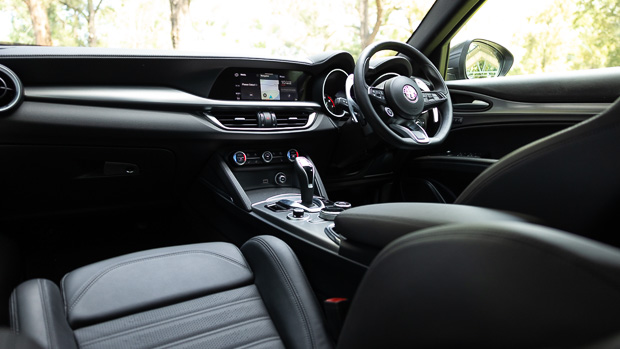 There's also excellent eight-way electric front sports seats with heating, classy stitched-leather coverings for the dashboard and door tops, heated rear seats, ambient lighting and a hands-free electric tailgate accessing the voluminous 525-litre boot.
Indeed, there's much to like about the Stelvio Veloce, and the more familiar you become with it, the greater your affection. While some of its interior plastics and functional aspects (like useless rear door storage and so-so front door space) aren't as premium as they should be, its interior detailing is delightfully Alfa Romeo in flavour, and Stelvio's interior room, seating and cargo flexibility are surprisingly excellent.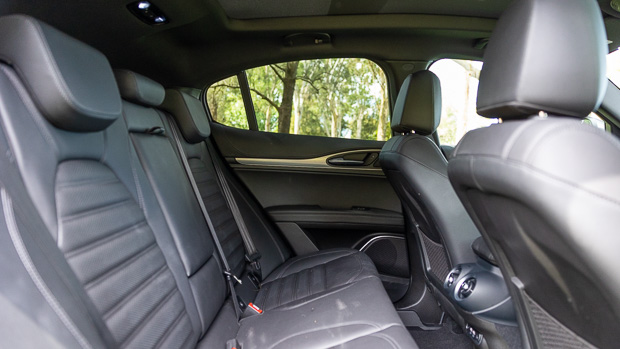 Its boot offers netting and tie-down runners worthy of any Audi wagon and the finish back there is terrific. Likewise the quality of its upholstery, the tactility of its touch points and the vastness of its sunroof, though its cabin clearly favours neat simplicity over flashy premium finishes.
Even with an all-black interior, it looks surprisingly classy, though if it were up to us, choosing the no-cost red leather upholstery option on a Stelvio Veloce would be a no-brainer.
What are the Stelvio Veloce's running costs?
While the official combined fuel-consumption figure is a very impressive 7.0L/100km, our real-world figure of 12.0L/100km is probably not too unrepresentative of what you'd achieve around town. And its hard-driven consumption is even worse.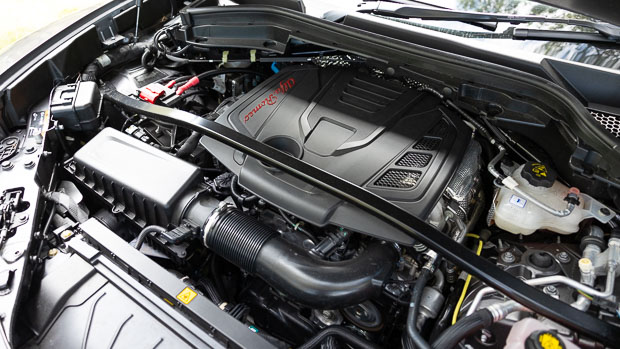 Recommended service intervals for the Stelvio Veloce are every 12 months or 15,000km, with its five-year/75,000km capped-price servicing cost totalling a reasonable $2865. In comparison, Audi's five-year service plan for a petrol-engined Q5 costs $3140 whereas a Genesis GV70 offers free servicing for the first five years/50,000km.
Alfa Romeo's three years/150,000km warranty seems well below par in an era where even Mercedes-Benz and Audi have switched to five years/unlimited kilometres.
Running costs scorecard
Consumption
Below average
The final verdict
Buying a car like the Alfa Romeo Stelvio Veloce isn't really about pragmatism. It's an emotional, individual purchase that's unlikely to give you too much trouble but is also guaranteed to surprise and delight with the depth of its engineering.
The Stelvio Veloce can't match the value for money of something like the similar-price Genesis GV70 3.5T AWD, but compared to its four-cylinder Audi Q5, BMW X3 and Mercedes-Benz GLC rivals, the Stelvio is a welcome slice of charisma.
Unlike its BMW and Mercedes-Benz rivals in particular, the Stelvio feels youthful and fun, if flawed in some areas – much like the character of the Italians behind it. Monotone the Stelvio most certainly is not. But it's also the sort of car you'd recommended only to certain types of people, and always with a caveat – that it may never achieve Japanese-style reliability but it also may enrich your life.