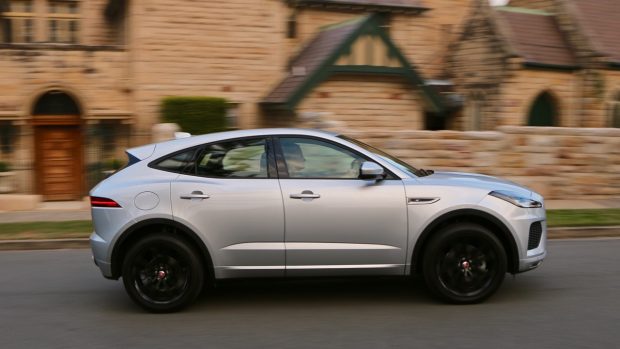 Generally speaking, Jaguar is a hard brand to dislike. Producers of lush and luxurious sedans and emotive sports cars, most cars to bear the leaping cat, past and present, have been soul-stirrers of a high order. However, in the modern car marketplace, emotion – and quality driving dynamics – aren't enough. Brands have to be pragmatic, and offer vehicles that people will buy: today, for better or worse, that is SUVs. For the Jaguars and Porsches of the world, this is quite a task: endowing an SUV with more than a whiff of the sports car persona, while making them big and comfortable, is a real challenge.
Jaguar's first SUV, the F-Pace, surprised many by living up to this ideal. Not only does the midsize F-Pace look right, it's also good to drive and relatively lightweight, riding on Jaguar's all-aluminium rear-drive platform shared with the XE and XF sedans. That's all very well, but the market has shifted even more in favour of small, city-sized SUVs. Enter the 2018 Jaguar E-Pace – the British brand's second crossover effort, but one that, under the skin, is a very different car to its bigger F-Pace brother. Instead of sharing a platform with the lithe XE four-door, as you might expect given the name E-Pace, this SUV is closely related to the Range Rover Evoque, using a more dated, and front-wheel-drive, platform.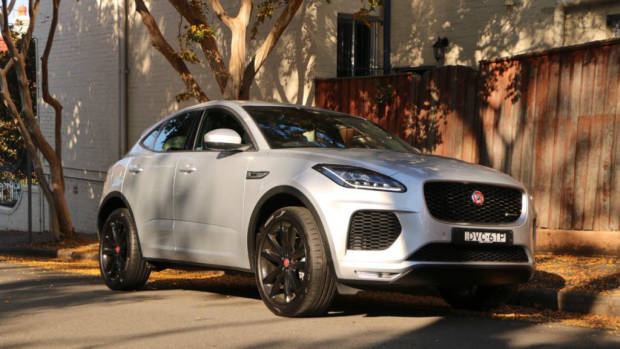 Tom recently drove two high-power versions of the new E-Pace – the D240 diesel and P250 petrol – on the car's Australian launch on the Tweed Coast. But with those versions commanding particularly high prices, we thought we ought to sample a more affordable combination. The E-Pace D180 S R-Dynamic seen here in Indus Silver over black leather is, for a Jaguar, modestly optioned to $66,910. That's still quite a sum, though, compared to several vehicles the baby Jag competes against.
The E-Pace's chief rivals are the Audi Q2, BMW X2, Mercedes-Benz GLA, MINI Countryman, and the new Volvo XC40. Four of these models – the GLA aside – are near-new to the market, reflecting the surge of premium options in the small SUV space. It isn't hard to see why there are so many little trucks with luxury badges on the market: the small luxury SUV segment is powering along, up 20% on last year's result. Jaguar are, in fact, late to this party, but the E-Pace certainly talks the talk, with slinky, handsome lines and a seductive interior modelled on the F-Type sports car. But does it walk the walk?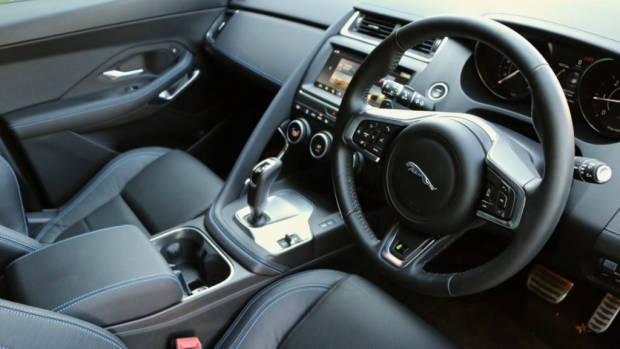 A luxury car needs a quality interior that feels expensive, and here, the E-Pace gets a good start out of the gate. The layout mimics Jaguar's two-door F-Type, including the sweeping stitched passenger grab handle, the trigger-like gear shifter, and the soft leather steering wheel. While cloth seats are standard on the base model, the second-level S brings quality leather seats with 10-way electric adjustment. Our car sported tasteful black leather with blue stitching, but there are a wide array of colour choices. Soft touch materials line most surfaces, and we thought the interior quality was actually better than a $123,000 XF wagon also tested recently.
Interior storage is also decent, with large doorbins (without fabric lining though, so your keys rattle when driving), a reasonable glovebox, two huge cupholders, a centre box with two high-speed USB ports and an SD card reader, as well as a dinky tray under the climate controls with a leopard skin pattern – clever. Speaking of, there are a number of 'easter eggs' that surprise and delight in the E-Pace, including a jaguar mum-and-cub projection that lights the ground next to the door at night.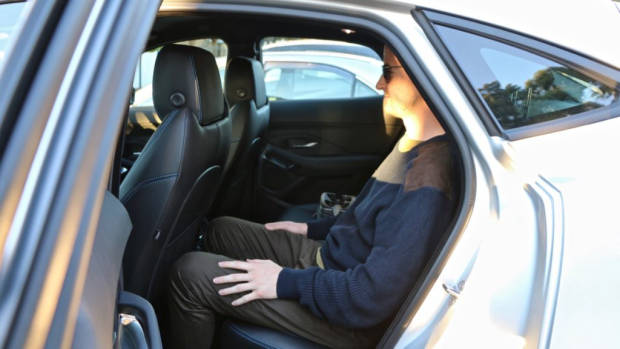 Life's good up front, then, but back seat space isn't brilliant, with the main issue being legroom due to the E-Pace's short-but-wide dimensions. Headroom is fine, though, even with the optional glass roof. The E-Pace sports rear air vents, a 12-volt socket and an armrest with cupholders. Being a Jaguar product, there are options that can be added even in the back, including heated rear seats ($1,310 – teamed with heated front seats), and two rear USB ports ($260).
The E-Pace might be short, but it is wide, which makes for decent cargo space behind the tailgate. Boot space is rated at 484 litres with the seats up, and 1,234 litres folded: with the second row dropped, this places the Jaguar between the BMW X1 and the Audi Q2 in size. The boot sports a net for securing loose cargo, a storage bin and sliding tie down points. Underneath the floor is a space-saver spare wheel.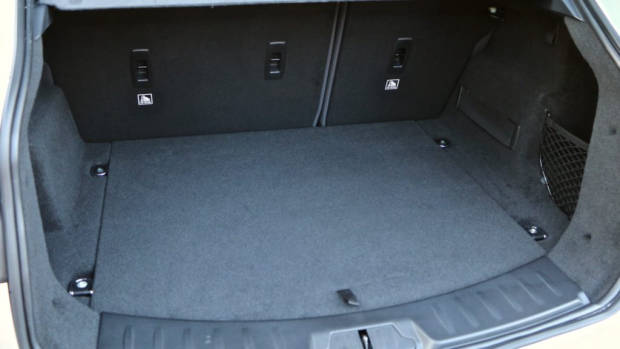 The E-Pace's 484 litre boot.
Standard on all E-Pace models is JLR's InTouch Pro 10-inch touchscreen infotainment system. It's easy to use once you've learned its functions, but Apple CarPlay and Android Auto are nowhere to be found. The E-Pace S and above also include inbuilt satellite navigation, whilst DAB+ digital radio is a $430 option – both should be standard across the entire range. While Bluetooth music streaming is, naturally, standard, we found the connection to be inconsistent.
Step behind the wheel and the E-Pace offers a driving experience is a bit mixed. It makes good progress with the D180 engine, lovely steering and somewhat engaging handling, but the enormous mass of this vehicle drives up fuel economy and prevents the E-Pace from filling the traditional Jaguar brief of being the 'sporty alternative' among its pack of efficient but conservative German rivals.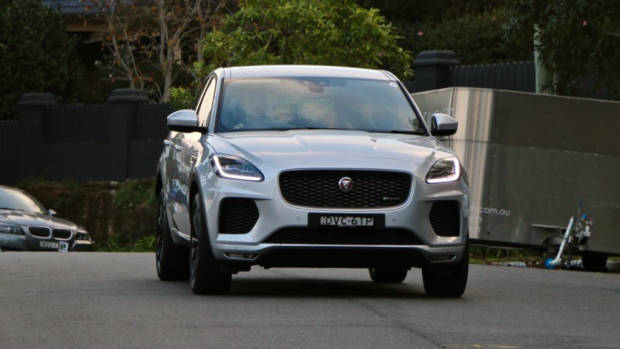 Five engines are offered with the E-Pace: three diesels (D150, D180 and D240) and two petrols (P250 and P300). Out of the four engines we've now driven, the D180 is the pick of the lot. A two-litre four-cylinder turbo diesel built in house by Jaguar, the 132kW/430Nm D180 makes relaxed but adequate progress from a standing start, with above-average refinement for a diesel in this class. Once on the move, the D180 makes good use of its very strong 430Nm of torque and offers good highway economy of about 5.5L/100km. In town, though, it uses more like 9L/100km. The D180, like all E-Paces, has all-wheel-drive and a near-imperceptible nine-speed automatic gearbox.
The town fuel economy is quite poor because the E-Pace weighs 1,768kg, which is very overweight. By contrast, a similarly-sized diesel Audi Q2 with all-wheel-drive weighs 1,570kg – more than 270kg less. Jaguar's own F-Pace, which is much, much larger, only weighs 1,775kg, because it is made out of aluminium. All that mass means the engine does a lot of work moving the E-Pace off the line. We really feel that Jaguar should have adapted the iQ-Al platform (from the XE, XF and F-Pace) for the E-Pace, rather than using an old platform that dates back to when Ford owned Jaguar in the early 2000s.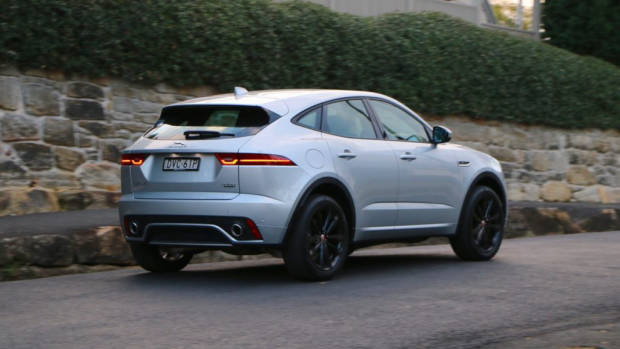 All that weight isn't very reminiscent of modern Jaguar dynamics, but the E-Pace's engineers did work hard to replicate traditional Jaguar steering feel. The creamy, ultra-quick rack echoes rear-wheel-drive Jaguars remarkably well. Pushed hard, you can certainly feel this car's weight but on the high-end Pirelli P Zero tyres our car was wearing, grip isn't a problem at all. The way the E-Pace tackles corners is positive, and it is more fun to drive than many of its rivals, including the BMW X2.
Our test car featured huge 20-inch wheels, and while big wheels never do wonders for ride quality, the E-Pace managed to deliver an acceptable but firm ride in town, though the short wheelbase and slim rubber can't absorb Sydney's worst potholes well. You can lessen the impact with optional $1,950 adaptive dampers, but we won't bother: E-Paces we have tested on 19-inch wheels deliver a significantly more compliant ride. Just go down a size, and things are more comfortable.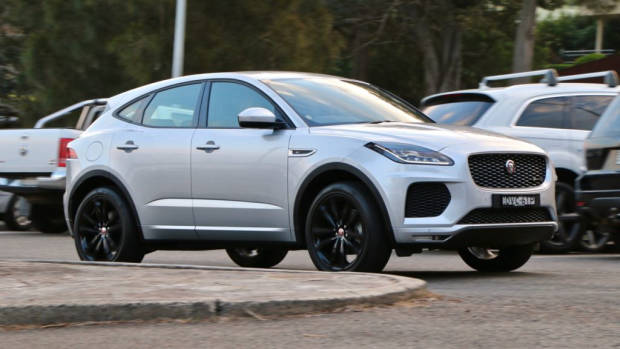 All Jaguar E-Pace models come fitted with low-speed autonomous emergency braking, lane keep assist, and rear cross-traffic alert as standard. Other safety technology, like high-speed AEB, adaptive cruise control and blind spot monitoring, is standard on high-grade versions or optional on lower cars, but really, all of it ought to be standard on a luxury car like this.
There is an enormous amount of choice in the E-Pace lineup, with 38 distinct versions of this car. In fact, just picking one of these is a bit intimidating: there are five model lines, five engines, and two styling packages. The range kicks off for a very lightly-equipped E-Pace D150, with 110kW/380Nm, for $47,450, though very few will buy this specification, with its cloth seats and lack of even satellite navigation. At the other extreme, you can spend truly absurd money on an E-Pace: the 221kW/440Nm P300 HSE R-Dynamic is $83,733 but you can easily option the baby Jag to over $100,000, which is far more than this car is worth.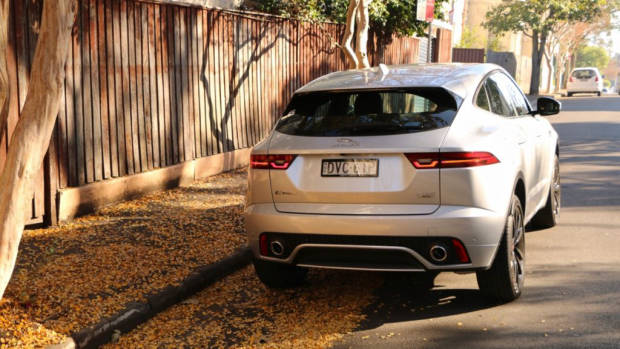 Stick to a sensible specification and you can get out the door for under $70,000, which is still high compared to the Audi Q2 – which can be as much as $20,000 cheaper like-for-like – but the Audi won't have the Jaguar's ultimate brand cache and exclusivity.
The level-two E-Pace S (from $55,200) as seen here is a good specification, adding leather seats with 10-way electric adjustment, 18-inch alloy wheels, LED headlights, a 10-inch touchscreen, satellite navigation, and dual-zone climate control. For a further $4,830, you can pick up an E-Pace SE (from $60,030) which adds desirable luxury features like 14-way seat adjustment, a 380-watt Meridian stereo, an electric tailgate, plus high-speed autonomous emergency braking, adaptive cruise control, and blind spot monitoring. The top-shelf HSE (from $65,590) adds more sumptuous Windsor leather, 20-inch wheels, a digital driver display, and keyless entry (amazingly, this is $950 on lower-level grades).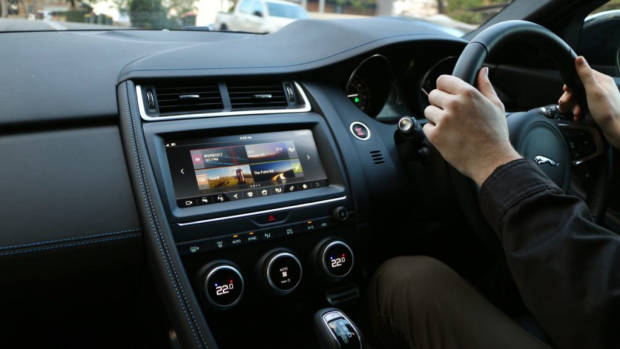 To keep things simple, we recommend going with an S or SE grade, with either the D180 diesel or the P250 petrol.
Like many Jaguars, then, the E-Pace ends up being an emotional and not an intellectual decision. It's too expensive and really, it weighs way too much to fulfil the true Jaguar brief. But it looks great, it's comfortable, it does feel expensive inside, and it offers good driving dynamics, mass issue aside. As an enthusiast, I like it – though my brain suggests looking at other, cheaper alternatives from Audi or BMW. But alongside the more clinical Germans, the sexy, stout Jaguar carries strong emotional appeal, and when buying a luxury product, that admittedly counts for an awful lot.