Jaguar has bolstered the feature list of the 2022 F-Pace midsize SUV with a range of technology and comfort-focused additions.
Building on upgrades announced as part of the recent facelift, the four-grade lineup will arrive in January 2022 with a slightly cheaper price tag on most variants.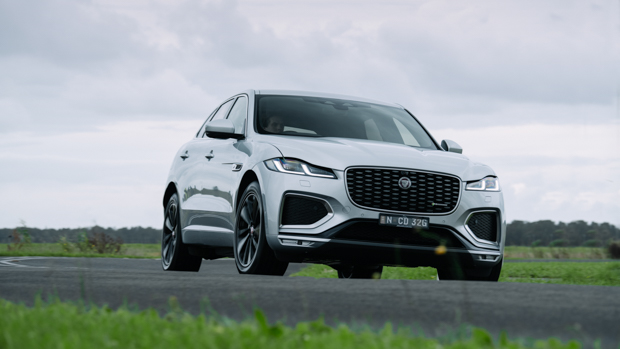 The changes will help the British-built SUV become an even more compelling buy for those looking to snap up the recently facelifted BMW X3 or Audi Q5 midsize SUVs.
The entry-level F-Pace R-Dynamic S now starts at $76,050 before on-road costs (ORC) after a $194 haircut, with only the R-Dynamic HSE receiving a notable $546 increase, resulting in a new asking price of $110,950 (before ORC).
Among the highlight changes is the introduction of wireless Apple CarPlay and Android Auto to save any mucking about with messy cables.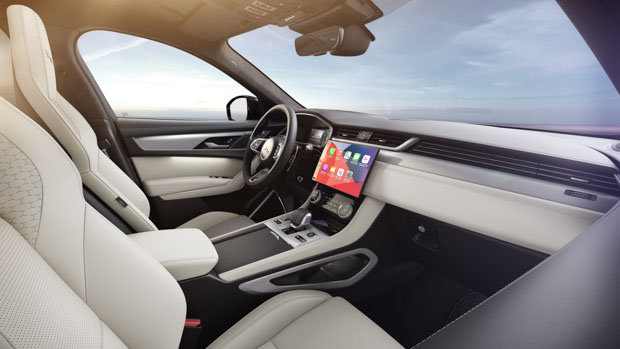 Jaguar has also added over the air update functionality, which allows engineers to keep the F-Pace up to date or fix small issues without physically touching the car – similar to what Apple has done with the iPhone for many years.
Engineers have also worked to improve cabin air quality with an upgraded filtration system that builds on the existing ability to removes allergens and odours.
The F-Pace now has the ability to filter out stale air in the cabin before the driver even gets in and constantly monitor the carbon dioxide levels to freshen up the air when needed.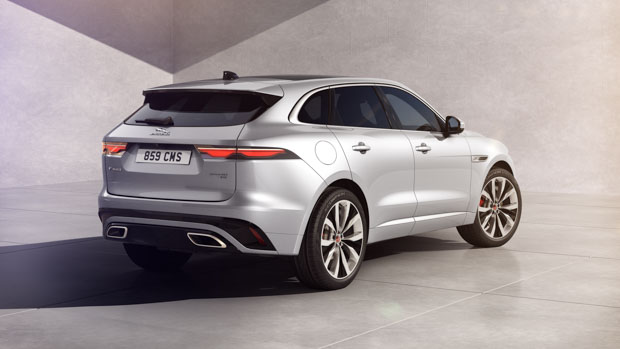 Buyers planning a post-Covid trip away will also welcome the addition of adaptive cruise control and lane-keep assist for all models, in a move that brings the Jag into line with its German rivals.
New tyres sit at all four corners with the ability to seal up punctures on the fly so you can keep driving for short periods without danger – though drivers can still pull over and fit the space saver space if they wish.
This change affects all F-Pace models wearing 19 to 21-inch size wheels, though the larger 22-inch wheels and performance-oriented SVR models keep their existing rubber.
Earlier this year the facelifted version of the F-Pace landed on our shores bringing new exterior styling and tech features such as the 11.4-inch centre touchscreen.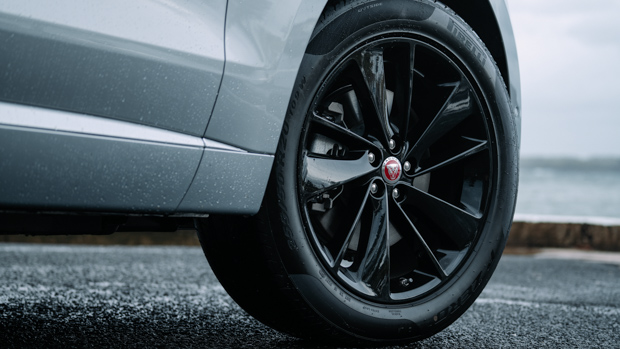 The engine lineup also saw a bit of a shakeup, with all models mated to an eight-speed torque-converter automatic and an all wheel drive system.
Jaguar has fitted the entry-level F-Pace R-Dynamic S P250 with a 2.0L turbocharged four-cylinder engine making 184kW of power and 365Nm of torque.
Buyers who opt for the F-Pace R-Dynamic SE trim level can select the D300 3.0L turbodiesel inline-six coupled to a mild-hybrid system that produces 221kW/650Nm.
The F-Pace R-Dynamic SE P400 uses the same arrangement with a petrol fuel source to offer a more sporting flavour, with more power at 294kW but less torque at 550Nm.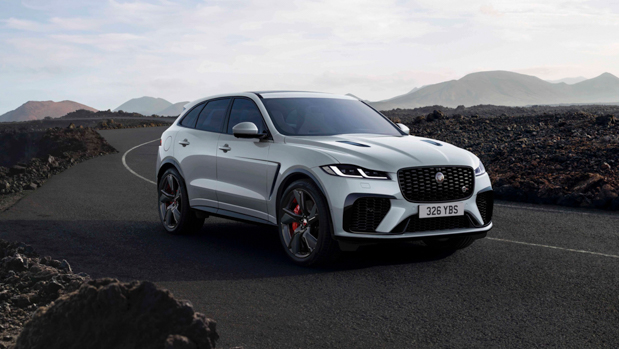 Buyers who want absurd levels of performance in an SUV should look to the F-Pace SVR that uses a turbocharged 5.0L V8 to produce 405kW/700Nm – enough to accelerate from 0-100km/h in 4.0 seconds.
As part of the recent update, the F-Pace SVR is also now available with the new Black Pack that gives the SUV a more serious demeanour by adding a gloss black grille, bonnet surrounds and window sill trimmings.
The updated range is expected to land in January 2022, with buyers able to order the new version online ahead of the release.
Jaguar F-Pace 2022: prices in Australia
All prices listed are before on-road costs.
R-Dynamic S: $76,050 (down $194) $76,244
R-Dynamic SE (2.0L petrol): $80,640 (down $214)
R-Dynamic SE (3.0L diesel): $95,980 (down $215)
R-Dynamic SE (3.0L petrol): $98,440 (down $214)
R-Dynamic HSE: $110,950 (up $546)
R-Dynamic SVR: $142,300 (up $6)