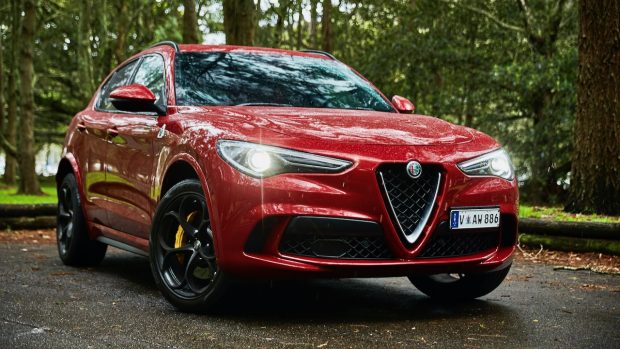 Yes, you know the old stories about Alfa Romeo reliability. You know Benz will sell you an SUV this size with eight cylinders, not six. You know a BMW has a better-built interior. But when you drive the Alfa Romeo Stelvio Quadrifoglio, none of that matters: this is a brilliant car – the best driver's SUV we've tested.
Don't get us wrong. We're the first to admit we have reservations in recommending our readers purchase an expensive Alfa Romeo – one that gives you just ten dollars' change from $150,000 in the case of a 2020 Stelvio Q. But with the exception of trying to negotiate a longer five-year warranty as part of that purchase, we'd have this hot Alfa SUV in a heartbeat.
The Stelvio Quadrifoglio is one of a supremely rare breed of SUV that actually makes sense as a driver's car: Porsche's Macan and Cayenne, plus the Lamborghini Urus, are the only others. The Stelvio's relative lightness – for an SUV – combines with truly dedicated chassis engineering to produce a car you want to drive at the slightest excuse. We can't say we feel the same about Germany's big bruisers that rival the Alfa.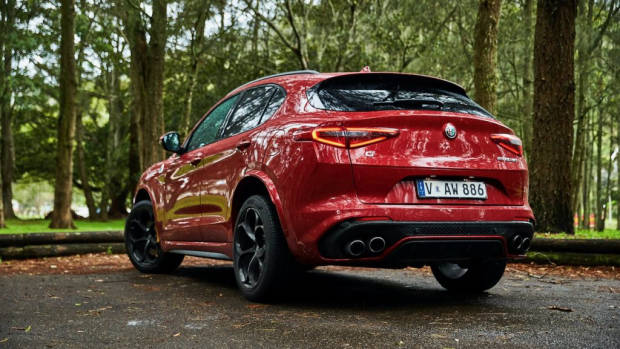 The Stelvio Q's sibling – the Giulia Quadrifoglio – is better again, but we can appreciate the practicality that comes from this wagon-bodied crossover, which packs a more than adequate back seat for six-foot adults plus 525 litres of boot space behind an electric tailgate. As a family car, the Stelvio makes good sense. The four-cylinder petrol and diesel models would certainly be cheaper to run, but the Ferrari-derived V6 in the Quadrifoglio model is something special.
Shared with the top-shelf Giulia, the 2.9-litre twin-turbo six-pot motor is more or less a cut-down vee-twelve from Maranello and it feels it. Razor-sharp throttle response – only a hair off that of an atmospheric motor – pairs with properly accelerative torque to create a monstrous SUV pace-wise. 375kW/600Nm is adequate and only those needing the hairiest of experiences would opt for the AMG GLC63's V8 over it.
The engine sounds pretty good, too – at least in Race mode, which is the only profile of four that fully opens the Quadrifoglio's butterfly valves. Race also cancels out the softest damper setting, if you're wondering, and also entirely disables stability control, which requires more gentle throttle applications. With the engine in the softer dynamic, natural or 'advanced efficiency' modes, the V6 is quieter, even hushed, if not revved out.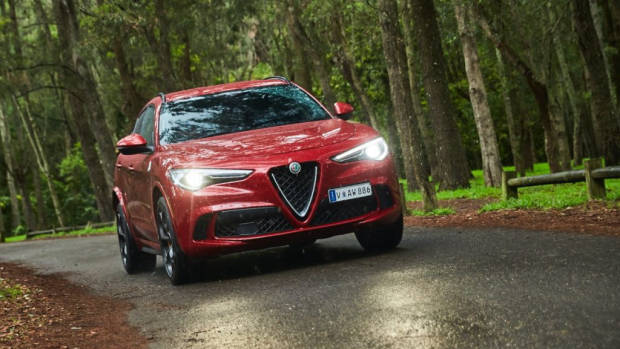 In Race, with stability control no longer available, the Stelvio becomes incredibly toey – because while it has standard all-wheel-drive, it is essentially rear-drive until the rate of slip demands that the front differential engage. That makes the handling incredibly pure, but even skilled drivers have to stay on top of it on a great backroad with no electronic nannies to help. Having to manage the beast is basically what we'd call character, though – and I love it.
In any mode, though, the Stelvio exhibits near-perfect electric power steering tuning, with moderately light weighting – none of the artificially brutish heavy steering of the BMW X3 M here, thanks. Response at the front wheels is rapid thanks to an impressively quick ratio, and the Pirelli P Zero tyres hook in just fine. The engine is mounted far rearward in the engine bay, making understeer a non-issue. The brake discs measure 360mm in the front and provide adequate stopping power, though carbon ceramics are optional.
Adaptive dampers are standard and in the softer two settings the ride quality is liveable. Alfa Romeo were restrained in specifying 20-inch wheels for the Quadrifoglio, leaving a relatively generous amount of tyre sidewall to soak up Australia's common urban imperfections. The ride is naturally firm and stiff but it is compliant and never crashy, or uncomfortable. Refinement is also surprisingly premium, with road and wind noise impressively insulated.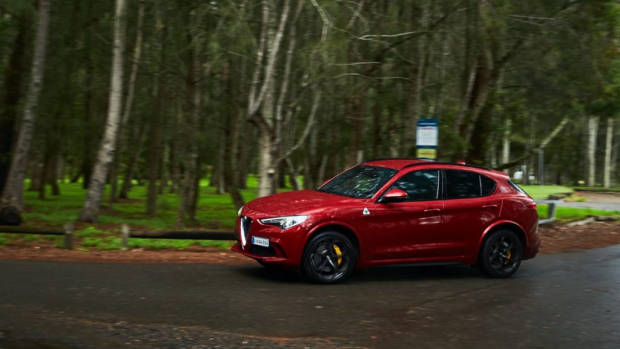 The Stelvio Quadrifoglio is a dynamic delight – but what is it like as a family SUV to live with?
Well, there is no mistaking the interior for that of an out-and-out luxury car. While the choice of cabin materials and the interior design alike are acceptable, they are nothing special. The broad dash is a variation on a Teutonic theme but the Stelvio's plastics feel a couple of levels cheaper than those used in a BMW or Benz, and especially an Audi. At least the Quadrifoglio gets leather pads for the dash and door tops.
We take particular issue with the gear shifter – while the eight-speed ZF automatic itself fires off clean, crisp shifts and the big, cold aluminium hub-mounted paddles are great, the central shifter feels incredibly flimsy. This is an important touch point, after all! The standard leather steering wheel is fine – we'd skip the optional alcantara/carbon/leather wheel: the alcantara on our 11,000km-old test vehicle was wearing very badly.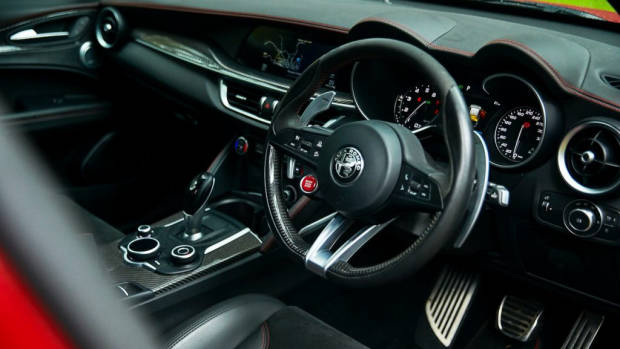 Our tester was also fitted with $7,000–optional Sparco carbon fibre buckets, which are great for bragging rights and are truly supportive, even comfortable. That said, the standard leather pews are just fine – and the upgraded racing buckets naturally don't have electric adjustment, memory, or heating, which could be bothersome in a multiple-driver family.
The infotainment, served up on a relatively small screen, is attractively designed and functionally simple, with decent navigation and multimedia functions – there's also wired Apple CarPlay or Android Auto. A driver's display also sits between pretty analogue dials, with a sporty speedometer and tachometer – or 'giri' meter. Nice to see a little nod to Italian-scribed Alfa gauges of old, though we miss the old printing of 'benzina' and 'acqua' for petrol and water gauges alike.
It's probably the rear seat that is the most impressive, given Alfa has never had a truly practical sports car in their lineup before. The Stelvio Quadrifoglio will cruise at high speeds with four six-foot adults aboard with no issue – and those in the back benefit from a reasonably comfortable bench and air vents. A fifth adult will squeeze into the middle at a pinch. Behind them, a 525 litre boot is not class leading – it's quite narrow – but several large suitcases will fit without issue. Or, in our case, during a week of flooding … 400kg of sandbags.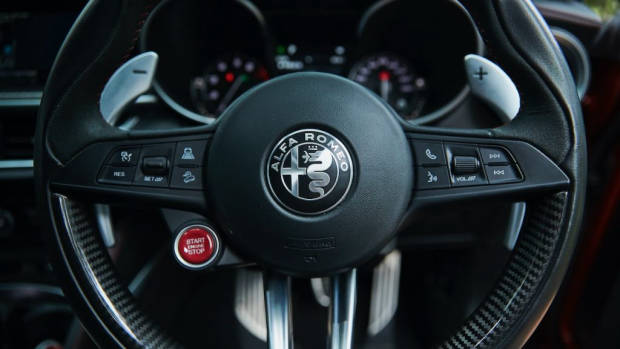 So the Stelvio Quadrifoglio is a more passionate drive than its German rivals, it offers a spacious and decently equipped interior and it's comfortable and practical enough to live with every day. If only Alfa would move to a five year warranty as standard and cut off those lingering concerns, founded or not, about reliability.
Either way, consider us fans of the Stelvio Q – a rare SUV that you want to jump in and drive just for the sake of driving.