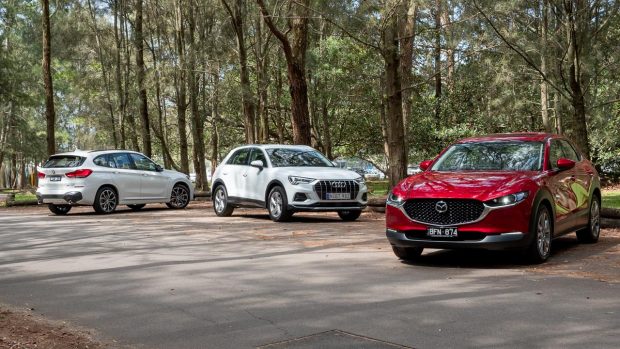 Mazda's new CX-30 – the brand's premium-aspiring small SUV – takes on its premium rivals: the German-made Audi Q3 and BMW X1.
What does 'premium' really mean? Comfort, ease and refinement – most people would assume the inclusion of those virtues in a premium vehicle. To us, though, premium encompasses all the little surprise and delight features that you uncover with an extended drive of a vehicle. It might be cutting-edge technology, a well-judged chassis that invites you to drive great roads, a safety feature you didn't know you need – or something as simple as mirrors that dip automatically when you select reverse gear.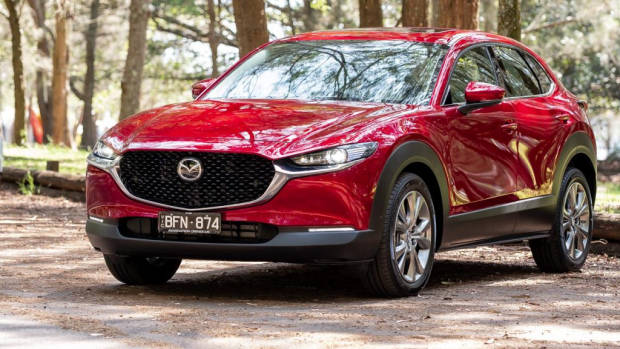 When Mazda, one of the great success stories of the Australian car market in recent decades, announced in 2018 that it would be adopting a premium philosophy, there was quite a cohort of sceptics. Wasn't the thing that made Mazda great their affordable lineup that offered sportier dynamics than most – cars that provided a soulful alternative to the default choice of a Toyota or Hyundai?
Senior Mazda executives acknowledge that the aforementioned mix has been good to the brand – but the challenge now is how to retain that spirit while growing into new demographics for the 2020s. The goal is to broaden their pricing – hang on to the mass volume mainstream while, at the top end, offering cars that can compete and win against entry-level luxury cars. The new Mazda 3 hatch and sedan was the first wave of cars sporting the Mazda Premium virtues to hit Australia. The new CX-30 – an in-betweener SUV that slots beneath the CX-5 size-wise – is the next.
So, is Mazda Premium a load of hot air, or can the critical new CX-30 take the fight effectively to two bench-setting German small SUVs? To find out, Mazda threw the top-shelf $41,490 CX-30 G25 Astina into the ring against our favourite new small SUV of 2019 – the $46,400 Audi Q3 – and the venerable, but recently facelifted, $48,500 BMW X1.
Design and styling, inside and out
Kerb appeal is a must-have for a premium small SUV. Comfort and driving dynamics are important – and we'll get to those – but to deny that having 'the look' is important in this set of aspirational vehicles would be to ignore a critical factor.
Mazda's evolving Kodo design language has resulted in a decade of distinctive designs from the Hiroshima-based manufacturer. The earliest Kodo-era vehicles – with perhaps overly-smiley grilles – weren't what you'd call premium, but as Mazda's 'Takumi' sculptors have honed their tools in the brand's focussed design centres, the look has become richer and richer.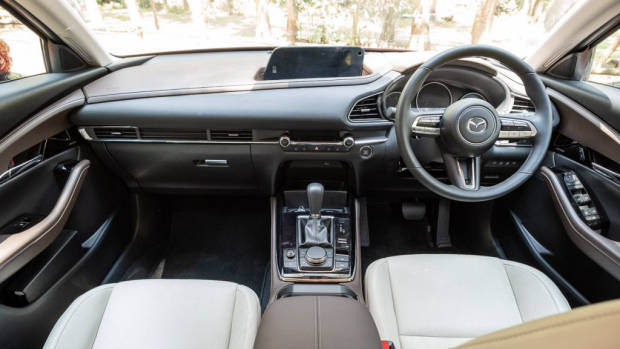 That's culminated in the new CX-30, whose smooth, nearly crease-free lines allow the light of the surrounding environment to play against the profile of the vehicle. This effect is really striking in the available, deep Machine Grey colour – though our test car's Soul Red Crystal still has many fans, and Mazda's latest experiment in palette, the battleship-like Polymetal Grey, can also be had.
Inside, the CX-30's laterally-sweeping dash is simultaneously Mazda's own and reminiscent of the German vehicles it hopes to compete with at this over-$40,000 level. A floating tablet display reminds of BMWs and Audis – as does the rotary controller for the screen – while sumptuous pure white leather upholstery and abounding soft-touch materials surprised those who sat in the Mazda.
In person as in photographs, the CX-30 is graceful: it looks expensive, to our eyes, save perhaps for the slightly heavy-handed matte cladding above the wheel arches. But it's an SUV, after all, and a hint of ruggedness continues to be an aesthetic buyers demand.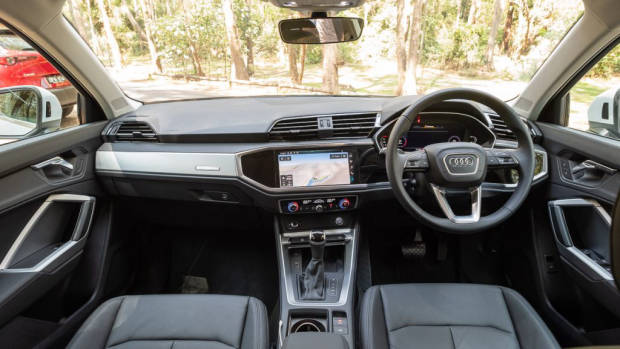 That's why the Audi Q3 is similarly cladded, though in gloss metallic grey, helping to lift the appearance of the German SUV. But the cladding is where visual similarities end with the Mazda CX-30. The Audi is all sharp edges, creases and character lines – some of which work better than others.
Our test car's absolute base model form – no-cost white with slightly pedestrian 18-inch wheels – does not show the Audi off as well as an orange or deep blue model on 19s, but there is a crisp cleanliness to the form here that will satisfy many who find the Mazda's line-free aesthetic too simplistic.
Inside, the Q3 sports Audi's new cabin design language, which redraws the dashboard space to focus around an ultra-HD central screen and fully digital cockpit while tastefully demonstrating secondary aluminium and soft plastic materials. The leather is more coarse than Mazda's best hide, but like in the CX-30, there is an inherent quality here – even if it is visually distinct.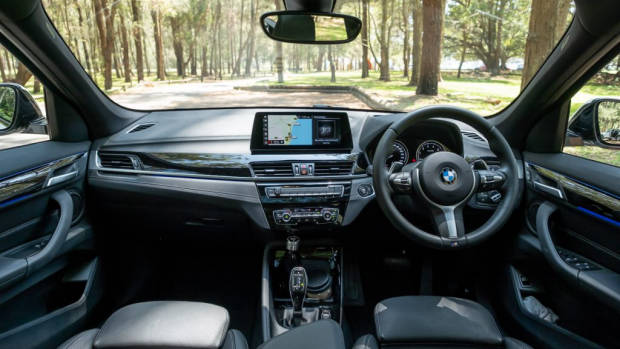 The BMW X1, by contrast, is easily the oldest vehicle here – though it was the recipient of a mid-life facelift in late 2019. That facelift was an extremely light touch, though – and it concentrated mainly on the exterior, emboldening the X1's grille and headlights, while softening aspects of the tail end.
Still, in metallic white and riding on optional 19-inch wheels, our test car pleased many with its styling, splitting the difference between the Audi's hard edges and the Mazda's soft curves. Viewed front-on, though, the increasingly large and gangly features BMW insists on giving its SUVs can look out of proportion on the smallest of the Bavarian bunch.
With the facelift budget spent outside, the X1's cabin is dating. A crisp touchscreen display remains, and the analogue dials are very pretty, but the high-set grained leather seats, default-choice piano black trim and harsher plastics betray five-year-old thinking for this set. Will BMW's traditionally-excellent dynamics bring the X1 back into the competition? Read on.
High technology
Comfort and good handling are no longer enough to set premium cars apart. For the 2020s, it's just as much about the seamless matching of a driver's own devices with the car's own systems – with Apple and Android software increasingly relegating the importance of the manufacturer's software, though a reliable, easy-to-use infotainment system can still make all the difference.
And then there's safety technology. With government regulations meaning that all cars will soon be required to offer a comprehensive suite of semi-autonomous crash avoidance tech, the difference comes in the implementation and tuning of the systems. Premium cars will be those that protect drivers and occupants from accidents, but in a cohesive, subtle way that flatters their driver's intentions.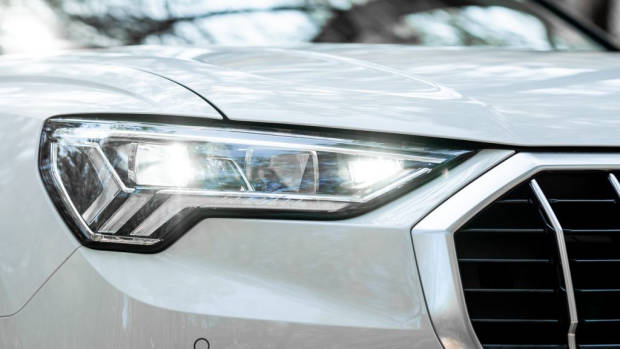 It's clear that Audi – one of the jewels in the Volkswagen Group conglomerate – understands these twin technology goals innately. For a decade Audi interiors were praised for their pleasantly minimal appearance and high quality materials, in vehicles like the Q7 SUV and outgoing A3 small car. It would have been easier to rest on those laurels, but in 2019, Audi threw out their existing interior design and replaced it with a new, tech-forward appearance. It's a gamble that may be paying off.
While the dual touchscreen setup of large new Audis is a little overwhelming, the Q3 adopts a simpler single touchscreen for the navigation and media. Audi's new touch-driven MMI software is clear, with large tap targets easing use on the move – even if we still prefer traditional rotary dials, like those found in the BMW and Mazda. However, the Audi system looks slick and works intuitively. The company's fully-digital gauge cluster remains the industry benchmark for presenting a full map and clear trip information to the driver on the go.
However, while Audi have developed their own impressive software, they have willingly consigned it to secondary status to the standard wireless Apple CarPlay – and wired Android Auto. With a cable-free CarPlay system, iPhone owners simply jump into the Audi Q3 and go with no fuss.
Wireless charging is standard; as is a Telstra 4G connection for the first three years, presenting satellite mapping, parking space availability, fuel prices, online radio, and other networked features. Such a suite makes the Q3 almost untouchable in this comparison, on the cabin tech front. However, audiophiles will want to option in the reasonably-priced Bang and Olufsen stereo to replace the very average standard audio system.
Disappointingly, Audi splits its safety suite, leaving two key features on the options list at this level – which is feels un-premium. You get high-speed autonomous emergency braking, lane departure warning, blind spot monitoring, rear cross traffic alert and a reversing camera – but you'll need to move up the range to access adaptive cruise control and a 360-degree camera.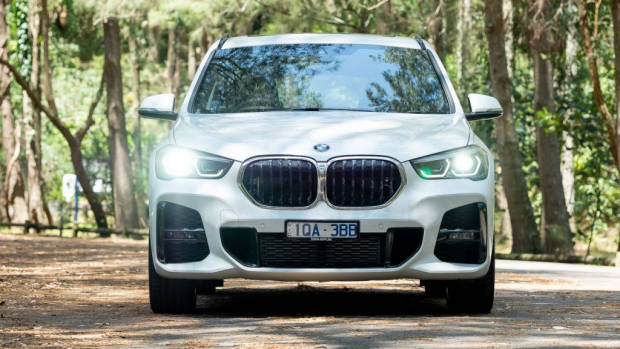 While the BMW's interior design is older, its technology is largely up-to-date. There's wireless Apple CarPlay here, too, though it isn't as stable as it is in the Audi. If you're a Google OS user, forget it: BMW will only begin to gradually introduce Android Auto capability to its cars later this year. At least BMW's own iDrive system remains competent and easy to use – but the X1 doesn't get the latest, most intuitive version of it, remaining a software generation behind.
You get DAB radio and navigation in BMW's own software and these functions are easy to use on the go thanks to the hardware rotary controller – but the screen has touch capacity too: the X1 is the only vehicle offering the best of both worlds for using its tech on the go, and we appreciate that. Ahead of the driver is BMW's analogue gauges – which are being phased out on the newer cars – with just a simple trip computer displayed beneath these. Tech with the wow factor? That belongs to the Audi.
A generation behind also describes the BMW's safety offer, which is simply miserly. AEB and a reversing camera are included. You'll pay extra for adaptive cruise control, while blind spot monitoring and rear cross traffic alert are not available at all…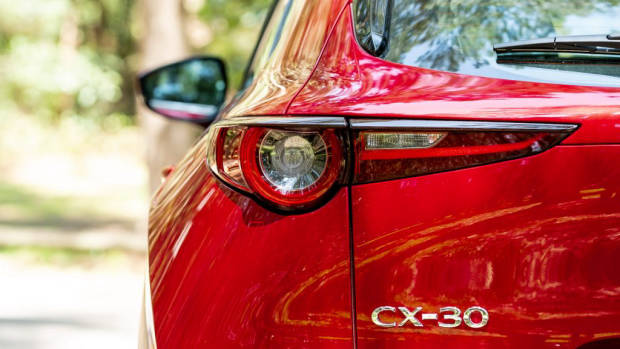 Those features are more than just offered on the Mazda CX-30: they're standard by the time you've hit the $41,000 Astina trim tested here, and the vehicle likely to be considered by those who thought they wanted an entry-level German luxury SUV. And there's more, too. AEB, adaptive cruise control with traffic jam pilot assist, lane keep assist, blind spot monitoring, rear and front-junction cross traffic alert, and a 360-degree camera, are all included.
Inside, the CX-30's technology offer is good, if not great. On the surface, the features are there – but their implementation is at times clunkier than in the German pair. A new operating system sits on the attractive 8.8-inch central display, which is no longer touch-capacitive. Instead, it's controlled with a large rotary controller, which works very well. The navigation graphics are substantially more mature than on older Mazdas. DAB radio, and other audio sources, sound really crisp and deep through the standard-fit 12-speaker Bose stereo.
But there's only wired Apple CarPlay here, which seems like a miss on a brand-new car. With smartphone mirroring experiencing mass takeup, especially among younger buyers but across the demographic spectrum, wouldn't you take the opportunity to cut the cord? Until now, it's been a premium-marque feature, limited to BMW only, and then Audi – but Volkswagen are rolling it out this year, leaving Mazda a little exposed. Similarly, the only USB ports here are old-style USB 3 slots, not the new rapid-charging USB-C variety.
Likewise, the CX-30's partially digital gauge cluster, while attractive, is not really any more useful than the X1's outdated trip computer – it can display only a model of an analogue speedometer (not especially useful), fuel consumption information, or the adaptive cruise control programming. Unlike on the Audi, you can't bring up a map, or unlike the Q3 or X1, even your song information.
You do, however, get a standard head-up display – and even better – it can be seen through the polarised sunglasses many Australians wear. Trust us: that is rare throughout the car industry, and demonstrates how Australian needs rate highly in the Mazda universe.
Driving ahead
There are two distinct philosophies at play under the bonnet of the trio tested here. The Mazda leans on a larger-capacity, high-compression atmospheric petrol engine, while the German trio – as is common in their ilk – utilise smaller turbocharged units. In the real world, their fuel economy is surprisingly similar across the board – but the way they make their power is very different.
Mazda eschew turbocharged engines where they aren't needed – and the Japanese marque set a high bar for necessity in that regard. The large CX-9 and CX-8 seven-seaters are turbo by default; the CX-5 and 6 offer optional turbocharging – but every other model in the range comes as standard with a conventional naturally-aspirated engine.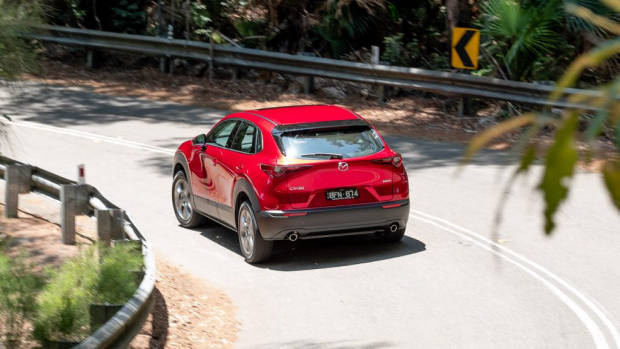 Don't confuse the CX-30's 2.5-litre four-cylinder with an old-school unit, though. With a high compression ratio of 13:1, impressive thermal efficiency, and the ability to deactivate two cylinders under light load conditions, the Mazda's engine keeps the fire lit for atmospheric motors. The figures of 140kW and 250Nm look right on paper, too.
That high compression ratio equates to relatively good torque at low revs…for a naturally aspirated engine, that is. Looking holistically at engine performance, the CX-30 is still a high-revving atmo unit that does its best work at and beyond 3,500rpm. Coax the Mazda along on the throttle and it feels lively and keen, overtaking easily on country roads and leaping into gaps in traffic.
The six-speed torque converter automatic is well-tuned, but if you're relaxed with the throttle, progress up hills can feel very lethargic. In short – the CX-30 needs a rev, and that's with the larger of the two available engines! At least the engine sounds reasonable when worked – and there is a torquier super-high-compression Skyactiv-X engine being added to the CX-30 mid-year. We have reviewed that groundbreaking new motor here.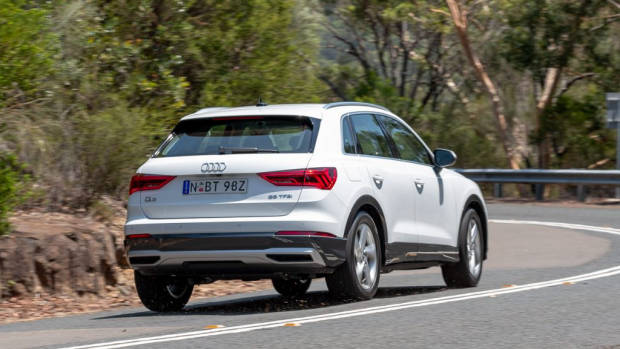 By contrast, the engines in the Audi and BMW do their best work while leaning on the advantages of low-pressure turbocharging – but it is the X1 that makes progress most easily in this pack. Utilising a 2.0-litre turbocharged four-cylinder that produces 141kW/280Nm – with that torque peaking at a low 1,350rpm – the X1 needs little encouragement in town and country, dispatching a brisk 7.6 sec 0-100km/h time, beating the Mazda by 1.1 sec and Audi by a huge 1.7 sec. The BMW's 'B48' engine also sounds rortier than you would expect at this price point.
But that price point is admittedly the most expensive here, by a significant margin. The more affordable Audi takes a dip in performance, even if the engine performs in a fundamentally similar way. The Q3, tested here in 35 TFSI guise, uses a small 1.4-litre turbo four. You'll know this engine well if you drive a Volkswagen Golf: it's the same one, producing 110kW/250Nm, with the torque peaking by 1,500rpm.
The Q3 offers adequate engine performance, but nothing more. It's torquey, and absolutely quick enough in town and on the highway – but rural overtaking requires a little more planning than the other two cars here, with the Audi starting to run out of puff the higher the speedometer needle heads north of 100km/h. In its default Comfort mode, there is also a doughey response from both the engine and the six-speed dual-clutch automatic, though this improved over our time with the vehicle as it learned our acceleration style.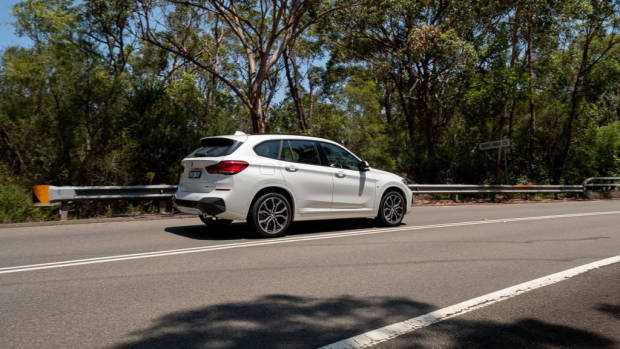 But while the X1 impresses with its responsive engine, it lets down – really surprisingly – in the handling department. Demonstrating concerning body control over Australia's average bumpy B-roads, and offering up stodgy and feel-free steering, the BMW X1's handling can only be described as mediocre. That is a combination of words that should be utterly anathema to BMW – a brand that markets itself as the producer of the world's ultimate driving machines.
It is the X1's combination of unruly damping on the standard suspension and the use of skinny 225-series tyres relative to its height that seem to be the cause of its problems. The suspension fails to cinch the X1 back to the tarmac after the sort of mid-corner bumps you find on poorly-maintained backroads everywhere in this country, leaving the overtaxed stability control system to keep the car on the road.
The BMW's ride quality is good – even impressive – in town and it is a fine, quiet highway cruiser. Show it a fun road, though, and it does not live up to the values the Bavarian roundel is supposed to embody.
The situation may improve with adaptive dampers and smaller wheels, but we are dismayed to see these characteristics manifest in the first place. Ultimately, the X1's underlying UKL platform is simply less sophisticated than the chassis that sits under BMW's more expensive models. If you have your heart set on a BMW crossover, may we suggest the bigger X3 SUV – which rides on the far more refined Cluster Architecture chassis and exhibits few, if any, of these problematic traits.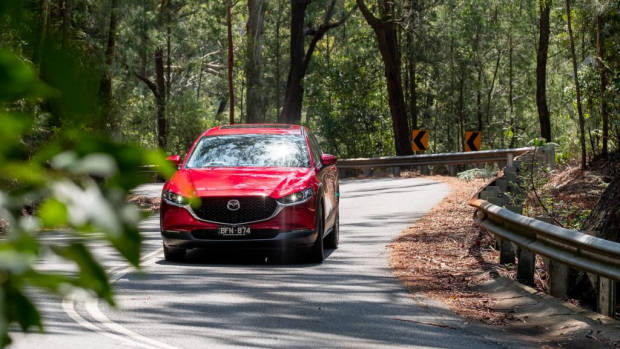 Thankfully, our testers were given a reprieve when stepping into the Mazda CX-30, which has a chassis that was clearly designed by people who think a small SUV should have refined – and even entertaining – dynamics. The CX-30 handles far better than the BMW, with suspension damping that blends firmness and security over mid-corner bumps with just enough vertical motion to be able to breathe across Australia's scarred tarmac.
The CX-30 devours backroads. It loves them. The communicative, mid-weighted steering feels just right in the hands, and the Mazda turns into corners with alacrity before allowing its rear end to gently float around behind in moments of contained lift-off oversteer. Considering the CX-30 in front-drive form, as tested here, uses a simple torsion-beam rear suspension, it's clear a mammoth effort was put in here. Only the oddly-weighted brake pedal disrupts the experience.
That said, in town, the CX-30's ride is fidgetty. On the 18-inch wheels and 215-series Dunlop SP Sport Maxx rubber worn by every model bar the base version, the Mazda never truly settles down, even if noise and vibrations are impressively minimised. On the whole, the CX-30 is a very refined SUV.
But it is the Audi Q3 that demonstrates a similarly passionate approach to driving dynamics while also offering up a low-speed suspension tune that settles in and stops fidgeting when you just want to relax.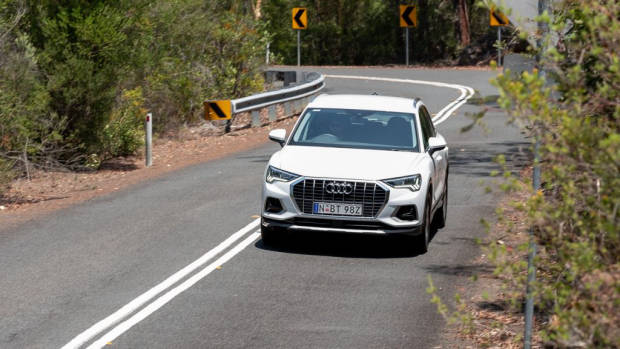 While the Q3's 1.4-litre engine is ultimately nothing special, it is almost as fun to punt down a great country road as the Mazda. Like the CX-30, the Q3 embraces some limited body roll to its advantage, helping to relieve stress on its 235-series 18-inch Bridgestone Alenza tyres. The Audi turns in well – partially due to its featherweight motor – and then sticks and sticks while cornering, tracking a line and holding it more predictably than the other two cars on test. Grip is never lacking.
Sure, the Q3's steering is not as feelsome as the Mazda's, but the ultra-consistent weighting of the control surfaces, including the brakes, make it an easy car to learn to drive quickly, flowing from corner to corner. If you use aggressive inputs, the Audi's stability control bites down oppressively – the Mazda offers more leeway – but use a deft touch in the Q3 and it will ebb and flow from corner to corner just as fluently as the CX-30.
Then, on your commute, the Audi will be just as quiet as the other two, while offering a better urban ride than the Mazda, and giving you the best cabin tech to interact with of this bunch.
Capacity for cargo – and people
We think small SUVs need to focus mainly on their front passengers – these cars are ultimately bought by singles and couples, most of whom move up to a larger wagon or SUV if the family grows. That said, we place value on a relatively spacious back seat for occasional use by friends, and also on a boot that's spacious enough to lug sporting equipment and boxes of wine alike.
It's a tussle between designing a physically smaller car with clever interior packaging, or simply enlarging the dimensions to more easily fit a larger cabin. The SUVs in this test sit across that continuum.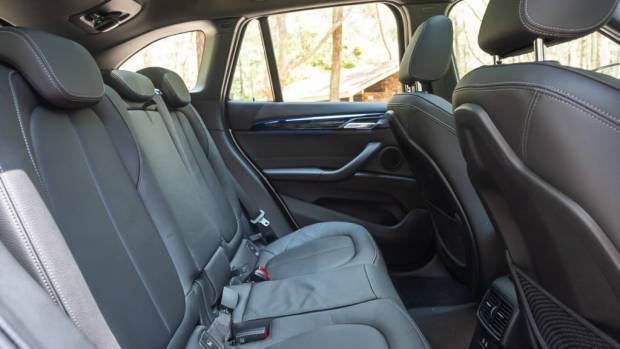 The BMW X1 feels the biggest, but is marginally smaller than the Audi, at 4.45m long – and it rewards with easily the largest back seat. The X1 can seat five adults most easily in this test, though the outboard seats are the best pews. Legroom, headroom and toe room are all generous for a six-footer. Air vents and two USB-C charge points are standard. You also get a flip-down armrest with cup holders, while the materials in the back are soft-touch.
Behind the X1's manual tailgate – electrification here is an option – is a 505-litre boot, which is theoretically smaller than the Audi's, even if it looks as big in person. Plus, you get underfloor storage in the X1 – but not in the Q3 – while the back seats slide fore and aft to maximise boot space or rear legroom. The boot itself includes two shopping bag hooks, a cubby hole and a netted area.
The Audi Q3 is the longest, at 4.49m long. Back seat space is acceptable for a six-footer, with about an inch of legroom behind another six-footer's driving position. Headroom and toe room are both generous. Five will be a squeeze; four will be comfortable, thanks to the standard air vents and two USB-C charge points in the back. A flip-down armrest includes cup holders, and like the BMW, the materials remain soft and squishy in the second row.
The Q3 has a standard electric tailgate in a value gesture, and at 530 litres, it is the biggest cargo area on paper – with perhaps a bit more length in the boot than the BMW. There's no underfloor storage, though, but you do get two areas left and right of the boot floor, and two shopping bag hooks. Like the X1, the rear seats slide fore and aft to alter boot or rear seat space.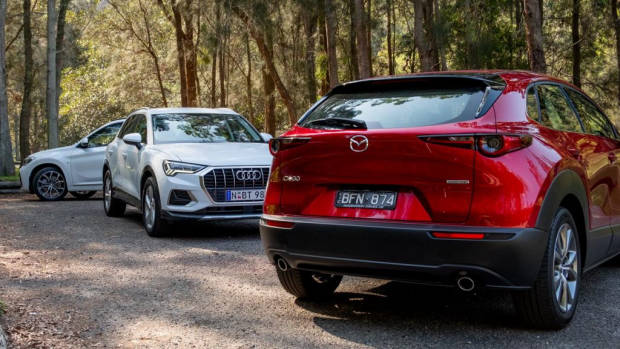 The Mazda is the smallest car on test, just shy of 4.4 metres in length. This Japanese brand has traditionally struggled with making its interiors as practical as those in German rivals – that is the case here, though Mazda are clearly making packaging inroads. Back seat space isn't substantially worse than the Audi, though you do notice more constrained legroom (about half-an-inch for our six-footer) and headroom, thanks to the raunchier roofline. Toe room is fine.
Air vents are standard in the back of the CX-30 – but you won't find any USB ports, unlike the other two, and unlike Mazda's larger SUVs, which feels a little ungenerous. You do get a particularly supple flip-down armrest with cupholders…but the rear door materials switch to hard plastic in a notable decrease in plushness from up front.
An electric tailgate is also standard on the CX-30 Astina on test, revealing a boot that is clearly the smallest here, at 317 litres. Euro-spec cars have a bigger boot, but Mazda Australia opted to specify the largest available (but still not full size) spare tyre. Disappointingly, no effort has been made to make the CX-30's boot clever – there are no shopping bag hooks or cubby spaces, which continue to be something of a 'European car thing'.
Peace of mind
One way the Mazda can put you more at ease than the other two SUVs tested here is when thinking about what will happen in future. Mazda's transferable five year, unlimited kilometre warranty eclipses the guarantee on the Audi and BMW by two years, in both cases. We think it's well and truly time for the German luxury brands – that includes Mercedes-Benz – to stand behind their quality and up their coverage to five years, matching Mazda and every other mass volume marque.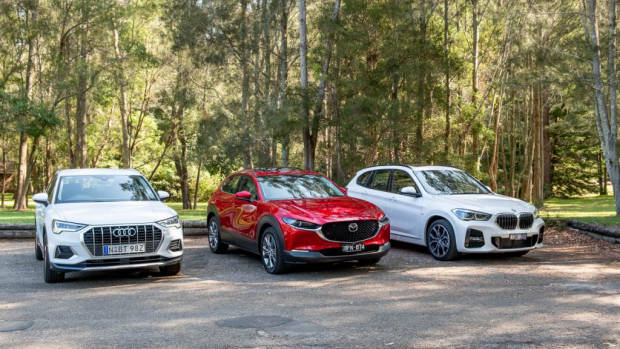 Servicing arrangements differ slightly between the three vehicles on test. The Mazda's service intervals are frustratingly short, with just 10,000km between scheduled maintenance (or a year, if that comes earlier). The Audi requires the first of annual or 15,000km services, while the BMW has adaptive intervals but they're essentially annual.
In terms of service costs, Audi and BMW sell up-front plans for about $1,600 apiece for three years of servicing. In Mazda's case, that amount – or about $100 more – will buy you five services, but remember, that's only 50,000km worth of driving.
First place: the Audi Q3 35 TFSI ($46,400)
It is threats like the Mazda CX-30 that have contributed to Audi's decision to offer dramatically better value for money in their entry-level cars than they have ever done.
While the new Q3 demands more of your hard-earned money than the Mazda, it is remarkably affordable for a vehicle wearing a recognised luxury badge. The base model does not skimp on premium convenience features. We rewarded the standard figment of an electric tailgate, leather seats, wireless Apple CarPlay, wireless smartphone charging, and a very generous suite of internet-connected features with three years of data.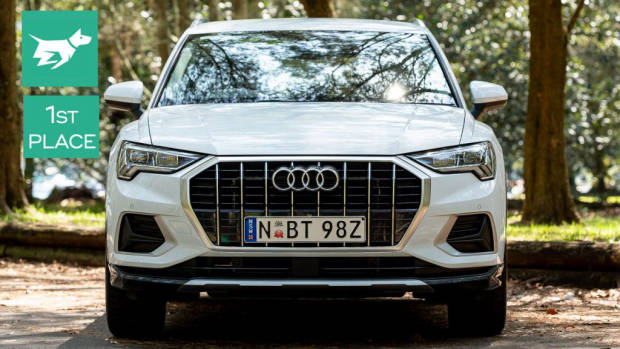 While its engine is merely adequate, the Audi's exceptionally good balance between a comfortable urban ride with deft and agile handling on country roads strikes us as especially suitable in Australia.
That said, we penalised the penny-pinching decision to relegate adaptive cruise control to the options list. Equally, the average stereo, manually adjustable seats and at times heavy-handed stability control tuning counted against the Audi – but we had to go looking for criticisms.
The Audi Q3 is the best entry-level luxury SUV you can buy… closely followed by the Mazda CX-30.
Second place: the Mazda CX-30 G25 Astina ($41,490)
It is a credit to Mazda's passionate team of engineers, designers and product planners that the CX-30 pulls into a – very close – second place to the Audi Q3.
For a brand that only made a recent decision to dip a toe into the water of the premium market, Mazda has rapidly picked up on the cues of the luxury space. The combination of a superb cabin, plush materials, an expressive but mature design, and terrific driving dynamics belie its reasonable price. The CX-30 is truly impressive.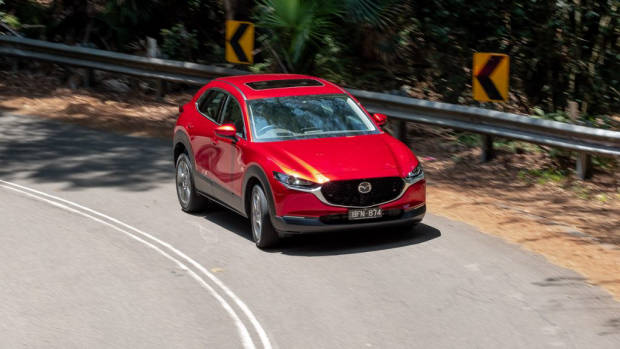 The standard inclusion of the best safety technology suite here on the Astina model scored high marks with us – as did the standard offer of a great stereo, a sunroof, supple heated seats, proximity entry, and the attention to detail in the mirrors dipping in reverse on-demand.
However, even greater attention to detail is necessary to score the win. The lack of wireless Apple CarPlay – plus front and rear USB-C connectivity – seem odd for a brand-new car in 2020, while the suspension arguably needs a greater focus on urban comfort when it comes time for a facelift.
That said, the CX-30 is both a value buy and a bona fide entry-level premium SUV. We'd happily have one in the garage. Make ours a Machine Grey Astina with pure white leather for maximum effect.
Third place: the BMW X1 sDrive20i ($48,500)
It is easy to understand why the BMW X1 is a popular, aspirational vehicle. It is a handsome, practical, generously-sized small SUV. However, the recent update and facelift was just too minimal to prevent newer rivals from surging ahead of the BMW in our recommendations.
We love BMW's serious commitment to developing great combustion engines that sip fuel while offering great response – just like the four-cylinder turbo engine in this X1. Equally, we give BMW credit for being the first to supply wireless Apple CarPlay to the public, even if it was initially granted on the basis of an unfair subscription. That is no longer the case: this important connectivity is now included for life.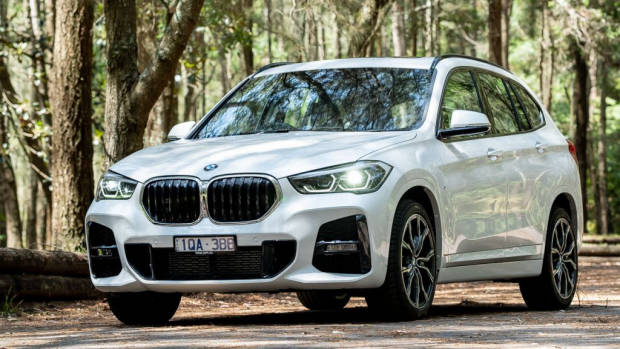 However, it would be irresponsible for us to ignore the at-times bizarre handling traits of this BMW SUV. The body control, at least with this combination of wheels, tyres, and damping, is not well suited to Australian roads. BMW's lower-cost UKL platform, used by the X1, does not appear to be up to the job in this case.
Also counting against the BMW were the fact its price was the highest here, while its standard equipment – wireless CarPlay aside – was the least generous. The Audi and Mazda both lob a serious value for money question at BMW's showroom doors.
What the test and results illustrate is just how competitive this segment has become. With existing luxury brands – and upstarts like Mazda – chomping at the bit for sales, maximum effort will be required to stand out and impress in future.