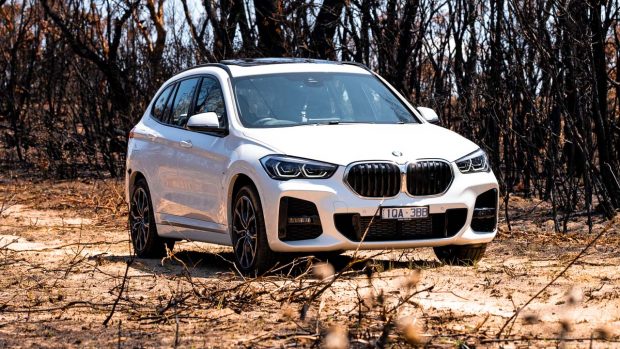 It's not difficult to see why the BMW X1 is such a popular small luxury SUV. The most affordable way into a crossover with that famous roundel on the bonnet, the X1 is bigger than most of its rivals – meaning it has the big back seat and boot that young families need. Plus, a recently facelifted, handsome aesthetic gives it the luxury air that aspirational buyers want. In fact, even though the BMW X1 is among the oldest vehicles in its class, it was good enough – in the minds of buyers – to still earn second place in 2019, behind the excellent Volvo XC40.
That said, while we appreciate the X1's clear practicality advantages over pokier vehicles like the outgoing Mercedes-Benz GLA, or the Jaguar E-Pace, you have to choose carefully in the X1 range. And unless you really must have the most powerful engine, the $62,900 top-end X1 xDrive25i ($68,741 driveaway) isn't the one you want.
Put simply, at this over-sixty-grand price, BMW's entry-level crossover just doesn't feel up to scratch – plus, the fixed sports suspension and skinny-width, low-profile tyres you get on the top-shelf xDrive25i give it surprisingly unruly handling on typical Australian roads. Do yourself a favour and stick to the more affordable, cushier front-wheel-drive models that start at an easier-to-swallow $44,500 ($49,257 driveaway).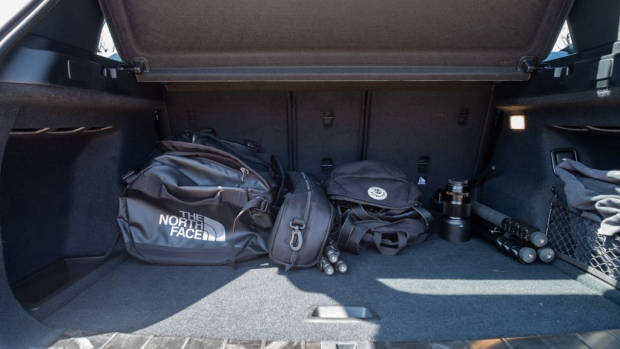 Back to the good – at least for now. The X1's conventional, square shape is the counterpoint to its slinkier BMW X2 sibling, but the payoff comes in its practicality. The wagon-esque, electric tailgate hides a big, 505 litre boot with no load lip and plenty of space for a pram or golf clubs, while well thought-out cubby spaces and a huge hidden subcompartment makes this SUV great for a growing family.
Similarly, the back seats offer prodigious headroom, legroom and toe room – this six-foot tester had plenty of room to move, so kids or adults alike will be fine. Young ones will appreciate the big windows, twin USB-C fast charging ports, and air vents. You can even get three across in a pinch, which is a considerable feat in this small SUV segment.
Up front, life's good – if not great. The X1, which was introduced in this second-generation shape in 2015, sports a BMW interior design language that has now been replaced across most of the Bavarian maker's range. The narrow, vertical dash looks dated, and the seating position doesn't ensconce its driver like an Audi Q3 does, but thankfully, everything else is just fine.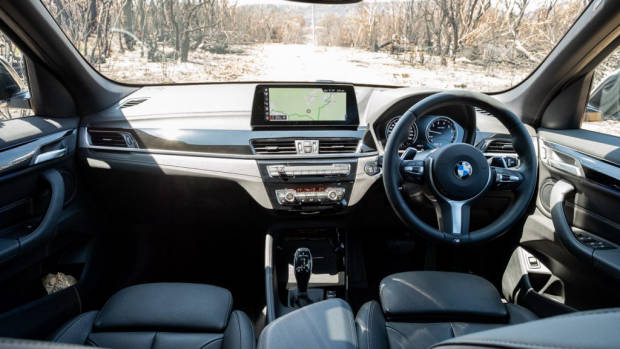 In particular, even though the iDrive infotainment system is a generation behind newer BMWs like the 3 Series sedan and wagon, it is still crisp, driven through an intuitive ten-inch screen that you can touch or interact with through the rotary controller that we continue to prefer. Pretty, analogue dials won't wow as much as Audi's Virtual Cockpit, but they look great and there is some digital information displayed below them. The chunky M Sport steering wheel with paddle shifters feels good in the hand. Wireless CarPlay is standard – plus, you get navigation, DAB radio, and a decent stereo.
Across most of the X1 range, cloth seats are the order of the day until you option leather – though the pricey xDrive25i gets grained leather upholstery as standard. The hide certainly isn't the softest or most expensive we've felt, though mums and dads cleaning up after toddlers will appreciate this hardier stuff. A selection of colours – black, brown, or beige – allow some degree of customisation. Secondary trims can be had in gloss black, aluminium, or dark wood.
Outside, you'll tell the recently facelifted-for-2020 X1 apart by its larger, more angular headlights, the engorged grille, and differing tail lamp graphics. This is where the updates to the car concentrated: little, if anything, was touched inside.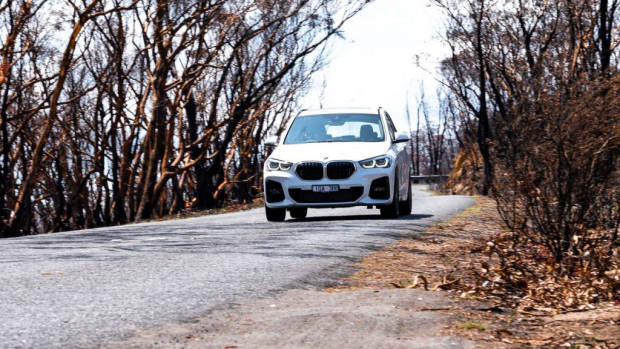 On the dynamic front, we can't argue with the X1 xDrive25i's excellent engine. Seen in many of BMW's powerful small vehicles, the 'B48' two-litre four-cylinder unit is punchy, linear, and surprisingly efficient given its decent 170kW/350Nm outputs. A rorty engine note is audible in the cabin as you smash out the 0-100km/h run in 6.5 seconds, and the eight-speed torque converter automatic gearbox is a good match for the engine.
However, you get that same engine and gearbox in the front-drive X1 sDrive20i model ($48,500, $53,457), which is $14,400 cheaper. Outputs are knocked down to 141kW/280Nm – and the 0-100km/h sprint takes a second longer – but crucially, the suspension is relaxed to a plusher 'xLine' sort and the wheels aren't so liquorice thin. Those differences, as you'll see, are more important than on most cars.
That's because, frankly, the X1 xDrive25i does not handle Australian backroads well. We can only recommend buying the top-end X1 if you will genuinely keep to the 'burbs or well-surfaced highways – because its combination of non-adaptive M Sport suspension and 225/45 R19 wheels and tyres in Michelin Pilot Super Sport rubber doesn't agree with country blacktop.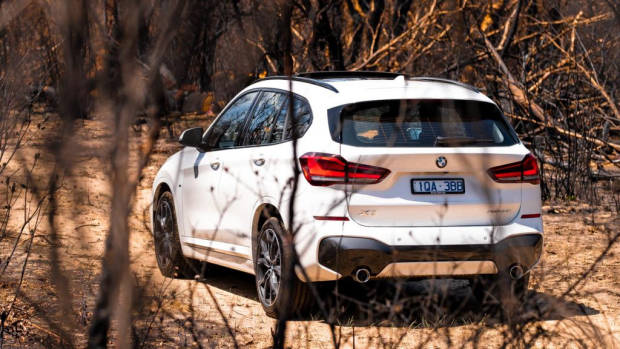 Hit a pockmarked, curving Australian B-road and the defining characteristic in the xDrive25i is poor body control, with badly contained vertical motions leading to low limits while cornering with pace. With the suspension unwilling to help the chassis, those too-skinny, too-thin tyres are too often overwhelmed by the considerable 1,541kg weight of this all-wheel-drive X1, leading to lateral hopping over the road surface. Not a very BMW experience, we suggest. It's possible that the optional adaptive suspension would cure some of these ills, but one was not on hand to test.
The X1's steering is less problematic, but it still leaves something to be desired. BMW went through a bit of a steering malaise in the earlier part of the 2010s, and that has largely been fixed now, with the new 3 Series a good return to form for BMW steering racks. Unfortunately … the X1 comes from the period before those fixes were implemented, meaning the electric power steering here is just too slushy and lifeless. Thankfully, at low speeds, it becomes light and twirlable, making parking easy.
Perhaps we're being a little harsh given the fact that most X1s are pressed into suburban service. But if you slap a BMW roundel onto a car, we expect it to be capable of a backroad blast in capable hands, at least every now and then. The fact is that other cars in this segment are better at it – including the new Evoque, Q3, and the Volvo XC40.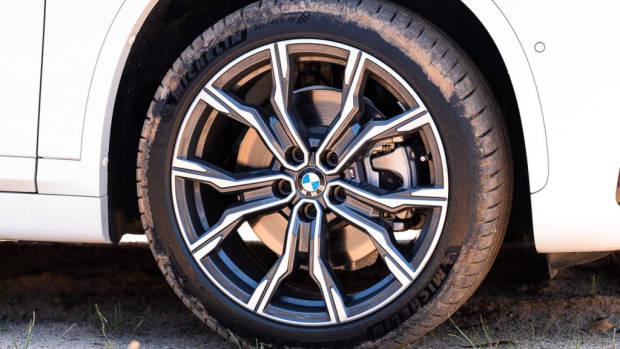 Where the X1 returns to our favour is with its attractive running costs given the segment that it is in. The two-litre engine's efficiency is pretty good for an all-wheel-drive SUV, returning about 9L/100km in town and 6L/100km on the highway. A diesel is also available for those that wish to limit their fuel use even further.
Servicing can be purchased up front at a considerable discount: $1,650 for five years, though the figure doesn't cover costly consumables like brakes. Most X1s will need annual servicing, BMW says, though the on-board computer determines custom service intervals based on driving conditions plus time and distance covered. We continue to suggest that BMW – and the other luxury manufacturers – match their mainstream rivals by upgrading to five years of warranty coverage from the current three.
So, that's the facelifted BMW X1. Contain yourself to the lower, cushier trim levels and the sailing should be pretty smooth – we'd just avoid this sportier grade that doesn't deliver its best on our roads. Otherwise, as a small luxury SUV for the school run and daily errands, the X1 is well-sized, attractive, and still premium enough.