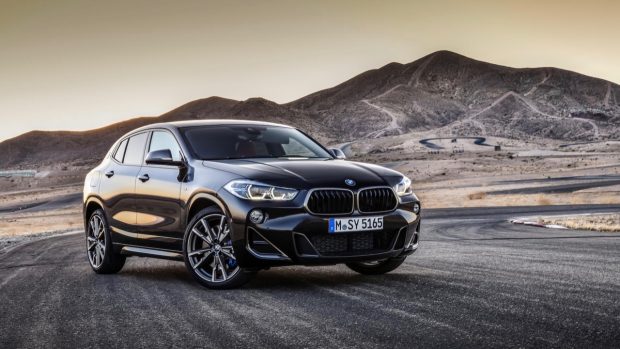 The new BMW X2 M35i SUV gives us our best glimpse yet at where BMW's M high-performance division will take their small cars in future. Spoiler alert: there's much to look forward to.
As long as performance cars still pack a petrol engine under their bonnets, the way that engine sounds is important. Ask Hyundai: their i30 N's crackling and popping exhaust note was considered critical to the car's success. So, after a few years of forgettable engine soundtracks from BMW, it was a relief to see that the new X2 M35i small SUV rights this wrong.
From the distinct rev and burble when you ignite this four-pot engine to the tangy overrun on throttle lift when you're on it, BMW's first foray into the small performance crossover space knows how to entertain aurally. And that's far from its only talent.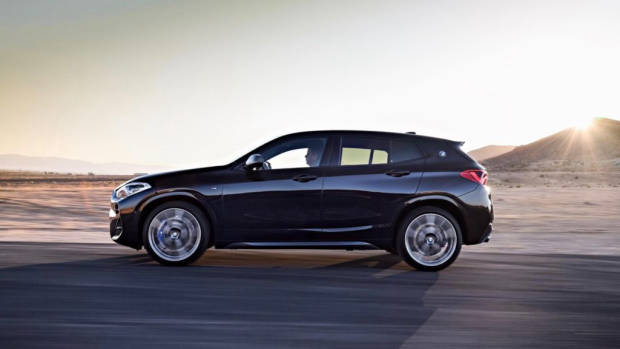 We know that BMW's M division will imminently turn their attention to an all-new kind of vehicle layout: cars running transverse engines and sending torque to the front wheels. The next 1 Series hatch, coming to Australia next year, will make the switch to the FWD way in the name of practicality, but we're assured it won't dilute the fun. At the very least, it'll be a new kind of fun.
The 2019 BMW X2 M35i shows that BMW are thinking about this challenge the right way. Rather than trying to make their transverse cars feel rear-drive, they're adopting the characteristics of classic front-drive hot hatches like Volkswagen and Peugeot GTI hatches. Think loud exhausts, rorty engines, and sorted chassis offering plenty of lift-off oversteer, among other shenanigans.
At $68,900 – $75,888 on the road – the X2 M35i isn't inexpensive, though we are still waiting for a competitive market to open up in the hot, small, premium crossover space – yes, it's rather niche. There's the outgoing Mercedes-AMG GLA45 ($90,200, $99,605 driveaway), though that's considerably faster again . If Audi succeed in getting the SQ2 to Australia, that ought to give the quick X2 a rival to contend against.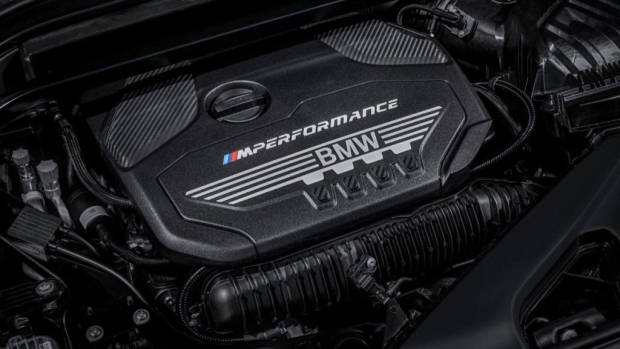 Underneath the X2's skin, you're looking at BMW's front-drive platform that also underpins the Mini, which remains a fun thing, as we found recently when we drove the updated 2019 Cooper S. Over and above the X2 sDrive20i we drove last year, the X2 M35i adds responsive AWD capability, switches to a far stiffer suspension, and substantially ups the chilli in the engine bay.
The X2 M35i has the hottest tune of BMW's family four-cylinder engine, coded B48 here. Power is decent: 225kW at a high 6,250rpm – and it likes a rev – while the sumptuous torque of 450Nm is delivered in a broad plateau, from 1,750-4,500rpm. As a result, it feels strong everywhere.
Notably, the outputs aren't worlds apart from the outgoing top-end 1 Series engine. Now, that's a longitudinal inline six-cylinder, and it makes 250kW/500Nm, but over our week with the X2 we noted that the B48 does a great rendition of a smooth, linear, punchy, refined performance engine, albeit with two fewer cylinders.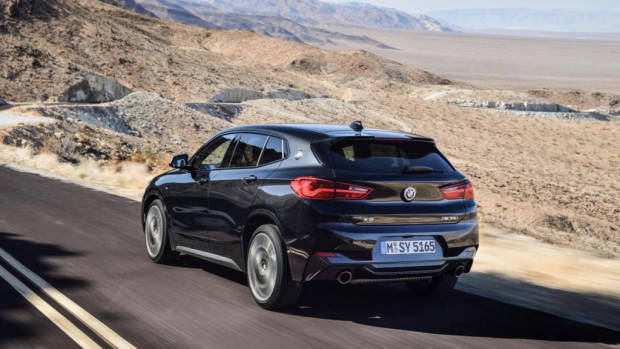 Great noises aside, the M35i's engine doesn't feel stressed, even when punching out the claimed 4.9 second 0-100km/h sprint. This is a quick car and it does push you back into the seat when you make full use of the dynamism on tap. Fuel consumption is acceptable, too; we saw about 10L/100km in mixed town and country driving.
Add some corners into the mix and the X2 M35i offers up handling that is more raw than polished, but that's a good thing, in our books. The steering remains a little numb – that's seemingly common to this platform – but the front end is darty and responsive, and, equipped with a limited-slip differential, it can put the power down, too.
Tip into a corner with alacrity and the X2's modestly high centre of gravity – it's a small SUV, not a hatch, remember – and 1.5 tonne weight can overwhelm the front wheels, leading to a small amount of plough understeer. Dab the brakes, though, and the whole exercise swings into controllable, predictable lift-off oversteer. The stability control is expertly tuned, allowing a skilled driver to coax the M35i into little rear-end slides, helping to point the nose out of bends.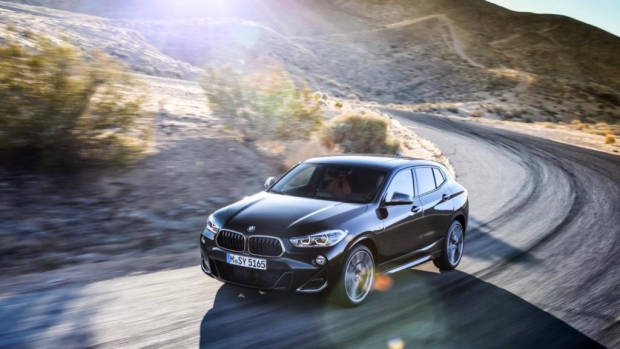 That's how a small, front-drive performance car should corner, and the X2 M35i nails it. That fills us with hope for the 2020 BMW M135i, which shares most of this car's oily bits, including the all-wheel-drive system. Speaking of the AWD setup, you rarely feel the rear wheels coming into play under throttle apart from in very slick circumstances. The rest of the time, this X2 handles like a more grippy front-driver.
We do think this car is deserving of wider tyres, though. Though Pirelli P Zeroes with 225mm of width all round doesn't sound narrow, the X2 gets pushy on its front tyres and skips across bad surfaces – which brings us to the M35i's biggest compromise.
Firm is how the ride feels on glossy-smooth surfaces – the sort of surface you find on the backroads of Spain and Portugal, not New South Wales. Introduce the constant lumps, bumps and ruts of our country ways into the mix, and the X2 M35i feels unsettled, its 20-inch wheels and tyres occasionally overwhelmed.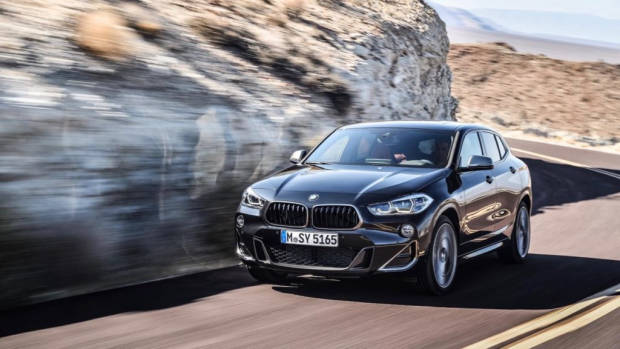 The suspension has only a short amount of travel and is so tightly-wound that big mid-corner bumps see the X2 skittishly crab across the surface. It regains its composure quickly, but it's enough to see keen drivers back off from nine-tenths to seven-tenths when the road surface isn't up to scratch.
When the road turns smooth again – as it does on rare occasions in semi-rural Australia – everything makes sense. It's clear to us that those who tuned this suspension concentrated on great European roads to the detriment of the kind of surface we see in Australia. Better rough-road compliance, and thus better body control, will be important for the new M135i hatch.
Step inside the X2 M35i, though, and there's much to like. The seats are entirely different to more pedestrian BMW X2 variants: these ones resemble proper buckets, and while they can be shod in leather, smart buyers won't. The alternative cloth/alcantara treatment, in black and grey, is more grippy, more comfortable, and in better taste. In our view, anyway.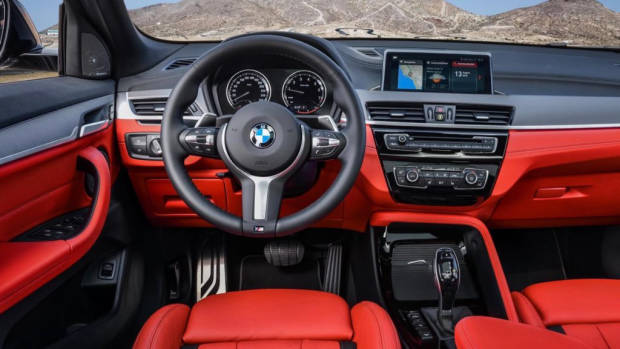 The M-style steering wheel looks and feels good and the analogue gauges are quite beautiful. With a full-speed adoption of digital gauges across the new car industry – including by BMW on its newer models – who knew we'd miss the classic watch-faced speedo and tacho? I didn't guess that I would, but here we are.
Other interior elements are standard X2 fare – and they're best described as functional, though nothing more. The cascading centre stack looks dated now, with lots of plastic buttons. The 8.8-inch touchscreen runs BMW iDrive 6 and that does work well, especially as you can drive the system through a rotary dial between the seats. That's much better than touch, on the move. Wireless Apple CarPlay continues to be unique-to-BMW feature in Australia and this is delivered on the X2, along with digital radio and navigation.
The back seat is surprisingly spacious. There's enough room for two six-foot adults to fit with ease back there – though we'd forgo a third second-row passenger, despite the presence of a third seat belt. Air vents, an Alcantara-shod armrest, and double USB-C charging points complete the picture back there. A 470-litre boot hides behind an electric tailgate, and that's bigger than most in this segment.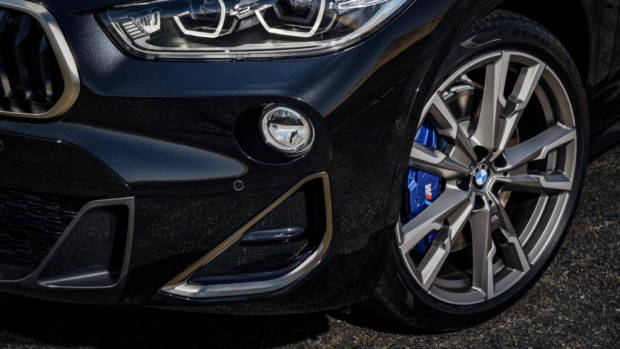 BMW is not alone among premium manufacturers in offering only a three year warranty, though that is starting to look a little inadequate when mainstream cars in Australia are most commonly sold with five years of coverage. Aren't luxury cars meant to be built well?
What you can do is purchase a servicing package for the X2 M35i upfront, covering five years of annual maintenance at a relative discount. This makes sense, financially.
So, in reaching a conclusion about the 2019 BMW X2 M35i – we find ourselves thinking about it in two ways. First, taking this vehicle as a standalone object, it's rather good. Punchy, rorty, and well-sized for couples or a small family, the fastest-yet X2 makes sense to us. However, the bigger meaning to this car is its status as a harbinger of what's to come from BMW. If the M135i can be this characterful, though with a more resolved, slightly more supple suspension, there will be few complaints from our end – even if we will miss the small, rear-drive performance for which this company used to be known.