Continually creating segments, adding bodystyles and choice for consumers, BMW has added yet another addition to their range with the 2018 BMW X2. The X2 will compete with other premium small SUVs such as the Audi Q2 and Mercedes-Benz GLA, as well as the upcoming Jaguar E-Pace, while no doubt being cross-shopped with range topping versions of the Mazda CX-3, Toyota C-HR and Hyundai Kona.
Within the BMW lineup, the X2 will be launched as a more stylish and premium equivalent of the X1 small SUV, as the X4 is to X3 and X6 is to X5. The X2 will be launched in Australia in March 2018 with pricing due to start in the $50,000 bracket.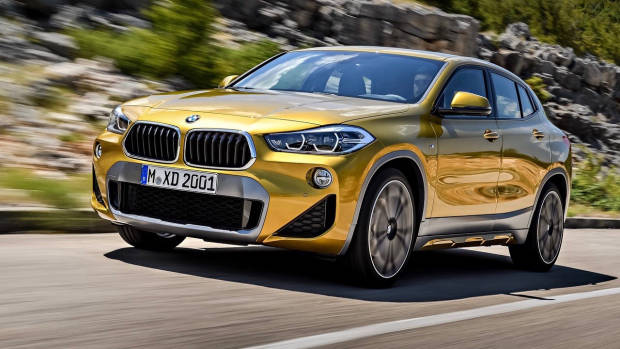 Sticking admirably close to the X2 concept car, the production model focuses on outright style, rather than overall practicality – form beats function here. A stand out is the X2's striking front end, with angular and aggressive headlights complimented by a bold new interpretation of the traditional BMW kidney grille – this time, it sits upside down for more of a frontal snout.
"The BMW X2 fuses the fast-moving forms of a coupe with the robust volumes of an X model," sums up Thomas Sycha, Head of Design BMW Compact Class. "It was important to us to make these apparently conflicting aspects of the BMW X2 and the car's individual character something you experience from every angle and at first glance."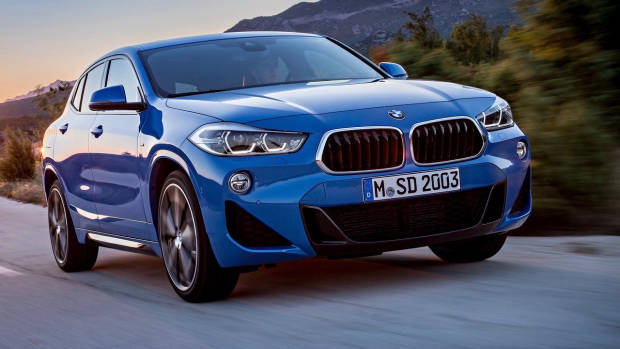 The rest of the BMW X2's style is dominated by a very low roofline – one of the key features differentiating the X1 and X2. BMW claims that this roofline alone 'surges forward like an athlete'. We'll have to take their word for it. Unlike any other modern BMW model, the X2 features the famous roundel badge mounted on the C-pillar in a nod towards classic BMW models such as the 3.0 CSL.
BMW's famous Hofmeister kink C-pillar window line also features, whilst the rear of the X2 features a low spoiler with gloss black highlights, and a huge rear bumper with the number plate surround mounted below the tailgate – the opposite of every other BMW SUV in order to stand out more from its siblings.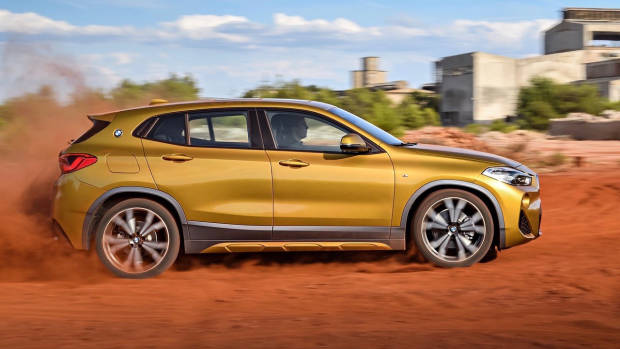 Dimensionally, the BMW X2 differs only significantly from the X1 on which it's based in its height – its 1,526mm height is 86mm lower than the X1. Both ride on an identical 2,670mm wheelbase, and the X2 is overall 79mm shorter at 4,360mm long, and 3mm wider at 1,824mm wide. Its 470-litre bootspace is 35-litres short of the X1 with the seats up, and its 1,355-litre figure with the seats folded is 195-litres less.
Mechanically, the X2 sits on BMW's UKL2 platform – shared with the X1 and 2 Series Active Tourer, as well as the Mini range. This means a front- or all-wheel drive drivetrain layout, and the choice of a range of turbocharged petrol and diesel powerplants.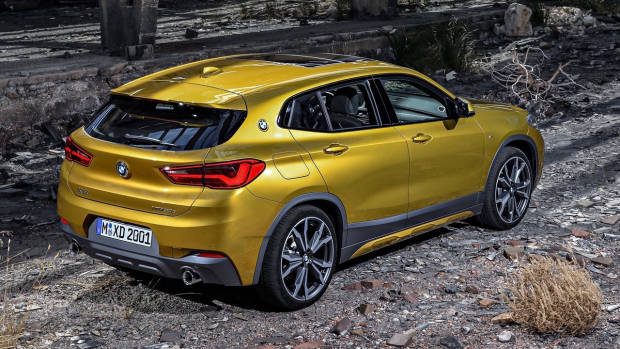 Initially, the X2 will be available worldwide with just three powerplants – an sDrive20i 141kW/280Nm 2.0-litre turbo petrol four-cylinder engine with a seven-speed dual-clutch automatic transmission and front-wheel drive. In addition to that will be two all-wheel drive 2.0-litre turbo diesel powertrains – a 140kW/400Nm xDrive20d and a 170kW/450Nm xDrive25d, both with an eight-speed automatic transmission. Both the sDrive20i and xDrive20d accelerate to 100km/h from rest in 7.7 seconds, with the more powerful xDrive25d completing the run a second quicker, at 6.7 seconds.
BMW claims combined fuel consumption of just 4.6L/100km for the xDrive20d, 5.1L/100km for the xDrive25d, and 6.8L/100km for the sDrive20i, with emissions ranging from 121g/km to 133g/km of CO2.
Later in 2018, BMW will add more drivetrains to the X2 range, such as a base sDrive18i 1.5-litre three-cylinder turbo petrol, an xDrive version of the 20i petrol and entry level sDrive18d and xDrive18d models. US models also get a higher output xDrive28i, but it's doubtful that version will be released internationally.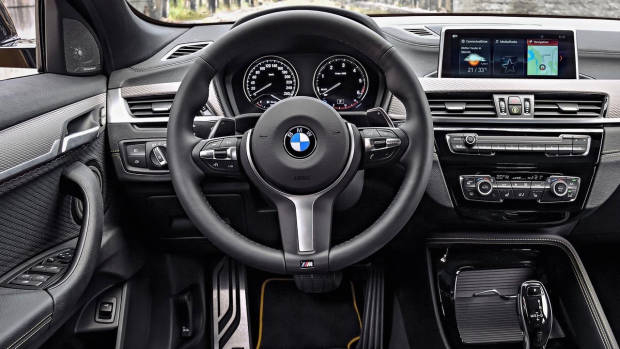 The interior of the BMW X2 is broadly similar to the X1, with trims and available equipment offering the only differences to the X1. As with the X1, the X2's cabin is very driver-focused, with the infotainment screen and central controls mounted facing the driver. Available features on the X2 include wifi compatibility, BMW's latest iDrive 6 system with a 6.5-inch screen on base models or an available 8.8-inch screen, Apple CarPlay smartphone mirroring (but strangely, no Android Auto), a rear view camera, integrated satellite navigation and BMW's concierge services.
Active safety equipment such as autonomous emergency braking with pedestrian detection, lane departure warning, blind spot monitoring, adaptive cruise control with stop and go functionality, a colour heads-up display and semi-autonomous parking assistance are all available on the BMW X2. BMW Australia is yet to confirm which features will be standard, but expect at least AEB and lane departure warning to feature on X2 models down under. What isn't included as standard will likely be offered as part of an optional package.
The X2 also introduces a new variant to BMW's lines model system, with a new line dubbed M Sport X now available to order. Like the standard M Sport line, M Sport X adds more aggressive styling and larger wheels, but also incorporates body cladding and is said to be inspired by the world of rallying. Again, we'll have to take BMW's word for it. M Sport and M Sport X lines also add unique interior trim combinations to accentuate their sportier character.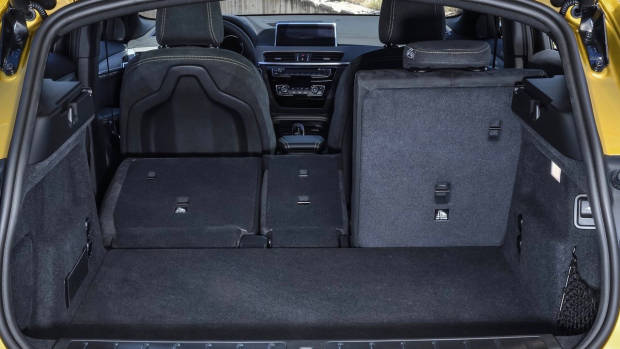 BMW Australia have confirmed that the X2 will be launched in Australia in March 2018, with local pricing and specifications to be announced before then. As for local engine options, we'd suggest that the sDrive20i petrol and xDrive20d diesel, with the higher-powered xDrive25d diesel sitting atop the range, will be launched locally. A future M version is on the cars for the X2 as well, which because of Australia's apparent obsession for performance cars, would likely be sold here.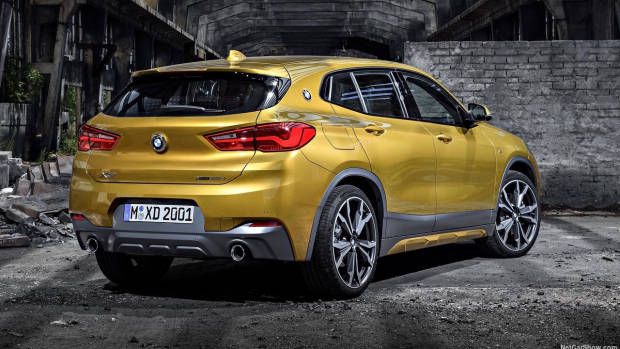 Stay tuned to Chasing Cars for news regarding the BMW X2.