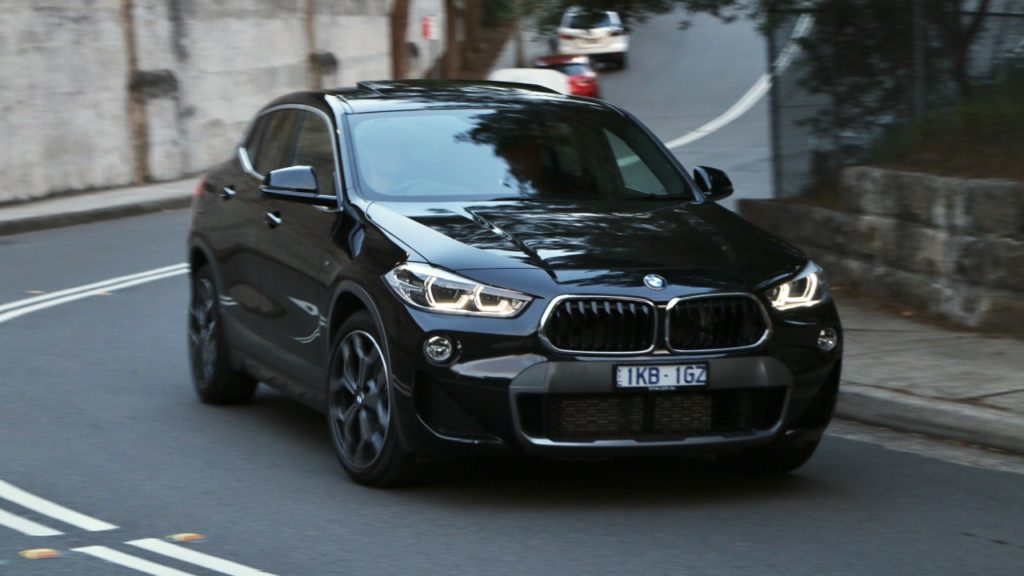 Ten years ago, BMW revealed their first coupe-SUV to the world – a model called the X6. What the motoring press believed at the time to be a silly gamble turned out to be a popular idea with buyers. The coupe-SUV has taken off – rival brands have produced their own imitations, and BMW have made smaller-sized versions to complement the X6. In fact, the X6 kicked off BMW's experiment with polarising, segment-busting vehicles that include the 3 Series GT and 5 Series GT, the 2 Series Active Tourer. There's the X4 – the X3's coupe-SUV cousin – and now there's also this, the new 2018 BMW X2, a slinkier, sexier version of the company's well-known city-sized X1 SUV.
The BMW X2 is officially the smallest, least expensive way into what BMW calls their Sport Activity Coupés – this is the low-roofline group that also includes the X4 and the X6. These sit as more athletic alternatives to BMW's traditional SUVs – the X1, X3 and X5. While the 'coupe' versions are strongly related to their wagon-body cousins, arguably, the X2 is the most differentiated of any of the even-numbered models. Compared to the X1 that sits beside it, the X2 has entirely unique styling (unlike the X4 and X6 which share a face with the X3 and X5 respectively). The X2 has a distinctive wedge-like body, a bolder front-end with an enlarged double-kidney grille, and a thick C-pillar sporting a BMW roundel, in an homage to BMW's M1 supercar of the late 1970s.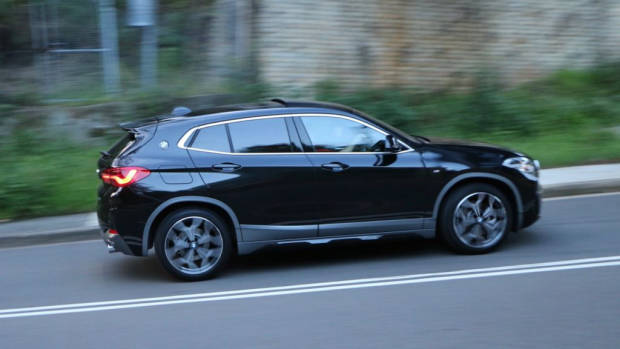 Compared to the X1, which is much more traditionally-shaped, the X2 is the car that catches the eye of bystanders on the street, and we're glad BMW took the opportunity to turn out a sexy SUV with such a youthful, distinctive look. Inside, though, the X2 largely sings from the same song sheet as the X1. Aside from a stitched grab-handle between the front seats, which is unique to the X2, the X1 and X2 share their basic interior layout, dashboard and seats. It's a decent interior, though not as impressive as that found in the Audi Q2.
Just a single variant of the X2 is available in Australia for now – the $55,900 (plus on-road costs) sDrive20i, though both variants that sit below and above this will soon be on sale. The X2 competes with other premium small SUVs, including the Audi Q2, Volvo XC40 and Mercedes-Benz GLA.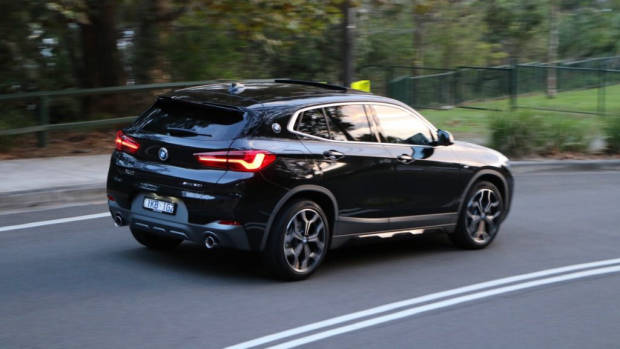 The 2018 BMW X2 is built on BMW's UKL platform, as is the X1, 2 Series Active Tourer, and all current MINI products. In current sDrive20i form, the X2 is front-wheel drive, though an all-wheel drive xDrive25d is on its way. The 2.0-litre turbo petrol four-cylinder petrol engine in the X2 sDrive20i is shared with the MINI Cooper S, and produces 141kW of power at 6,600rpm, and 280Nm of torque between 1,350–4,600rpm. It's matched to a new seven-speed dual-clutch automatic transmission – the eight-speed ZF automatic is no longer paired with this engine.
The sDrive20i engine is torquey and smooth, with little turbo lag. Combined with the excellent dual-clutch automatic, the X2 is ideal for around-town driving, which is where most X2s will be found. Out on the open road, however, it's not all plain sailing. Here, the sDrive20i struggles a little, with a deficiency of higher-end torque. The engine sounds great in the upper limits of the rev range but you never get an impression that the sDrive20i is a fast car – a feeling confirmed by the only-average 0-100km/h time of 7.7 seconds. The X2's closest competitor, the Audi Q2 2.0TFSI quattro, does the sprint in just 6.5 seconds. As for economy, BMW claims 6.0L/100km combined; in our mostly-urban testing we got closer to 9.0L/100km, which equates to an around-town range of around 560km from its 51-litre tank.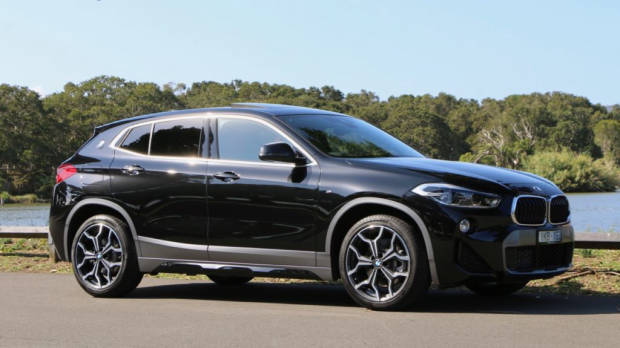 While the front-wheel-drive X2 isn't the embodiment of a traditional BMW – nor is this what we'd call an ultimate driving machine – this little SUV is certainly dynamically capable. Feelings like a taller, larger MINI, the X2 is more joyous to drive than many of its rivals, showing a fun edge not generally found in this class. From its darty handling to its smooth steering, the X2 will appeal to those just wanting a sporty drive to the family man who's had to trade up from a Volkswagen Golf GTI or Mazda MX-5 for something a bit more child-friendly. What needs more work, though, is the ride quality which is overly firm and abrupt. Even with adaptive dampers, the 19-inch wheels are too crashy, especially over expansion joints. The larger 20-inch wheels would be even worse.
One surprising aspect of the X2 is that despite its dramatic styling, the practicality hasn't taken much of a whack over the X1. BMW cut a significant 86mm out of the roofline, but rear headroom is plentiful, even with the optional panoramic roof. The X2 and X1 share the same 2,670mm wheelbase, but the X2 is considerably shorter but a little wider. In reality, interior space is very similar with ample rear legroom even for adults. The X2's 470 litre boot space is 35 litres short of the X1, and its 1,355 litre figure with the seats folded is 195 litres less. Like the X1, the X2's rear seats split 40:20:40, and they recline slightly. For back seat passengers, there is a rear centre armrest, a 12V socket, map pockets, reasonable door pockets and rear air vents.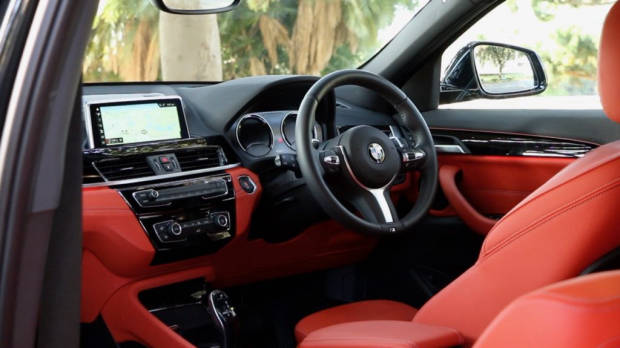 Up front, the X2 shares an interior theme with the X1 – except for the fact you can have the sportier X2 in louder, better interior colours and trims. Our tester featured optional Magma Red leather, which looked fantastic and is like a Jaffa orange in real life. The dashboard layout is classic BMW with a floating screen, albeit with matte finish compared to the usual gloss. The 8.8-inch touchscreen seen here is optional; 6.5 inches are standard, but both use BMW's solid iDrive 6 software. Apple CarPlay is optional; we didn't have it. It should be standard but BMW's own operating system is so good you don't really need it. What is weird is the single USB port; it's 2018, there should be at least two USBs up front and one for the back. Thankfully, interior quality is excellent, with soft plastics almost everywhere you touch, faux leather dashboard trimmings, and contrast stitching. Only a higher quality of leather on the seats would improve things further. BMW's low-end Dakota leather feels a little cheap.
The biggest chink in the X2's armour is its price, which is too high. It starts with a $2,300 hike over the equivalent X1, which doesn't sound like much for the extra style – but an equivalent Audi Q2 2.0TFSI costs $48,500: $7,400 less. The X2 has only decent levels of standard kit: 19-inch wheels are impressive, as is sat nav, DAB+ digital radio, automatic LED headlights, an electric tailgate, low-speed AEB and lane departure warning. But a Q2, optioned to the same standard, is otherwise better-equipped. By the time you get the Audi to the BMW's price, you can have it with far more goodies, including Audi's fully-digital Virtual Cockpit gauges, a panoramic sunroof, radar cruise control, blind spot monitoring, rear cross traffic alert… and the Audi includes CarPlay and Android Auto for free.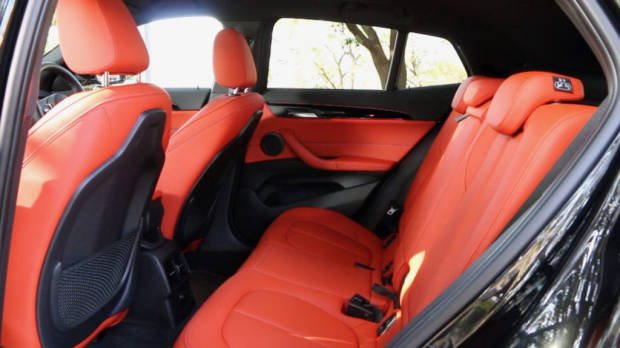 The BMW can be optioned even higher than its already premium starting price. The options include a $2,600 Innovations Package, which adds a colour heads-up display, speed limit information, BMW's larger 8.8-inch touchscreen infotainment screen with iDrive 6, radar cruise control and concierge services. There's a $2,700 Comfort Package with keyless entry and start, as well as auto-dimming mirrors, heated and 12-way electric front seats, and finally a $3,300 Style Plus Package with 20-inch alloy wheels, metallic paint and a panoramic sunroof. Separate options include a range of coloured leather upholstery options (our test car had the loud Magma Red option for $1,950). Further, CarPlay costs $479, adaptive dampers are $400, and you can upgrade the audio for $1,192 to a 12-speaker Harmon-Kardon unit. But we think that many of these features – electric, heated leather seats, CarPlay, and the larger screen, ought to be standard to justify the X2's steep price.
That said, fashion rarely comes cheap – and neither does the BMW X2. But fashion-conscious people will regularly drop eye-watering sums for premium goods that are new and fresh, and BMW are counting on the same factor here. It'll probably work: the X2 is undoubtedly stylish, and it makes you feel like you're driving something very cool and very different. It has a wide range of abilities, both dynamic and practical. But make sure you check out the also-edgy Audi Q2, which offers much sharper pricing and better equipment levels for the money. Within BMW's own range – if you don't mind a hatchback – a 250kW, inline six-cylinder M140i is only $4,000 more. The lesson, as always, is do your research and test drive everything you might be interested in. But, price aside, there is much to like about the X2 and we'd be happy to drive one.