A surprise of the Paris Motor Show this year was the unveiling of the BMW X2 Concept – a coupe-style transformation of BMW's X1 platform, and the model that will take BMW's SUV lineup to six.
Like the X6, spawned from the full-size X5, and the X4, a sibling of the mid-size X3, in production form the X2 will offer a more dynamic alternative to buyers shopping at the smaller end of the BMW crossover lineup.
It's a concept at this stage, but BMW sources at the 2016 Paris Motor Show told Chasing Cars it was likely the X2 will be developed into production form within the next year.
The X2 retains visual cues from BMW's coupe SUV lineup, including the steeply raked windshield that sits flush with the panoramic sunroof, brutish, "fast-moving" angles and a muscular shoulder-line.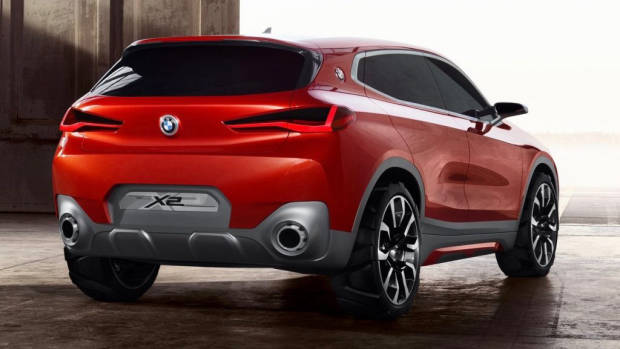 In concept form, though, the X2 branches out of today's BMW SUV styling in a number of ways.
The most obvious is the concept's wholesale rethink of the BMW kidney grille. The X2 ditches the traditional trapezoidal shape, adopting a new, tapered design intended to visually broaden the car's stance.
Bolder integration of exposed underbody protection and side cladding really offset the concept's Luminous Red paintwork and athletic, angular design.
While in the concept stage, the X2 appeared with ultra-thin laser light headlights, sporting an X-pattern graphic in the middle. Whether or not these advanced lights will survive in the production car – perhaps in the high-spec offerings – will be interesting.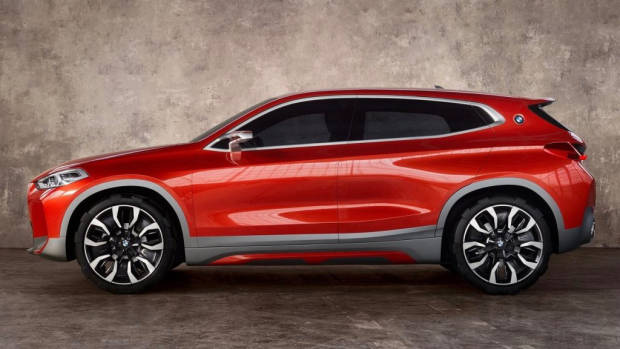 While sharing some of the underlying X1's key proportions, the X2's slimline windows and large rear spoiler communicate the sporting pretensions.
Adrian van Hooydonk's design team at BMW allowed themselves a few indulgences on the concept – in particular, the inclusion of a BMW badge on the X2's C-pillar is a nod to sporty BMWs of old, including the M1 halo car of the 1970s(?).
Such design flourishes are rather un-Teutonic.
The X2's interior was not on display at the Paris Show, but it's a safe bet – given the increasing consistency between BMW interiors – that that an X2 cabin would share many visual cues with the X1.
It's unlikely we will hear anything further over the summer about X2 – but don't be surprised if we hear rumblings of a production version as 2017 marches around.