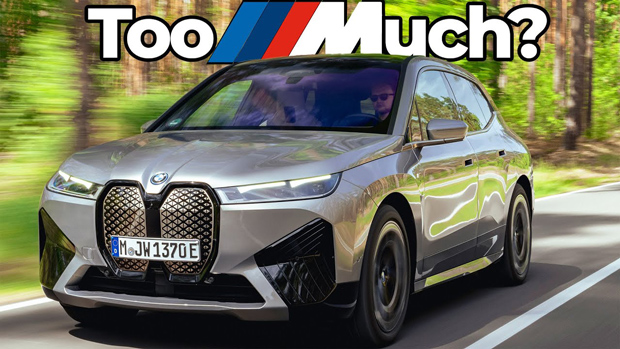 The BMW iX M60 will arrive in Australia in late 2022 priced at $222,900 – a bronze-badged beacon of what BMW's electrification programme is currently capable of.
In the iX M60, a new M-developed rear motor, strong real-world range, decent efficiency and lush interior appointments combine to create an exclusive – and expensive – family SUV.
Unlike the three dual-motor iX variants that are already available in BMW's Australian dealerships – the $136K iX xDrive40, the $142K xDrive40 Sport, and the $170k xDrive 50 Sport, the iX M60 benefits from close attention from M division.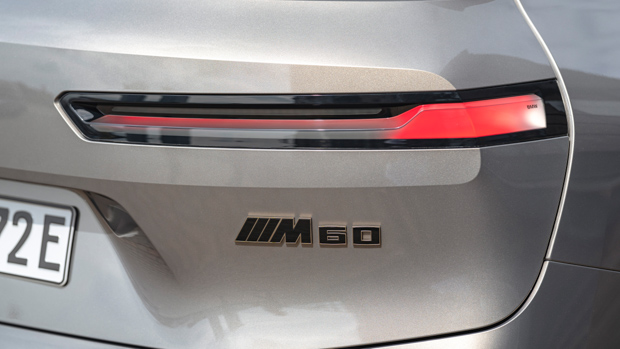 BMW M boss Frank van Meel says that creating a full-fat M performance car (or SUV) is not currently possible with current battery chemistry, so the 455kW/1100Nm iX M60 is as close as it gets – for now.
Significantly torquier than company's the V8-powered X5 M Competition, which also costs $223K but is a true M product, the iX M60 receives an M-specific rear motor that is entirely different to that used in the impressive xDrive50 that John Law reviewed recently for Chasing Cars.
The result is stunning acceleration beyond the usual off-the-line thrust we expect from virtually all electric cars: the M60 has a 250km/h top speed (up from 200 in the other variants) and it pulls hard right up to that speed, rather than tailing off like many electric rivals.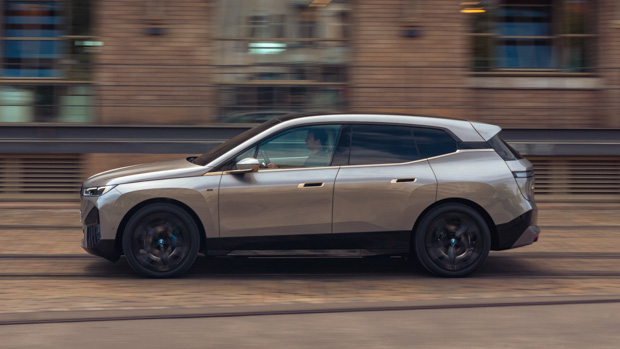 There's also M-tuned air suspension, active anti-roll bars and performance Pirelli tyres to further boost the iX's dynamism – plus unique-to-M60 black and bronze detailing around the car.
We headed to Berlin to sample the iX M60 on its international first drive ahead of an Australian launch in around six months' time.
How does the iX M60 drive?
Riding on a platform that takes some components from BMW's Cluster Architecture platform, while blending much more carbon fibre reinforced plastic (CFRP) and aluminium, the M60 shares much with both its direct iX siblings and other BMW crossovers.
But many of the details here have been fine-tuned to make the iX M60 a bona fide 'M Performance' car – though BMW are no longer using that nomenclature in a public sense.
Still, it was confirmed to Chasing Cars that, internally at least, the M60 is regarded as sitting in the same group of M-badged vehicles as the M340i, M550i, and X5 M50i.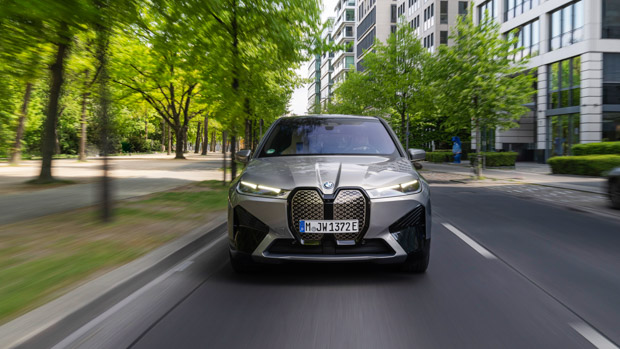 BMW proudly says that the iX M60 is the first M product to sit on a bespoke, fully-electric platform, but this is not a full-fat M car. Undoubtedly, a true M electric SUV will come, but M-division boss van Meel says it'll take further developments in battery chemistry – meaning, more energy density, less weight and faster charging capability – before that will be allowed.
However, M has pored over the motor technology nestled between the iX's rear tyres, removing and replacing the aft "electric engine" (in BMW terms) with a new unit that incorporates a six-phase inverter allowing rotation at 15,400rpm – meaning a two-speed transmission, a la Porsche Taycan or Audi E-tron GT, was not necessary.
In turn, the iX M60's brushed rear motor can spin fast enough, quietly and efficiently, to allow the iX's top speed limiter to be lifted from 200km/h in the $53,000-cheaper xDrive50 to 250km/h – making the M60 a proper autobahn-stormer in its home market of Germany.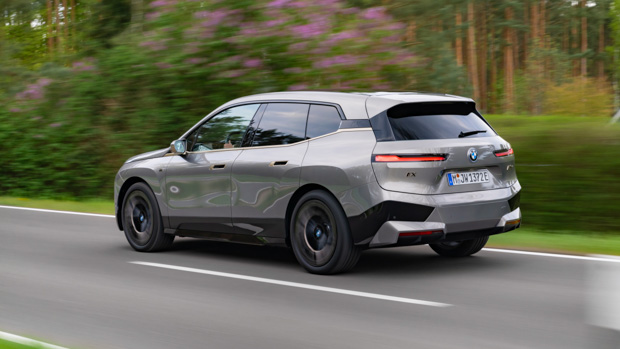 Oh, and no rare earth minerals are used for magnets in the motors, either – its brushed design avoids the need for the magnet-driven permanent-excitation found in most EV motors.
A generous circa-300km drive loop on the iX M60's international launch in and around Berlin took in some sections of derestricted autobahn, revealing the party trick of this large SUV.
Most electric cars can hammer off the line from rest but their forward motivation tails off shortly after triple digits. While Porsche has fought this effect via low- and high-range gears, BMW M has followed Tesla in constructing a motor capable of extremely fast rotation, allowing excellent acceleration well above 100km/h.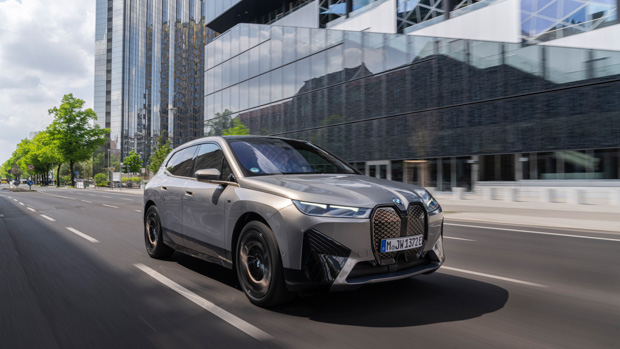 The iX M60 cruises up to 200km/h and beyond with no fuss and very little tail-off in pace, allowing it to hang with other monsters of these speed limit-less highways … including its natural internal rivals, the X5 M50i and X5 M Competition, which can drive a little faster again.
Derestricted autobahn honestly feels like home for the iX M60, so it's no surprise the launch was held in Germany. It is less likely that Australian buyers will be able to sample this effect regularly, but it's nice to know that you could…
Find some sinewy B-roads and like the $160K iX xDrive50, the M60 is composed and easy to drive, with a large part of its circa-2500kg mass contained in a large 105kWh battery pack nestled under the cabin and between the axles.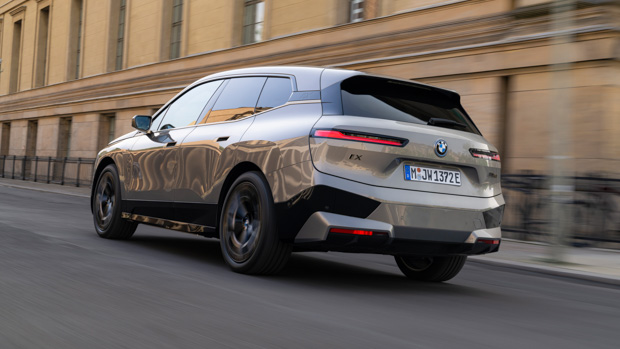 The centre of gravity is low, though there is still substantial inertia here that blunts outright agility; you'll want to exercise some patience when throwing the iX from bend to bend. Revealingly, the quickest X5 is about 400kg (or 20 percent) lighter.
Relax the pace on a winding country road and there's much to enjoy about the M60's accurate steering and comfortable, almost supple ride quality (despite high unsprung mass thanks to 22-inch wheels, wrapped in Pirelli P Zero Electric tyres).
That said, we get what M's boss means when he says a full-M EV is not yet possible. The batteries are still too large and too heavy to achieve both a long real-world range and great agility.
In turn, this raises the question of the M60's worth in Australia. In this part of the luxury market, more is more – and bragging rights count for plenty. But there's little that the M60 can do at Australian road speeds that the 39 percent-cheaper xDrive50 can't already.
How is the iX M60's interior?
We don't officially judge a car's exterior styling in Chasing Cars road tests, but it's hard to start talking about this car's interior without at least acknowledging the polarising, avantgarde sheet metal.
Some dislike it but the more people we speak to about the way the iX looks, the more converts we find. Certainly, this 80s-reimagined BMW crossover resembles nothing else on the road and runs its own race.
Inside, the styling is at once similarly forward-thinking but also more conventional, as all the usual BMW components are found here – but in new forms and materials.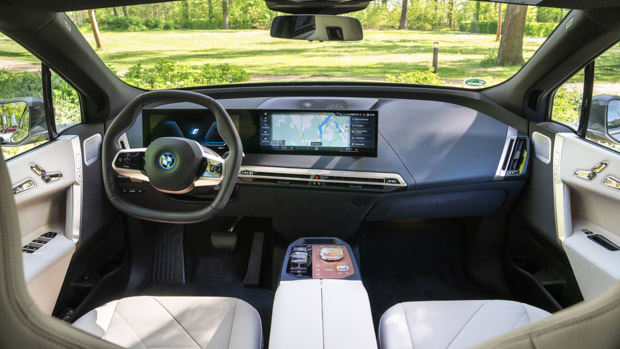 The iX may look radically different to an X5 outside, but the interior still builds in fan favourites like superb infotainment, great seats and BMW's much-loved iDrive rotary controller.
We've already rated the iX xDrive50's 'lounge concept' interior highly, and to this the M60 retains much of the quality interior and adds a few touches – mainly software-related, including M logos in the instrument cluster and new driving modes.
A dramatic 'Curved Display' concept, which builds in a 12.3-inch digital instrument cluster and 14.9-inch central touchscreen, debuted in the iX and is now propagating through the rest of the BMW range – not just the i4 electric sedan but the 3 Series and 2 Series as well.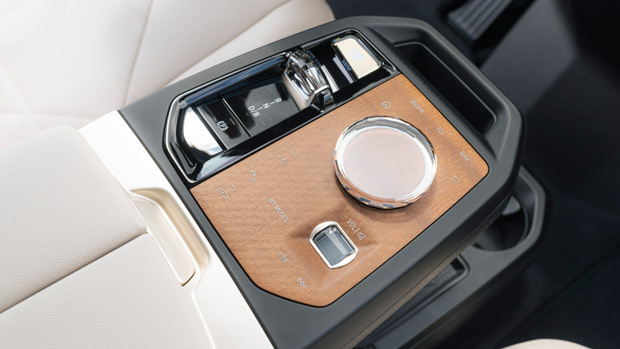 The displays run BMW's OS 8 system which is clear and easy to use, either by touch or via the iDrive controller. Wireless Apple CarPlay and Android Auto are included and two levels of Bowers and Wilkins stereos are selectable overseas – but Australian M60 buyers will benefit from standard inclusion of an outstanding B&W Diamond hi-fi.
The single-piece front seats allow fairly extensive adjustment via new crystal controls located on the doors (adopting a Mercedes-Benz touch), plus further angles through the touchscreen – though we longed for more aggressive thigh-angle adjustment. Seat heating and cooling is standard.
A two-spoke steering wheel is a cool touch and feels right in the hands, while the driving position affords a good view out while feeling appropriately 'low' in the vehicle for more focussed piloting.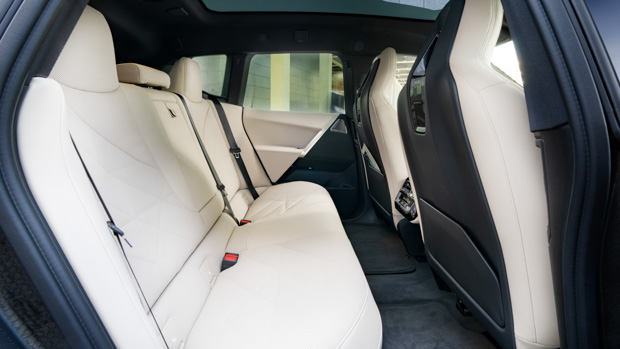 There is plenty of space in here courtesy of not having an engine or transmission in a conventional sense; the floor is flat in both the front and rear of the iX.
Back seat space is generous for six-footers sitting behind drivers of similar size, and the upholstery extends into the sides of the car in the back for a feeling reminiscent of a sofa.
500-litre boot space is fine but not generous for a five metre SUV – the cargo space is blighted by an unusually high floor, which will necessitate more careful packing for long trips.
For such a large car, we would also appreciate a third row, but one isn't available for the iX – though it's likely a fully-electric BMW crossover sized like the X7 will be released in the coming years.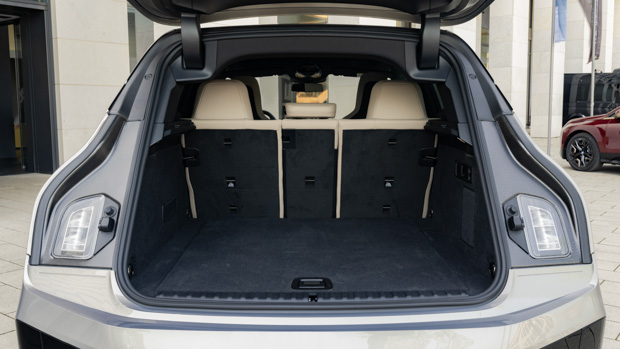 What are the iX M60's running costs?
Our extensive drive loop in Germany resulted in total energy consumption of 20kWh/100km, which we were happy with. This is a large, heavy and very powerful crossover, and our efficiency actually exceeded that of our smaller, 500kg-lighter Polestar 2 long termer.
A 25km stop-start section in Berlin CBD saw us record a less impressive 28kWh/100km, but the traffic was so interminable that little regenerative braking was possible.
The iX M60 shares its 105.2kWh usable battery size (which uses quite a lot of Australian-sourced lithium) with the less expensive xDrive50 – a model that is also slightly more efficient, but not by much.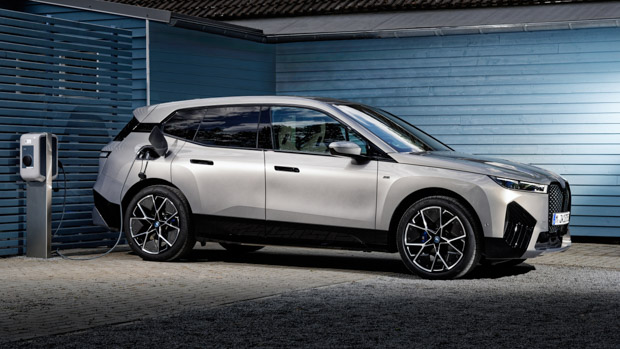 This large battery means the M60 achieved a real-world range of 526km in our testing, which sits neatly between BMW's claims of 499-566km (WLTP).
Maximum DC ultra-rapid charging speeds run at 200kW for the iX, which allows replenishment of the battery in about an hour if you can find a compatible charger. At home, a 7kW wallbox can recharge the car from 0-100% in about 15 hours.
If the M60's service plans are the same as those that BMW sells for the other iX models, they will run at $1520 for four years or $2195 for six years; this is relatively expensive for an electric car and basically involves vehicle checks, not replacement of consumables.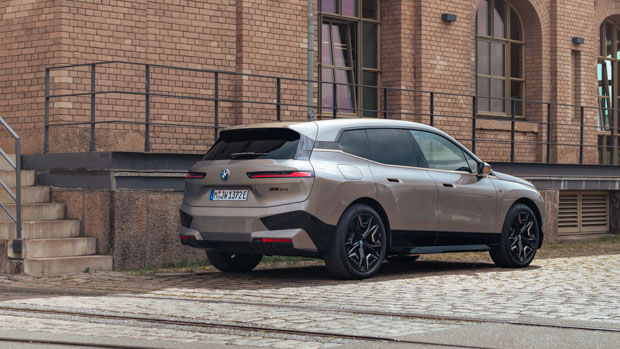 But the biggest flaw of the iX of all is its short vehicle warranty – three years is poor given Mercedes-Benz, Audi, Lexus, Volvo, Jaguar Land Rover and others have all adopted five year warranties … while Kia offers seven years.
It's true that the iX has an eight year/160,000km high-voltage component warranty but it's now beyond the point where the vehicle warranty should have been lengthened.
The final verdict
The iX M60's biggest strength is its innovative M-developed rear motor that allows superb acceleration beyond 100km/h: it's a true bahn-stormer and feels perfectly attuned for high-speed cruising between German cities.
No surprise we really liked the car on its international launch, held in its home market partially on fast-flowing and derestricted autobahns.
Of course, with no Australian state or territory allowing unlimited speeds (after the Northern Territory abolished this freedom some years ago), the M60's capability in Australia is somewhat theoretical.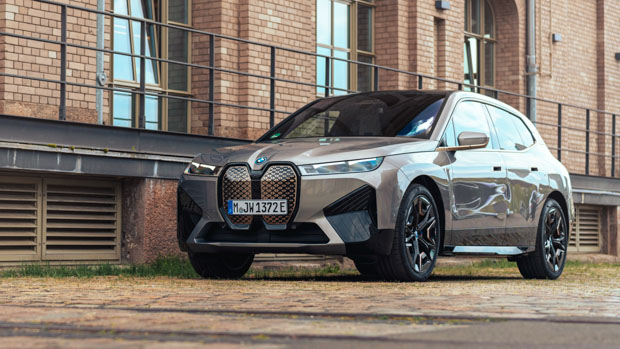 It's a little too heavy and ungainly to be used on the track and BMW certainly doesn't market it that way.
Instead, the M60 will sit at the pinnacle of the iX lineup in Australia, outshining its xDrive50 sibling with a sportier (yet still supple) suspension tune, better tyres, exclusive badging and a very high level of standard equipment.
Most family buyers will be perfectly satisfied with the xDrive50 … but that's not the top of the range. When it comes to an M-fettled BMW SUV that's purely electric, there's only one – and it's the iX M60.