If what you want from a large luxury SUV is big noise, a totally rear-biased AWD system and a hugely muscular V8 over the front axle — well, unusually, BMW actually have two versions of their popular X5 to sell you. There's the comfortable, softer-slung M50i variant we've reviewed here. And then there's this: the new, 2020 BMW X5 M Competition. It may use the same 4.4-litre twin-turbo bent-eight as its lesser sibling, but make no mistake: this one is a full-fat M car. It's louder, meaner, stiffer and more intense in every way.
Noisy, brash and in-your-face, particularly in the Toronto Red of our test car, the BMW X5 M draws attention — good and bad — on the road. The X5 M isn't a car for shrinking violets, at least in the bright hues of which there is a good selection. Even in a silver or grey, it's hard to miss the X5 M's hugely exaggerated bumpers, massive double-kidney grille, the dedicated M badging scattered across the bodywork (legitimately, on this car, unlike most blinged-up Beemers), and fat quad tailpipes that emit a throaty bellow from the 4.4-litre. A Tesla Model X this is not…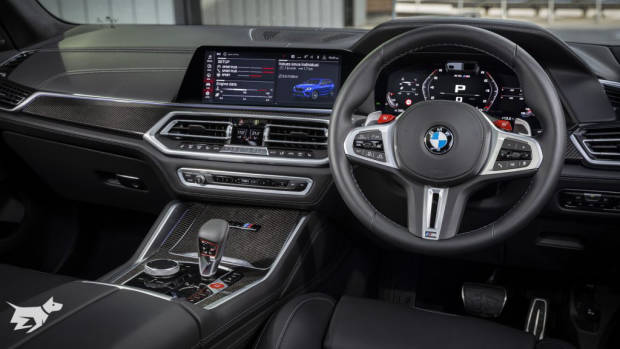 The extroverted theme continues inside, where normally sober trim elements from the standard X5 are ripped out and replaced with far more out-there shapes and materials. Check the honeycomb quilting on the M-exclusive coffin bucket seats' Nappa leather trim, the red M shortcut buttons on the wheel, and the genuine carbon fibre trim, inscribed with X5 M, generously scattered across the cabin. Whether you're looking at it from a cafe table or sitting behind the fat-rimmed steering wheel, you won't forget what kind of machine you're driving. Thankfully, indulgent extroversion aside, the basic materials used in this $210k+ SUV are exceptionally good. The X5 M feels undeniably sporty, but suitably luxurious, too.
The full-fat X5 M doesn't offer the third-row seating option of the four- and six-cylinder versions, so this is a big five-seat SUV proposition: 4.94 metres long, 2.02 metres wide, 1.75m tall and weighing in at nearly 2.3 tonnes, this largest of M SUVs is a bruiser, no doubt about it. Only a theoretical X7 M, with seating for seven, would be a bigger, meaner BMW crossover, though the forthcoming Alpina XB7 offers those seeking an even more imposing Bavarian SUV something of a bespoke option. At least the X5 M's rear seats are spacious for adults, who can sit three abreast.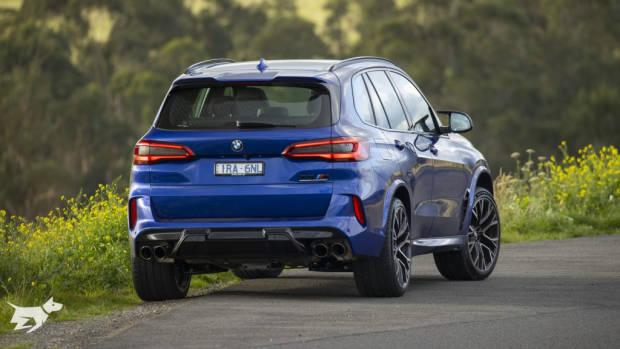 The cabin is spacious in all five seats, but it's up front where you feel most cosseted. The beefy, soft leather steering wheel has an air of quality, while the intuitive technology that bundles a digital cockpit, DAB radio, integrated navigation and wireless Apple CarPlay works almost flawlessly. A $7,500 Indulgence Package, which adds cooling ventilation and a massage function to the already heated front seats, while also heating the outboard rear seats and providing rear sunblinds. This package also adds a sunroof, which was the source of our only real trouble with this vehicle – despite the near 20L/100km fuel bills, which we imagine won't bother many owners.
See, unlike the more comfortable X5 M50i, the X5 M isn't soft in any sense. The ride, on staggered 22-inch rear and 21-inch front tyres with near-liquorice-thin sidewalls, is very stiff. This affords the X5 M an uncannily flat demeanour when cornering – an activity it is remarkably competent at. However, you pay a penalty for all that stiffness: there is absolutely no give in the chassis meaning that it is the trim pieces inside that give way, and fast. Our low-kilometre tester already had a loud rattle emanating from the panoramic sunroof. And then the X6 M we tested the following week did too.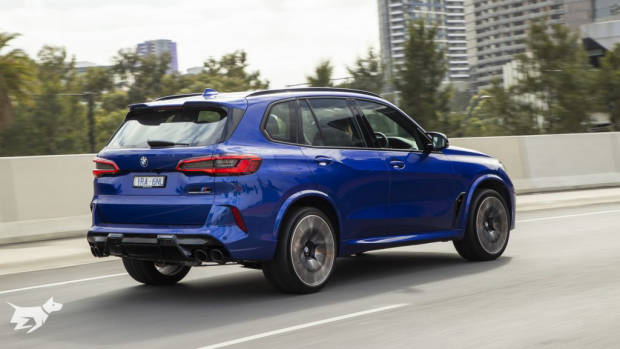 That sort of niggle would be less of a worry if BMW matched Mercedes-Benz Australia in upping its standard warranty to five years, but they're sticking to three for the time being. But then again, we won't pretend this ride-induced rattle is a quality control issue: it's a direct product of M Division's choices to get this car to handle more like a station wagon than the towering SUV that it is. A regular, gently-sprung BMW X5 30d diesel does not exhibit the same problem. But the 30d can't go around corners like the M version: flatly, rapidly, and with remarkable traction… until you don't want traction any more.
The 2020 X5 M demonstrates great bandwidth of handling: crank it into Sport mode and leave all the settings in their default positions and the all-wheel-drive system diverts torque seamlessly to the (huge) wheels with the most grip. Whether launching off the line, probably beating the conservative claimed 0-100km/h time of 3.8 seconds, eight-speed ZF torque converter snapping through gears, you can set a genuinely quick pace, either on a straight course or cross-country: the X5 will keep up with fast sedans on hill climbs with remarkably little trouble, though it'll be much harder on tyres as it goes.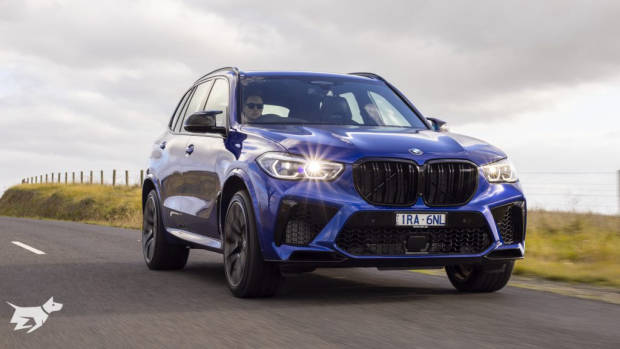 However, you can nix the straight-laced act with the push of a button or two. Place the stability control into M Dynamic Mode, which allows some degree of slip without fully releasing the reins and push the AWD system into '4WD Sport', and you'll be swiftly reminded that BMW haven't forgotten their rear-wheel-drive origins. Even moderate throttle applications on corner exit are enough to send the tail drifting gently sideways. And yet, the whole dance feels graceful and secure, with the halfway-house ESC setting expertly judged to flatter the driver without allowing this two-tonne, nearly two-metre-tall juggernaut to come truly unstuck. Disable that safety net entirely, though, and you're taking physics into your own hands.
This BMW's ability to toggle cornering dynamics from secure to silly depending on your mood is a terrific trick that helps the X5 M to feel anything but one-dimensional. Combine the silky smooth-revving but throatily-loud V8 and the X5 M is an impressively theatrical performance SUV that also happens to be able to lug a load without complaint. An indulgence? Sure – but as indulgences go, this one is pretty practical. It's just a shame BMW don't make an M5 Competition wagon, which would be even cooler – but this SUV is pretty darn rad.