BMW revealed a functional 2021 iX5 large SUV powered by a hydrogen fuel cell at the 2021 Munich IAA show.
This development mule will be giving test rides at the brand's home town motor show, with BMW to begin publicly testing the iX5 Hydrogen towards the end of 2022. However, the car is not likely to go on sale to the public in this form.
Hydrogen FCEVs are likely to form a big part of BMW's zero emissions range from 2025 according to Pieter Nota, member of the board of management.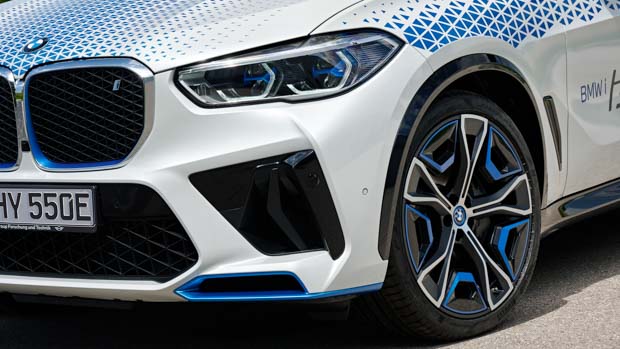 The iX5 Hydrogen is not a bespoke FCEV. Like the battery-powered iX3, it is an adapted version of a piston vehicle. Underneath the large SUV body is BMW's cluster architecture, though it distinguishes itself with blue detailing and aerodynamic 22-inch alloy wheels. 
What is powering the iX5 Hydrogen?
A single electric motor features on the iX5 Hydrogen using the same eDrive technology as the BMW iX. From hydrogen alone the iX5 can develop a maximum of 125kW, making it the most powerful hydrogen FCEV available.
That is supplemented by a lithium-ion battery capable of producing up to 150kW which is fed via regenerative braking. BMW quotes a total system output of 275kW, though exact acceleration and torque figures are unconfirmed.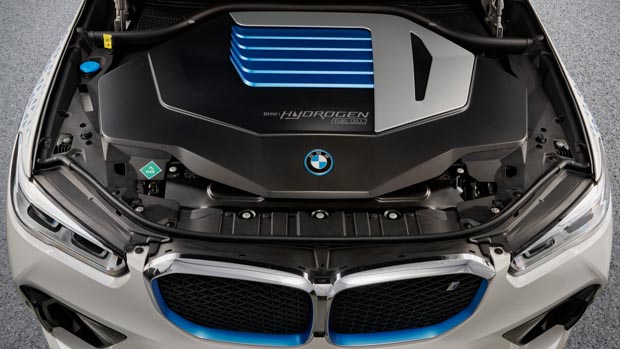 The motor is fed by a hydrogen fuel cell with dual fuel tanks that can store up to 6kg of hydrogen. BMW conservatively claims a 500km range.
For reference, Toyota's Mirai hydrogen FCEV has 5kg of fuel capacity which equates to a real-world range of around 500km.
How does a hydrogen FCEV work?
The fuel cell takes pressurised hydrogen from the tanks and combines it with oxygen in a chemical reaction. This reaction produces only two things: electricity to power the motors, and pure H20 (water) as a byproduct.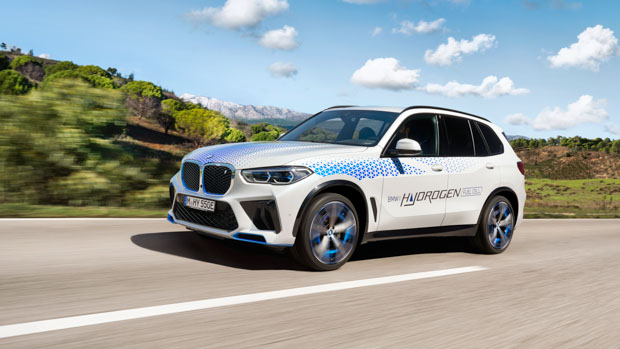 This is the conventional way to use hydrogen in a zero-emissions vehicle, however Mazda is looking further into substituting unleaded petrol with hydrogen in rotary engines.
Compared to battery EVs, FCEVs do have some drawbacks. Lower power density in hydrogen means slower acceleration than in a Tesla Model S with a similar range.
The other drawback is the size and weight of the fuel cell itself, which makes FCEV more suitable for large SUVs, passenger cars and commercial vehicles. In this case, the iX5's 2,500kg kerb weight is roughly equivalent to the X5 xDrive45e PHEV.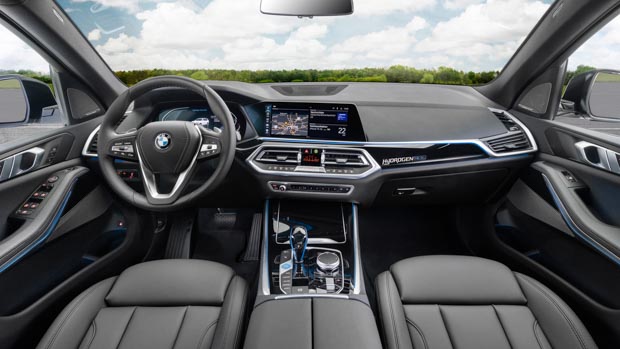 There are numerous advantages to counter the drawbacks. BMW claims the iX5 Hydrogen only takes between 3-4 minutes to fill up at the bowser which is easier to understand as a consumer switching from a piston vehicle.
The other advantages are the longer travel distances and suitability for markets that are lagging behind when it comes to EV charging infrastructure. There's a strong case to be made for hydrogen vehicles in countries like Australia.
Why is BMW investing in hydrogen?
BMW believes that – when extracted sustainably – hydrogen has the potential to complement its EV future. Specific markets and vehicles will suit the technology better, for example it's unlikely we'll see a hydrogen-powered M3 any time soon.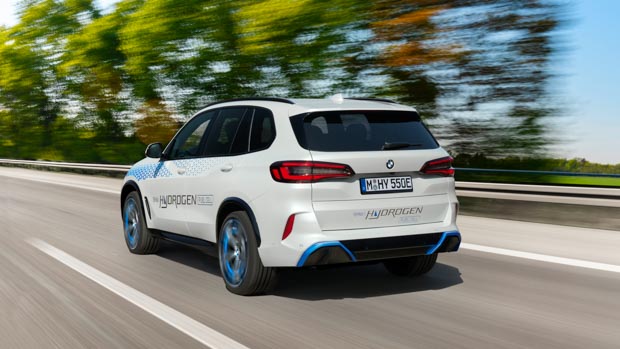 As an option alongside electric vehicles, BMW believes that by around 2025 hydrogen FCEVs could form a significant part of its zero emissions portfolio.
The iX5 Hydrogen will not form part of that portfolio though, for now this is just an exercise to test the viability of the FCEV system in the real world.