Tesla's highly anticipated 2022 Model S Plaid has been revealed alongside an even more unhinged Plaid+ variant, with both promising to rewrite the dragstrip rulebooks.
The Model S Plaid will use three electric motors making 820kW of power in the Plaid+ or 761kW in the Plaid, with power sent to all four wheels.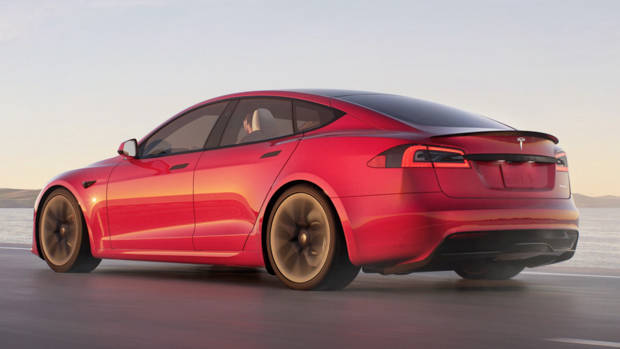 A torque vectoring system is also fitted, which uses carbon-sleeved rotors inside the electric motors to optimise the power applied to each wheel for better performance in the corners. 
Tesla Claims the Model S Plaid can accelerate from 0 to 100km/h in just 2.1 seconds and the Plaid+ will get to 60mp/h (97km/h) in 1.99 seconds going on to finish the quarter-mile in less than nine seconds.
If proven, those times will make the Model S Plaid+ the fastest accelerating production car in the world, with only the Rimac C-Two able to match it with an estimated 1.9 second 0-100km/h time – however, it has not yet entered production.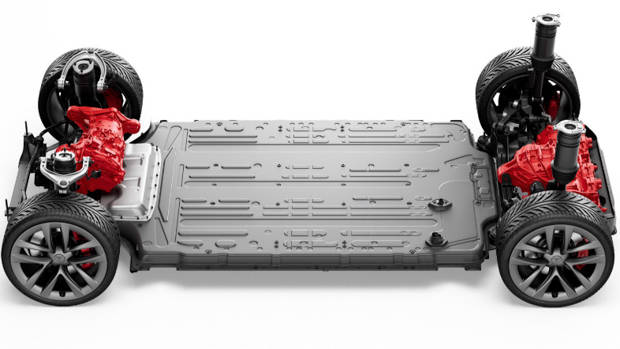 For reference, a Porsche 911 Turbo S is considered a really fast car and claims a quarter-mile time of 10.1 seconds.
It should be noted that Tesla's acceleration times are measured after subtracting a one-foot rollout, meaning the timer only starts after the car has moved 0.3 metres off the start line.
As well as being quick off the line, the Plaid and Plaid+ will blow past claims that electric cars are lacking in the top end with Tesla claiming a maximum speed rating of 322km/h for both.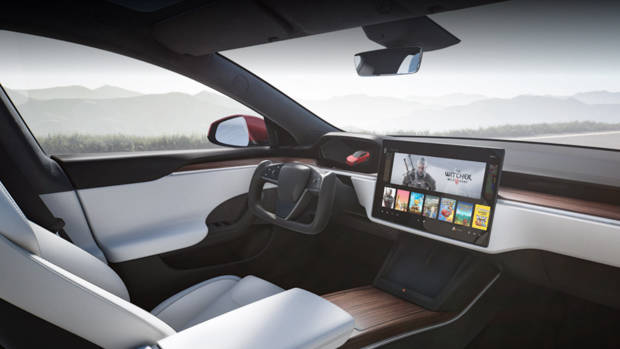 Perhaps more impressive than the performance figures is the sheer amount of range Tesla is able to extract from the Model S chassis, which has been around in various forms since 2012.
The Model S Plaid is rated slightly less than the Model S Long Range at 628 kilometres while the Plaid+ is capable of an astonishing 837km, easily beating the likes of the Hyundai Kona Electric with 449km of range (WLTP tested).
Both Model S variants will be coming to Australia with the Plaid priced at $174,990 (before on-road costs) and Plaid+ at $189,990 (before on-road costs).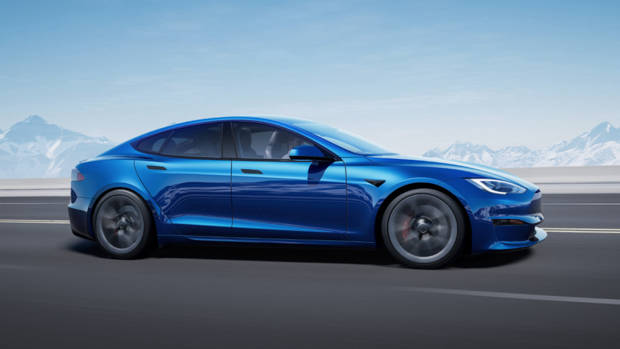 The Model S variants were announced during a Q4 earnings call with investors also debuted a radical new interior design for the Model S range.
Tesla has ditched the traditional round steering wheel for a yoke-style steering wheel – similar to that of a plane – with no gear stick, indicators or windscreen wiper stalks to be seen.
Gone is the huge vertical touchscreen which has now been replaced with a horizontal 17-inch unit. A 12-inch digital display now sits in front of the driver with an eight-inch touchscreen between the front seats too keep rear passengers entertained.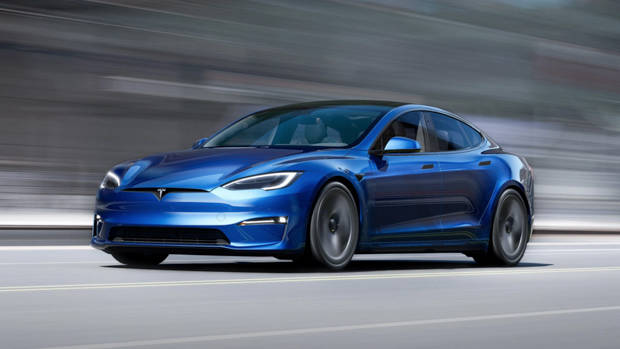 In a Tweet late last month, Tesla CEO Elon Musk suggested the new Model S would estimate which direction you were travelling based on sensors and GPS data furthering the abilities of the brand's 'Autopilot' semi-autonomous driving function.
However, it is not clear if this feature will make it to production immediately, though as we have seen from Tesla in the past it may be added in a subsequent over-the-air update in the future.
The Model S Plaid and Plaid+ are currently available to order online via the Tesla website with an official delivery date yet to be confirmed.
Tesla Model S: prices in Australia
All prices listed are before on-road costs.
Model S Long Range: $129,990 (Available now)
Model S Plaid: $174,990
Model S Plaid+: $189,990