The 2021 Hyundai Kona Electric small SUV has been recruited into the NSW Police Force on a trial basis for the next 12 months.
Appropriately plated 'EV COP', the Kona Electric will be based at Penrith Police Station in the Nepean Area Command where it will serve as a community engagement vehicle by the Crime Prevention Unit.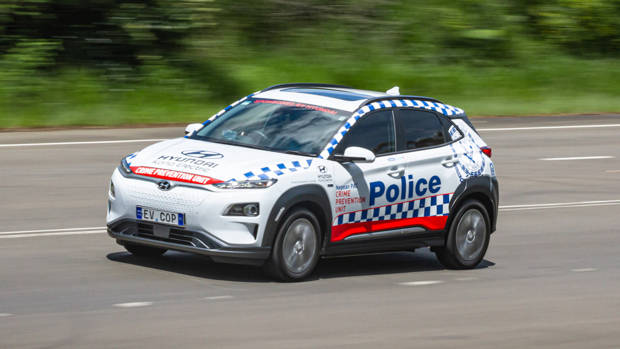 The Kona Electric may wear the livery but it is not a fully-fledged police car, with NSW Police forgoing the red and blue flashing lights and the internal computer systems required for a general service patrol car. 
An AC charger has been fitted at Penrith Police Station to keep the Kona Electric's battery topped up.
The Kona Electric is unlikely to leave its new owners stranded though, given it packs about 450km of range according to strict WLTP testing. It can also be charged at a rate of up to 100kW, giving it the ability to top up 80 per cent of the battery in a claimed 54 minutes.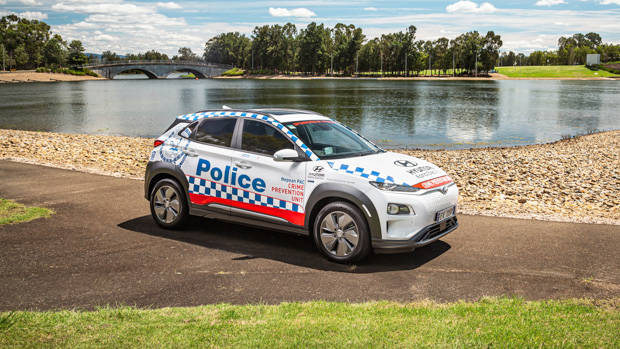 The car supplied to NSW Police is a top-spec Kona Electric Highlander grade, which retails for around $65,290 before on-road costs.
Superintendent Chris Keane, Commander of Nepean Police Area Command said the Kona Electric was designed to draw interest and spark conversations as it drove around town.
"The Hyundai Kona electric vehicle is a valuable addition to the Nepean Police Area Command and will assist our Crime Prevention Unit with its community engagement initiatives," he said.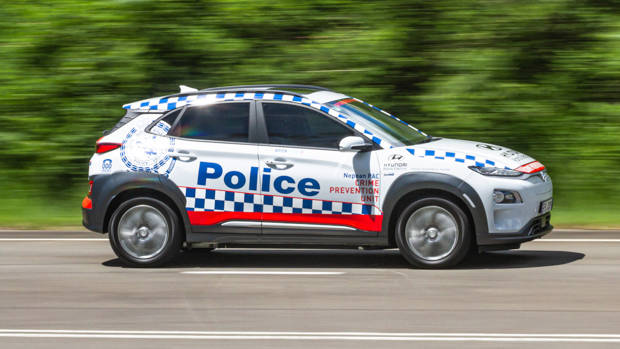 While the Kona Electric will not be used as a regular police car in NSW for the foreseeable future, police forces in Spain, Switzerland and the United Kingdom have previously recruited the electrified small SUV into their ranks as an official patrol car.
Car manufacturers have made a habit of lending unusual and interesting vehicles to the police force, with cars such as the Honda Civic Type R and even Mclaren 650S loaned out to NSW Police to encourage community engagement.
Traditionally, large-displacement Australian-made sedans formed the backbone of Australian policing fleets, with liveried Holden Commodore SS and Ford Falcon XR6 Turbo police cars once a very familiar sight.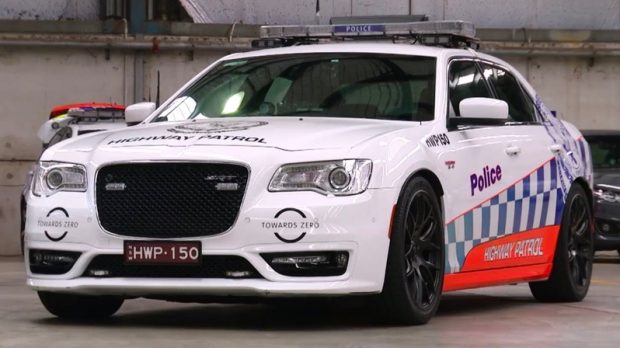 Following the end of Australian car manufacturing, the new mainstays of policing in New South Wales are the diesel six-cylinder BMW 530d and petrol V8 Chrysler 300 SRT in highway patrol duty, while the turbocharged Hyundai Sonata has become a favoured general duties vehicle.
The Kona Electric's promotion to police duty  is not the first time an electric car has joined the force in Australia, with Victoria Police purchasing a one-off Tesla Model X for official testing in 2019.
Unlike the Hyundai Kona Electric shown here, the Tesla Model X Long Range was put to the test as a fully-functioning highway patrol car, but the SUV's starting price of $157,418 (before on-roads) may be the reason it has not seen a wide-spread rollout since the testing.