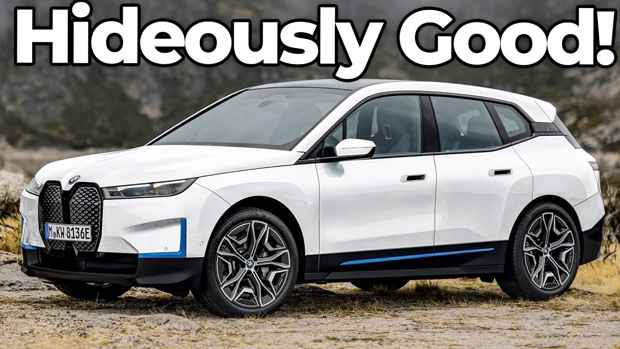 Only the second BMW model developed as a bespoke electric car without a combustion sibling – following the similarly avantgarde i3 hatch – the 2022 iX is Munich's first model that lacks a number in its name.
Plenty of other numbers are involved in this large five-seat SUV that serves as the new flagship of BMW's burgeoning electric lineup, though: using a heavily modified version of the brand's Cluster Architecture modular platform, equipped with a carbon fibre cage, the iX in as-tested 50 Sport guise makes up to 375kW of power, sprints to 100km/h in 4.6sec and weighs in at a hefty 2510kg.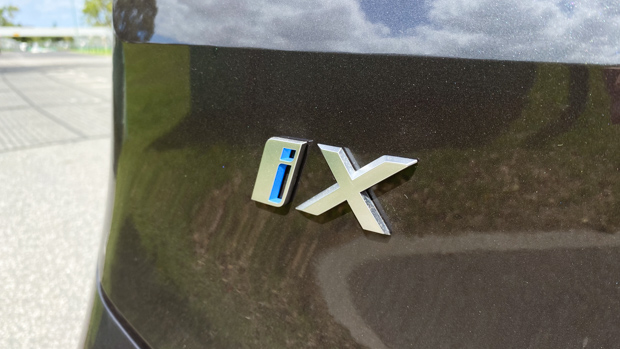 With the spirited and small i3 having now departed BMW's range, the iX also has the honour of being the sole electric-only model, defying the brand's 'Power of Choice' philosophy that intends to provide customers with petrol, diesel, hybrid and electric models across the range.
Built in BMW's Dingolfing, Bavaria plant – as the i3 was – this is a ground-up electric car and a showcase of BMW's technology-oriented future as a mobility provider as well as a car manufacturer. But is there substance to all the statistics?
Our first iX review is of the current range-topper: the dual-motor xDrive50 Sport variant that costs $169,900 before on-road costs. Boasting a WLTP-TEH range of 550km from its 105.1kWh lithium-ion battery, plus peak outputs of 375kW of power and 765Nm of torque, the xDrive50 Sport sits above an xDrive40 model rated at 240kW (from $135,900).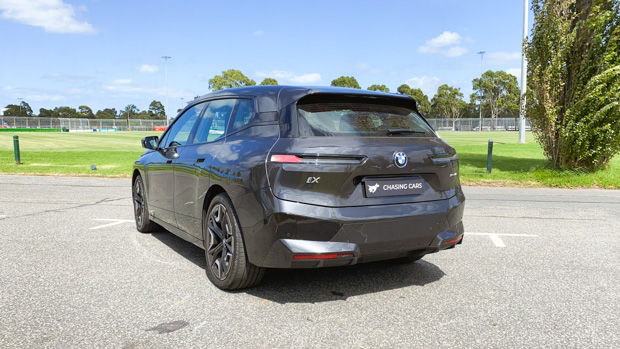 Later this year the range will expand with the arrival of a 455kW/1100Nm iX M60 flagship which will become the first ever electric SUV to wear an M badge, while later still, BMW's performance house will release an even quicker SUV in the form of the plug-in hybrid V8 XM model.
Arguably, the xDrive 50 Sport is all the iX you need and it certainly has visual impact, from the slab-sided exterior finished in sinister 'Sophisto Grey' paint with its self-healing kidney grilles that look like a pair of angry beaver's front teeth. The iX may not be the most beautiful BMW, but it turns heads and many will appreciate its in-your-face swagger.
Broadly the size of an X5 large SUV, the iX goes without a third row and measures 4953mm in length while riding on a substantial 3000mm wheelbase.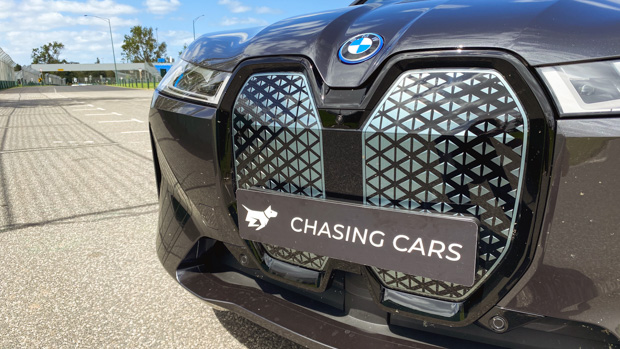 But what's the price of electric progress? Well this iX xDrive 50 is relatively similar in price to the X5, being $11,000 dearer than the V8-powered X5 M50i ($158,900) while offering a newer BMW interior and technology concept with greater processing power, partially to run more sophisticated safety assistance features.
How does the iX xDrive 50 Sport drive?
Until the arrival of the i7 limousine, the iX SUV acts as BMW's electric car flagship but also as the flag-bearer of the brand's driver assistance suite – so it's a little odd that this large SUV goes without reversing AEB.
We generally find BMW's assistance technologies, like adaptive cruise control and lane-centring, to be smooth and intelligent – but the iX's exhibits even smoother and more mature behaviour thanks to its greater computing power. The iX traces lane markings on the road immaculately and has the ability to differentiate between approaching cars and trucks.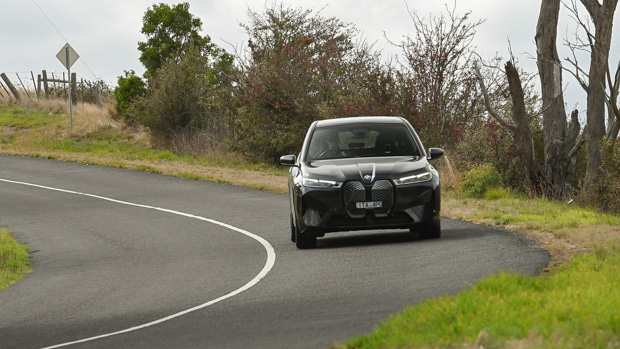 Engaging the system is seamless and requires just one touch on the right button-pad of the hexagonal two-spoke steering wheel, and adjusting speed using the nearby directional button feels natural.
Along with the semi-autonomous tech, BMW includes forwards AEB with pedestrian and cyclist detection, blind-spot monitoring, lane-keep assist, rear cross-traffic alert and a very crisp 360-camera with selectable views to aid parking.
Above that suite there's also an adaptive program for the iX's regenerative braking that uses the front camera and radar sensors to detect other vehicles ahead and increase regen pressure accordingly. This function was particularly relaxing to use when approaching junctions behind other motorists with the regen braking bringing the iX to relaxing stops.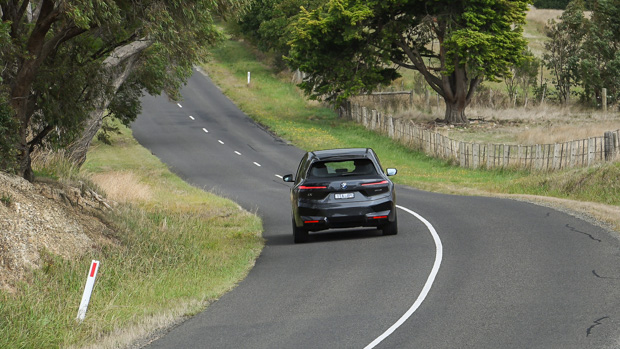 If you want more traditional one-pedal driving you simply need to tap the very Volkswagen Golf-esque stubby automatic transmission shifter back to B (for braking) and modulate the floor-mounted accelerator.
On the topic of acceleration, the iX xDrive 50 Sport has the usual tummy-churning turn of speed we're (slowly) becoming accustomed to. It's no Porsche Taycan Turbo or Tesla Model 3 Performance, but the combination of a 190kW/365Nm front and 230kW/400Nm rear motor sees the xDrive 50 Sport hit 100km/h in 4.6 seconds, with a top speed of 200km/h.
The gathering of pace is accompanied by a very swish Hans Zimmer designed soundtrack. In isolation, you could mistake it for a generic EV whirr, however on the day we filmed the iX review an M240i xDrive came along too, and back-to-backing the pair revealed the subtle reference to BMW's famed straight-six soundtrack in the iX's sound design.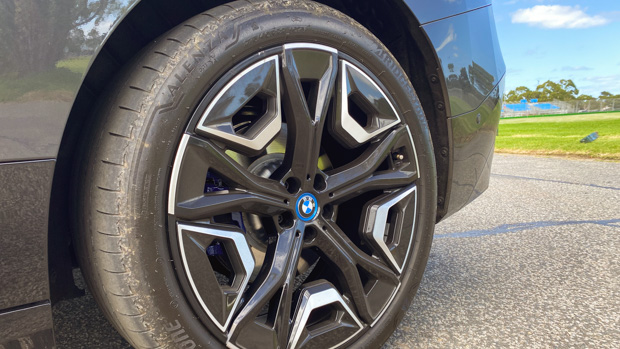 When the M60 arrives the iX will be faster still, but in a large and cosseting SUV like this, I wonder whether most will ever really need more than the 240kW/630Nm outputs and 6.1 second 0-100km/h sprint of the xDrive 40 grade.
Luckily there isn't a trade-off in ride quality for the 50 Sport's speed with dual-axle active air springs and adaptive dampers; the iX has all the tech needed for a magic carpet ride. The iX is also equipped with double wishbone front and multilink rear suspension.
The result is excellent, even with whopping great 22-inch alloy wheels shod in 275/40 Bridgestone Alenzas the iX simply wafts over sharp-edged city bumps while retaining control through more significant compressions. Only on some constant undulations did the iX feel a bit like a supertanker on a choppy day at sea in Personal mode, but flicking the chassis into sport mode restored composure.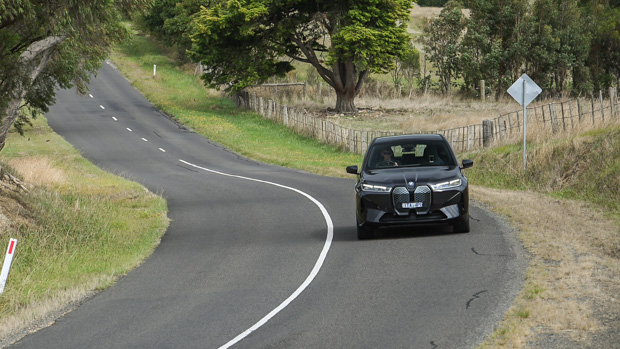 Speaking of which, you need to select Sport mode for a typical twisting Australian back road because otherwise the iX rolls an awful lot. This isn't a sharp M Car of course, and even with the batteries down low, weighing 2510kg means the iX does lean in corners, but at least Sport minimises it where possible.
The xDrive 50 Sport is also equipped with four-wheel steer and with the excellent torque vectoring abilities of electric motors, the large iX does an impressive job of stringing together a set of corners.
How is the iX xDrive 50 Sport's interior?
The iX has an airy cabin with no physical separation between passenger and driver footwells save for a smart floating centre console that packs plenty of clever storage with two fast-charge USB-C ports, a 12-volt socket and a wireless charging pad for smartphones.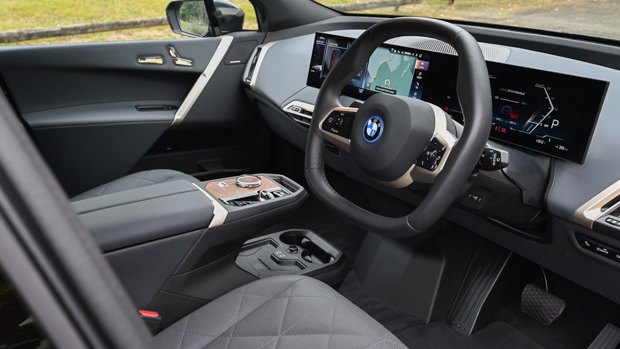 BMW's curving 14.9-inch touchscreen may not be a rival for the new Mercedes-Benz EQS SUV's 56.0-inch 'Hyperscreen', but it is handily slanted towards the driver. There's a new operating system that is a natural development from iDrive found in the X7 SUV and other BMWs with an on-board 5G SIM card that can access weather information, news and live-traffic updates for the navigation system.
The navigation also boasts an augmented reality feature that uses the iX's front camera with overlaid arrows to highlight the ideal lane and upcoming turns which is truly helpful when navigating unfamiliar streets – such as those of Melbourne for this Sydney-based road tester.
BMW says its 'natural' voice assistant programming is more effective in the iX than in previous applications, and that it can respond to commands such as "hey BMW, I'm hot" by adjusting the climate control settings – though between the iX's touchscreen that heats up in use, the expansive greenhouse and 'Sky Lounge' panoramic glass roof the air conditioning is simply not powerful enough for hot Australian conditions.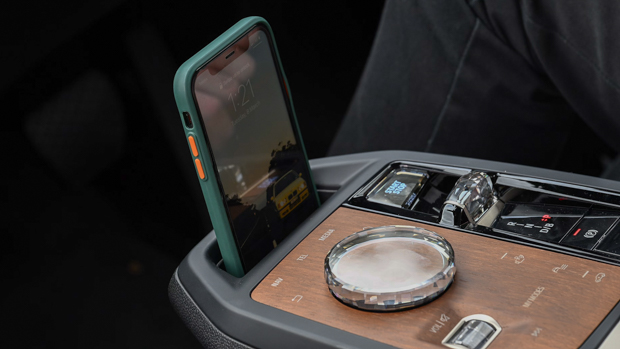 Standard BMW niceties feature too, including wireless Apple CarPlay and Android Auto and an 18-speaker Harman Kardon stereo with powerful bass, clear treble though slightly muddy middle register that suits hip hop much better than complex electronic tunes. Those who want better can spend an extra $7000 on the Indulgence pack and pick up a 30-speaker Bowers and Wilkins sound system.
BMW has also been listening to criticism of its digital driver's displays, and although the 12.3-inch screen of the iX still doesn't have the cartographic quality of the Audi e-tron's digital binnacle or Tesla Model X's central screen, it is at least more customisable than other BMWs.
There are several different dial styles to choose from and you can show a map with navigation directions. The visual clarity of the new screen is improved too, but the purple, gold and dark blue colour scheme could be brighter still.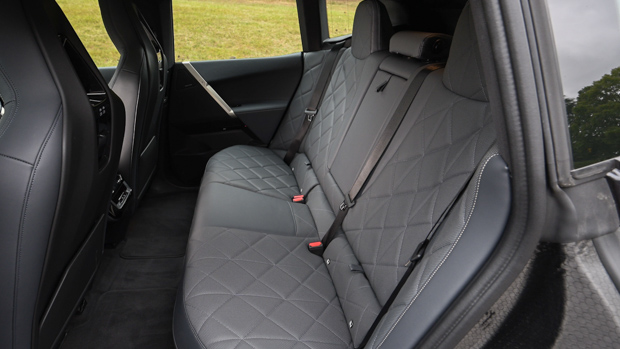 One area the iX excels in is the materials choices. There is a clear nod to sustainability with the iX's leather upholstery tanned using olive leaf extract which releases fewer harmful chemicals. Our test car featured 'Amido' grey hide, but the terracotta-like Castanea leather that lifts the iX's interior appearance is a no-cost option as is a vegan friendly cloth. Other nods to looking after the environment are the floor mats and carpeting made from recycled fish-nets as in an Audi e-tron GT.
The secondary materials consist of Titanium Bronze trim finishers, chintzy crystal seat adjust buttons (which incessantly blind the driver on a sunny day) and soft touch materials on the dash and doors. As part of this test car's Clear and Bold package the rotary controller also gets the crystal treatment and around it is a real wood insert that looks like the well-worn teak you'd find on a second hand Parker coffee table that adds tactility to the iX's cabin.
Continuing the mid-century revival are the seats that remind me of a Tessa lounge chair with their plush cushioning and massage function ideal when wafting around town. The iX offers 10-way electric adjustment to adopt a commanding driving position with a great view out, but the seats lack lateral support when cornering.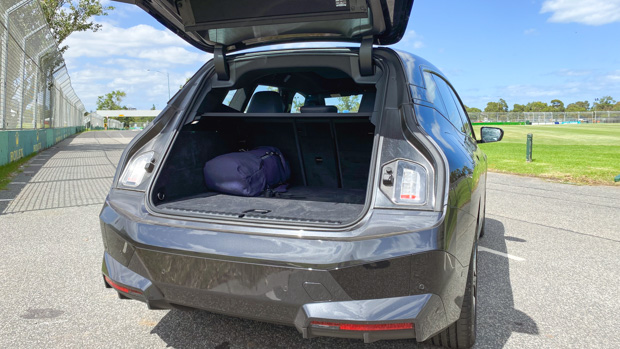 The pews are heated, though painfully fan-cooling is an option bundled into the $3500 Comfort pack that also brings a heated central armrests – though we feel that really should be standard at $169,900.
Comfort continues in the second row where the iX offers huge amounts of knee, head and toe room with a supportive bench that uses the same quality leather as the front seats meaning the back might be the best place to be. There are two Isofix ports neatly hidden behind a retractable leather cover and only the windows not going all the way down see the iX lose points.
Other neat inclusions are the tablet holders in the back of the tombstone front seats that sit directly below a pair of USB-C charging ports. The iX also features two climate zones and adjustable vents for rear passengers.
The 500 litre boot is the only odd feature of the iX, though that's a good size for a midsize SUV such as an Audi Q5 or BMW X3, you expect a little more from this size class with the X5 offering 650 litres. There is no spare tyre under the nicely-carpeted boot floor, only space for the charging adapters to sit.
What are the iX xDrive 50 Sport's running costs?
The WLTP combined energy rating for the iX xDrive 50 Sport is 19.2kWh/100km which equates to a 550km claimed range from its 105.1kWh lithium-ion battery pack.
Over our 250km Victorian country loop that took in 100km/h limit roads, a sizable hill to climb, filming runs and the air con cranked the iX was showing 28.7kWh/100km, equating to a range of just 366km.
That's at the very extreme, though, and in more representative urban driving – where the iX can regenerate electricity more frequently in stop-start traffic – we managed 19.8kWh/100km, indicating a range of 530km.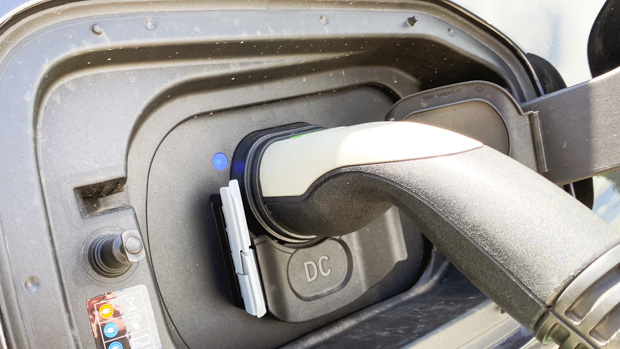 That means in the mixed conditions of real-world commuting and country driving, you should be able to get between 450-500km from a full charge of the iX's battery.
With its 396-volt electrical architecture, the BMW iX is limited to a maximum 200kW DC fast-charge speed which is noticeably slower than the 800-volt platforms of the Porsche Taycan (270kW), Audi e-tron GT (270kW), and Hyundai Ioniq 5 (240kW).
Charging times for the iX depend on the infrastructure you use. Plug it into an ultra-rapid charger of 200kW speed or greater and this SUV can be recharged from 10 to 80 percent (55km range to 440km range) in 35 minutes, with the recharging speed touching 200kW but averaging 126kW.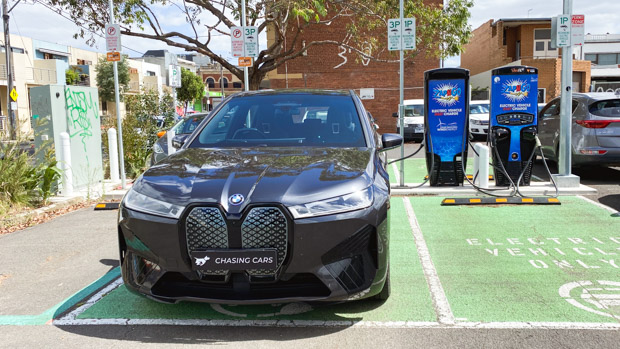 On more common 50kW rapid chargers in public it would take about two hours to complete the same task. Meanwhile, buyers wanting to charge at home will benefit from installing a three-phase system allowing 11kW, allowing complete replenishment of the battery in 9.5 hours, as a single-phase 7kW system will require 15 hours for the same job. A classic three-pin wall socket would require a daunting 52 hours.
BMW includes a five-year subscription to the Chargefox charging network in Australia, representing a potential value of about $6000 for those who prefer not to recharge at home, but installation of an upgraded AC wallbox for your home is not included in the purchase price. This varies between about $1000 for single-phase to $3000 for three-phase.
The more affordable iX xDrive 40 is only available with a smaller 71kWh battery which offers a considerably shorter 372km range (WLTP), though the less powerful iX also consumes less electricity, with efficiency of 19.1kWh/100km. However, fast-charging for the lesser iX grade is capped at 150kW rather than 200kW.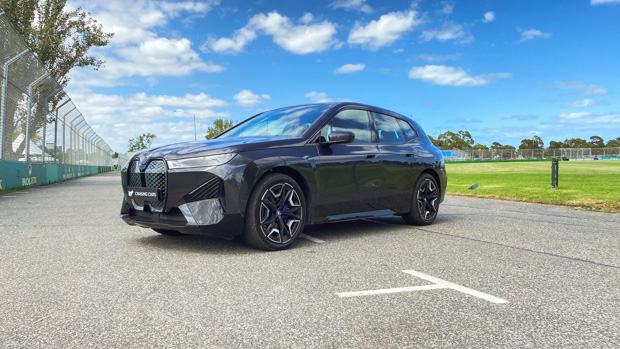 Unfortunately, we did not have an opportunity to rapid-charge the iX due to charging network issues. There are currently no 350kW locations from Chargefox or Evie within 10km of the CBD. We tried to use the Brunswick EV hub's Chargefox 50kW charger, but both were malfunctioning at the time, and still are at the time of writing in March 2022.
Maintenance pricing varies significantly across electric vehicles, with Tesla and Polestar both utilising a similar conditions-based model to BMW. You can buy a four- or six-year basic service plan for the iX, priced at $1520 and $2195 respectively.
A more involved Plus service pack is available that covers brake pads, rotors and wiper blade replacement will run you $6235, but given the iX's strong regenerative braking – and resulting limited use of the mechanical brakes – this seems like it could be unnecessary.
Disappointingly, like other BMW products in Australia, the iX is backed by a short three-year/100,000km warranty. Rivals including the Audi e-tron and Mercedes-Benz EQC are covered by five-year, unlimited kilometre guarantees, while Tesla splits the difference with a four year/80,000km warranty in Australia.
The final verdict
The iX is an exciting window into BMW's electric future, as it's clear this brand isn't done with athletic dynamics. That said, the brand needs to go even further: there might be good bones in the iX's chassis, but the huge mass means enormous potential for a 500kg-lighter, 150mm-lower version that could replace a 5 Series sedan in future. We know the i5 is in the works…
As for whether the xDrive 50 Sport is the pick of the iX range – it is if you like the unrelenting shove of 375kW/765Nm outputs, though the more modest the iX xDrive40 would still be more than nippy enough for most.
The iX's bulging technology package also demonstrates BMW has been paying attention to the future of mobility during the iX's development and we'll surely see features make it into next-gen combustion-engined BMW products.
Should you replace your X5 with an iX then? If circa 450km of real-world range, plush air suspension and charging capabilities fit into your lifestyle then it's certainly worth considering the new-age iX at your next purchase.