t's taken much longer than expected for BMW's 'i' electric car branding to permeate its range, but now that this whole electric-vehicle thing is finally gathering momentum – to say the very least – the 2022 iX3 you see here is merely the beginning of what will become the norm at BMW: every model will have an electric version sitting alongside petrol and diesel powertrains.
In Australia, the iX3 is first cab off the rank, to be followed later this month by the i4 – an electric version of the new G26 4 Series Gran Coupe – joining the electric-only iX SUV flagship. Expect to see an iX2 small SUV, i5 sedan and even an i7 limousine in the future, but for now, the mainstream EV star of the moment is the iX3.
Offered in Australia as a single, comprehensively equipped M Sport variant, our iX3 is so well-stocked that there are just two cost-options available: trick laser headlights ($2000) and a Shadow Package (also $2000) that darkens the grille and window surrounds to high-gloss black and adds sun-protection glazing – though oddly, this pack can't be had in conjunction with Laserlight. It's one or the other.
Never mind though – the iX3's 'regular' adaptive LED matrix headlights look terrific and work really well. As do the iX3's visual tweaks: striking 20-inch aero alloys, more aggressive M Sport bumper treatments, and our tester's no-cost 'i-Blue' exterior accents. Normally painted Frozen Grey, these pops of colour are an acquired taste but contrast nicely with M Carbon Black paint, which becomes a metallic dark blue in direct sunlight.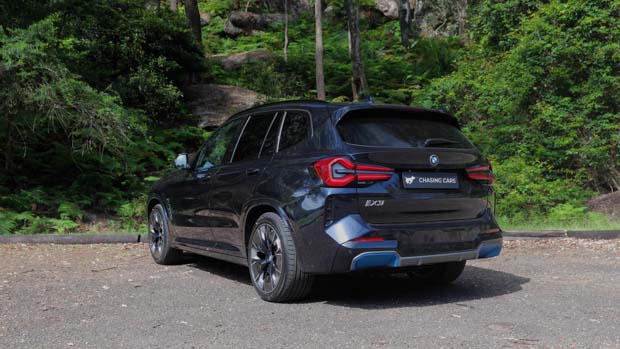 As for the rest of the iX3, it's all pretty familiar … which is the whole point of this electric SUV. It's an electric version of an X3, and therefore presents itself as an unchallenging, relatively conformist, easily approachable entry ticket to electric motoring with a spritzing of EV flavour.
But when there's already a plug-in hybrid X3 on offer with 48km EV range and a $10K-sharper price – while also stocking AWD, playing the iX3's RWD-only layout – does the fully electric iX3 argue a strong-enough case for itself?
How does the iX3 M Sport drive?
With an 80kWh lithium-ion battery (of which 74kWh is usable) embedded in the iX3's floor and no combustion engine under the bonnet, the iX3 is fundamentally different from a regular X3 to drive. This manifests itself in two ways.
The first is that its centre of gravity is 75mm lower than a regular X3's, and the second is that with an 80kW electric motor incorporated into its rear axle unit, the iX3 favours 57 percent of its weight distribution to the rear. As an unintentional driver's car, the iX3 has plenty of potential.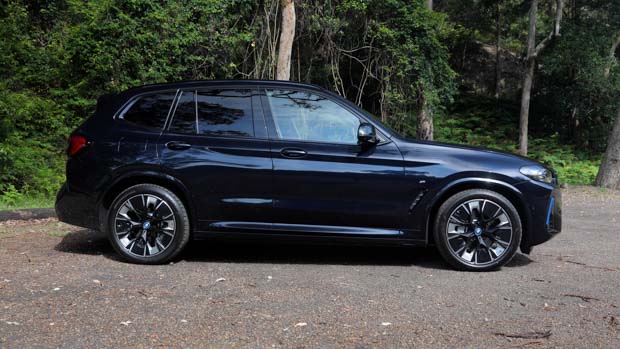 The reality isn't quite so rosy because the iX3's steering is too light, not particularly quick, and transmits zero road feel, but the more you ask of the iX3 handling-wise, the greater its poise and the more satisfying its driving experience becomes.
You can hustle an iX3 much faster than you'd expect, with terrific drive out of corners thanks to its chubby 275/45R20 rear tyres and rear weight bias, though there's a degree of nibbling from the stability control to keep it pointing straight (which could always be negated by switching to the less-invasive ESC Sport setting).
Selecting the Sport drive mode firms up the steering weighting considerably and tightens the suspension damping, yet never to an uncomfortable degree. That meatier steering is a step too far in normal driving conditions but what really deserves our attention is just how comfortable the iX3's ride quality is.
This 2158kg SUV (according to the Chasing Cars scales) wearing billet-like 20-inch alloy wheels does a tremendous job cushioning surfaces we never expected it to, and given the X3 nameplate's poor track record in the ride comfort department, that's a defining statement. Finally, an X3 variant that cossets on country roads.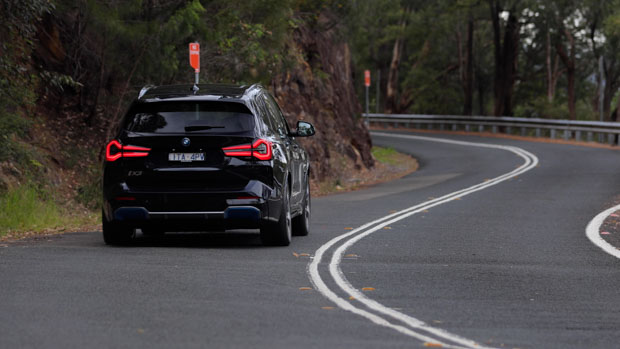 Compounding that degree of comfort is just how quiet the iX3 is – suppressing both road and wind noise with a refined elegance – and how seamlessly effective its electric drivetrain is. It may not be shouting big numbers, because 210kW/400Nm and a 0-100km/h claim in 6.8 seconds is fairly standard stuff. Yet there's a level of rolling thrust that the iX3 delivers that is borderline startling – dispatching 80-120km/h in just 2.5 seconds, which is more than ample in a midsize SUV, or even a hot hatch.
As for braking performance, the iX3 offers four levels of regenerative braking assistance, one of which is called 'adaptive' and uses the car's forward-facing sensors to decide on what level of resistance it should be delivering. But I left the iX3 in 'Moderate', which offered a pleasant combination of driving ease and regenerative braking force. 'High' turned the iX3 into essentially a one-pedal car – you back off and it starts braking, quite forcefully, instantly – though I found the throttle pedal was a bit too heavy for comfort.
Low-speed braking is also not the iX3's forte. Just as you're easing to a stop, or creeping along in heavy traffic, brake-pedal feel and response isn't as progressive or as natural as it should be. You find yourself squeezing and lifting off the pedal to achieve smooth driving much more than you would in a regular car.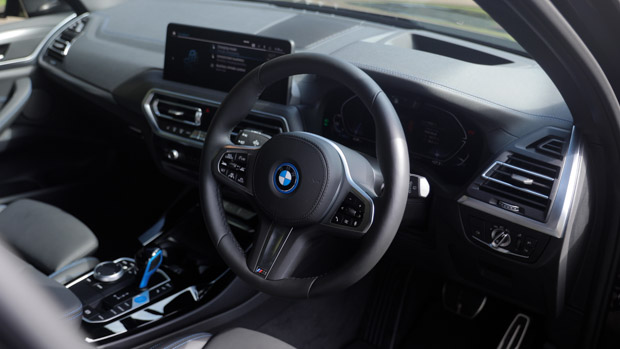 The active-safety suite in the iX3 is pretty comprehensive, as you would expect in a $115K car, and it all works with smooth, relatively subtle proficiency. The iX3 gets BMW's 'Driving Assistant Professional' suite that includes adaptive cruise control with stop/go, lane-keeping assist with active side collision protection, steering and lane-control assistant with active lane guidance, front and rear cross-traffic alert, emergency steering assist, forward and junction AEB, and speed-limit assist.
It also features front and rear parking sensors, auto park assist, 360-degree surround view cameras, and acoustic pedestrian protection that emits a virtual sound at speeds of up to 30km/h to people and cyclists at low speeds.
How is the iX3 M Sport's interior?
Anyone familiar with the current X3's interior will find the iX3's cabin comfortingly familiar, to the point where the G01-generation model's level of digitisation – particularly its controversial instrument arrangement – seems to suit the iX3's station in life better.
Built in a joint BMW-Brilliance Automotive production facility in China, the iX3's build quality is generally excellent, apart from the slightly dodgy movement of the roller-door cover at the base of the centre stack (it's difficult to unlatch and lacks smoothness when it slides). 
Otherwise, the finish quality of our test car's black Vernasca leather trim with blue stitching – the alternatives being oyster (ivory) or mocha (dark chocolate), both with black stitching – was very well done, and likewise the 'Sensatec' padded vinyl across the dash and doors, also with blue stitching.
The iX3's lovely 12.3-inch touchscreen with wireless Apple CarPlay and Android Auto is a delight to use, offering super-fast processing power and seamless connectivity, as well as superb audio quality thanks to a 16-speaker Harman Kardon set-up that fills the cabin with rich, well-staged sound. It's stuff like this that justifies the iX3's not inconsiderable asking price.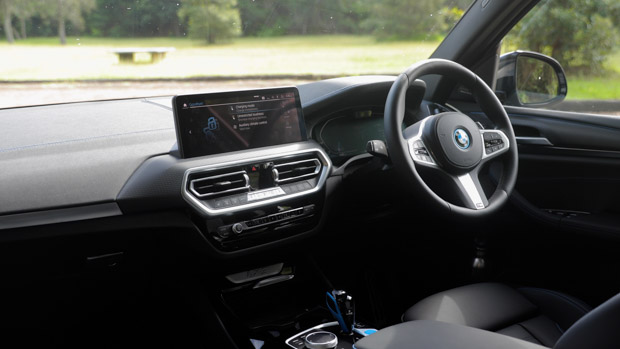 Generally, the third-generation X3's interior packaging is pretty good. Both front passengers get firm but very supportive heated (though not cooled) M Sport buckets with plenty of electric adjustment, while the rear bench is entirely acceptable for adults in the outer two positions. There's good rear legroom and headroom – even sitting beneath the opulence of the iX3's huge glass sunroof with electric sun blind – and all four doors get proper grab handles and decent bottle storage.
But the middle-rear seat isn't one you'd wish upon anyone for even moderate stints, and with a front-facing child seat and rear-facing infant capsule in place, that centre position is virtually impossible for any adult – disappointing in an midsize SUV measuring 1891mm wide, riding on a leggy 2864mm wheelbase.
Regarding boot capacity, the iX3 can't quite match a regular X3 boot for volume below the luggage cover – it's 510 litres, which is 40 less than its combustion-engined siblings – but the space it offers is still pretty decent, there's space below the floor for charging cables and a mesh cargo net, and the carpet quality back there is terrific.
In our unique test of boot packaging smarts – measured in spherical soccer balls to bring context to academic literage –  we squeezed 40 balls into the iX3's boot compared to the 42 balls we shoved into a Volvo XC60 recently (which claims 505 litres below the luggage cover).
What are the iX3 M Sport's running costs?
The stated WLTP energy consumption for the iX3 is 18.5-18.9kWh/100km, with a WLTP electric range of up to 460km.
In our testing over almost 250km of mixed driving, the iX3 averaged an impressive 18.9kWh/100km which, based on its 74kWh usable battery size, translates to a respectable range of 392km. Given that a fair percentage of driving was at speeds of 80km/h or higher, that's impressive.
In terms of charging, the iX3 can handle 150kW DC fast-charging – giving it a 10-80 percent charging time of 32 minutes, while 10 minutes if sufficient to add 100km of WLTP range.
Using a new-generation BMW i Wallbox (11kW AC three-phase), the iX3 can go from zero to 100 percent charge in 7.5 hours. The same charge with a 7.4kW AC single-phase wallbox takes 11 hours 15mins while a regular domestic wall plug takes 44 hours.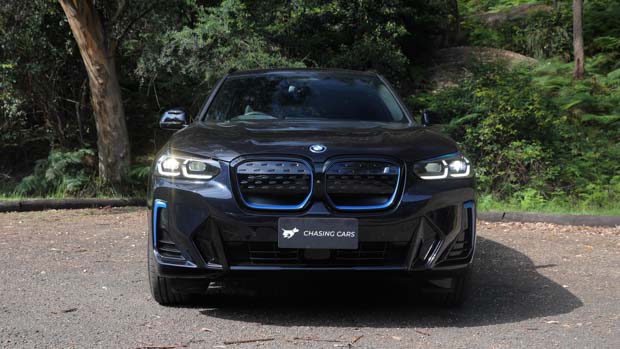 BMW also includes a five-year subscription to the Chargefox network. If you drove 15,000km per year and recharged exclusively with Chargefox, which prices its volts at $0.40/kWh, this membership would save you $5670.
Most owners will charge their iX3 mainly at home. If you pay $0.25/kWh, this would mean a driver doing 15,000km per year would spend just $708 in charging – which compares favourably to the circa-$2000 annual refuelling costs for a petrol or diesel BMW X3.
There are two unlimited-distance service packages available for the iX3 – a four-year/unlimited one ($1200 for the basic package, $4605 for the 'Plus' version that covers expendables like brake-disc rotor replacement) and a six-year/unlimited one ($1650 basic, $5500 plus).
That compares to $2650 for a five-year/125,000km service plan on an electric Mercedes-Benz EQC SUV.
BMW's warranty coverage remains an old-school three years/unlimited kilometres, which is out of step with its competitors now that Audi has gone to a five-year/unlimited-kilometre warranty for 2022. There's also a 12-year rust perforation warranty and an eight-year/100,000km warranty for the iX3's battery.
The final verdict
Given the BMW X3's not-so-stellar historical record – none of the three generations since the X3 arrived on the scene in 2003 have stood out for anything in particular really, aside from their flaws – the electric iX3 is something of a surprise. Not because it is blow-your-socks-off amazing, but because it's such an accomplished and approachable all-rounder.
That $115K asking price puts the iX3 far beyond the 70-something stickers of today's hero EVs – Hyundai Ioniq 5, Kia EV6, Polestar 2, Tesla Model 3 and the like – but this is a larger vehicle with greater practicality, competing in a different class. You're better off considering the iX3 as either a more affordable luxury alternative to an electric SUV such as the Audi E-tron, or a not-so-ridiculous EV alternative to regular X3 models.
Compare the cost of an iX3 to a similarly optioned xDrive 30i or 30d and its $15-20K premium is entirely in line with what other manufacturers are charging for their EV offerings, if not somewhat more approachable than the $30K gulf between Audi's diesel Q7 and electric E-tron.
But what really matters here is that this car works. Roomy, nicely built, appealing to look at and very well-equipped, yet it's also beautifully refined, rides extremely well and offers competitive range and charging speed.
It's not an absolute bolter in a straight line, but the way the iX3 blends its talents together in a smooth and satisfying fashion makes this electric SUV one that deserves your attention.