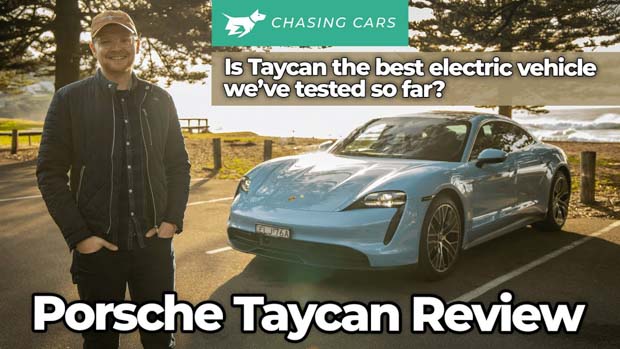 Porsche were not in a rush to release their first series-production electric car, and as a result, the carefully-considered Taycan is a masterstroke.
If you are like us, you will be content to embrace electrification if EVs are available that are as cohesive and balanced to drive as the best combustion-engine cars.
There may never be a true replacement for the scintillating sound of a flat-six engine in a 911 – but in a different shape, the four-door Taycan shows just how well an EV can be engineered.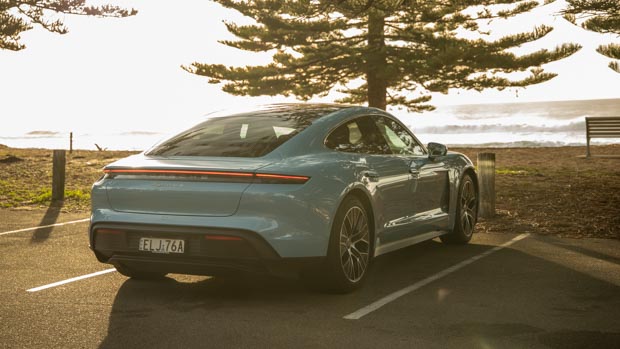 The suspension, handling and finish of the Taycan are on another level of achievement when compared to competing EVs – in particular the well-established Tesla Model S.
Porsche have not dethroned Tesla's sovereignty in battery efficiency and the circa-400km range of the $190,400 Taycan 4S with the $11,590 Performance Plus Battery ($230,530 as tested) is merely acceptable rather than generous.
But that's enough juice to get around town and even for longer interstate jaunts, as we tested in about 1,000km behind the wheel of the Taycan.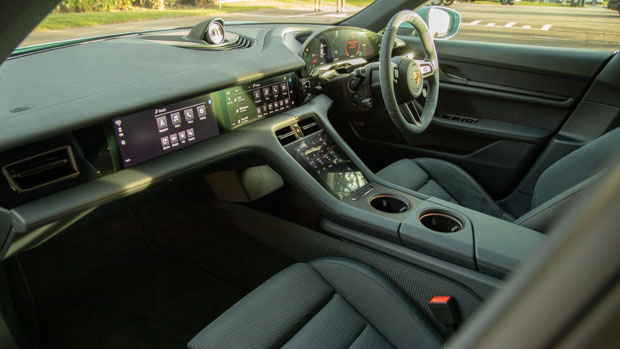 And some of the fastest charging capability in the industry means that if you find a compatible chargepoint, you can refuel the Taycan in not a whole lot longer than it would take it this were a petrol-engined Panamera.
So, if you have about two hundred grand to spend on a grand-touring sedan, is the Taycan a smart buy? We think it is.
How does the Taycan 4S drive?
The Taycan doesn't drive like many other electric cars, and that is for its benefit.
There is no aggressive head-tossing regenerative braking, for starters, and the Taycan's superb suspension effectively disguises the substantial 2,220kg unladen weight of this vehicle until the point you are hitting the car's very high limits of grip.
If anything, the Taycan drives like a Porsche adapted for a full-electric era. It accelerates with the sort of alacrity only a silky high-torque electric powertrain can, but it stops, steers and rides like one of Stuttgart's combustion vehicles.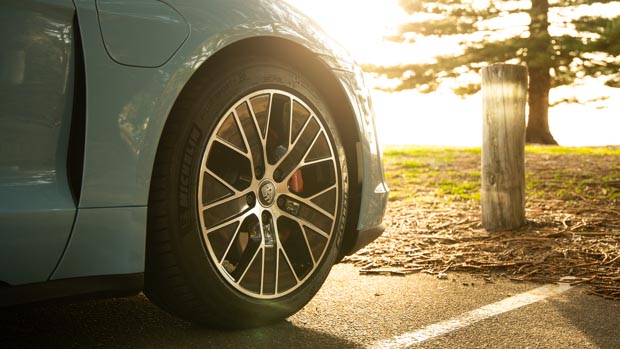 These characteristics combine to make the Taycan feel thoroughly natural on the road and make you wonder whether one-pedal driving, embraced by Tesla and Hyundai but scuppered by Porsche and Mazda, might be aptly described as change for the sake of change.
Some elements of the Taycan's powertrain are quite unique, like the two-speed automatic gearbox that reserves a low gear for pounding acceleration before switching almost imperceptibly to a higher cruising gear for better efficiency and refinement.
Equipped with the optional Performance Plus battery, the Taycan 4S produces some staggering numbers: 420kW on overboost, 390kw regularly, while 620Nm of torque is on tap.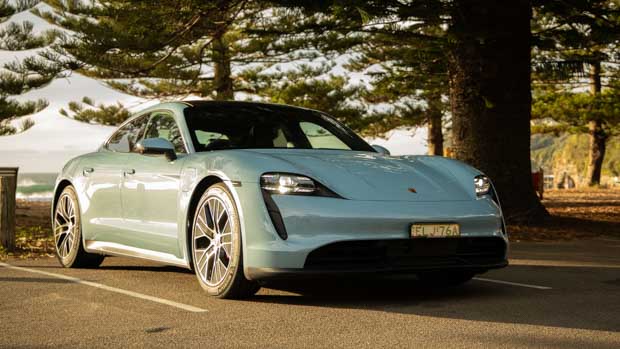 The bigger battery adds 60kg of weight and 30kW of overboost power, and it manages to bump the power to weight ratio from 182kW/tonne in standard form to 191kW/tonne, meaning the additional mass is more than offset.
At the time we drove the 4S, this was the entry grade to the range, but Porsche have since added a new single-motor rear-wheel-drive base model simply called Taycan (300kW, $156,300).
We have a suspicion that the rear-drive Taycan may in fact be the sweetest and most pure of the lot, but we will reserve judgment until we drive it. At the other end of the range are the bonkers Taycan Turbo (500kW) and the Taycan Turbo S flagship (560kW).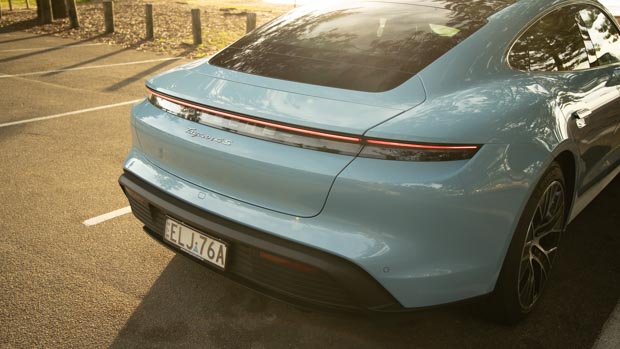 Then there is the dual-motor AWD-only Taycan Cross Turismo wagon that has a slight lift, and wears body cladding vaguely in the style of an Audi Allroad or Volvo Cross Country. Colour us interested in that practical proposition.
Sufficient performance aside, it's actually the way the Taycan rides and handles that sets it apart from rivals – while setting a new benchmark for electric cars as a whole.
Steering weight, ratio and feel is Porsche to a T, with oodles of communication from the front wheels transmitted to the fingertips. If you're coming to a Porsche for the first time, the rack will be quicker than you expect but it's all the better for it, making the Taycan's movements off centre feel lightning quick.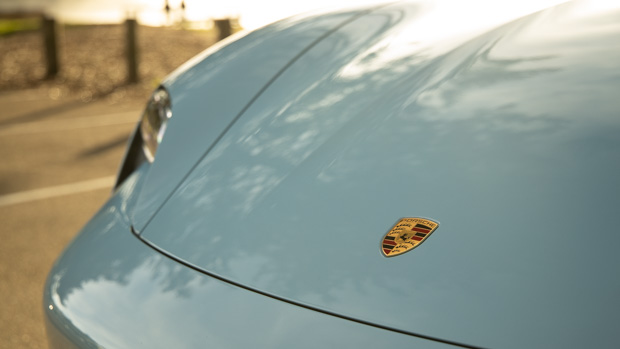 That feel is assisted by the fact Porsche have eschewed any kind of EV-specific eco tyre, opting instead for the Michelin Pilot Sport 4 in our tester's $1,150 20-inch aerodynamic wheels that mimic the classic snowflake design of the 911 Turbo alloy.
In town the Taycan feels manoeuvrable and agile, and as the pace builds and fast, sweeping country roads are sought out, your confidence builds quickly – as does the steering weight. Really, there's no need to fiddle with the adjustable modes because Normal is effectively perfect for Australian B-road carving.
As any car does, the Taycan has limits but they're about as high as you'd expect of a grand touring sedan with the Porsche crest on the bonnet. Enter a corner carrying far too much pace and you'll notice the 2,220 kegs, but driven with crisp and smooth inputs, the Taycan allows you to set a cracking touring pace before any real cracks show.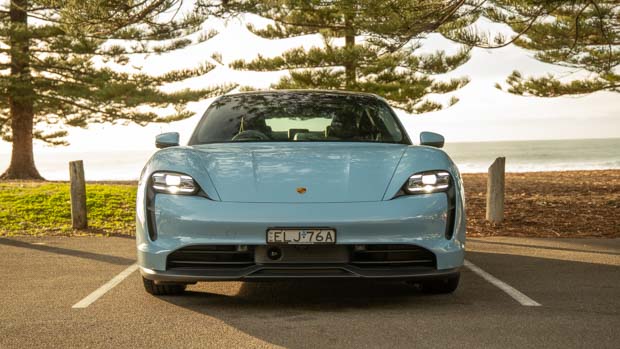 Suspension-wise, few if any cracks ever come to the surface. The Taycan's damping is superior to any electric car we've tested thus far, exhibiting an impressive balance between body control and bump absorption.
Normally, two-tonne EVs struggle to avoid thumping heavily into potholes and crevices common to Australian roads – not the Taycan. Instead, the standard adaptive air suspension allows good road feel in, but keeps crashy bump effects out. Both compression and rebound are slickly damped and insulated.
Taken together in concert, the torquey acceleration, natural lift-off, reasonably intuitive pedal-induced regenerative braking, communicative steering and good body control combine to create a scintillating driving experience for a GT car – electric or not.
Last, the Taycan's safety systems are reasonably well tuned. The lane keep assist is intuitive and yet easy to turn off for country road apex-hunting. The adaptive cruise control and blind spot monitoring are both fine, though we'd like the Taycan to adopt camera-driven BSM for its expansive digital driver display.
How is the Taycan 4S's interior?
The Taycan strives to mix high quality materials, traditional Porsche driver-centricity and a nod to the future. On this mission, it succeeds.
Really, the only extroverted flourish of futurism is the distinctly curved digital driver display. It serves no real purpose compared to the sort of flat, uncowled driver screens now commonly used by rival brands, but it looks cool.
Well, the other nod to future interior design is the availability of a passenger touchscreen that mimics the standard central screen tasked with displaying navigation and media functions. At $2,150, the passenger display allows your plus-one control of some features. We found that handy and engaging on longer drives.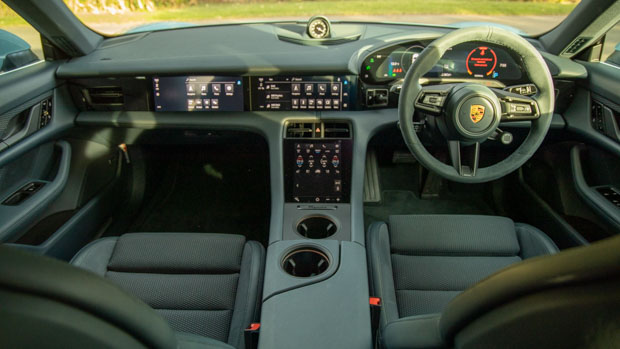 Speaking of the central touchscreen, like the curved driver display, it's bright, crisp and responsive. Porsche do software well and this is no exception, with fairly intuitive menus and a mature interface. Like VW Group partner Audi, satellite mapping is included and looks ace.
Those maps can also be cast in the digital driver display, providing a sixth-sense unfolding view of the road ahead. All the screens can be customised to prioritise information you'd like to see.
Apple CarPlay and Android Auto smartphone mirroring are also included and are wireless, seamlessly linking to the car's crisp Bose stereo – though you'll have to pay more again for wireless smartphone charging.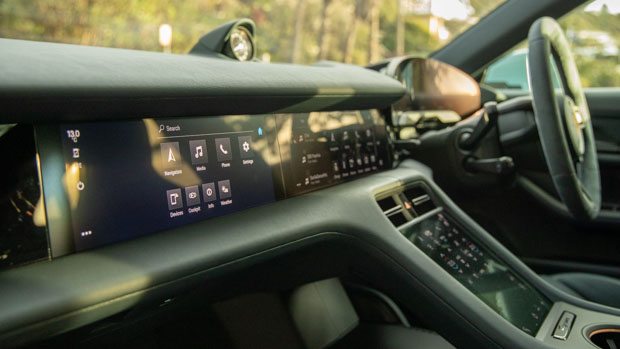 Porsche allow broad interior customisation, and our tester was cheerfully specified in 'Frozen' baby-blue outside over a matching $8,530 navy blue cloth interior which is part of the leather-free package that also replaces the hide steering wheel with alcantara.
Buyers not averse to leather interiors will find a range of quality hides on offer, from the standard tier, to $7,540 smooth finish leather, to $13,170 club leather. Twelve colour schemes are possible, well before you get into custom deviated stitching, seat centres, seat belts… the configurator provides hours of entertainment.
In our video review, I detailed my personal choice of Taycan specification, if you're interested.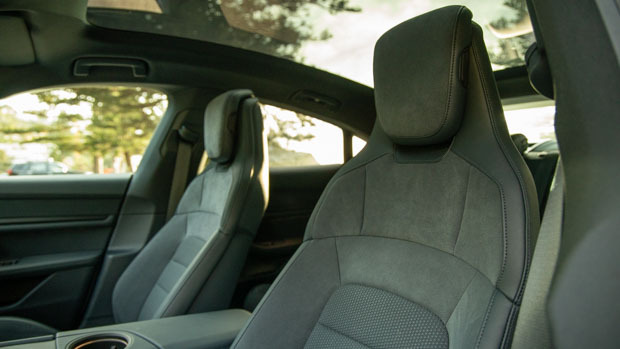 Eighteen-way power-adjustable seats fitted to our tester should offer an acceptable position to most body types: they did for us, providing high levels of support for longer stints. They're firm but in the good way, and heating and cooling was also fitted – ideal for Australia's changeable climes.
As standard the Taycan is a four-seater but a fifth rear centre seat can be added at no cost. Either way, that final perch is just that – but four adults can travel in comfort in this vehicle.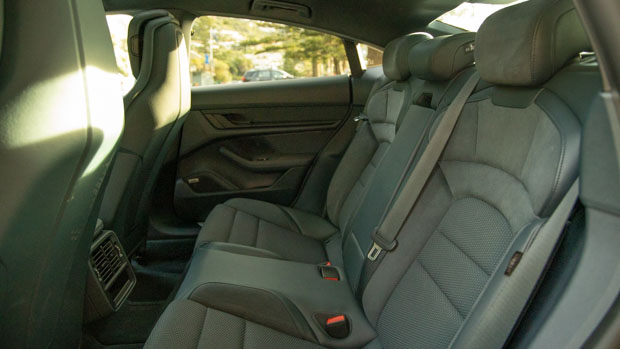 Those seeking a Porsche electric car with additional back seat and boot space will be well-served by the soon-to-arrive Cross Turismo.
Like a well-designed EV, the Taycan has two boots: a conventional sedan cargo area behind a power tailgate in the rear, plus a sealed and flock-lined 'froot' where a combustion engine would regularly be located.
The conventional boot is on the small side at 366 litres, but the front cargo space brings another 81 litres to the fold – and it's the perfect size for a carry-on suitcase.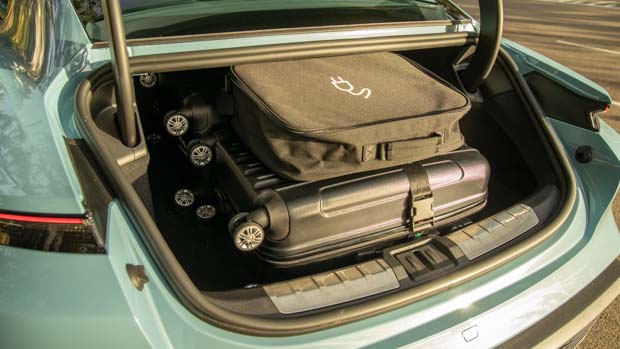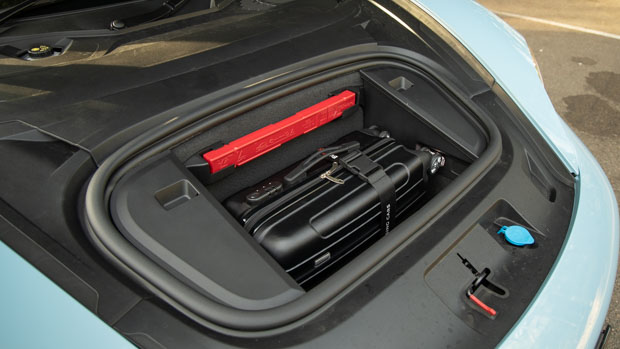 What are the Taycan 4S's running costs?
The running cost structure of an electric car is very different to that of a conventional petrol or diesel-powered vehicle.
Normally, the up-front purchase price is relatively high, but that isn't really the case with the Taycan. With the 4S kicking off under $200,000, it feels like falls in about the right spot compared to combustion rivals like the Mercedes-AMG E53, BMW M550i or M5, and Audi S6 or RS6.
Dramatically fewer moving parts should mean fewer servicing requirements – and Porsche have intelligently followed Tesla's lead here. The Taycan does require servicing, but only every two years or 30,000km.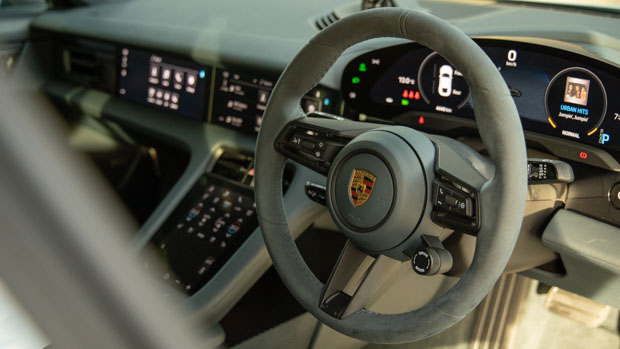 Some other manufacturers that are introducing electric cars to their lineups are greedily requiring the same service intervals required for their combustion vehicles, despite shaky justification for doing so.
Porsche do not publish service pricing for their vehicles in Australia, but we have rated their commitment to less onerous servicing for their EV as 'good'.
The Taycan is relatively hungry for electricity, however. Porsche Australia sensibly claim 414km range from the 83.7kWh usable battery, while the European WLTP ratings range from 389km-464km. Our testing indicated 400km is realistic.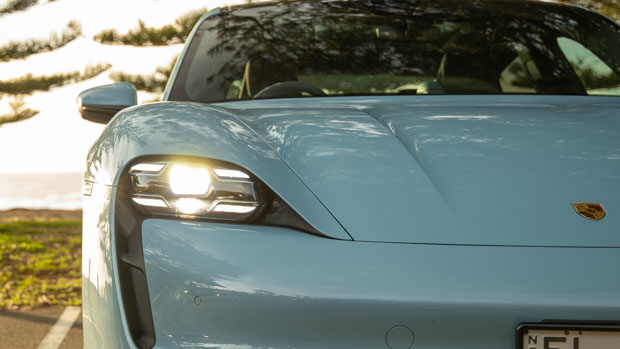 Consumption-wise, that means you'll use about 21kWh/100km, which is certainly on the higher side for an electric car of this size and shape.
Still, six years of complementary use of the large and growing Chargefox charging network in Australia is included with the purchase of a Taycan.
That is doubly useful as the Taycan is almost capable of exploiting Chargefox's top-tier charging speeds. For a bit longer, until the launch of the new Ioniq 5, the Taycan will hold on to its claim of being the fastest-charging EV on the market. Theoretically, it is capable of 350kW DC ultra-rapid charging, but it is software limited to 270kW.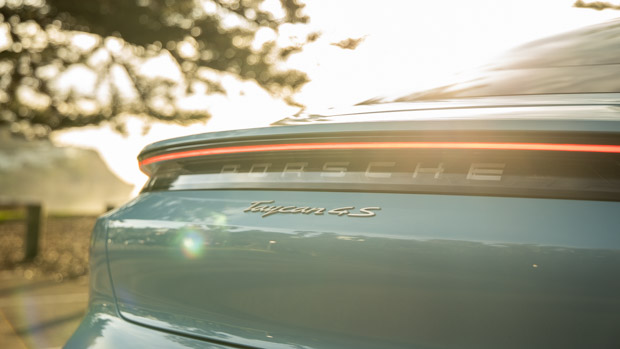 Porsche claim that an ideal charging session will see a Taycan rejuiced from 5 per cent to 80 per cent in just 22.5 minutes, putting 63kWh of electricity into the vehicle. This means the billboard 270kW speed is touched only briefly, with the ideal charging session averaging 168kW.
Still, that's rapid, alright. Plug the Taycan into a 350kW charger for 15 minutes on a road trip and you'll restore a good 200km of range.
Shame the warranty on the car is only three years out of the box – even if the battery is warranted for eight years / 160,000km.
Porsche run a popular extended warranty programme, which can keep being renewed out to 15 years, but with Mercedes-Benz offering five years as standard on the EQA and EQC, so could Porsche.
The final verdict
The Porsche Taycan is a deeply impressive grand tourer regardless of its status as an electric car.
That being established, the significant challenges posed by the inherent weight of an electric vehicle make the accomplishments of the Taycan even more impressive.
Depth of engineering, innovative solutions and a resistance to being futuristic for the sake of it have all been achieved by Porsche in the creation of the brand's first series production EV.
If there's any current electric car that will make you throw scepticism about an electrified future aside, it is this one.