BMW has unveiled images of the i7 luxury sedan that will act as a fully-electric alternative to the 7 Series sold here in Australia.
Set to be unveiled in production guise in the coming year, the i7 joins a growing fleet of EVs at BMW including the i4 midsize sedan, iX3 midsize SUV and iX large SUV.
BMW has cheekily labelled the i7 as "the world's first purely electrically powered luxury sedan", a statement that seems to skip over the existence of the Mercedes-Benz EQS and Tesla Model S, with the latter in production since 2012.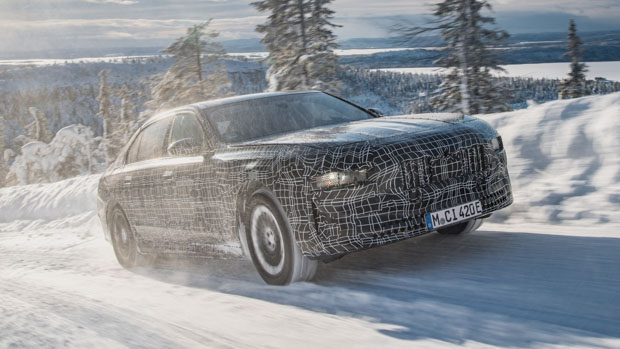 A familiar 7 Series design
It's difficult to tell exactly what lies under the heavy camouflage of the i7 prototype but key details suggest a slight shift in BMW's design.
The fundamental shape of the sedan remains similar to the 7 Series' design but a closer look at the front end appears to wear a wide landscape kidney grille, recently seen on the BMW Concept XM, that is flanked by some thin LED headlights.
While still in prototype guise, the i7 prototype seems to sit slightly higher than a regular 7 Series – potentially due to the large battery pack sitting under the floor resulting in an increase in ride height, a situation we've seen previously with the Nissan Leaf+.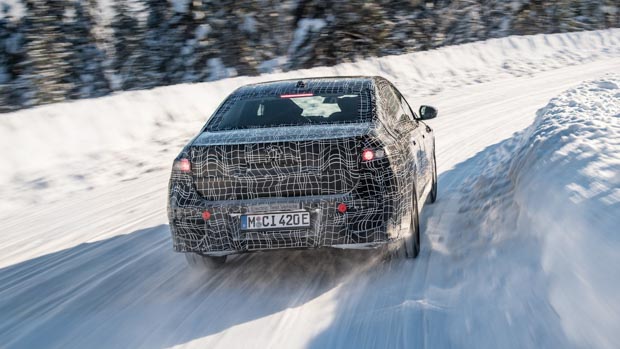 Testing in torturous conditions
BMW shares a series of images showing the i7 powering through some thick snow to ensure the electric motors and suspension was up to scratch.
Little is known about the powertrain underpinning the luxury sedan just yet, but BMW does confirm the i7 features its fifth generation of BMW eDrive technology that is already found in the iX.
The iX features a dual-motor setup that produces up to 440kW of power, which should make BMW's i7 sedan quite brisk in the 0-100km/h sprint.
By testing the vehicle in Arjeplog, Sweden engineers will also be able to test the ability of the battery, which typically lose some of their range capacity in colder climates.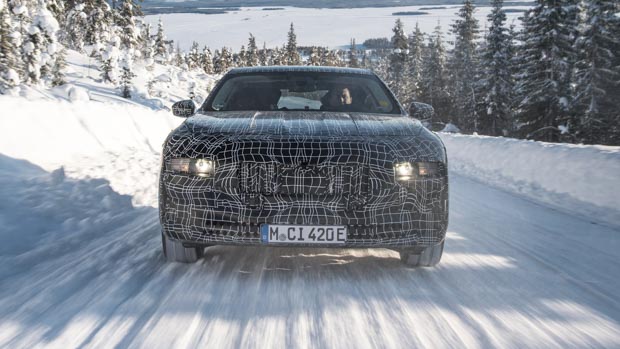 With a similar rate of consumption at 19.5kWh/100km, we should expect to see a similar maximum range figure of 640km (WLTP) found in the iX when equipped with 111.5kWh battery (105.2kWh usable).
BMW says the slippery snow and ice conditions also allowed them to fine-tune the Dynamic Stability Control and suspension control systems.
With the i7 now unveiled in prototype form, expect to see the electric luxury sedan to be fully unveiled in the first half of next year.