The sixth-generation BMW 7 Series launches in Australia from November. Initially, three six-cylinder models will drop in the first release, with the two V8 lines following in early 2016.
All-new for 2016, the G11 and G12 7 Series premiered in June 2015 at BMW's Munich headquarters. The new 7 is the first BMW to sit on the brand's new CLAR modular architecture. CLAR sits around a 'carbon core', blending carbon-fibre-reinforced polymers and aluminium. This technology, transferred across from BMW's i electric division, sees a weight saving of 130kg in the 7 Series.
The range will span $217,500 to $312,700 once all five models are on sale. Equipment has been boosted across the range, with several costly options on the previous-generation car now standard fit.
That includes BMW's Driving Assistant Plus safety package. All 7 Series will now feature blind spot assistant, as well as lane departure warning and lane keeping assistance. There's also a forward collision warning with light city autonomous emergency braking. Manoeuvring out of parking spots is easier thanks to front and rear cross traffic alert, and there's stop-and-go active cruise control.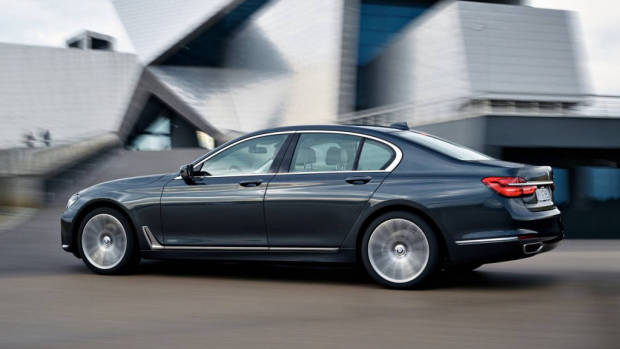 BMW have long marketed the 7 Series as the sportiest of the full-size German luxury sedans. In recognition of the sporty status of the car, the M Sport design package will now be a no-cost option.
New technology debuts on the 7, including an innovative Display Key—a car key with a screen that keeps track of remaining fuel and range, plus the status of the locks and whether windows are open.
iDrive gets a 'Gesture Control' update, which will now allow adjustments to things like the volume with just a twirl of the hand in front of the screen. While the traditional rotary iDrive controller remains, that screen is now a touch-based system as well.
Rear-seat passengers get a higher degree of control with BMW's new Touch Command system—basically, a seven-inch Android touchscreen in the back seat that can control comfort and infotainment functions.
There are essentially three grades of feature sets. The three initial models to launch—the 730d, 740i and 740Li—are fitted out with equal levels of equipment; the two V8s following later boost the specification level even higher.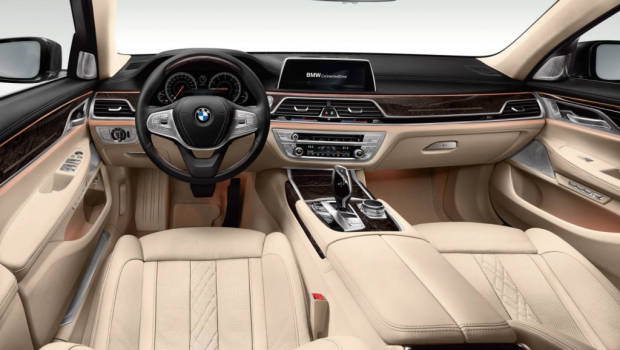 The 730d ($217,500) is the sole diesel 7 Series, powered by a three-litre six-cylinder turbodiesel producing 195kW and 620Nm. Despite being an oiler returning 4.9L/100km, the 730d is no slouch reaching 100km/h in 6.1 seconds.
The 740i ($224,200) and 740Li ($238,000) are petrol sixes, also three litres in displacement making 240kW and 450Nm. They will sprint to 100 in 5.5 seconds while returning 7L/100km in combined fuel economy.
All three of the six-cylinder models have a solid feature set: outside, there's 19-inch alloy wheels, soft-close doors, and a sunroof as standard fit—porthole style on the short-wheelbase 730d and 740i, and a 'Panorama' long sunroof on the long-wheelbase 740Li.
Inside, the trio get Nappa leather seats that are heated, Gesture Control navigation, DAB+ digital radio pumping through a 16-speaker Harmon Kardon audio system; electric side and rear blinds; and a leather instrument panel.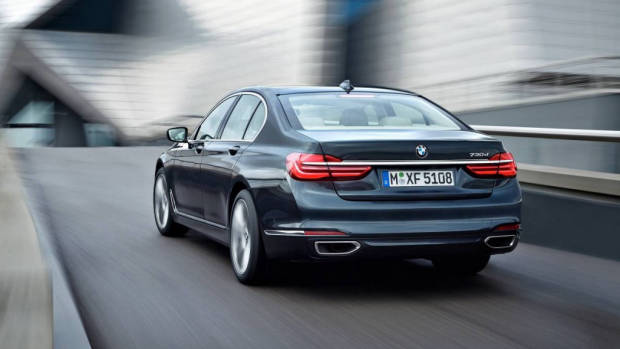 Step up to the V8 and there is a choice of wheelbase, although the short 750i and long 750Li share the same engine. That motor is a 4.4-litre turbocharged V8 petrol making 330kW and 650Nm. Fuel economy is rated at 8.1 and 8.3L/100km, while they will get up to 100 in 4.7 seconds flat.
The $289,600 750i gains laser headlights, as well as an adaptive dynamic suspension and damper fitment. There's also a night vision system that detects pedestrians and TV reception.
The grandest 7 Series is the $312,700 750Li, which gains a variety of features designed around the passengers in the rear. Chief among these is seat ventilation for the rear seats (and the front pair, too); those rear seats are also electrically-adjustable, and the doors, centre console, and armrests gain heating. A more sophisticated rear seat entertainment 'experience' package is added, too.
2016 BMW 7 Series: Australian price
730d: $217,500
740i: $224,200
740Li: $238,000
750i: $289,600
750Li: $312,700