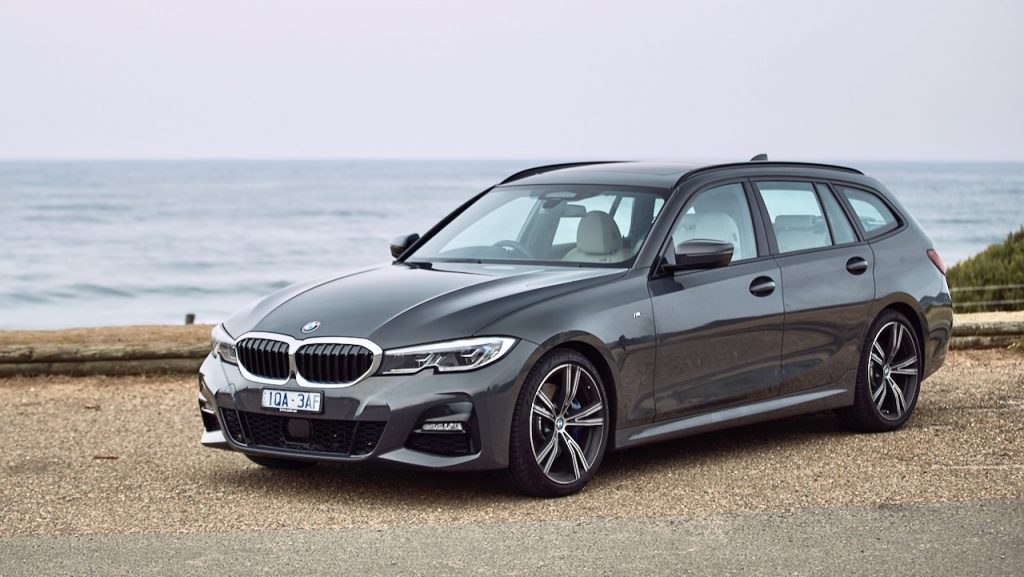 These days, most Australian families overlook the traditional station wagon when selecting a new car. The numbers are well and truly in: the pumped-up, faux-rugged SUV is where the majority of preferences lie. But for the enlightened few, the estate car remains an elusive, near-perfect blend for those who need to lug loads and people alike. Among a slim but appealing set, the 2020 BMW 3 Series Touring, available in Australia only in turbocharged petrol 330i flavour, is one of the best.
BMW know the market for wagons in Australia is very small but they are still committed to the space, offering a three estates here – the new 330i, and two versions of the larger, more sumptuous 5 Series wagon: a diesel 520d, and a 530i that utilises the same two-litre petrol on test in the more lithe 3 Series, which arrived in 2019 in an all-new generation.
Codenamed 'G21', the new 3 Series Touring rides on a recently-developed BMW platform called Cluster Architecture – this chassis also underpins the 5 Series and 7 Series, so 3 Series buyers are tapping into engineering excellence. While this badge has always been regarded for its driving merit, the new 3 Series elevates the car into more refined, sophisticated territory. In sedan form, we were impressed with the new 3 Series.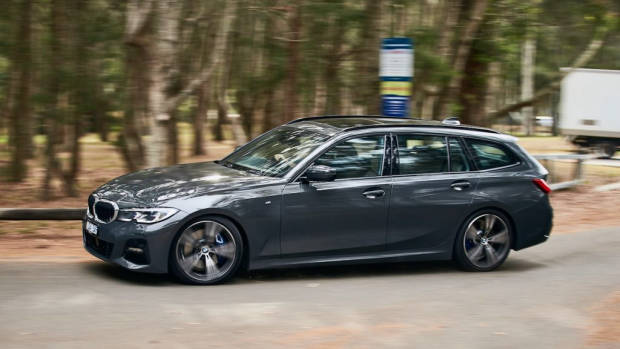 With the 2.0-litre, 190kW/400Nm turbo petrol four the only engine, there isn't much left to choose with a 3 Series Touring. It is available, for the $75,900 ($83,920 driveaway) price, in M Sport or more conservative Luxury Line trims. Eleven interior colours allow a broader-than-expected degree of customisation, while further decoration including two aluminium patterns, two wood trims or piano black lacquer mean most tastes will be accounted for.
We were impressed with the sedan when it launched last year, and the Touring wagon retains its main virtues: a well-judged ride, feelsome steering, a punchy turbocharged engine, an upmarket cabin, and an attractive design outside. The wagon goes further, adding a much more flexible boot and greater rear-seat headroom. It's a simple but effective recipe.
While BMW have shedded rear-wheel-drive from its entry-level vehicles, including the new 1 Series, the traditional rear-driven layout has been retained for the 3 Series – thank goodness. It's this setup that means the new 330i Touring has really pure driving dynamics.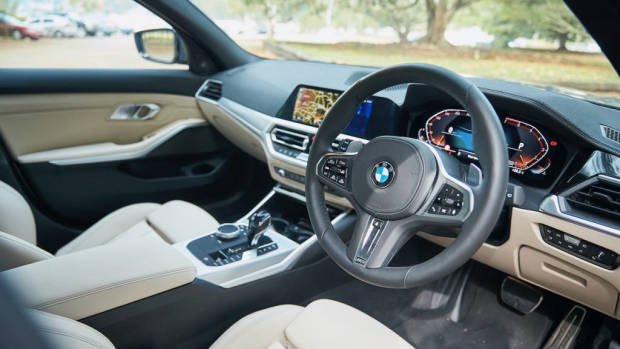 Sat in the low-slung driving position, the 3 Series wagon is something of an enthusiast's choice for hauling stuff. A really faithful and keen front end is the product of squeezing almost the entire longitudinally-mounted inline four-cylinder engine behind the front axle: understeer is basically a non-issue. The M Sport's standard-issue 19-inch wheels and Pirelli P Zero tyres are a grippy set.
Most importantly, the new 3 Series restores the excellent steering feel this badge is known for, correcting the biggest fault of the previous 'F30′ generation of the vehicle, which had a light, lax rack. So, turn-in's good. Then, on corner exit, you can gently feed in throttle and adjust your line from the rear – the beauty of the 330i's rear-drive arrangement and a skilfully tuned stability control system.
Driven hard, the 330i Touring rewards – but it's also just as good pottering around town, with the exception of a slightly overly stiff rear suspension – it's that way to cater for heavy loads in the boot. That said, it isn't a bother – and in general, the 3 Series' damping is excellent, offering a brilliant blend of control and compliance. It's also a very quiet car, with road noise suppressed well.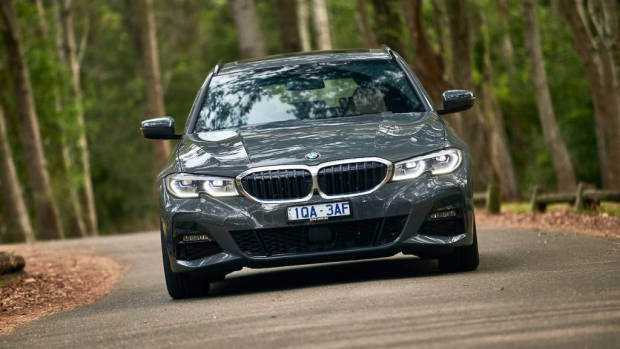 Some will be disappointed that the G21-era 3 Series Touring still hasn't brought the six-cylinder M340i option back to Australia, but this concern is largely unnecessary. The celebrated 'B48' engine used here, coupled to one of the industry's best eight-speed automatic gearboxes, does not suffer for low-down torque, and it even sounds convincing under load, with a few crackles on throttle lift. Tasty! Standard-fit M Performance brakes are more than capable of hauling affairs to a stop quickly, and they include handsome blue calipers for a slight visual flourish.
Inside, the 330i Touring is roomy for four, but it can carry five at a pinch. The two sat up front will feel best catered for, thanks to comfortable, standard-fit sports seats trimmed in decently soft 'Vernasca' grade leather. Low set and 10-way adjustable, heating and lumbar adjustment still have to be optioned in to the front seats ($1,000), which feels a bit nickel-dimey. And it's a shame the leather from the seats isn't extended to the dash and doors, though you can fit faux-leather there for $731, or full Merino leather for all surfaces for $3,692.
Like all premium manufacturers, BMW have battled with the task of integrating technology to the cabin without diluting the driver-first experience, but the latest iteration of the company's iDrive infotainment system, used here, is a pretty good effort. Notably, the screen's positioning has been slightly lowered over the older generation, improving visibility and reducing the sense that the screens are taking over.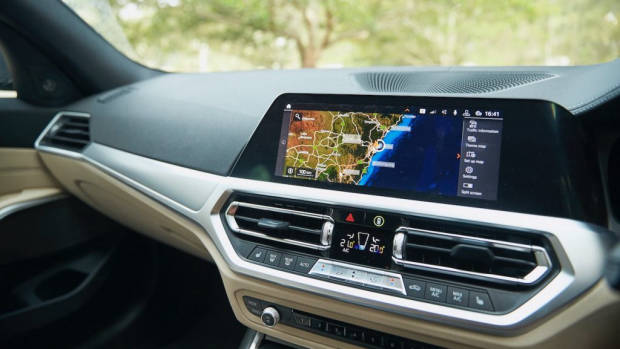 BMW have also avoided the mistake that Audi is making in returning exclusively to touchscreens. The 12-inch screen in the 330i is touch-capacitive, but a traditional rotary controller is still fitted between the front seats, making inputs far easier on Australia's characteristically bumpy roads. Plus, wireless Apple CarPlay is standard for life – BMW ended their extortionate subscription policy for smartphone mirroring last month.
The driver gets their own digital screen which is fine, nothing more. It replaces handsome analogue watch-face dials from the previous car, but in a reversal of the previous point vis-a-vis Audi, BMW have not been anywhere near as adventurous – or successful in their implementation – as Audi's Virtual Cockpit, which presents information more helpfully to the driver.
While there is plenty happening up front, rear seat passengers are not forgotten. The inclined bench is comfortable over longer trips, and on Australian road trips, back seat riders will appreciate the standard air vents, temperature control, and two USB-C charge ports: everyone's devices will stay charged – and then they can be stowed in the twin seat back pockets.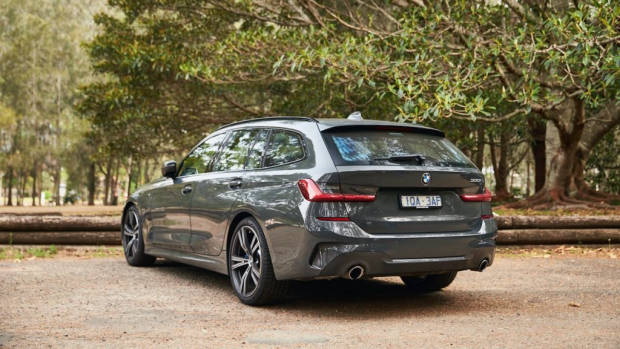 Around the back, the tailgate's operation is helpfully electric – though BMW have retained one of the 3 Series Touring's best traditional features: the glass window can be opened independently of the full door, meaning grabbing or stashing stuff in the boot can be a more rapid affair. The 500-litre cargo area itself is big and square; there is no load lip, so suitcases can slide straight in or out. Twin nets restrict delicates from rolling about, while generous underfloor storage conceals valuables.
Specification is generous on the 330i. All cars include an Assisted Driving mode that bundles adaptive cruise control with traffic jam stop and go, front and rear cross traffic alert, lane keep assist with lane tracing, automated parking, and a 360-degree camera. Eight airbags, automatic wipers and adaptive LED headlights and a head-up display are all included.
You're also handed proximity entry to all doors, tri-zone climate control, wireless smartphone charging, DAB digital radio, a ten-speaker stereo, and electric adjustment for both front seats, with memory for the driver.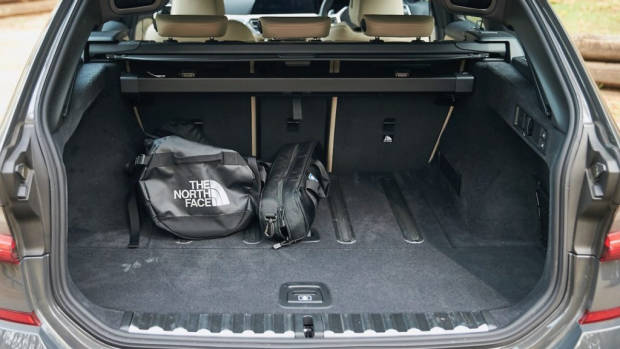 Options are largely limited to packages. We'd recommend the $4,300 Visibility package that bundles metallic paint, a sunroof, laser headlights and ambient lighting, and the $1,000 Comfort package that adds items that should be standard: front seat heating and electric lumbar. The $3,692 Exclusive package adds full Merino leather for the seats and extended leather to the other trim surfaces.
So, the 330i Touring is a great experience – for drivers and passengers alike. It's too early in this car's lifespan to tell what the broader ownership story will be like – though we do wish that BMW would be brave and lift their warranty to four or five years. The standard among luxury carmakers in Australia remains three years, while the mass volume brands have all upgraded to five.
While we certainly understand the appeal of SUVs – their raised driving positions can make you feel powerful, and they do make it a little easier to fit a child seat – we are certain that wagons should not be overlooked. Estate cars easily offer the best balance of enjoyable driving dynamics and excellent practicality.
Their increasingly exclusive status certainly doesn't hurt, either. So, we encourage you: be bold. Buy a wagon. And the best wagon right now is the BMW 330i Touring.